To establish and maintain their internal organization, living cells must move molecules to their correct locations. Long-range intracellular movements are often driven by motor molecules moving along microtubules, similarly to trucks driving along a highway. Recent work demonstrates that some randomly dispersed cargos can generate actin filaments that form a connected network whose contraction drives collective cargo movement.
Access options
Subscribe to Journal
Get full journal access for 1 year
$99.00
only $8.25 per issue
All prices are NET prices.
VAT will be added later in the checkout.
Tax calculation will be finalised during checkout.
Buy article
Get time limited or full article access on ReadCube.
$32.00
All prices are NET prices.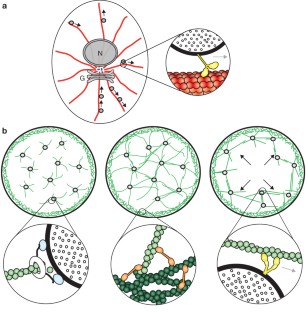 References
Schuh, M. Nat. Cell Biol. 13, 1431–1436 (2011).

Roy, S., Hsiung, F. & Kornberg, T. B. Science 332, 354–358 (2011).

Lénárt, P., Bacher, C. P., Daigle, N., Hand, A. R., Eils, R., Terasaki, M. & Ellenberg, J. Nature 436, 812–818 (2005).

Quinlan, M. E., Hilgert, S., Bedrossian, A., Mullins, R. D. & Kerkhoff, E. J. Cell Biol. 179, 117–128 (2007).

Pfender, S., Kuznetsov, V., Pleiser, S., Kerkhoff, E. & Schuh, M. Curr. Biol. 21, 955–960 (2011).

Pollard, T. D., Blanchoin, L. & Mullins, R. D. Annu. Rev. Biophys. Biomol. Struct. 29, 545–576 (2000).

Tanaka, T., Kato, Y., Matsuda, K., Hanyu-Nakamura, K. & Nakamura, A. Development. 138, 2523–2532 (2011).

Krauss, J., López de Quinto, S., Nüsslein-Volhard, C. & Ephrussi, A. Curr. Biol. 19, 1058–1063 (2009).

Munro, E. & Bowerman, B. Cold Spring Harb. Perspect. Biol. 1 (4), a003400 (2009).
Ethics declarations
Competing interests
The author declares no competing financial interests.
About this article
Cite this article
Mullins, D. Pulling together and pulling apart: collective cargo movement in eukaryotic cells. Nat Cell Biol 13, 1391–1392 (2011). https://doi.org/10.1038/ncb2393
Published:

Issue Date:

DOI: https://doi.org/10.1038/ncb2393