Abstract
A hallmark of polarized cells is the segregation of the PAR polarity regulators into asymmetric domains at the cell cortex1,2. Antagonistic interactions involving two conserved kinases, atypical protein kinase C (aPKC) and PAR-1, have been implicated in polarity maintenance1,2, but the mechanisms that initiate the formation of asymmetric PAR domains are not understood. Here, we describe one pathway used by the sperm-donated centrosome to polarize the PAR proteins in Caenorhabditis elegans zygotes. Before polarization, cortical aPKC excludes PAR-1 kinase and its binding partner PAR-2 by phosphorylation. During symmetry breaking, microtubules nucleated by the centrosome locally protect PAR-2 from phosphorylation by aPKC, allowing PAR-2 and PAR-1 to access the cortex nearest the centrosome. Cortical PAR-1 phosphorylates PAR-3, causing the PAR-3–aPKC complex to leave the cortex. Our findings illustrate how microtubules, independently of actin dynamics, stimulate the self-organization of PAR proteins by providing local protection against a global barrier imposed by aPKC.
Relevant articles
Open Access articles citing this article.
Bulletin of Mathematical Biology Open Access 17 February 2021

Raphaela Geßele

,

Jacob Halatek

…

Erwin Frey

Nature Communications Open Access 27 January 2020
Access options
Subscribe to this journal
Receive 12 print issues and online access
$209.00 per year
only $17.42 per issue
Rent or buy this article
Prices vary by article type
from$1.95
to$39.95
Prices may be subject to local taxes which are calculated during checkout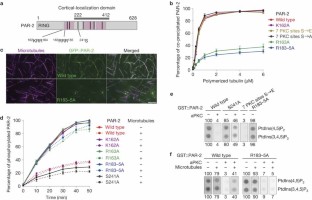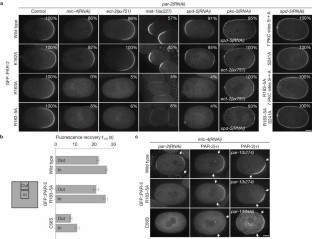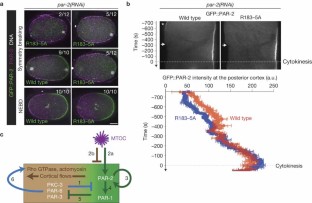 References
Goldstein, B. & Macara, I. The PAR proteins: fundamental players in animal cell polarization. Dev. Cell 13, 609–622 (2007).

St Johnston, D. & Ahringer, J. Cell polarity in eggs and epithelia: parallels and diversity. Cell 141, 757–774 (2010).

Munro, E., Nance, J. & Priess, J. R. Cortical flows powered by asymmetrical contraction transport PAR proteins to establish and maintain anterior–posterior polarity in the early C. elegans embryo. Dev. Cell 7, 413–424 (2004).

Zonies, S., Motegi, F., Hao, Y. & Seydoux, G. Symmetry breaking and polarization of the C. elegans zygote by the polarity protein PAR-2. Development 137, 1669–1677 (2010).

Cuenca, A. A., Schetter, A., Aceto, D., Kemphues, K. & Seydoux, G. Polarization of the C. elegans zygote proceeds via distinct establishment and maintenance phases. Development 130, 1255–1265 (2003).

Shelton, C., Carter, J., Ellis, G. & Bowerman, B. The nonmuscle myosin regulatory light chain gene mlc-4 is required for cytokinesis, anterior–posterior polarity, and body morphology during Caenorhabditis elegans embryogenesis. J. Cell Biol. 146, 439–451 (1999).

Wallenfang, M. R. & Seydoux, G. Polarization of the anterior–posterior axis of C. elegans is a microtubule-directed process. Nature 408, 89–92 (2000).

Hamill, D. R., Severson, A. F., Carter, J. C. & Bowerman, B. Centrosome maturation and mitotic spindle assembly in C. elegans require SPD-5, a protein with multiple coiled-coil domains. Dev. Cell 3, 673–684 (2002).

Hiller, G. & Weber, K. Radioimmunoassay for tubulin: a quantitative comparison of the tubulin content of different established tissue culture cells and tissues. Cell 14, 795–804 (1978).

Moravcevic, K. et al. Kinase associated-1 domains drive MARK/PAR1 kinases to membrane targets by binding acidic phospholipids. Cell 143, 966–977 (2010).

Wu, H. et al. PDZ domains of Par-3 as potential phosphoinositide signaling integrators. Mol. Cell 28, 886–898 (2007).

Hao, Y., Boyd, L. & Seydoux, G. Stabilization of cell polarity by the C. elegans RING protein PAR-2. Dev. Cell 10, 199–208 (2006).

Benton, R. & St Johnston, D. Drosophila PAR-1 and 14-3-3 inhibit Bazooka/PAR-3 to establish complementary cortical domains in polarized cells. Cell 115, 691–704 (2003).

Guo, S. & Kemphues, K. par-1, a gene required for establishing polarity in C. elegans embryos, encodes a putative Ser/Thr kinase that is asymmetrically distributed. Cell 81, 611–620 (1995).

Griffin, E., Odde, E. & Seydoux, G. Regulation of the MEX-5 gradient by a spatially segregated kinase/phosphatase cycle. Cell 146, 955–968 (2011).

Li, B., Kim, H., Beers, M. & Kemphues, K. Different domains of C. elegans PAR-3 are required at different times in development. Dev. Biol. 344, 745–757 (2010).

Matenia, D. & Mandelkow, E. M. The tau of MARK: a polarized view of the cytoskeleton. Trends Biochem. Sci. 34, 332–342 (2009).

Tsai, M. C. & Ahringer, J. Microtubules are involved in anterior–posterior axis formation in C. elegans embryos. J. Cell Biol. 179, 397–402 (2007).

Cowan, C. R. & Hyman, A. A. Centrosomes direct cell polarity independently of microtubule assembly in C. elegans embryos. Nature 431, 92–96 (2004).

Sonneville, R. & Gonczy, P. zyg-11 and cul-2 regulate progression throughmeiosis II and polarity establishment in C. elegans. Development 131, 3527–3543 (2004).

Jenkins, N., Saam, J. R. & Mango, S. E. CYK-4/GAP provides a localized cueto initiate anteroposterior polarity upon fertilization. Science 313, 1298–1301 (2006).

Watts, J. et al. par-6, a gene involved in the establishment of asymmetry in early C. elegans embryos, mediates the asymmetric localization of PAR-3. Development 122, 3133–3140 (1996).

Labbé, J. C., Pacquelet, A., Marty, T. & Gotta, M. A genomewide screen for suppressors of par-2 uncovers potential regulators of PAR protein-dependent cell polarity in Caenorhabditis elegans. Genetics 174, 285–295 (2006).

Hoege, C. et al. LGL can partition the cortex of one-cell Caenorhabditis elegans embryos into two domains. Curr. Biol. 20, 1296–1303 (2010).

Beatty, A., Morton, D. & Kemphues, K. The C. elegans homolog of Drosophila Lethal giant larvae functions redundantly with PAR-2 to maintain polarity in the early embryo. Development 137, 3995–4004 (2010).

Goehring, N. W., Hoege, C., Grill, S. W. & Hyman, A. A. PAR proteins diffuse freely across the anterior–posterior boundary in polarized C. elegans embryos. J. Cell Biol. 193, 583–594 (2011).

Doerflinger, H. et al. Bazooka is required for polarisation of the Drosophila anterior–posterior axis. Development 137, 1765–1773 (2010).

Siegrist, S. E. & Doe, C. Q. Microtubule-induced cortical cell polarity. Genes Dev. 21, 483–496 (2007).

Morita, K., Hirono, K. & Han, M. The Caenorhabditis elegans ect-2 RhoGEF gene regulates cytokinesis and migration of epidermal P cells. EMBO Rep. 6, 1163–1168 (2005).

Kachur, T., Audhya, A. & Pilgrim, D. UNC-45 is required for NMY-2 contractile function in early embryonic polarity establishment and germline cellularization in C. elegans. Dev. Biol. 314, 287–299 (2008).

Etemad-Moghadam, B., Guo, S. & Kemphues, K. Asymmetrically distributed PAR-3 protein contributes to cell polarity and spindle alignment in early C. elegans embryos. Cell 83, 743–752 (1995).

Merritt, C. & Seydoux, G. Transgenic solutions for the germline. WormBook 1–21 (2010).

Praitis, V., Casey, E., Collar, D. & Austin, J. Creation of low-copy integrated transgenic lines in Caenorhabditis elegans. Genetics 157, 1217–1226 (2001).

Maeda, I., Kohara, Y., Yamamoto, M. & Sugimoto, A. Large-scale analysis of gene function in Caenorhabditis elegans by high-throughput RNAi. Curr. Biol. 11, 171–176 (2001).

Kamath, R. et al. Systematic functional analysis of the Caenorhabditis elegans genome using RNAi. Nature 421, 231–237 (2003).

Hannak, E., Kirkham, M., Hyman, A. A. & Oegema, K. Aurora-A kinase is required for centrosome maturation in Caenorhabditis elegans. J. Cell Biol. 155, 1109–1116 (2001).

Dong, Y., Bogdanova, A., Habermann, B., Zachariae, W. & Ahringer, J. Identification of the C. elegans anaphase promoting complex subunit Cdc26 by phenotypic profiling and functional rescue in yeast. BMC Dev. Biol. 7, 19 (2007).

Nance, J., Munro, E. & Priess, J. C. elegans PAR-3 and PAR-6 are required for apicobasal asymmetries associated with cell adhesion and gastrulation. Development 130, 5339–5350 (2003).

Aono, S., Legouis, R., Hoose, W. & Kemphues, K. PAR-3 is required for epithelial cell polarity in the distal spermatheca of C. elegans. Development 131, 2865–2874 (2004).
Acknowledgements
This study was supported by the Japan Society for the Promotion of Science (F.M.), the American Cancer Society (PF-08-158-01; E.G.) and the National Institute of Health (R01HD37047; G.S.). G.S. is an investigator of the Howard Hughes Medical Institute. We thank J. Ahringer, A. Audhya, L. Boyd, A. Desai, P. Gonczy, M. Gotta, R. Green, C. Hoege, K. Kemphues, Y. Nishimura, K. F. O'Connell, K. Oegema, L. S. Rose, A. Sugimoto, C. M. Waterman, H. Zaher and the Caenorhabditis Genetic Center for reagents and expertise.
Ethics declarations
Competing interests
The authors declare no competing financial interests.
Supplementary information
Supplementary Information (PDF 1839 kb)
Supplementary Information (XLS 24 kb)
About this article
Cite this article
Motegi, F., Zonies, S., Hao, Y. et al. Microtubules induce self-organization of polarized PAR domains in Caenorhabditis elegans zygotes. Nat Cell Biol 13, 1361–1367 (2011). https://doi.org/10.1038/ncb2354
Received:

Accepted:

Published:

Issue Date:

DOI: https://doi.org/10.1038/ncb2354