Abstract
The transcriptional regulators that couple interfollicular basal keratinocyte proliferation arrest to commitment and differentiation are yet to be identified. Here we report that the basic region leucine zipper transcription factors C/EBPα and C/EBPβ are co-expressed in basal keratinocytes, and are coordinately upregulated as keratinocytes exit the basal layer and undergo terminal differentiation. Mice lacking both C/EBPα and β in the epidermis showed increased proliferation of basal keratinocytes and impaired commitment to differentiation. This led to ectopic expression of keratin 14 (K14) and ΔNp63 in suprabasal cells, decreased expression of spinous and granular layer proteins, parakeratosis and defective epidermal water barrier function. Knock-in mutagenesis revealed that C/EBP-E2F interaction was required for control of interfollicular epidermis (IFE) keratinocyte proliferation, but not for induction of spinous and granular layer markers, whereas C/EBP DNA binding was required for ΔNp63 downregulation and K1/K10 induction. Finally, loss of C/EBPα/β induced stem cell gene expression signatures in the epidermis. C/EBPs, therefore, couple basal keratinocyte cell cycle exit to commitment to differentiation through E2F repression and DNA binding, respectively, and may act to restrict the epidermal stem cell compartment.
Relevant articles
Open Access articles citing this article.
Katie Cockburn

,

Karl Annusver

…

Valentina Greco

Nature Cell Biology Open Access 10 November 2022

Jingting Li

,

Xiaojun Xu

…

George L. Sen

Nature Communications Open Access 04 February 2021

Marjorie A. Phillips

,

Angela Cánovas

…

Robert H. Rice

Scientific Reports Open Access 19 February 2020
Access options
Subscribe to this journal
Receive 12 print issues and online access
$209.00 per year
only $17.42 per issue
Rent or buy this article
Get just this article for as long as you need it
$39.95
Prices may be subject to local taxes which are calculated during checkout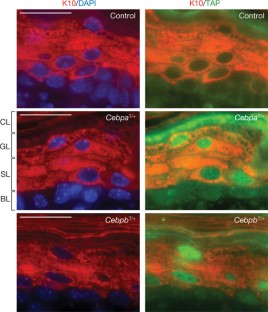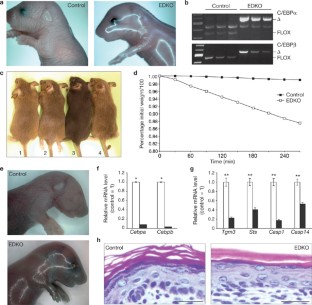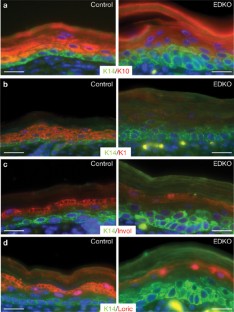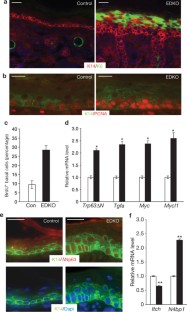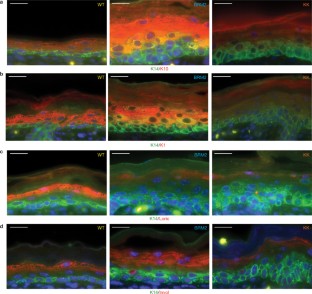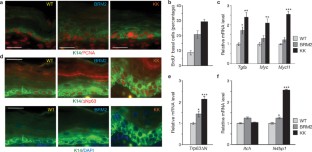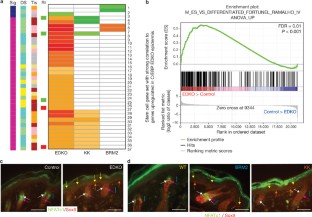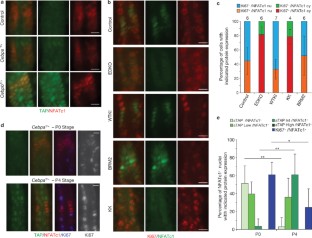 Accession codes
Accessions
ArrayExpress
References
Fuchs, E. & Horsley, V. More than one way to skin. Genes Dev. 22, 976–985 (2008).

Jones, P. H., Simons, B. D. & Watt, F. M. Sic transit gloria: farewell to the epidermal transit amplifying cell? Cell Stem Cell 1, 371–381 (2007).

Blanpain, C. & Fuchs, E. Epidermal stem cells of the skin. Annu. Rev. Cell Dev. Biol. 22, 339–373 (2006).

Candi, E., Schmidt, R. & Melino, G. The cornified envelope: a model of cell death in the skin. Nature Rev. Mol. Cell Biol. 6, 328–340 (2005).

Ruiz, S. et al. Unique and overlapping functions of pRb and p107 in the control of proliferation and differentiation in epidermis. Development 131, 2737–2748 (2004).

Thalmeier, K., Synovzik, H., Mertz, R., Winnacker, E. L. & Lipp, M. Nuclear factor E2F mediates basic transcription and trans-activation by E1a of the human MYC promoter. Genes Dev. 3, 527–536 (1989).

Rounbehler, R. J., Schneider-Broussard, R., Conti, C. J. & Johnson, D. G. Myc lacks E2F1's ability to suppress skin carcinogenesis. Oncogene 20, 5341–5349 (2001).

Yang, A. et al. p63 is essential for regenerative proliferation in limb, craniofacial and epithelial development. Nature 398, 714–718 (1999).

Mills, A. A. et al. p63 is a p53 homologue required for limb and epidermal morphogenesis. Nature 398, 708–713 (1999).

Lechler, T. & Fuchs, E. Asymmetric cell divisions promote stratification and differentiation of mammalian skin. Nature 437, 275–280 (2005).

Lee, H. & Kimelman, D. A dominant-negative form of p63 is required for epidermal proliferation in zebrafish. Dev. Cell 2, 607–616 (2002).

Senoo, M., Pinto, F., Crum, C. P. & McKeon, F. p63 is essential for the proliferative potential of stem cells in stratified epithelia. Cell 129, 523–536 (2007).

Truong, A. B., Kretz, M., Ridky, T. W., Kimmel, R. & Khavari, P. A. p63 regulates proliferation and differentiation of developmentally mature keratinocytes. Genes Dev. 20, 3185–3197 (2006).

Nguyen, B. C. et al. Cross-regulation between Notch and p63 in keratinocyte commitment to differentiation. Genes Dev. 20, 1028–1042 (2006).

Blanpain, C., Lowry, W. E., Pasolli, H. A. & Fuchs, E. Canonical notch signaling functions as a commitment switch in the epidermal lineage. Genes Dev. 20, 3022–3035 (2006).

Oh, H. S. & Smart, R. C. Expression of CCAAT/enhancer binding proteins (C/EBP) is associated with squamous differentiation in epidermis and isolated primary keratinocytes and is altered in skin neoplasms. J. Invest. Dermatol. 110, 939–945 (1998).

Maytin, E. V. & Habener, J. F. Transcription factors C/EBPα, C/EBPβ, and CHOP (Gadd153) expressed during the differentiation program of keratinocytes in vitro and in vivo. J. Invest. Dermatol. 110, 238–246 (1998).

Di-Poi, N., Desvergne, B., Michalik, L. & Wahli, W. Transcriptional repression of peroxisome proliferator-activated receptor β/δ in murine keratinocytes by CCAAT/enhancer-binding proteins. J. Biol. Chem. 280, 38700–38710 (2005).

Nerlov, C. The C/EBP family of transcription factors: a paradigm for interaction between gene expression and proliferation control. Trends Cell Biol. 17, 318–324 (2007).

Zhu, S. et al. C/EBPβ modulates the early events of keratinocyte differentiation involving growth arrest and keratin 1 and keratin 10 expression. Mol. Cell. Biol. 19, 7181–7190 (1999).

Loomis, K. D., Zhu, S., Yoon, K., Johnson, P. F. & Smart, R. C. Genetic ablation of CCAAT/enhancer binding protein alpha in epidermis reveals its role in suppression of epithelial tumorigenesis. Cancer Res. 67, 6768–6776 (2007).

Lee, Y. H., Sauer, B., Johnson, P. F. & Gonzalez, F. J. Disruption of the c/ebp α gene in adult mouse liver. Mol. Cell Biol. 17, 6014–6022 (1997).

Hafner, M. et al. Keratin 14 Cre transgenic mice authenticate keratin 14 as an oocyte-expressed protein. Genesis 38, 176–181 (2004).

Laurikkala, J. et al. p63 regulates multiple signalling pathways required for ectodermal organogenesis and differentiation. Development 133, 1553–1563 (2006).

Yi, R., Poy, M. N., Stoffel, M. & Fuchs, E. A skin microRNA promotes differentiation by repressing 'stemness'. Nature 452, 225–229 (2008).

Oberst, A. et al. The Nedd4-binding partner 1 (N4BP1) protein is an inhibitor of the E3 ligase Itch. Proc. Natl Acad. Sci. USA 104, 11280–11285 (2007).

Rossi, M. et al. The E3 ubiquitin ligase Itch controls the protein stability of p63. Proc. Natl Acad. Sci. USA 103, 12753–12758 (2006).

Porse, B. T. et al. E2F repression by C/EBPα is required for adipogenesis and granulopoiesis in vivo. Cell 107, 247–258 (2001).

Subramanian, A. et al. Gene set enrichment analysis: a knowledge-based approach for interpreting genome-wide expression profiles. Proc. Natl Acad. Sci. USA 102, 15545–15550 (2005).

Nowak, J. A., Polak, L., Pasolli, H. A. & Fuchs, E. Hair follicle stem cells are specified and function in early skin morphogenesis. Cell Stem Cell 3, 33–43 (2008).

Vidal, V. P., Ortonne, N. & Schedl, A. SOX9 expression is a general marker of basal cell carcinoma and adnexal-related neoplasms. J. Cutan. Pathol. 35, 373–379 (2008).

Horsley, V., Aliprantis, A. O., Polak, L., Glimcher, L. H. & Fuchs, E. NFATc1 balances quiescence and proliferation of skin stem cells. Cell 132, 299–310 (2008).

Bull, J. J. et al. Contrasting expression patterns of CCAAT/enhancer-binding protein transcription factors in the hair follicle and at different stages of the hair growth cycle. J. Invest. Dermatol. 118, 17–24 (2002).

Maytin, E. V. et al. Keratin 10 gene expression during differentiation of mouse epidermis requires transcription factors C/EBP and AP-2. Dev. Biol. 216, 164–181 (1999).

Crish, J. F., Gopalakrishnan, R., Bone, F., Gilliam, A. C. & Eckert, R. L. The distal and proximal regulatory regions of the involucrin gene promoter have distinct functions and are required for in vivo involucrin expression. J. Invest. Dermatol. 126, 305–314 (2006).

Antonini, D. et al. An autoregulatory loop directs the tissue-specific expression of p63 through a long-range evolutionarily conserved enhancer. Mol. Cell. Biol. 26, 3308–3318 (2006).

Schuster, M. B. & Porse, B. T. C/EBPα: a tumour suppressor in multiple tissues? Biochim. Biophys. Acta 1766, 88–103 (2006).

Sebastian, T., Malik, R., Thomas, S., Sage, J. & Johnson, P. F. C/EBPβ cooperates with RB:E2F to implement Ras(V12)-induced cellular senescence. EMBO J. 24, 3301–3312 (2005).

Wang, X., Pasolli, H. A., Williams, T. & Fuchs, E. AP-2 factors act in concert with Notch to orchestrate terminal differentiation in skin epidermis. J. Cell Biol. 183, 37–48 (2008).

Zhu, S., Yoon, K., Sterneck, E., Johnson, P. F. & Smart, R. C. CCAAT/enhancer binding protein-beta is a mediator of keratinocyte survival and skin tumorigenesis involving oncogenic Ras signaling. Proc. Natl Acad. Sci. USA 99, 207–212 (2002).

Wong, D. J. et al. Module map of stem cell genes guides creation of epithelial cancer stem cells. Cell Stem Cell 2, 333–344 (2008).

Ben-Porath, I. et al. An embryonic stem cell-like gene expression signature in poorly differentiated aggressive human tumors. Nature Genet. 40, 499–507 (2008).

Johansen, L. M. et al. c-Myc is a critical target for c/EBPα in granulopoiesis. Mol. Cell. Biol. 21, 3789–3806 (2001).

Vidal, V. P. et al. Sox9 is essential for outer root sheath differentiation and the formation of the hair stem cell compartment. Curr. Biol. 15, 1340–1351 (2005).

de Guzman Strong, C. et al. Lipid defect underlies selective skin barrier impairment of an epidermal-specific deletion of Gata-3. J. Cell Biol. 175, 661–670 (2006).

Segre, J. A., Bauer, C. & Fuchs, E. Klf4 is a transcription factor required for establishing the barrier function of the skin. Nature Genet. 22, 356–360 (1999).

Elias, P. M. et al. Basis for abnormal desquamation and permeability barrier dysfunction in RXLI. J. Invest. Dermatol. 122, 314–319 (2004).

Denecker, G. et al. Caspase-14 protects against epidermal UVB photodamage and water loss. Nature Cell Biol. 9, 666–674 (2007).

Hardman, M. J., Sisi, P., Banbury, D. N. & Byrne, C. Patterned acquisition of skin barrier function during development. Development 125, 1541–1552 (1998).

Rigaut, G. et al. A generic protein purification method for protein complex characterization and proteome exploration. Nature Biotechnol. 17, 1030–1032 (1999).

Zhang, Y., Buchholz, F., Muyrers, J. P. & Stewart, A. F. A new logic for DNA engineering using recombination in Escherichia coli. Nature Genet. 20, 123–128 (1998).

Kirstetter, P., Anderson, K., Porse, B. T., Jacobsen, S. E. & Nerlov, C. Activation of the canonical Wnt pathway leads to loss of hematopoietic stem cell repopulation and multilineage differentiation block. Nature Immunol. 7, 1048–1056 (2006).

Kirstetter, P. et al. Modeling of C/EBPα mutant acute myeloid leukemia reveals a common expression signature of committed myeloid leukemia-initiating cells. Cancer Cell 13, 299–310 (2008).

Rhee, H., Polak, L. & Fuchs, E. Lhx2 maintains stem cell character in hair follicles. Science 312, 1946–1949 (2006).

Venezia, T. A. et al. Molecular signatures of proliferation and quiescence in hematopoietic stem cells. PLoS Biol. 2, e301 (2004).

Turatsinze, J. V., Thomas-Chollier, M., Defrance, M. & van Helden, J. Using RSAT to scan genome sequences for transcription factor binding sites and cis-regulatory modules. Nature Protocols 3, 1578–1588 (2008).

Dignam, J. D., Lebovitz, R. M. & Roeder, R. G. Accurate transcription initiation by RNA polymerase II in a soluble extract from isolated mammalian nuclei. Nucleic Acids Res. 11, 1475–1489 (1983).

Timchenko, N. A. et al. CCAAT/enhancer binding protein alpha regulates p21 protein and hepatocyte proliferation in newborn mice. Mol. Cell. Biol. 17, 7353–7361 (1997).
Acknowledgements
This work was supported by the European Commission (EuroStemCell integrated project, EuroCSC STREP). R.L. was the recipient of a Marie Curie Fellowship; S.G. was supported by a fellowship from the Spanish Ministry of Research; O.B. was supported by an HFSP postdoctoral fellowship.
Ethics declarations
Competing interests
The authors declare no competing financial interests.
Supplementary information
About this article
Cite this article
Lopez, R., Garcia-Silva, S., Moore, S. et al. C/EBPα and β couple interfollicular keratinocyte proliferation arrest to commitment and terminal differentiation. Nat Cell Biol 11, 1181–1190 (2009). https://doi.org/10.1038/ncb1960
Received:

Accepted:

Published:

Issue Date:

DOI: https://doi.org/10.1038/ncb1960