Abstract
To provide a systematic analysis of genes that regulate epithelial cell migration, we performed a high throughput wound healing screen with MCF-10A breast epithelial cells, using siRNAs targeting 1,081 human genes encoding phosphatases, kinases and proteins predicted to influence cell migration and adhesion. The primary screen identified three categories of hits: those that accelerate, those that inhibit and those that impair migration with associated effects on cell proliferation or metabolism. Extensive validation of all the hits yielded 66 high confidence genes that, when downregulated, either accelerated or impaired migration; 42 of these high confidence genes have not been previously associated with motility or adhesion. Time-lapse video microscopy revealed a broad spectrum of phenotypic changes involving alterations in the extent and nature of disruption of cell–cell adhesion, directionality of motility, cell polarity and shape, and protrusion dynamics. Informatics analysis highlighted three major signalling nodes, β-catenin, β1-integrin and actin, and a large proportion of the genes that accelerated migration impaired cell–cell adhesion.
Relevant articles
Open Access articles citing this article.
Zonglong Hu

,

Fan Wei

…

Yi Chen

Signal Transduction and Targeted Therapy Open Access 06 January 2023

Zachary A. Kemmerer

,

Kyle P. Robinson

…

David J. Pagliarini

Nature Communications Open Access 06 August 2021

Lorey K. Smith

,

Tiffany Parmenter

…

Grant A. McArthur

Scientific Data Open Access 12 October 2020
Access options
Subscribe to this journal
Receive 12 print issues and online access
$209.00 per year
only $17.42 per issue
Rent or buy this article
Get just this article for as long as you need it
$39.95
Prices may be subject to local taxes which are calculated during checkout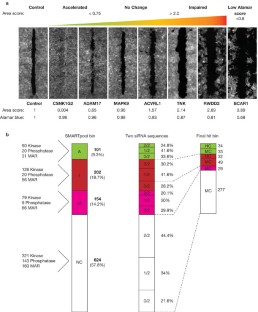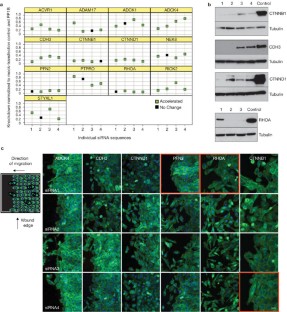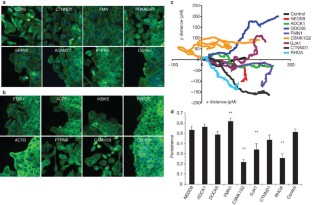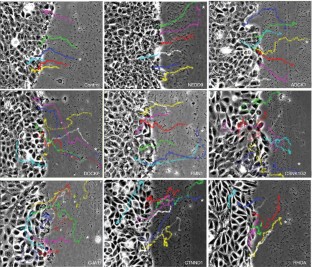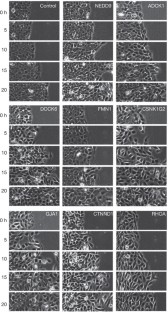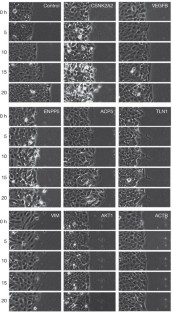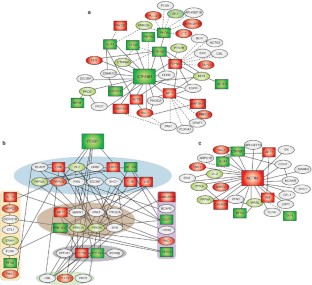 References
Cram, E. J., Shang, H. & Schwarzbauer, J. E. A systematic RNA interference screen reveals a cell migration gene network in C. elegans. J. Cell Sci. 119, 4811–4818 (2006).

Wang, X. et al. Analysis of cell migration using whole-genome expression profiling of migratory cells in the Drosophila ovary. Dev. Cell 10, 483–495 (2006).

MacKeigan, J. P., Murphy, L. O. & Blenis, J. Sensitized RNAi screen of human kinases and phosphatases identifies new regulators of apoptosis and chemoresistance. Nature Cell Biol. 7, 591–600 (2005).

Michl, P. et al. CUTL1 is a target of TGF-β signaling that enhances cancer cell motility and invasiveness. Cancer Cell 7, 521–532 (2005).

Collins, C. S. et al. A small interfering RNA screen for modulators of tumor cell motility identifies MAP4K4 as a promigratory kinase. Proc. Natl Acad. Sci. USA 103, 3775–3780 (2006).

Zhao, Y. & Ding, S. A high-throughput siRNA library screen identifies osteogenic suppressors in human mesenchymal stem cells. Proc. Natl Acad. Sci. USA 104, 9673–9678 (2007).

Liang, C. C., Park, A. Y. & Guan, J. L. In vitro scratch assay: a convenient and inexpensive method for analysis of cell migration in vitro. Nature Protoc. 2, 329–333 (2007).

Simpson, K. J., Dugan, A. S. & Mercurio, A. M. Functional analysis of the contribution of RhoA and RhoC GTPases to invasive breast carcinoma. Cancer Res. 64, 8694–8701 (2004).

Chan, A. Y. et al. Roles of the Rac1 and Rac3 GTPases in human tumor cell invasion. Oncogene 24, 7821–7829 (2005).

Huang, F., Khvorova, A., Marshall, W. & Sorkin, A. Analysis of clathrin-mediated endocytosis of epidermal growth factor receptor by RNA interference. J. Biol. Chem. 279, 16657–16661 (2004).

Echeverri, C. J. & Perrimon, N. High-throughput RNAi screening in cultured cells: a user's guide. Nature Rev. Genet. 7, 373–384 (2006).

Fedorov, Y. et al. Off-target effects by siRNA can induce toxic phenotype. RNA 12, 1188–1196 (2006).

Jackson, A. L. et al. Position-specific chemical modification of siRNAs reduces "off-target" transcript silencing. RNA 12, 1197–1205 (2006).

Brembeck, F. H., Rosario, M. & Birchmeier, W. Balancing cell adhesion and Wnt signaling, the key role of beta-catenin. Curr. Opin. Genet. Dev. 16, 51–59 (2006).

Charest, P. G. & Firtel, R. A. Big roles for small GTPases in the control of directed cell movement. Biochem. J. 401, 377–390 (2007).

Gupton, S. L. et al. Cell migration without a lamellipodium: translation of actin dynamics into cell movement mediated by tropomyosin. J. Cell Biol. 168, 619–631 (2005).

Hugo, H. et al. Epithelial — mesenchymal and mesenchymal — epithelial transitions in carcinoma progression. J. Cell Physiol. 213, 374–383 (2007).

Marmor, M. D., Skaria, K. B. & Yarden, Y. Signal transduction and oncogenesis by ErbB/HER receptors. Int. J. Radiat. Oncol. Biol. Phys. 58, 903–913 (2004).

Muthuswamy, S. K., Li, D., Lelievre, S., Bissell, M. J. & Brugge, J. S. ErbB2, but not ErbB1, reinitiates proliferation and induces luminal repopulation in epithelial acini. Nature Cell Biol. 3, 785–792 (2001).

Whitehurst, A. W. et al. Synthetic lethal screen identification of chemosensitizer loci in cancer cells. Nature 446, 815–819 (2007).

Chen, X. & Gumbiner, B. M. Crosstalk between different adhesion molecules. Curr. Opin. Cell Biol. 18, 572–578 (2006).

Vicente-Manzanares, M., Zareno, J., Whitmore, L., Choi, C. K. & Horwitz, A. F. Regulation of protrusion, adhesion dynamics, and polarity by myosins IIA and IIB in migrating cells. J. Cell Biol. 176, 573–580 (2007).

Omelchenko, T., Vasiliev, J. M., Gelfand, I. M., Feder, H. H. & Bonder, E. M. Rho-dependent formation of epithelial "leader" cells during wound healing. Proc. Natl Acad. Sci. USA 100, 10788–10793 (2003).

Rupp, P. A. & Kulesa, P. M. A role for RhoA in the two-phase migratory pattern of post-otic neural crest cells. Dev. Biol. 311, 159–171 (2007).

Haga, H., Irahara, C., Kobayashi, R., Nakagaki, T. & Kawabata, K. Collective movement of epithelial cells on a collagen gel substrate. Biophys. J. 88, 2250–2256 (2005).

Poujade, M. et al. Collective migration of an epithelial monolayer in response to a model wound. Proc. Natl Acad. Sci. USA 104, 15988–15993 (2007).

Lee, J. S., Chang, M. I., Tseng, Y. & Wirtz, D. Cdc42 mediates nucleus movement and MTOC polarization in Swiss 3T3 fibroblasts under mechanical shear stress. Mol. Biol. Cell 16, 871–880 (2005).

Lee, J. S. et al. Nuclear lamin A/C deficiency induces defects in cell mechanics, polarization, and migration. Biophys. J. 93, 2542–2552 (2007).

Fuja, T. J., Lin, F., Osann, K. E. & Bryant, P. J. Somatic mutations and altered expression of the candidate tumor suppressors CSNK1 epsilon, DLG1, and EDD/hHYD in mammary ductal carcinoma. Cancer Res. 64, 942–951 (2004).

Debnath, J., Muthuswamy, S. K. & Brugge, J. S. Morphogenesis and oncogenesis of MCF-10A mammary epithelial acini grown in three-dimensional basement membrane cultures. Methods 30, 256–268 (2003).

O'Brien, J., Wilson, I., Orton, T. & Pognan, F. Investigation of the Alamar Blue (resazurin) fluorescent dye for the assessment of mammalian cell cytotoxicity. Eur. J. Biochem. 267, 5421–5426 (2000).

Root, D. E., Hacohen, N., Hahn, W. C., Lander, E. S. & Sabatini, D. M. Genome-scale loss-of-function screening with a lentiviral RNAi library. Nature Methods 3, 715–719 (2006).

Irie, H. Y. et al. Distinct roles of Akt1 and Akt2 in regulating cell migration and epithelial-mesenchymal transition. J. Cell Biol. 171, 1023–1034 (2005).

Zaidel-Bar, R., Itzkovitz, S., Ma'ayan, A., Iyengar, R. & Geiger, B. Functional atlas of the integrin adhesome. Nature Cell Biol. 9, 858–867 (2007).
Acknowledgements
We wish to thank Stewart Rudnicki and Caroline Shamu (Institute for Chemical and Cell Biology) for screening assistance; Jim Horn (Department of Cell Biology) for manufacturing the wound healing pin; William Pearson for conceptualizing and generating the interactive website hosted by the Cell Migration Consortium; Sabina Winograd-Katz and Benjamin Geiger (Weizmann Institute) for collaborative creation of the MAR custom siRNA library; Rick Horwitz, Alan Hall, Gaudenz Danuser and Ghassan Mouneimne for stimulating and helpful discussions and critical reading of the manuscript and Lara Petrak (Nikon Imaging Centre) for assistance with time-lapse microscopy. We are also grateful to William Hahn, David Root and The RNAi Consortium for providing shRNA vectors. Funding was from the DOD W81XWH-04-1-0360 (K.J.S.) and the Cell Migration Consortium, supported by a grant from the NIH/NIGMS GM064346 (J.S.B.). A.R., D.L. and A.K. are employees of Thermo Fisher Scientific, which supported this work in part by supplying a subset of the siRNA reagents.
Ethics declarations
Competing interests
The authors declare no competing financial interests.
Supplementary information
About this article
Cite this article
Simpson, K., Selfors, L., Bui, J. et al. Identification of genes that regulate epithelial cell migration using an siRNA screening approach. Nat Cell Biol 10, 1027–1038 (2008). https://doi.org/10.1038/ncb1762
Received:

Accepted:

Published:

Issue Date:

DOI: https://doi.org/10.1038/ncb1762