Abstract
SIRT1 is the closest mammalian homologue of yeast SIR2, an important ageing regulator that prolongs lifespan in response to caloric restriction. Despite its importance, the mechanisms that regulate SIRT1 activity are unclear. Our study identifies a novel post-translational modification of SIRT1, namely sumoylation at Lys 734. In vitro sumoylation of SIRT1 increased its deacetylase activity. Conversely, mutation of SIRT1 at Lys 734 or desumoylation by SENP1, a nuclear desumoylase, reduced its deacetylase activity. Stress-inducing agents promoted the association of SIRT1 with SENP1 and cells depleted of SENP1 (but not of SENP1 and SIRT1) were more resistant to stress-induced apoptosis than control cells. We suggest that stress-inducing agents counteract the anti-apoptotic activity of SIRT1 by recruiting SENP1 to SIRT1, which results in the desumoylation and inactivation of SIRT1 and the consequent acetylation and activation of apoptotic proteins.
Relevant articles
Open Access articles citing this article.
Xiaoxun Wang

,

Xiaofang Che

…

Liu Cao

Journal of Experimental & Clinical Cancer Research Open Access 20 October 2020

Taolin Yuan

,

Jaap Keijer

…

Vincent C. J. de Boer

Scientific Reports Open Access 12 October 2020

Yang Wang

,

Jing Tian

…

Jinke Cheng

Cell Discovery Open Access 21 April 2020
Access options
Subscribe to this journal
Receive 12 print issues and online access
$209.00 per year
only $17.42 per issue
Rent or buy this article
Prices vary by article type
from$1.95
to$39.95
Prices may be subject to local taxes which are calculated during checkout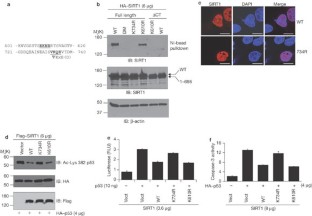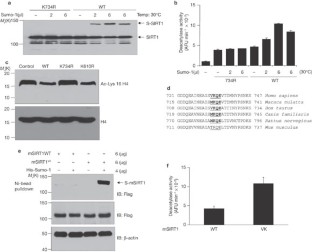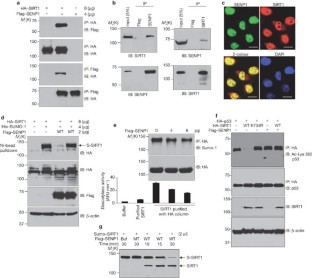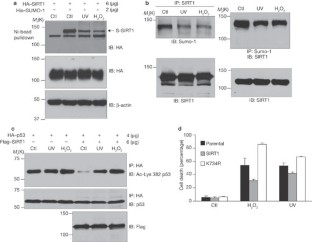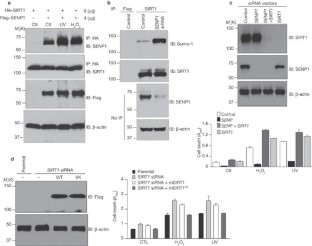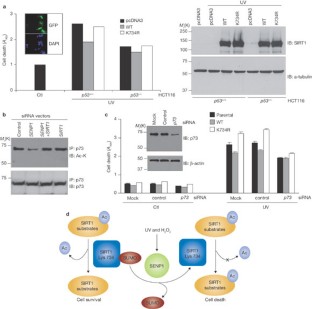 References
Imai, S., Armstrong, C. M., Kaeberlein, M. & Guarente, L. Transcriptional silencing and longevity protein Sir2 is an NAD-dependent histone deacetylase. Nature 403, 795–800 (2000).

Blander, G. & Guarente, L. The Sir2 family of protein deacetylases. Annu. Rev. Biochem. 73, 417–435 (2004).

North, B. J. & Verdin, E. Sirtuins: Sir2-related NAD-dependent protein deacetylases. Genome Biol. 5, 224 (2004).

Braunstein, M., Rose, A. B., Holmes, S. G., Allis, C. D. & Broach, J. R. Transcriptional silencing in yeast is associated with reduced nucleosome acetylation. Genes Dev. 7, 592–604 (1993).

Gottlieb, S. & Esposito, R. E. A new role for a yeast transcriptional silencer gene, SIR2, in regulation of recombination in ribosomal DNA. Cell 56, 771–776 (1989).

Haigis, M. C. & Guarente, L. P. Mammalian sirtuins — emerging roles in physiology, aging, and calorie restriction. Genes Dev. 20, 2913–2921 (2006).

Matsushita, N. et al. Role of NAD-dependent deacetylases SIRT1 and SIRT2 in radiation and cisplatin-induced cell death in vertebrate cells. Genes Cells 10, 321–332 (2005).

Alcendor, R. R., Kirshenbaum, L. A., Imai, S., Vatner, S. F. & Sadoshima, J. Silent information regulator 2α, a longevity factor and class III histone deacetylase, is an essential endogenous apoptosis inhibitor in cardiac myocytes. Circ. Res. 95, 971–980 (2004).

Cohen, H. Y. et al. Calorie restriction promotes mammalian cell survival by inducing the SIRT1 deacetylase. Science 305, 390–392 (2004).

Nemoto, S., Fergusson, M. M. & Finkel, T. Nutrient availability regulates SIRT1 through a forkhead-dependent pathway. Science 306, 2105–2108 (2004).

Kaeberlein, M., McVey, M. & Guarente, L. The SIR2/3/4 complex and SIR2 alone promote longevity in Saccharomyces cerevisiae by two different mechanisms. Genes Dev. 13, 2570–2580 (1999).

Lin, S. J., Defossez, P. A. & Guarente, L. Requirement of NAD and SIR2 for life-span extension by calorie restriction in Saccharomyces cerevisiae. Science 289, 2126–2128 (2000).

Tissenbaum, H. A. & Guarente, L. Increased dosage of a sir-2 gene extends lifespan in Caenorhabditis elegans. Nature 410, 227–230 (2001).

Luo, J. et al. Negative control of p53 by Sir2α promotes cell survival under stress. Cell 107, 137–148 (2001).

Langley, E. et al. Human SIR2 deacetylates p53 and antagonizes PML/p53-induced cellular senescence. EMBO J. 21, 2383–2396 (2002).

Vaziri, H. et al. hSIR2(SIRT1) functions as an NAD-dependent p53 deacetylase. Cell 107, 149–159 (2001).

Chen, W. Y. et al. Tumor suppressor HIC1 directly regulates SIRT1 to modulate p53-dependent DNA-damage responses. Cell 123, 437–448 (2005).

Yeh, E. T., Gong, L. & Kamitani, T. Ubiquitin-like proteins: new wines in new bottles. Gene 248, 1–14 (2000).

Verger, A., Perdomo, J. & Crossley, M. Modification with SUMO. A role in transcriptional regulation. EMBO Rep. 4, 137–142 (2003).

Muller, S., Ledl, A. & Schmidt, D. SUMO: a regulator of gene expression and genome integrity. Oncogene 23, 1998–2008 (2004).

Manza, L. L. et al. Global shifts in protein sumoylation in response to electrophile and oxidative stress. Chem. Res. Toxicol. 17, 1706–1715 (2004).

Huang, T. T., Wuerzberger-Davis, S. M., Wu, Z. H. & Miyamoto, S. Sequential modification of NEMO/IKKγ by SUMO-1 and ubiquitin mediates NF-κB activation by genotoxic stress. Cell 115, 565–576 (2003).

Brunet, A. et al. Stress-dependent regulation of FOXO transcription factors by the SIRT1 deacetylase. Science 303, 2011–2015 (2004).

Motta, M. C. et al. Mammalian SIRT1 represses forkhead transcription factors. Cell 116, 551–563 (2004).

Yang, Y., Hou, H., Haller, E. M., Nicosia, S. V. & Bai, W. Suppression of FOXO1 activity by FHL2 through SIRT1-mediated deacetylation. EMBO J. 24, 1021–1032 (2005).

Moschos, S. J. & Mo, Y. Y. Role of SUMO/Ubc9 in DNA damage repair and tumorigenesis. J. Mol. Histol. 37, 309–319 (2006).

Howitz, K. T. et al. Small molecule activators of sirtuins extend Saccharomyces cerevisiae lifespan. Nature 425, 191–196 (2003).

Cheng, J., Wang, D., Wang, Z. & Yeh, E. T. SENP1 enhances androgen receptor-dependent transcription through desumoylation of histone deacetylase 1. Mol. Cell Biol. 24, 6021–6028 (2004).

Wang, C. et al. Interactions between E2F1 and SirT1 regulate apoptotic response to DNA damage. Nature Cell Biol. 8, 1025–1031 (2006).

Cohen, H. Y. et al. Acetylation of the C-terminus of Ku70 by CBP and PCAF controls Bax-mediated apoptosis. Mol. Cell 13, 627–638 (2004).

Chen, L. & Chen, J. MDM2–ARF complex regulates p53 sumoylation. Oncogene 22, 5348–5357 (2003).

Buschmann, T., Lerner, D., Lee, C. G. & Ronai, Z. The Mdm-2 amino terminus is required for Mdm2 binding and SUMO-1 conjugation by the E2 SUMO-1 conjugating enzyme Ubc9. J. Biol. Chem. 276, 40389–40395 (2001).

Wood, J. G. et al. Sirtuin activators mimic caloric restriction and delay ageing in metazoans. Nature 430, 686–689 (2004).

Heltweg, B. et al. Antitumor activity of a small-molecule inhibitor of human silent information regulator 2 enzymes. Cancer Res. 66, 4368–4377 (2006).

Chu, F., Chou, P. M., Zheng, X., Mirkin, B. L. & Rebbaa, A. Control of multidrug resistance gene mdr1 and cancer resistance to chemotherapy by the longevity gene sirt1. Cancer Res. 65, 10183–10187 (2005).

Cheng, J., Perkins, N. D. & Yeh, E. T. Differential regulation of c-Jun-dependent transcription by SUMO-specific proteases. J. Biol. Chem. 280, 14492–14498 (2005).

Gong, L., Millas, S., Maul, G. G. & Yeh, E. T. Differential regulation of sentrinized proteins by a novel sentrin-specific protease. J. Biol. Chem. 275, 3355–3359 (2000).
Acknowledgements
The authors thank E. T. Yeh at the M. D Anderson Cancer Center for SENP1 and SENP1 siRNA vectors. FACS analyses were performed in the Flow Cytometry core facility at H. Lee Moffitt Cancer Center and Research Institute. The work was supported by the Public Health Service grant CA93666 (W.B) and a DOD Prostate Cancer grant DAMD17-02-1-0140 (W.B).
Supplementary information
About this article
Cite this article
Yang, Y., Fu, W., Chen, J. et al. SIRT1 sumoylation regulates its deacetylase activity and cellular response to genotoxic stress. Nat Cell Biol 9, 1253–1262 (2007). https://doi.org/10.1038/ncb1645
Received:

Accepted:

Published:

Issue Date:

DOI: https://doi.org/10.1038/ncb1645