Abstract
Autophagy, the degradation of cytoplasmic components, is an evolutionarily conserved homeostatic process involved in environmental adaptation, lifespan determination and tumour development. The tumor suppressor Beclin1 is part of the PI(3) kinase class III (PI(3)KC3) lipid-kinase complex that induces autophagy. The autophagic activity of the Beclin1–PI(3)KC3 complex, however, is suppressed by Bcl-2. Here, we report the identification of a novel coiled–coil UV irradiation resistance-associated gene (UVRAG) as a positive regulator of the Beclin1–PI(3)KC3 complex. UVRAG, a tumour suppressor candidate that is monoallelically mutated at high frequency in human colon cancers, associates with the Beclin1–Bcl-2–PI(3)KC3 multiprotein complex, where UVRAG and Beclin1 interdependently induce autophagy. UVRAG-mediated activation of the Beclin1–PI(3)KC3 complex promotes autophagy and also suppresses the proliferation and tumorigenicity of human colon cancer cells. These results identify UVRAG as an essential component of the Beclin1–PI(3)KC3 lipid kinase complex that is an important signalling checkpoint for autophagy and tumour-cell growth.
Relevant articles
Open Access articles citing this article.
Hui Zuo

,

Cheng Chen

&

Yalian Sa

Pharmacological Reports Open Access 29 April 2023

Xue Li

,

Ziqi Zhang

…

Huashan Shi

Signal Transduction and Targeted Therapy Open Access 13 June 2022

Baocai Liu

,

Yinliang Lu

…

Guanghui Cheng

Cell Communication and Signaling Open Access 19 July 2021
Access options
Subscribe to this journal
Receive 12 print issues and online access
$209.00 per year
only $17.42 per issue
Rent or buy this article
Prices vary by article type
from$1.95
to$39.95
Prices may be subject to local taxes which are calculated during checkout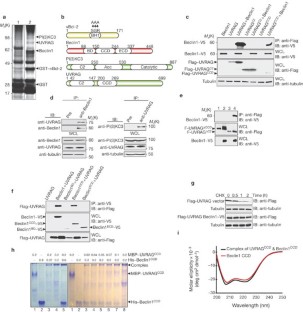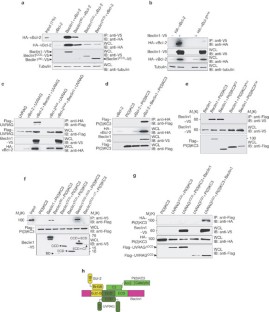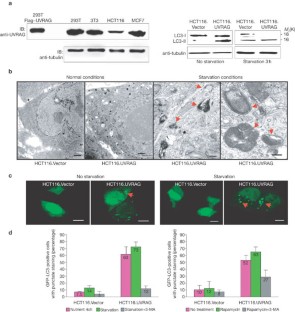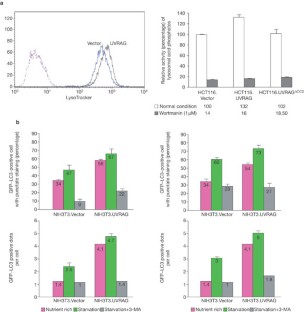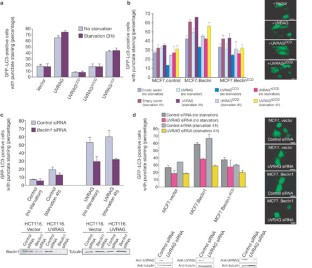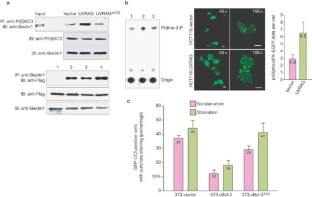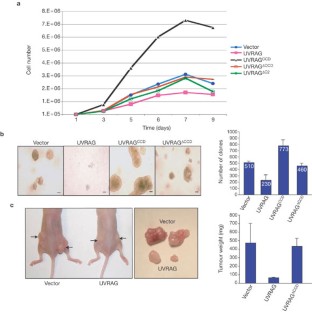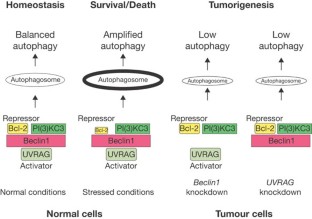 References
Boya, P. et al. Inhibition of macroautophagy triggers apoptosis. Mol. Cell Biol. 25, 1025–1040 (2005).

Klionsky, D. J. The molecular machinery of autophagy: unanswered questions. J. Cell Sci. 118, 7–18 (2005).

Levine, B. Eating oneself and uninvited guests: autophagy-related pathways in cellular defense. Cell 120, 159–162 (2005).

Levine, B. & Klionsky, D. J. Development by self-digestion: molecular mechanisms and biological functions of autophagy. Dev. Cell 6, 463–477 (2004).

Lum, J. J., DeBerardinis, R. J. & Thompson, C. B. Autophagy in metazoans: cell survival in the land of plenty. Nature Rev. Mol. Cell Biol. 6, 439–448 (2005).

Kihara, A., Noda, T., Ishihara, N. & Ohsumi, Y. Two distinct Vps34 phosphatidylinositol 3-kinase complexes function in autophagy and carboxypeptidase Y sorting in Saccharomyces cerevisiae. J. Cell Biol. 152, 519–530 (2001).

Suzuki, K. et al. The pre-autophagosomal structure organized by concerted functions of APG genes is essential for autophagosome formation. EMBO J. 20, 5971–5981 (2001).

Furuya N., Yu J., Byfield M., Pattingre S & B., L. The evolutionarily conserved domain of beclin 1 is required for Vps34 binding, autophagy and tumor suppressor function. Autophagy 1, 46–52 (2005).

Aita, V. M. et al. Cloning and genomic organization of beclin 1, a candidate tumor suppressor gene on chromosome 17q21. Genomics 59, 59–65 (1999).

Liang, X. H. et al. Induction of autophagy and inhibition of tumorigenesis by beclin 1. Nature 402, 672–676 (1999).

Qu, X. et al. Promotion of tumorigenesis by heterozygous disruption of the beclin 1 autophagy gene. J. Clin. Invest. 112, 1809–1820 (2003).

Yue, Z., Jin, S., Yang, C., Levine, A. J. & Heintz, N. Beclin 1, an autophagy gene essential for early embryonic development, is a haploinsufficient tumor suppressor. Proc. Natl Acad. Sci. USA 100, 15077–15082 (2003).

Gozuacik, D. & Kimchi, A. Autophagy as a cell death and tumor suppressor mechanism. Oncogene 23, 2891–2906 (2004).

Jia, L. et al. Inhibition of autophagy abrogates tumour necrosis factor alpha induced apoptosis in human T-lymphoblastic leukaemic cells. Br. J. Haematol. 98, 673–685 (1997).

Mills, K. R., Reginato, M., Debnath, J., Queenan, B. & Brugge, J. S. Tumor necrosis factor-related apoptosis-inducing ligand (TRAIL) is required for induction of autophagy during lumen formation in vitro. Proc. Natl Acad. Sci. USA 101, 3438–3443 (2004).

Thorburn, J. et al. Selective inactivation of a Fas-associated death domain protein (FADD)-dependent apoptosis and autophagy pathway in immortal epithelial cells. Mol. Biol. Cell 16, 1189–1199 (2005).

Arico, S. et al. The tumor suppressor PTEN positively regulates macroautophagy by inhibiting the phosphatidylinositol 3-kinase/protein kinase B pathway. J. Biol. Chem. 276, 35243–35246 (2001).

Pattingre, S. et al. Bcl-2 antiapoptotic proteins inhibit Beclin 1-dependent autophagy. Cell 122, 927–939 (2005).

Shimizu, S. et al. Role of Bcl-2 family proteins in a non-apoptotic programmed cell death dependent on autophagy genes. Nature Cell Biol. 6, 1221–1228 (2004).

Virgin, H. W. t. et al. Complete sequence and genomic analysis of murine gammaherpesvirus 68. J. Virol. 71, 5894–5904 (1997).

Polster, B. M., Pevsner, J. & Hardwick, J. M. Viral Bcl-2 homologs and their role in virus replication and associated diseases. Biochim. Biophys. Acta. 1644, 211–227 (2004).

Roy, D. J., Ebrahimi, B. C., Dutia, B. M., Nash, A. A. & Stewart, J. P. Murine gammaherpesvirus M11 gene product inhibits apoptosis and is expressed during virus persistence. Arch. Virol. 145, 2411–2420 (2000).

Wang, G. H., Garvey, T. L. & Cohen, J. I. The murine gammaherpesvirus-68 M11 protein inhibits Fas- and TNF-induced apoptosis. J. Gen. Virol. 80, 2737–2740 (1999).

de Lima, B. D., May, J. S., Marques, S., Simas, J. P. & Stevenson, P. G. Murine gammaherpesvirus 68 bcl-2 homologue contributes to latency establishment in vivo. J. Gen. Virol. 86, 31–40 (2005).

Gangappa, S., van Dyk, L. F., Jewett, T. J., Speck, S. H. & Virgin, H. W. IV. Identification of the in vivo role of a viral bcl-2. J. Exp. Med. 195, 931–940 (2002).

Bekri, S. et al. Detailed map of a region commonly amplified at 11q13->q14 in human breast carcinoma. Cytogenet. Cell. Genet. 79, 125–131 (1997).

Perelman, B. et al. Molecular cloning of a novel human gene encoding a 63-kDa protein and its sublocalization within the 11q13 locus. Genomics 41, 397–405 (1997).

Goi, T. et al. Ascending colon cancer with hepatic metastasis and cholecystolithiasis in a patient with situs inversus totalis without any expression of UVRAG mRNA: report of a case. Surg. Today 33, 702–706 (2003).

Ionov, Y., Nowak, N., Perucho, M., Markowitz, S. & Cowell, J. K. Manipulation of nonsense mediated decay identifies gene mutations in colon cancer cells with microsatellite instability. Oncogene 23, 639–645 (2004).

Liang, X. H. et al. Protection against fatal Sindbis virus encephalitis by beclin, a novel Bcl-2-interacting protein. J. Virol. 72, 8586–8596 (1998).

Loh, J. et al. A surface groove essential for viral bcl-2 function during chronic infection in vivo. PLoS Pathog. 1, e10 (2005).

Tanida, I., Ueno, T. & Kominami, E. LC3 conjugation system in mammalian autophagy. Int. J. Biochem. Cell. Biol. 36, 2503–2518 (2004).

Mizushima, N., Yamamoto, A., Matsui, M., Yoshimori, T. & Ohsumi, Y. In vivo analysis of autophagy in response to nutrient starvation using transgenic mice expressing a fluorescent autophagosome marker. Mol. Biol. Cell 15, 1101–1111 (2004).

Kabeya, Y. et al. LC3, a mammalian homologue of yeast Apg8p, is localized in autophagosome membranes after processing. EMBO J. 19, 5720–5728 (2000).

Vieira, O. V. et al. Distinct roles of class I and class III phosphatidylinositol 3-kinases in phagosome formation and maturation. J. Cell Biol. 155, 19–25 (2001).

Levine, B. & Yuan, J. Autophagy in cell death: an innocent convict? J. Clin. Invest. 115, 2679–2688 (2005).

Iida, A. et al. Identification of a gene disrupted by inv(11)(q13.5;q25) in a patient with left-right axis malformation. Hum. Genet. 106, 277–287 (2000).

Lum, J. J. et al. Growth factor regulation of autophagy and cell survival in the absence of apoptosis. Cell 120, 237–248 (2005).

Nobukuni, T. et al. Amino acids mediate mTOR/raptor signaling through activation of class 3 phosphatidylinositol 3OH-kinase. Proc. Natl Acad. Sci. USA 102, 14238–14243 (2005).
Acknowledgements
This work was partly supported by U.S. Public Health Service grants CA82057, CA91819, CA31363, CA106156, and RR00168 (JUJ), the Creative Research Initiative of Korea Ministry of Science and Technology (B.-H.O and B.-S.K.). P.F. is a Leukemia & Lymphoma Society Fellow. We thank B. Levine, M.J. Hardwick, S. Virgin, S. Field, N. Mizushima, T. Yoshimori, J. Backer and Y. Ohsumi for providing reagents, T. Seo and S. Dann for helping with the PI3KC3 assay, S. Gygi for mass spectrometry, J. Mackey for performing electron microscopy, and T.C. Taylor and K.G. Toney for helping with manuscript preparation. Finally, we thank all members of Tumor Virology Division for discussions.
Ethics declarations
Competing interests
The authors declare no competing financial interests.
Supplementary information
Supplementary Figures S1, S2, S3, S4, S5 and Supplementary Data (PDF 1164 kb)
About this article
Cite this article
Liang, C., Feng, P., Ku, B. et al. Autophagic and tumour suppressor activity of a novel Beclin1-binding protein UVRAG. Nat Cell Biol 8, 688–698 (2006). https://doi.org/10.1038/ncb1426
Received:

Accepted:

Published:

Issue Date:

DOI: https://doi.org/10.1038/ncb1426