Access options
Subscribe to Journal
Get full journal access for 1 year
$225.00
only $18.75 per issue
All prices are NET prices.
VAT will be added later in the checkout.
Rent or Buy article
Get time limited or full article access on ReadCube.
from$8.99
All prices are NET prices.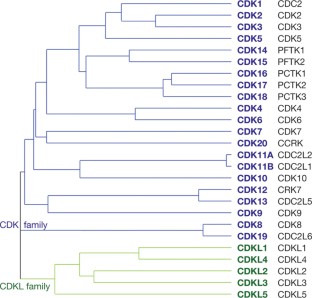 References
1

Malumbres, M. & Barbacid, M. Mammalian cyclin-dependent kinases. Trends. Biochem. Sci. 30, 630–641 (2005).

2

Manning, G., Whyte, D. B., Martinez, R., Hunter, T. & Sudarsanam, S. The protein kinase complement of the human genome. Science 298, 1912–1934 (2002).

3

Chen, H. H., Wang, Y. C. & Fann, M. J. Identification and characterization of the CDK12/cyclin L1 complex involved in alternative splicing regulation. Mol. Cell. Biol. 26, 2736–2745 (2006).

4

Chen, H. H., Wong, Y. H., Geneviere, A. M. & Fann, M. J. CDK13/CDC2L5 interacts with L-type cyclins and regulates alternative splicing. Biochem. Biophys. Res. Commun. 354, 735–740 (2007).

5

Shu, F. et al. Functional characterization of human PFTK1 as a cyclin-dependent kinase. Proc. Natl Acad. Sci. U SA 104, 9248–9253 (2007).

6

Stanyon, C. A. et al. A Drosophila protein-interaction map centered on cell-cycle regulators. Genome Biol. 5, R96 (2004).

7

Rual, J. F. et al. Towards a proteome-scale map of the human protein-protein interaction network. Nature 437, 1173–1178 (2005).

8

Sato, S. et al. A set of consensus mammalian mediator subunits identified by. multidimensional protein identification technology. Mol. Cell 14, 685–691 (2004).

9

Liu, Y., Wu, C. & Galaktionov, K. p42, a novel cyclin-dependent kinase-activating kinase in mammalian cells. J. Biol. Chem. 279, 4507–4514 (2004).

10

Ng, S. S. et al. Cell cycle-related kinase: a novel candidate oncogene in human glioblastoma. J. Natl Cancer Inst. 99, 936–948 (2007).
Supplementary information