Abstract
Oncogenes that promote cell-cycle progression also sensitize cells to agents that induce apoptosis. Sensitization is thought to be caused by the induction of proapoptotic factors. Alternatively, sensitization may require the inactivation of inhibitors that ordinarily provide protection against cell death. Here we show that the adenoviral oncogene E1A sensitizes cells to an anti-cancer drug by at least two pathways. One establishes a link between the drug and pro-apoptotic factors, but is not sufficient for sensitization without the second pathway, which suppresses inhibitors of apoptosis.
Relevant articles
Open Access articles citing this article.
Christa Nagler

,

Cornelia Hardt

…

Thomas Dittmar

Cancer Cell International Open Access 28 June 2011
Access options
Subscribe to Journal
Get full journal access for 1 year
$99.00
only $8.25 per issue
All prices are NET prices.
VAT will be added later in the checkout.
Tax calculation will be finalised during checkout.
Buy article
Get time limited or full article access on ReadCube.
$32.00
All prices are NET prices.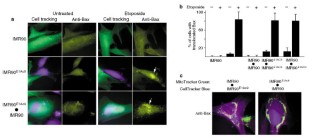 References
Evan, G. & Littlewood, T. A matter of life and cell death . Science 281, 1317–1322 (1998).

Thornberry, N. A. & Lazebnik, Y. Caspases: enemies within. Science 281, 1312– 1316 (1998).

Guo, M. & Hay, B. Cell proliferation and apoptosis [see comments]. Curr. Opin. Cell Biol. 11, 745 –752 (1999).

Lowe, S. W. & Lin, A. W. Apoptosis in cancer. Carcinogenesis 21, 485–495 (2000).

Attardi, L. D., Lowe, S. W., Brugarolas, J. & Jacks, T. Transcriptional activation by p53, but not induction of the p21 gene, is essential for oncogene-mediated apoptosis. EMBO J. 15, 3693–3701 (1996).

Rao, L. et al. The adenovirus E1A proteins induce apoptosis, which is inhibited by the E1B 19-kDa and bcl-2 proteins. Proc. Natl Acad. Sci. USA 89, 7742–7746 ( 1992).

Lowe, S. W. & Ruley, H. E. Stabilization of the p53 tumor suppressor is induced by adenovirus 5 E1A and accompanies apoptosis. Genes Dev. 7, 535–545 ( 1993).

Samuelson, A. V. & Lowe, S. W. Selective induction of p53 and chemosensitivity in RB-deficient cells by E1A mutants unable to bind the RB-related proteins. Proc. Natl Acad. Sci. USA 94, 12094–12099 (1997).

Evan, G. et al. Induction of apoptosis in fibroblasts by c-myc protein. Cell 69, 119–128 ( 1992).

Fearnhead, H. O. et al. Oncogene-dependent apoptosis is mediated by caspase-9. Proc. Natl Acad. Sci. USA 95, 13664– 13669 (1998).

Rodriguez, J. & Lazebnik, Y. Caspase-9 and APAF-1 form an active holoenzyme. Genes Dev. 13, 3179– 3184 (1999).

Yang, J. et al. Prevention of apoptosis by Bcl-2: release of cytochrome c from mitochondria blocked. Science 275, 1129–1132 (1997).

Kluck, R. M., BossyWetzel, E., Green, D. R. & Newmeyer, D. D. The release of cytochrome c from mitochondria: a primary site for Bcl-2 regulation of apoptosis. Science 275, 1132 –1136 (1997).

McCurrach, M. E., Connor, T. M. F., Knudson, C. M., Korsmeyer, S. J. & Lowe, S. W. bax-deficiency promotes drug resistance and oncogenic transformation by attenuating p53-dependent apoptosis. Proc. Natl Acad. Sci. USA 94, 2345–2349 (1997).

Wolter, K. G. et al. Movement of Bax from the cytosol to mitochondria during apoptosis . J. Cell Biol. 139, 1281– 1292 (1997).

Jurgensmeier, J. M. et al. Bax directly induces release of cytochrome c from isolated mitochondria. Proc. Natl Acad. Sci. USA 95, 4997–5002 (1998).

Narita, M. et al. Bax interacts with the permeability transition pore to induce permeability transition and cytochrome c release in isolated mitochondria . Proc. Natl Acad. Sci. USA 95, 14681– 14686 (1998).

Gross, A., McDonnell, J. M. & Korsmeyer, S. J. BCL-2 family members and the mitochondria in apoptosis [in process citation]. Genes Dev. 13, 1899 –1911 (1999).

Putcha, G. V., Deshmukh, M. & Johnson, E. M. Jr BAX translocation is a critical event in neuronal apoptosis: regulation by neuroprotectants, BCL-2, and caspases. J. Neurosci. 19, 7476–7485 (1999).

Haldar, S., Jena, N. & Croce, C. M. Inactivation of Bcl-2 by phosphorylation. Proc. Natl Acad. Sci. USA 92, 4507– 4511 (1995).

Guan, R. J. et al. 30 KDa phosphorylated form of Bcl-2 protein in human colon . Oncogene 12, 2605–2609 (1996).

Nomura, M. et al. Apoptotic cytosol facilitates Bax translocation to mitochondria that involves cytosolic factor regulated by Bcl-2. Cancer Res. 59, 5542–5548 ( 1999).

Kluck, R. M. et al. The pro-apoptotic proteins, Bid and Bax, cause a limited permeabilization of the mitochondrial outer membrane that is enhanced by cytosol. J. Cell Biol. 147, 809–822 (1999).

Du, C., Fang, M., Li, Y., Li, L. & Wang, X. Smac, a mitochondrial protein that promotes cytochrome c-dependent caspase activation by eliminating IAP inhibition. Cell 102, 33–42 (2000).

Verhagen, A. M. et al. Identification of DIABLO, a mammalian protein that promotes apoptosis by binding to and antagonizing IAP proteins. Cell 102, 43–53 (2000).

Dyson, N. & Harlow, E. Adenovirus E1A targets key regulators of cell proliferation. Cancer Surv. 12, 161–195 (1992.

Bols, N. C. & Kuhn, K. The enucleation of cells on plastic Leighton coverslips. Stain Technol. 56, 103–108 (1981).
Acknowledgements
We thank J. Rodriguez for IMR90myc cells, and G. Hannon, M. Hastings, D. Helfman, A. Krainer and members of the Lazebnik laboratory for critical reading of the manuscript. This work was supported by National Institutes of Health grant no. CA13106-25, a Seraph Foundation grant to Y.L., and a Roche Research Foundation fellowship to D.M.D.
About this article
Cite this article
Duelli, D., Lazebnik, Y. Primary cells suppress oncogene-dependent apoptosis. Nat Cell Biol 2, 859–862 (2000). https://doi.org/10.1038/35041112
Received:

Revised:

Accepted:

Published:

Issue Date:

DOI: https://doi.org/10.1038/35041112