Abstract
Cohesins, which have been characterized in budding yeast1,2 and Xenopus3, are multisubunit protein complexes involved in sister chromatid cohesion. Regulation of the interactions among different cohesin subunits and the assembly/disassembly of the cohesin complex to chromatin are key steps in chromosome segregation. We previously characterized the mammalian STAG3 protein as a component of the synaptonemal complex that is specifically expressed in germinal cells4, although its function in meiosis remains unknown. Here we show that STAG3 has a role in sister chromatid arm cohesion during mammalian meiosis I. Immunofluorescence results in prophase I cells suggest that STAG3 is a component of the axial/lateral element of the synaptonemal complex. In metaphase I, STAG3 is located at the interchromatid domain and is absent from the chiasma region. In late anaphase I and the later stages of meiosis, STAG3 is not detected. STAG3 interacts with the structural maintenance chromosome proteins SMC1 and SMC3, which have been reported to be subunits of the mitotic cohesin complex2,3. We propose that STAG3 is a sister chromatid arm cohesin that is specific to mammalian meiosis I.
Access options
Access options
Subscribe to Journal
Get full journal access for 1 year
$225.00
only $18.75 per issue
All prices are NET prices.
VAT will be added later in the checkout.
Rent or Buy article
Get time limited or full article access on ReadCube.
from$8.99
All prices are NET prices.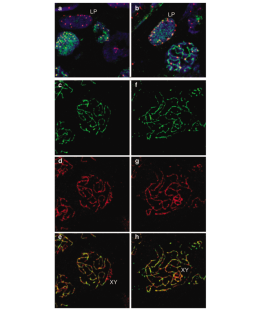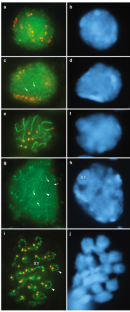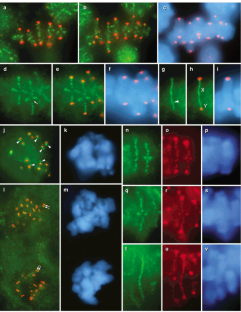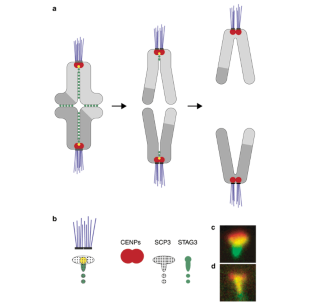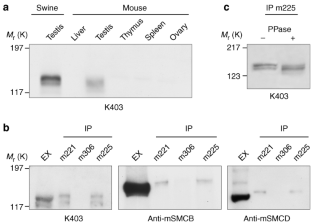 References
1

Michaelis, C., Ciosk, R. & Nasmyth, K. Cell 91, 35–45 (1997).

2

Toth, A. et al. Genes Dev. 13, 320–333 (1999).

3

Losada, A., Hirano, M. & Hirano T. Genes Dev. 12, 1986–1997 (1998).

4

Pezzi, N. et al. FASEB J. 14, 581–592 (2000).

5

Uhlmann, F., Lottspeich, F. & Nasmyth, K. Nature 400, 37–42 (1999).

6

Darwiche, N., Freeman, L. A. & Strunnikov, A. Gene 233, 39–47 (1999).

7

Strunnikov, A. & Jessberger, R. Eur. J. Biochem. 263, 6–13 (1999).

8

Carramolino, L. et al. Gene 195, 151–159 (1997).

9

Valdeolmillos, A. et al. DNA Cell Biol. 17, 699–706 (1998).

10

Losada, A., Yocochi, T., Kobayashi, R. & Hirano, T. J. Cell Biol. 150, 405–416 (2000).

11

Sumara, I., Vorlaufer, E., Gieffers, C., Peters, B. H. & Peters, J. M. J. Cell Biol. 151, 749–762 (2000).

12

Parisi, S. et al. Mol. Cell. Biol. 19, 3515–3528 (1999).

13

Watanabe, Y. & Nurse, P. Nature 400, 461–464 (1999).

14

Buonomo, S. B. et al. Cell 103, 387–398 (2000).

15

Klein, F. et al. Cell 98, 91–103 (1999).

16

Moens, P. B. & Spyropoulos, B. Chromosoma 104, 175–182 (1995).

17

Meuwissen, R. L. J. et al. EMBO J. 11, 5091–5100 (1992).

18

Lammers, J. H. M. et al. Mol. Cell. Biol. 14, 1137–1146 (1994).

19

Page, J., Suja, J. A., Santos, J. L. & Rufas J. S. Chromosome Res. 6, 639–642 (1998).

20

Scherthan, H. et al. J. Cell Biol. 134, 1109–1125 (1996).

21

Hirano, T. Annu. Rev. Biochem. 69, 115–144 (2000).

22

Suja, J. A., Antonio, C., Debec, A. & Rufas, J. S. J. Cell. Sci. 112, 2957–2969 (1999).

23

Zetka, M. C., Kawasaki, I., Strome, S. & Müller, F. Genes Dev. 13, 2258–2270 (1999).

24

Tóth, A. et al. Cell 103, 1155–1168 (2000).

25

Eijpe, M., Heyting, C., Gross, B. & Jessberger, R. J. Cell Sci. 113, 673–682 (2000).

26

Tomonaga, T. et al. Genes & Dev. 14, 2757–2770 (2000).

27

Krawchuck, M. D., DeVeaux, L. C. & Wahls, W. P. Genetics 153, 57–68 (1999).

28

del Mazo, J., Martín-Sempere, M. J., Kremer, L. & Avila, J. Cytogenet. Cell Genet. 43, 201–206 (1986).

29

Alsheimer, M. & Benavente, R. Exp. Cell Res. 228, 181–188 (1996).

30

Jessberger, R., Podust, V., Hubscher, U. & Berg, P. J. Biol. Chem. 268, 15070–15079 (1993).
Acknowledgements
We thank J. P. Albar, F. Roncal and L. Gómez for help with anti-STAG3 antibody generation; C. Heyting for the gift of anti-SCP1 and anti-SCP3 antisera; R. Benavente for guinea-pig anti-SCP3 antibody; and A. Strunnikov for anti-mSMCB and anti-mSMCD sera; A. Martínez for technical help; J. M. Buesa, C. Carreiro, I. Barthelemy and A. Valdeolmillos for helpful discussions; and C. Mark for editorial assistance. This work was partially supported by a grant from the Dirección General de Enseñanza Superior e Investigación Científica (Spain). The Department of Immunolgy and Oncology was founded and is supported by the Spanish National Research Council (CSIC) and the Pharmacia Corporation.