Abstract
Release of cytochrome c from mitochondria by apoptotic signals induces ATP/dATP-dependent formation of the oligomeric Apaf-1–caspase-9 apoptosome. Here we show that the documented anti-apoptotic effect of the principal heat-shock protein, Hsp70, is mediated through its direct association with the caspase-recruitment domain (CARD) of Apaf-1 and through inhibition of apoptosome formation. The interaction between Hsp70 and Apaf-1 prevents oligomerization of Apaf-1 and association of Apaf-1 with procaspase-9. On the basis of these results, we propose that resistance to apoptosis exhibited by stressed cells and some tumours, which constitutively express high levels of Hsp70, may be due in part to modulation of Apaf-1 function by Hsp70.
Access options
Subscribe to Journal
Get full journal access for 1 year
$59.00
only $4.92 per issue
All prices are NET prices.
VAT will be added later in the checkout.
Tax calculation will be finalised during checkout.
Rent or Buy article
Get time limited or full article access on ReadCube.
from$8.99
All prices are NET prices.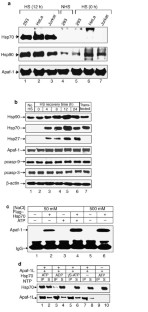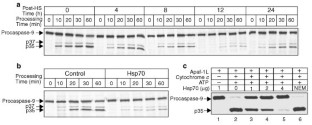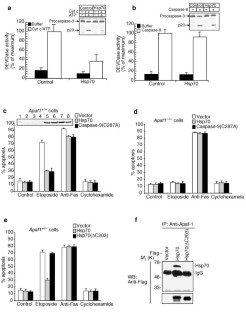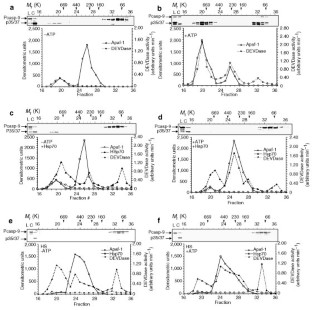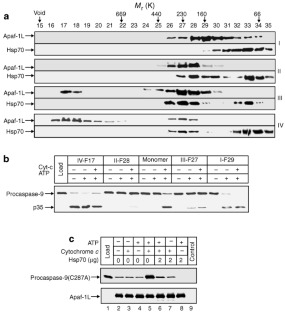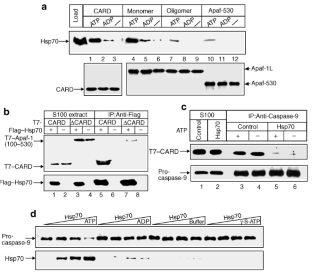 References
1

Kerr, J. F., Wyllie, A. H. & Currie, A. R. Apoptosis: a basic biological phenomenon with wide- ranging implications in tissue kinetics. Br. J. Cancer 4, 239–257 (1972).

2

Vaux, D. L., Haecker, G. & Strasser, A. An evolutionary perspective on apoptosis. Cell 76, 777–779 (1994).

3

Steller, H. Mechanisms and genes of cellular suicide. Science 267, 1445–1449 (1995).

4

Alnemri, E. S. Mammalian cell death proteases: a family of highly conserved aspartate specific cysteine proteases. J. Cell Biochem. 64, 33–42 (1997).

5

Cohen, G. M. Caspases: the executioners of apoptosis. Biochem. J. 326, 1–16 (1997).

6

Salvesen, G. S. & Dixit, V. M. Caspases: intracellular signaling by proteolysis. Cell 14, 443–446 (1997).

7

Cryns, V. & Yuan, J. Proteases to die for. Genes Dev. 12, 1551–1570 (1998).

8

Thornberry, N. A. & Lazebnik, Y. Caspases: enemies within. Science 281, 1312–1316 (1998).

9

Fernandes-Alnemri, T. et al. In vitro activation of CPP32 and Mch3 by Mch4, a novel human apoptotic cysteine protease containing two FADD-like domains. Proc. Natl Acad. Sci. USA 93, 7464–7469 (1996).

10

Stennicke, H. R. et al. Pro-caspase-3 is a major physiologic target of caspase-8. J. Biol. Chem. 273, 27084–27090 (1998).

11

Green, D. R. & Reed, J. C. Mitochondria and apoptosis. Science 281, 1309–1312 (1998).

12

Goldstein, J. C., Waterhouse, N. J., Juin, P., Evan, G. I. & Green, D. R. The coordinate release of cytochrome c during apoptosis is rapid, complete and kinetically invariant. Nature Cell Biol. 2, 156–162 (2000).

13

Li, P. et al. Cytochrome c and dATP-dependent formation of Apaf-1/caspase-9 complex initiates an apoptotic protease cascade. Cell 91, 479–489 (1997).

14

Srinivasula, S. M., Ahmad, M., Fernandes-Alnemri, T. & Alnemri, E. S. Autoactivation of procaspase-9 by Apaf-1-mediated oligomerization. Mol. Cell 1, 949–957 (1998).

15

Saleh, A., Srinivasula, S. M., Acharya, S., Fishel, R. & Alnemri, E. S. Cytochrome c and dATP-mediated oligomerization of Apaf-1 is a prerequisite for procaspase-9 activation. J.Biol.Chem. 274, 17941–17945 (1999).

16

Qin, H. et al. Structural basis of procaspase-9 recruitment by the apoptotic protease-activating factor 1. Nature 399, 549–557 (1999).

17

Zou, H., Li, Y., Liu, X. & Wang, X. An APAF-1 cytochrome c multimeric complex is a functional apoptosome that activates procaspase-9. J. Biol. Chem. 274, 11549–11556 (1999).

18

Cain, K., Brown, D. G., Langlais, C. & Cohen, G. M. Caspase activation involves the formation of the aposome, a large (approximately 700 kDa) caspase-activating complex. J. Biol. Chem. 274, 22686–22692 (1999).

19

Li, G. C., Mivechi, N. F. & Weitzel, G. Heat shock proteins, thermotolerance, and their relevance to clinical hyperthermia. Int. J. Hyperthermia 11, 459–488 (1995).

20

Jaattela, M., Wissing, D., Bauer, P. A. & Li, G. C. Major heat shock protein hsp70 protects tumor cells from tumor necrosis factor cytotoxicity. EMBO J. 11, 3507–3512 (1992).

21

Jaattela, M. & Wissing, D. Heat-shock proteins protect cells from monocyte cytotoxicity: possible mechanism of self-protection. J. Exp. Med. 177, 231–236 (1993).

22

Mosser, D. D., Caron, A. W., Bourget, L., Denis-Larose, C. & Massie, B. Role of the human heat shock protein hsp70 in protection against stress-induced apoptosis. Mol. Cell Biol. 17, 5317–5327 (1997).

23

Jaattela, M., Wissing, D., Kokholm, K., Kallunki, T. & Egeblad, M. Hsp70 exerts its anti-apoptotic function downstream of caspase-3-like proteases. EMBO J. 17, 6124–6134 (1998).

24

Hermawan, A. & Chirico, W. J. N-Ethylmaleimide-modified Hsp70 inhibits protein folding. Arch. Biochem. Biophys. 369, 157–162 (1999).

25

Yin, X. M. et al. Bid-deficient mice are resistant to Fas-induced hepatocellular apoptosis. Nature 400, 886–891 (1999).

26

Schmid, D., Baici, A., Gehring, H. & Christen, P. Kinetics of molecular chaperone action. Science 263, 971–973 (1994).

27

Li, G. C., Li, L., Liu, R. Y., Rehman, M. & Lee, W. M. F. Heat shock protein hsp70 protects cells from thermal stress even after deletion of its ATP-binding domain. Proc. Natl Acad. Sci. USA 89, 2036–2040 (1992).

28

Buzzard, K. A., Giaccia, A. J., Killender, M. & Anderson, R. L. Heat shock protein 72 modulates pathways of stress-induced apoptosis. J. Biol. Chem. 273, 17147–17153 (1998).

29

Wissing, D., Mouritzen, H., Egeblad, M., Poirier, G. G. & Jaattela, M. Involvement of caspase-dependent activation of cytosolic phospholipase A2 in tumor necrosis factor-induced apoptosis. Proc. Natl Acad. Sci. USA 94, 5073–5077 (1997).

30

Wong, H. R., Menendez, I. Y., Ryan, M. A. & Denenberg, A. G. Increased expression of heat shock protein-70 protects A549 cells against hyperoxia. Am. J. Physiol. 275, L836–L841 (1998).

31

Polla, B. S. et al. Mitochondria are selective targets for the protective effects of heat shock against oxidative injury. Proc. Natl Acad. Sci. USA 93, 6458–6463 (1996).

32

Ciocca, D. R. et al. Heat shock protein hsp70 in patients with axillary lymph node-negative breast cancer: prognostic implications. J. Natl Cancer Inst. 85, 570–574 (1993).

33

Jaattela, M. Escaping cell death: survival proteins in cancer. Exp. Cell. Res. 248, 30–43 (1999).

34

Dunning, A. M. et al. A systematic review of genetic polymorphisms and breast cancer risk. Cancer Epidemiol. Biomarkers Prev. 8, 843–854 (1999).

35

Wei, Y. Q., Zhao, X., Kariya, Y., Teshigawara, K. & Uchida A. Inhibition of proliferation and induction of apoptosis by abrogation of heat-shock protein (HSP) 70 expression in tumor cells. Cancer Immunol. Immunother. 40, 73–78 (1995).

36

Robertson, J. D., Datta, K., Biswal, S. S. & Kehrer, J. P. Heat-shock protein 70 antisense oligomers enhance proteasome inhibitor-induced apoptosis. Biochem. J. 344, 477–485 (1999).

37

Kaur, J., Kaur, J. & Ralhan, R. Induction of apoptosis by abrogation of HSP70 expression in human oral cancer cells. Int. J. Cancer 85, 1–5 (2000).

38

Creagh, E. M. & Cotter, T. G. Selective protection by HSP70 against cytotoxic drug-, but not Fas-induced T-cell apoptosis. Immunology 97, 36–44.
Acknowledgements
We thank the members of Robbins' laboratory, especially M. Serrano, B. Baldwin, T. Kenniston and J. Mai, for technical support. We also thank Y. Lazebnik and S. H. Kaufmann for Apaf-1 and caspase-9 antibodies, respectively, and R. Morimoto for hsp70 cDNA. This work was supported by NIH grants AG14357 and AG13487 (to E.S.A.) and CA55227 (to P.D.R.).
Correspondence and requests for materials should be addressed to E.S.A.
About this article
Cite this article
Saleh, A., Srinivasula, S., Balkir, L. et al. Negative regulation of the Apaf-1 apoptosome by Hsp70. Nat Cell Biol 2, 476–483 (2000). https://doi.org/10.1038/35019510
Received:

Revised:

Accepted:

Published:

Issue Date: