Abstract
The induction of developmental structures derived from the ectoderm, such as the neural tube or tooth, occurs through neutralization of the inhibitory activity of members of the bone-morphogenetic protein (BMP) family by BMP antagonists. Here we show that, during hair-follicle development, the neural inducer and BMP-neutralizing protein Noggin is expressed in the follicular mesenchyme, that noggin-knockout mice show significant retardation of hair-follicle induction, and that Noggin neutralizes the inhibitory action of BMP-4 and stimulates hair-follicle induction in embryonic skin organ culture. As a crucial mesenchymal signal that stimulates hair-follicle induction, Noggin operates through antagonistic interactions with BMP-4, which result in upregulation of the transcription factor Lef-1 and the cell-adhesion molecule NCAM, as well as through BMP4-independent downregulation of the 75 kD neurotrophin receptor in the developing hair follicle.
Relevant articles
Open Access articles citing this article.
Basharat Bhat

,

Mifftha Yaseen

…

Nazir A. Ganai

Scientific Reports Open Access 19 January 2021

Carla M. Abreu

,

Rogério P. Pirraco

…

Alexandra P. Marques

Stem Cell Research & Therapy Open Access 15 January 2021

Abigail Haythorn

,

Madeline Young

…

Jaroslava Halper

Journal of Orthopaedic Surgery and Research Open Access 07 October 2020
Access options
Subscribe to this journal
Receive 12 print issues and online access
$209.00 per year
only $17.42 per issue
Rent or buy this article
Get just this article for as long as you need it
$39.95
Prices may be subject to local taxes which are calculated during checkout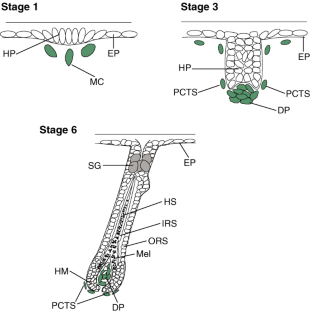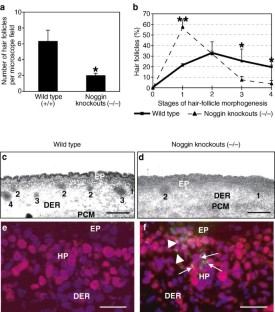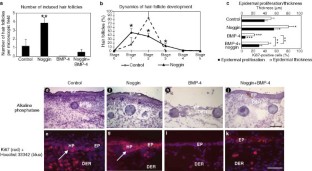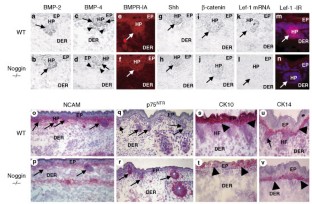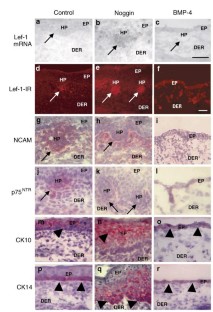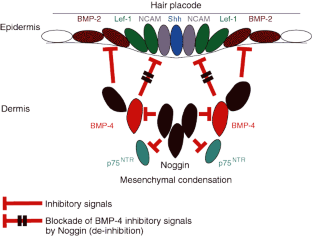 References
Lamb, T. M. et al. Neural induction by the secreted polypeptide noggin. Science 262, 713–718 ( 1993).

Neubüser, A., Peters, H., Balling, R. & Martin, G. R. Antagonistic interactions between FGF and BMP signaling pathways: a mechanism for positioning the sites of tooth formation. Cell 90, 247 –255 (1997).

Jung, H. S. et al. Local inhibitory action of BMPs and their relationships with activators in feather formation: implications for periodic patterning. Dev. Biol. 196, 11–23 ( 1998).

Tanabe, Y. & Jessel, T. M. Diversity and pattern in the developing spinal cord. Science 274, 1115 – 1123 (1996).

Harland, R. & Gerhart, J. Formation and function of Spemann"s organizer. Annu. Rev. Cell Dev. Biol. 13, 611–667 (1997).

Harland, R. M. Neural induction in Xenopus. Curr. Opin. Genet. Dev. 4, 543–549 (1994).

Zimmerman, L. B., De Jesus Escobar, J. M. & Harland, R. M. The Spemann organizer signal noggin binds and inactivates bone morphogenetic protein 4. Cell 86, 599–606 (1996).

McMahon, J. A. et al. Noggin-mediated antagonism of BMP signaling is required for growth and patterning of the neural tube and somite. Genes Dev . 12, 1438–1452 ( 1998).

Tucker, A. S., Matthews, K. L. & Sharpe, P. T. Transformation of tooth type induced by inhibition of BMP signaling. Science 282, 1136– 1138 (1998).

Hardy, M. H. The secret life of the hair follicle. Trends Genet. 8, 55–61 (1992).

Oro, A. E. & Scott, M. P. Splitting hairs: dissecting roles of signaling systems in epidermal development. Cell 96, 575–578 (1998).

Philpott, M. P. & Paus, R. in Molecular Basis of Epithelial Appendage Morphogenesis (ed. Chuong, C. M.) 75– 103 (Landes Bioscience, Austin, 1998).

van Genderen, C. et al. Development of several organs that require inductive epithelial-mesenchymal interactions is impaired in LEF-1-deficient mice. Genes Dev. 15, 2691–2703 (1994).

Zhou, P., Byrne, C., Jacobs, J. & Fuchs, E. Lymphoid enhancer factor 1 directs hair follicle patterning and epithelial cell fate. Genes Dev. 9, 700–713 ( 1995).

Gat, U., DasGupta, R., Degenstein, L. & Fuchs, E. De novo hair follicle morphogenesis and hair tumors in mice expressing a truncated beta-catenin in skin. Cell 95, 605–614 (1998).

St-Jacques, B. et al. Sonic hedgehog signalling is essential for hair development . Curr. Biol 24, 1058–1068 (1998).

Chiang, C. et al. Essential role for Sonic hedgehog during hair follicle morphogenesis . Dev. Biol. 205, 1–9 (1999).

Winnier, G., Blessing, M., Labosky, P. A. & Hogan, B. L. Bone morphogenetic protein-4 is required for mesoderm formation and patterning in the mouse. Genes Dev. 9, 2105– 2116 (1995).

Mishina, Y., Suzuki, A., Ueno, N. & Behringer, R. R. Bmpr encodes a type I bone morphogenetic protein receptor that is essential for gastrulation during mouse embryogenesis. Genes Dev. 9, 3027–3037 (1995).

Hogan, B. L. Bone morphogenetic proteins in development. Curr. Opin. Genet. Dev. 6, 432–438 ( 1996).

Blessing, M., Nanney, L. B., King, L. E., Jones, C. M. & Hogan, B. L. Transgenic mice as a model to study the role of TGF-beta-related molecules in hair follicles. Genes Dev. 7, 204–215 ( 1993).

Lyons, K. M., Pelton, R. W. & Hogan, B. L. Organogenesis and pattern formation in the mouse: RNA distribution patterns suggest a role for bone morphogenetic protein-2A (BMP-2A). Development 109, 833– 844 (1990).

Bitgood, M. J. & McMahon, A. P. Hedgehog and Bmp genes are coexpressed at many diverse sites of cell-cell interaction in the mouse embryo. Dev. Biol. 172, 126 – 138 (1995).

Jahoda, C. A., Horne, K. A. & Oliver, R. F. Induction of hair growth by implantation of cultured dermal papilla cells. Nature 311, 560– 562 (1984).

Jahoda, A. B. & Reynolds, A. J. Dermal-epidermal interactions — adult follicle-derived cell populations and hair growth. Dermatol. Clin. 14, 573–583 (1996).

Polakowska, R. R., Piacentini, M., Bartlett, R., Goldsmith, L. A. & Haake, A. R. Apoptosis in human skin development: morphogenesis, periderm, and stem cells. Dev. Dyn. 199, 176–188 (1994).

Botchkarev, V. A. et al. A new role for neurotrophins: involvement of brain-derived neurotrophic factor and neurotrophin-4 in hair cycle control. FASEB J. 13, 395–410 ( 1999).

Hardy, M. H. & Vielkind, U. Changing patterns of cell adhesion molecules during mouse pelage hair follicle development. 1. Follicle morphogenesis in wild-type mice. Acta Anat. 157, 169– 182 (1996).

Kim, J. et al. Transcriptional regulation of BMP-4 in the Xenopus embryo: analysis of genomic BMP-4 and its promoter. Biochem. Biophys. Res. Commun. 250, 516–530 ( 1998).

Kratochwill, K., Dull, M., Farinas, I., Galceran, J. & Grosscheldl, R. Lef1 expression is activated by BMP-4 and regulates inductive tissue interactions in tooth and hair development. Genes Dev. 10, 1382–1394 ( 1996).

Müller-Röver, S., Peters, E. M. J., Botchkarev, V. A., Panteleyev, A. A. & Paus, R. Distinct patterns of N-CAM expression are associated with defined stages of murine hair follicle morphogenesis and regression. J. Histochem. Cytochem. 46, 1401–1409 (1998).

Müller-Röver, S. & Paus, R. in Molecular Biology of Epithelial Appendage Morphogenesis (ed. Chuong, C. M.) 283 – 314 (Landes Bioscience, Austin, 1998).

Holbrook, K. A. & Minami, S. I. Hair follicle embryogenesis in the human. Characterization of events in vivo and in vitro. Ann. NY Acad. Sci. 642, 167 –196 (1991).

Byrne, C., Tainsky, M. & Fuchs, E. Programming gene expression in developing epidermis . Development 120, 2369– 2383 (1994).

Eckert, R. L., Crish, J. F. & Robinson, N. A. The epidermal keratinocyte as a model for the study of gene regulation and cell differentiation. Physiol. Rev. 77, 397–424 (1997).

Schmidt, C., Christ, B., Patel, K. & Brand-Saberi, B. Experimental induction of BMP-4 expression leads to apoptosis in the paraxial and lateral plate mesoderm. Dev. Biol. 202, 253– 263 (1998).

Buckland, R. A., Collinson, J. M., Graham, E., Davidson, D. R. & Hill, R. E. Antagonistic effects of FGF4 on BMP induction of apoptosis and chondrogenesis in the chick limb bud. Mech. Dev. 71, 143–150 ( 1998).

Dassule, H. & McMahon, A. P. Analysis of epithelial-mesenchymal interactions in the initial morphogenesis of the mammalian tooth. Dev. Biol. 202, 215–227 (1998).

Chan, E. F., Gat, U., McNiff, J. M., & Fuchs, E. A common human skin tumour is caused by activating mutations in β-catenin. Nature Genet. 21, 410–413 ( 1999).

Jiang, T. X. & Chuong, C.-M. Mechanism of skin morphogenesis. I. Analyses with antibodies to adhesion molecules tenascin, N-CAM, and integrin . Dev. Biol. 150, 82–98 (1992).

Brunet, L. J., McMahon, J. A., McMahon, A. P. & Harland, R. M. Noggin, cartilage morphogenesis, and joint formation in the mammalian skeleton . Science 280, 1455–1457 (1998).

Paus, R., Hofmann, U., Eichmüller, S. & Czarnetzki, B. M. Distribution and changing density of gamma-delta T cells in murine skin during the induced hair cycle. Br. J. Dermatol. 130, 281–289 (1994).

Cerletti, N. et al. Process for the production of biologically active protein (TGF-β). European Patent Application No. 0433 225 A1; filed June 19, 1991.

Li, L., Paus, R., Slominski, A. & Hoffman, R. Skin histoculture assay for studying the hair cycle. In Vitro Cell. Dev. Biol. 28, 695–698 (1992).

Botchkarev, V. A. et al. A new role for neurotrophin-3: involvement in the regulation of hair follicle regression (catagen). Am. J. Pathol. 153, 705–719 (1998).

Ohsugi, M. et al. Expression and cell membrane localization of catenins during mouse preimplantation development. Dev. Dyn. 206, 391–402 (1996).

Huber, O. et al. Nuclear localization of beta-catenin by interaction with transcription factor LEF-1. Mech. Dev. 59, 3– 10 (1996).

Yamada, N. et al. Bone morphogenetic protein type IB receptor is progressively expressed in malignant glioma tumours. Br. J. Cancer 73, 624–629 (1996).

Lindner, G. et al. Analysis of apoptosis during hair follicle regression (catagen) . Am. J. Pathol. 151, 1601– 1617 (1997).

Paus, R., Foitzik, K., Welker, P., Bulfone-Paus, S. & Eichmüller, S. Transforming growth factor-beta receptor type I and type II expression during murine hair follicle development and cycling. J. Invest. Dermatol. 109, 518– 526 (1997).

Handjiski, B., Eichmüller, S., Hofmann, U., Czarnetzki, B. M. & Paus, R. Alkaline phosphatase activity and localisation during the murine hair cycle. Br. J. Dermatol. 131, 303–310 (1994).
Acknowledgements
We thank R. Pliet for technical assistance; R. Harland for providing the Noggin-producing cell line; A. Vortkamp and E. Chelkovnikova for the purification of Noggin protein; and O. Huber and K. Funa for supplying plasmids and antisera. This study was supported by a grant from the Deutsche Forschungsgemeinschaft to R.P. (Pa 345/8-2). Work in A.P.M.'s laboratory is supported by grants from the NIH.
Correspondence and requests for materials should be addressed to R.P. or V.A.B.
About this article
Cite this article
Botchkarev, V., Botchkareva, N., Roth, W. et al. Noggin is a mesenchymally derived stimulator of hair-follicle induction . Nat Cell Biol 1, 158–164 (1999). https://doi.org/10.1038/11078
Received:

Revised:

Accepted:

Published:

Issue Date:

DOI: https://doi.org/10.1038/11078