Abstract
The fate of free cholesterol released after endocytosis of low-density lipoproteins remains obscure. Here we report that late endosomes have a pivotal role in intracellular cholesterol transport. We find that in the genetic disease Niemann–Pick type C (NPC), and in drug-treated cells that mimic NPC, cholesterol accumulates in late endosomes and sorting of the lysosomal enzyme receptor is impaired. Our results show that the characteristic network of lysobisphosphatidic acid-rich membranes contained within multivesicular late endosomes regulates cholesterol transport, presumably by acting as a collection and distribution device. The results also suggest that similar endosomal defects accompany the anti-phospholipid syndrome and NPC.
Relevant articles
Open Access articles citing this article.
Momoko Nakamura

,

Kei Fujiwara

&

Nobuhide Doi

Journal of Nanobiotechnology Open Access 27 October 2022

Alexander N. Kapustin

,

Paul Davey

…

Sanyogitta Puri

Communications Biology Open Access 01 November 2021

Muna Abed Rabbo

,

Yara Khodour

…

Johnny Stiban

Lipids in Health and Disease Open Access 03 May 2021
Access options
Subscribe to Journal
Get full journal access for 1 year
$99.00
only $8.25 per issue
All prices are NET prices.
VAT will be added later in the checkout.
Tax calculation will be finalised during checkout.
Buy article
Get time limited or full article access on ReadCube.
$32.00
All prices are NET prices.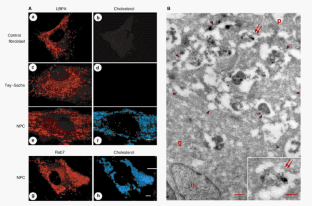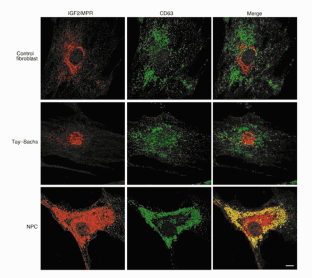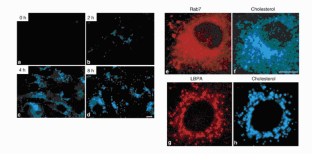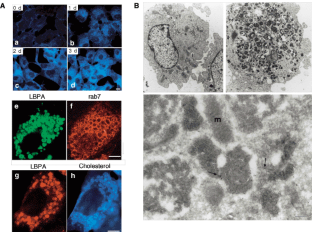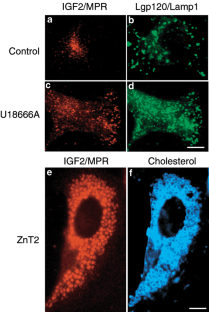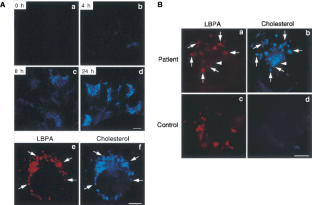 References
Goldstein, J. L., Brown, M. S., Anderson, R. G. W., Russell, D. W. & Schneider, W. J. Receptor-mediated endocytosis . Annu. Rev. Cell Biol. 1, 1– 40 (1985).

Gruenberg, J. & Maxfield, F. Membrane transport in the endocytic pathway. Curr. Opin. Cell Biol. 7, 552– 563 (1995).

Mullock, B. M., Bright, N. A., Fearon, C. W., Gray, S. R. & Luzio, J. P. Fusion of lysosomes with late endosomes produces a hybrid organelle of intermediate density and is NSF dependent. J. Cell Biol. 140, 591–601 (1998).

Kobayashi, T., Gu, F. & Gruenberg, J. Lipids and lipid domains in endocytic membrane traffic . Semin. Cell Dev. Biol. 9, 517– 526 (1998).

Kobayashi, T. et al. A lipid associated with the antiphospholipid syndrome regulates endosome structure/function. Nature 392, 193–197 (1998).

Liscum, L. & Klansek, J. J. Niemann–Pick disease type C. Curr. Opin. Lipidol. 9, 131– 5 (1998).

Loftus, S.K. et al. Murine model of Niemann–Pick C disease: mutation in a cholesterol homeostasis gene. Science 277, 232–235 (1997).

Carstea, E. D. et al. Niemann–Pick C1 disease gene: homology to mediators of cholesterol homeostasis. Science 277, 228–231 (1997).

Watari, H. et al. Niemann–Pick C1 protein: obligatory roles for N-terminal domains and lysosomal targeting in cholesterol mobilization. Proc. Natl Acad. Sci. USA 96, 805–810 (1999).

Patel, S. C. et al. Localization of Niemann–Pick C1 protein in astrocytes: implications for neuronal degeneration in Niemann–Pick type C disease . Proc. Natl Acad. Sci. USA 96, 1657– 1662 (1999).

Sokol, J. et al. Type C Niemann–Pick disease. Lysosomal accumulation and defective intracellular mobilization of low density lipoprotein cholesterol . J. Biol. Chem. 263, 3411– 3417 (1988).

Chavrier, P., Parton, R. G., Hauri, H. P., Simons, K. & Zerial, M. Localisation of low molecular weight GTP binding proteins to exocytic and endocytic compartments. Cell 62, 317–329 ( 1990).

Pentchev, P. G., Vanier, M. T., Suzuki, K. & Patterson, M. in The Metabolic and Molecular Bases of Inherited Disease (eds Scriver, C. R., Beaudet, W. S. & Sly, D.) 2625–2639 (McGraw-Hill, New-York, 1995).

Koike, T. et al. Decreased membrane fluidity and unsaturated fatty acids in Niemann–Pick disease type C fibroblasts. Biochim. Biophys. Acta 1406, 327–335 (1998).

Kornfeld, S. Structure and function of the mannose-6-phosphate/insulin-like growth factor II receptors. Annu. Rev. Biochem. 61, 307 –330 (1992).

Escola, J. M. et al. Selective enrichment of tetraspan proteins on the internal vesicles of multivesicular endosomes and on exosomes secreted by human B lymphocytes . J. Biol. Chem. 273, 20121– 20127 (1998).

Neufeld, E. B. et al. The Niemann–Pick C1 protein resides in a vesicular compartment linked to retrograde transport of multiple lysosomal cargo. J. Biol. Chem. 274, 9627–9635 (1999).

Liscum, L. & Faust, J. R. The intracellular transport of low density lipoprotein-derived cholesterol is inhibited in Chinese hamster ovary cells cultured with 3-beta-[2-(diethylamino)ethoxy]androst-5-en-17-one . J. Biol. Chem. 264, 11796– 11806 (1989).

Pentchev, P.G. et al. The Niemann–Pick C lesion and its relationship to the intracellular distribution and utilization of LDL cholesterol. Biochim. Biophys. Acta 1225, 235–243 (1994).

Palmiter, R. D., Cole, T. B. & Findley, S. D. ZnT-2, a mammalian protein that confers resistance to zinc by facilitating vesicular sequestration. EMBO J. 15, 1784–1791 (1996).

Aniento, F., Emans, N., Griffiths, G. & Gruenberg, J. Cytoplasmic dynein-dependent vesicular transport from early to late endosomes. J. Cell Biol. 123, 1373–1388 (1993).

Asherson, R. A., Cervera, R., Piette, J.-C., Shoenfeld, Y. (Eds) The Antiphospholipid Syndrome (CRC Press, Boca Raton, New York, London, Tokyo, 1996).

Alarcon-Segovia, D. & Cabral, A. R. The antiphospholipid/cofactor syndromes. J. Rheumatol. 23, 1319– 1322 (1996).

Gruenberg, J., Griffiths, G. & Howell, K. E. Characterisation of the early endosome and putative endocytic carrier vesicles in vivo and with an assay of vesicle fusion in vitro. J. Cell Biol. 108, 1301– 1316 (1989).

Omura, K. et al. Type C Niemann–Pick disease: clinical and biochemical studies on six cases. Brain Dev. 11, 57– 61 (1989).

Sakuraba, H. et al. GM2 gangliosidosis AB variant: clinical and biochemical studies of a Japanese patient. Neurology 52, 372 –377 (1999).

Griffiths, G., McDowell, A., Back, R. & Dubochet, J. On the preparation of cryosections for immunocytochemistry. ltrastruct. Res. 89, 65–78 (1984).
Acknowledgements
We thank R. Gagescu, G. van der Goot, F. Perez, and M. Rojo for critical reading of the manuscript. This work was supported by the Swiss National Science Foundation (J.G.), the NHMRC of Australia (R.G.P.) and by the International Human Frontier Science Program (J.G., R.G.P., T.K).
Correspondence and requests for materials should be addressed to J.G.
About this article
Cite this article
Kobayashi, T., Beuchat, MH., Lindsay, M. et al. Late endosomal membranes rich in lysobisphosphatidic acid regulate cholesterol transport. Nat Cell Biol 1, 113–118 (1999). https://doi.org/10.1038/10084
Received:

Revised:

Accepted:

Published:

Issue Date:

DOI: https://doi.org/10.1038/10084