Abstract
A coordinated effort combining bioinformatic tools with high-throughput cell-based screening assays was implemented to identify novel factors involved in T-cell biology. We generated a unique library of cDNAs encoding predicted secreted and transmembrane domain–containing proteins generated by analyzing the Human Genome Sciences cDNA database with a combination of two algorithms that predict signal peptides. Supernatants from mammalian cells transiently transfected with this library were incubated with primary T cells and T-cell lines in several high-throughput assays. Here we describe the discovery of a T cell factor, TIP (T cell immunomodulatory protein), which does not show any homology to proteins with known function. Treatment of primary human and murine T cells with TIP in vitro resulted in the secretion of IFN-γ, TNF-α, and IL-10, whereas in vivo TIP had a protective effect in a mouse acute graft-versus-host disease (GVHD) model. Therefore, combining functional genomics with high-throughput cell-based screening is a valuable and efficient approach to identifying immunomodulatory activities for novel proteins.
Access options
Subscribe to Journal
Get full journal access for 1 year
$250.00
only $20.83 per issue
All prices are NET prices.
VAT will be added later in the checkout.
Rent or Buy article
Get time limited or full article access on ReadCube.
from$8.99
All prices are NET prices.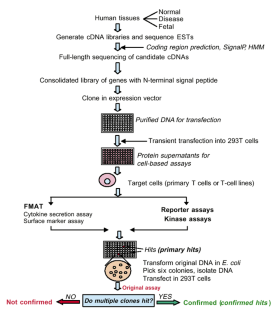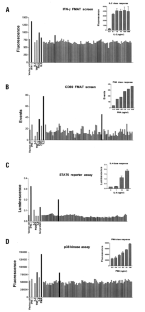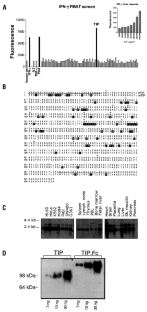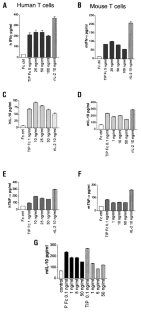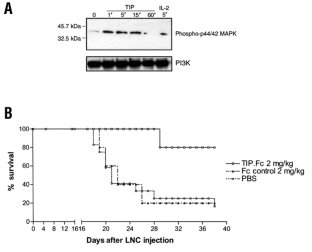 Accession codes
Accessions
GenBank/EMBL/DDBJ
References
1

Hertzberg, R.P. & Pope, A.J. High-throughput screening: new technology for the 21st century. Curr. Opin. Chem. Biol. 4, 445–451 (2000).

2

Fox, S., Farr-Jones, S. & Yund, M.A. High-throughput screening for drug discovery: continually transitioning into new technology. J. Biomol. Screen. 4, 183–186 (1999).

3

Eddy, S.R. Profile hidden Markov models. Bioinformatics 14, 755–763 (1998).

4

Nielsen, H., Engelbrecht, J., Brunak, S. & von Heijne, G. Identification of prokaryotic and eukaryotic signal peptides and prediction of their cleavage sites. Protein Eng. 10, 1–6 (1997).

5

Barash, S., Wei, W., & Shi, Y. Human secretory signal peptide description by hidden Markov model and generation of a strong artificial signal peptide for secreted protein expression. Biochem. Biophys. Res. Commun. 224, 835–842 (2002).

6

Chen, C. et al. An integral functional genomics screening program reveals novel a role for BMP-9 in glucose homeostasis. Nat. Biotechnol. 21, 294–301 (2003).

7

Swartzman, E.E., Miraglia, SJ., Mellentin-Michelott, J., Evangelista, L. & Yuan, P.M. Homogeneous cell- and bead-based assays for high-throughput screening using fluorometric microvolume assay technology. J. Biomol. Screen. 4, 193–204 (1999).

8

Gurlo, T., Huang, W.-W. & von Grafstein, H. PGE2 inhibits IL-2- and IL-4-dependent proliferation of CTLL-2 and HT2 cells. Cytokine 10, 265–274 (1998).

9

Latchman, Y. et al. PD-L2 is a second ligand for PD-1 and inhibits T-cell activation. Nat. Immunol. 2, 261–268 (2001).

10

Tseng, S.Y. et al. B7-DC, a new dendritic cell molecule with potent costimulatory properties for T cells. J. Exp. Med. 193, 839–846 (2001).

11

Freeman, G.J. et al. Engagement of the PD-1 immunoinhibitory receptor by a novel B7 family member leads to negative regulation of lymphocyte activation. J. Exp. Med. 192, 1027–1034 (2000).

12

Yang, Y.G., Dey, B.R., Sergio, J.J., Perason, D.A. & Sykes, M. Donor-derived interferon-γ is required for inhibition of acute graft-versus-host disease by interleukin 12. J. Clin. Invest. 102, 2126–2135 (1998).

13

Cho, C.Q., Wittmer, S. & Dalton, D.K. Failure to suppress the expansion of the activated CD4 T-cell population in interferon-γ-deficient mice leads to exacerbation of experimental autoimmune encephalomyelitis. J. Exp. Med. 192, 123–128 (2000).

14

Brok, H.P., Vossen, J.M. & Heidt, P.J. IFN-γ-mediated prevention of graft-versus-host-disease: pharmacodynamic studies and influence on proliferative capacity of chimeric spleen cells. Bone Marrow Transplant. 22, 1005–1010 (1998).

15

Holler, E. et al. Prognostic significance of increased IL-10 production in patients prior to allogeneic bone marrow transplantation. Bone Marrow Transplant. 25, 237–241 (2000).

16

LaFleur, D.W. et al. Interferon-κ, a novel type I interferon expressed in human keratinocytes. J. Biol. Chem. 276, 39765–39771 (2001).

17

Forrer, P., Tamaskovic, R. & Jaussi, R. Enzyme-linked immunosorbent assay for measurement of JNK, ERK, and p38 kinase activities. Biol. Chem. 379, 1101–1110 (1998).

18

Kotanides, H. & Reich, N.C. Requirement of tyrosine phosphorylation for rapid activation of DNA binding factor by IL-4. Science 262, 1265–1267 (1993).

19

Gleichmann, E., Pals, S.T., Rolink, A.G., Radaszkiewicz, T. & Gleichmann, H. Graft-versus-host reactions: clues to the etiopathology of a spectrum of immunological disease. Immunol. Today 5, 324–332 (1984).
Acknowledgements
The authors wish to thank Andrea Smith for assistance with the manuscript preparation.
Ethics declarations
Competing interests
The authors declare no competing financial interests.
Supplementary information
About this article
Cite this article
Fiscella, M., Perry, J., Teng, B. et al. TIP, a T-cell factor identified using high-throughput screening increases survival in a graft-versus-host disease model. Nat Biotechnol 21, 302–307 (2003). https://doi.org/10.1038/nbt797
Received:

Accepted:

Published:

Issue Date: