Abstract
The excitement and controversy surrounding the potential role of human embryonic stem (ES)1,2 cells in transplantation therapy have often overshadowed their potentially more important use as a basic research tool for understanding the development and function of human tissues. Human ES cells can proliferate without a known limit and can form advanced derivatives of all three embryonic germ layers. What is less widely appreciated is that human ES cells can also form the extra-embryonic tissues that differentiate from the embryo before gastrulation. The use of human ES cells to derive early human trophoblast is particularly valuable, because it is difficult to obtain from other sources and is significantly different from mouse trophoblast. Here we show that bone morphogenetic protein 4 (BMP4), a member of the transforming growth factor-β (TGF-β) superfamily, induces the differentiation of human ES cells to trophoblast. DNA microarray, RT-PCR, and immunoassay analyses demonstrate that the differentiated cells express a range of trophoblast markers and secrete placental hormones. When plated at low density, the BMP4-treated cells form syncytia that express chorionic gonadotrophin (CG). These results underscore fundamental differences between human and mouse ES cells, which differentiate poorly, if at all, to trophoblast3. Human ES cells thus provide a tool for studying the differentiation and function of early human trophoblast and could provide a new understanding of some of the earliest differentiation events of human postimplantation development.
Relevant articles
Open Access articles citing this article.
Eiji Ogawa

,

Yo Oguma

…

Mari Dezawa

Scientific Reports Open Access 14 October 2022

S. Timilsina

,

T. Kirsch-Mangu

…

L. G. Villa-Diaz

npj Microgravity Open Access 04 July 2022

Norio Kobayashi

,

Hiroaki Okae

…

Takahiro Arima

Nature Communications Open Access 02 June 2022
Access options
Subscribe to this journal
Receive 12 print issues and online access
$209.00 per year
only $17.42 per issue
Rent or buy this article
Get just this article for as long as you need it
$39.95
Prices may be subject to local taxes which are calculated during checkout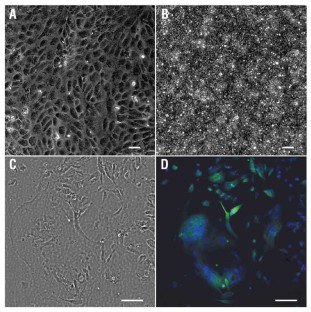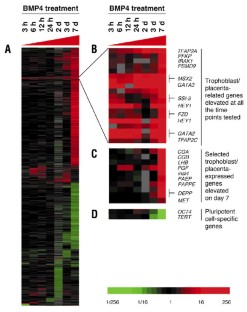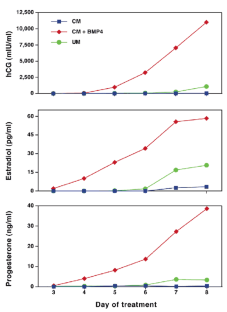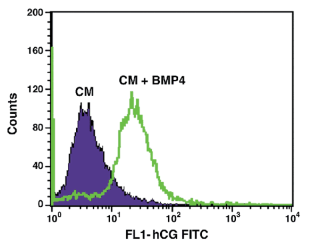 References
Thomson, J.A. et al. Embryonic stem cell lines derived from human blastocysts. Science 282, 1145–1147 (1998).

Reubinoff, B.E., Pera, M.F., Fong, C.Y., Trounson, A. & Bongso, A. Embryonic stem cell lines from human blastocysts: somatic differentiation in vitro. Nat. Biotechnol. 18, 399–404 (2000).

Beddington, R.S.P. & Robertson, E.J. An assessment of the developmental potential of embryonic stem cells in the midgestation mouse embryo. Development 105, 733–737 (1989).

Xu, C. et al. Feeder-free growth of undifferentiated human embryonic stem cells. Nat. Biotechnol. 19, 971–974 (2001).

Richardson, B.D. et al. Activator protein-2 regulates human placental lactogen gene expression. Mol. Cell. Endocrinol. 160, 183–192 (2000).

Quinn, L.M., Latham, S.E. & Kalionis, B. The homeobox genes MSX2 and MOX2 are candidates for regulating epithelial-mesenchymal cell interactions in the human placenta. Placenta 21 (suppl. A), S50–S54 (2000).

Ma, G.T. et al. GATA-2 and GATA-3 regulate trophoblast-specific gene expression in vivo. Development 124, 907–914 (1997).

Jiang, C. et al. Cloning and characterization of CIS 1b (cytokine inducible SH2-containing protein 1b), an alternative splicing form of CIS 1 gene. DNA Seq. 11, 149–154 (2000).

Leimeister, C., Externbrink, A., Klamt, B. & Gessler, M. Hey genes: a novel subfamily of hairy- and enhancer of split related genes specifically expressed during mouse embryogenesis. Mech. Dev. 85, 173–177 (1999).

Muyan, M. & Boime, I. Secretion of chorionic gonadotropin from human trophoblasts. Placenta 18, 237–241 (1997).

Lacroix, M.C., Guibourdenche, J., Frendo, J.L., Muller, F. & Evain-Brion, D. Human placental growth hormone—a review. Placenta 23 (suppl. A), S87–S94 (2002).

Cross, J.C. Genetic insights into trophoblast differentiation and placental morphogenesis. Semin. Cell. Dev. Biol. 11, 105–113 (2000).

King, A., Thomas, L. & Bischof, P. Cell culture models of trophoblast II, trophoblast cell lines—a workshop report. Placenta 21 (suppl. A), S113–S119 (2000).

Janatpour, M.J. et al. A repertoire of differentially expressed transcription factors that offers insight into mechanisms of human cytotrophoblast differentiation. Dev. Genet. 25, 146–157 (1999).

Han, V.K. & Carter, A.M. Spatial and temporal patterns of expression of messenger RNA for insulin-like growth factors and their binding proteins in the placenta of man and laboratory animals. Placenta 21, 289–305 (2000).

Stulp, M.R., de Vijlder, J.J. & Ris-Stalpers, C. Placental iodothyronine deiodinase III and II ratios, mRNA expression compared to enzyme activity. Mol. Cell. Endocrinol. 142, 67–73 (1998).

Hariyama, Y. et al. Placental aminopeptidase A as a possible barrier of angiotensin II between mother and fetus. Placenta 21, 621–627 (2000).

Pesce, M. & Scholer, H.R. Oct-4: gatekeeper in the beginnings of mammalian development. Stem Cells 19, 271–278 (2001).

Armstrong, L., Lako, M., Lincoln, J., Cairns, P.M. & Hole, N. mTert expression correlates with telomerase activity during the differentiation of murine embryonic stem cells. Mech. Dev. 97, 109–116 (2000).

Kniss, D.A. et al. ED(27) trophoblast-like cells isolated from first-trimester chorionic villi are genetically identical to HeLa cells yet exhibit a distinct phenotype. Placenta 23, 32–43 (2002).

Fisher, S.J. The placenta dilemma. Semin. Reprod. Med. 18, 321–326 (2000).

Brook, F.A. & Gardner, R.L. The origin and efficient derivation of embryonic stem cells in the mouse. Proc. Natl. Acad. Sci. USA 94, 5709–5712 (1997).

Niwa, H., Miyazaki, J. & Smith, A.G. Quantitative expression of Oct-3/4 defines differentiation, dedifferentiation or self-renewal of ES cells. Nat. Genet. 24, 372–376 (2000).

Martin, G.R. Teratocarcinomas as a model system for the study of embryogenesis and neoplasia. Cell 5, 229–243 (1975).

Andrews, P.W., Oosterhuis, J. & Damjanov, I. in Teratocarcinomas and Embryonic Stem Cells: A Practical Approach (ed. Robertson, E.) 207–246 (IRL Press, Oxford, 1987).

Tanaka, S., Kunath, T., Hadjantonakis, A.K., Nagy, A. & Rossant, J. Promotion of trophoblast stem cell proliferation by FGF4. Science 282, 2072–2075 (1998).

Rossant, J. Stem cells from the mammalian blastocyst. Stem Cells 19, 477–482 (2001).

Roelen, B.A., Goumans, M.J., van Rooijen, M.A. & Mummery, C.L. Differential expression of BMP receptors in early mouse development. Int. J. Dev. Biol. 41, 541–549 (1997).

Schuldiner, M., Yanuka, O., Itskovitz-Eldor, J., Melton, D.A. & Benvenisty, N. Effects of eight growth factors on the differentiation of cells derived from human embryonic stem cells. Proc. Natl. Acad. Sci. USA 97, 11307–11312 (2000).

Wang, E., Miller, L.D., Ohnmacht, G.A., Liu, E.T. & Marincola, F.M. High-fidelity mRNA amplification for gene profiling. Nat. Biotechnol. 18, 457–459 (2000).

Alizadeh, A.A. et al. Distinct types of diffuse large B-cell lymphoma identified by gene expression profiling. Nature 403, 503–511 (2000).

French, J.A., Abbott, D.H., Scheffler, G., Robinson, J.A. & Goy, R.W. Cyclic excretion of urinary oestrogens in female tamarins (Saguinus oedipus). J. Reprod. Fertil. 68, 177–184 (1983).

Munro, C. & Stabenfeldt, G. Development of a microtitre plate enzyme immunoassay for the determination of progesterone. J. Endocrinol. 101, 41–49 (1984).
Acknowledgements
We thank Leann Crandall, Jessica Antosiewicz, Christine Daigh, and Rachel Lewis for technical support, and Thaddeus G. Golos and staff of the Thomson laboratory for critical reading of the manuscript. This work was supported by the WiCell Research Institute, a non-profit subsidiary of the Wisconsin Alumni Research Foundation. Human ES cells are made available by the WiCell Research Institute to academic/non-profit researchers on a cost-recovery basis under the terms of a Memorandum of Understanding and Simple Letter Agreement. Research at Stanford University was supported by grants from the National Cancer Institute and Howard Hughes Medical Institute (HHMI) to P.O.B. X.C. was a Howard Hughes fellow of the Life Sciences Research Foundation. Patrick Brown of HHMI and Department of Biochemistry, Stanford University School of Medicine, asked to have his name removed from the paper because of his commitment to the Public Library of Science (PLoS) (http://www.publiclibraryofscience.org).
Ethics declarations
Competing interests
The authors declare no competing financial interests.
Supplementary information
About this article
Cite this article
Xu, RH., Chen, X., Li, D. et al. BMP4 initiates human embryonic stem cell differentiation to trophoblast. Nat Biotechnol 20, 1261–1264 (2002). https://doi.org/10.1038/nbt761
Received:

Accepted:

Published:

Issue Date:

DOI: https://doi.org/10.1038/nbt761