Abstract
We have modified the flavor and aroma of tomatoes by expressing the Ocimum basilicum geraniol synthase gene under the control of the tomato ripening–specific polygalacturonase promoter. A majority of untrained taste panelists preferred the transgenic fruits over controls. Monoterpene accumulation was at the expense of reduced lycopene accumulation. Similar approaches may be applicable for carotenoid-accumulating fruits and flowers of other species.
This is a preview of subscription content
Access options
Subscribe to Journal
Get full journal access for 1 year
$99.00
only $8.25 per issue
All prices are NET prices.
VAT will be added later in the checkout.
Tax calculation will be finalised during checkout.
Rent or Buy article
Get time limited or full article access on ReadCube.
from$8.99
All prices are NET prices.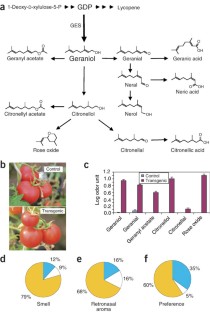 References
1

Galili, G., Galili, S., Lewinsohn, E. & Tadmor, Y . CRC Crit. Rev. Plant Sci. 21, 167–204 (2002).

2

Baldwin, E.A., Scott, J.W., Shewmaker, C.K. & Schuch, W . HortScience 35, 1013–1022 (2000).

3

Buttery, R.G., Teranishi, R. & Ling, L.C . J. Agric. Food Chem. 35, 540–544 (1987).

4

Tieman, D.M. et al. J. Exp. Bot. 57, 887–896 (2006).

5

Speirs, J. et al. Plant Physiol. 117, 1047–1058 (1998).

6

Simkin, A., Schwartz, S., Auldridge, M., Taylor, M. & Klee, H . Plant J. 40, 882–892 (2004).

7

Pichersky, E., Noel, J.P. & Dudareva, N . Science 311, 808–811 (2006).

8

Ronen, G., Cohen, M., Zamir, D. & Hirschberg, J . Plant J. 17, 341–351 (1999).

9

Iijima, Y., Gang, D.R., Fridman, E., Lewinsohn, E. & Pichersky, E . Plant Physiol. 134, 370–379 (2004).

10

Nicholass, F.J., Smith, C.J., Schuch, W., Bird, C.R. & Grierson, D . Plant Mol. Biol. 28, 423–435 (1995).

11

Antonelli, A., Fabbri, C., Giorgioni, M.E. & Bazzocchi, R . J. Agric. Food Chem. 45, 4435–4439 (1997).

12

Dunphy, P.J. & Allcock, C . Phytochemistry 11, 1887–1891 (1972).

13

Bicsak, T.A., Kann, L.R., Reiter, A. & Chase, T., Jr . Arch. Biochem. Biophys. 216, 605–615 (1982).

14

Lewinsohn, E. et al. J. Agric. Food Chem. 53, 3142–3148 (2005).

15

Lewinsohn, E. et al. Plant Physiol. 127, 1256–1265 (2001).

16

Thomson, D.M.H . Developments in Food Flavors (eds. Birch, G.G. & Lindley, N.G.) 1–21, (Elsevier, London, 1987).
Acknowledgements
This work was supported by a grant from the Israeli Ministry of Science and by research grant no. IS-3332-02C from BARD (United States–Israel Binational Agricultural Research and Development Fund). Publication no. 128/2005 of the Agricultural Research Organization, Bet Dagan Israel. We thank Donald Grierson (University of Nottingham) for kindly providing the polygalacturonase promoter construct. We thank Rivka Barg and Yoram Eyal for useful advice, Ayala Meir for carotenoids analysis, Inez Mureinik for editorial revision of the manuscript, and Avi Rikanati and Erez Unger for assistance in the statistical analyses.
Ethics declarations
Competing interests
The authors declare no competing financial interests.
Supplementary information
About this article
Cite this article
Davidovich-Rikanati, R., Sitrit, Y., Tadmor, Y. et al. Enrichment of tomato flavor by diversion of the early plastidial terpenoid pathway. Nat Biotechnol 25, 899–901 (2007). https://doi.org/10.1038/nbt1312
Received:

Accepted:

Published:

Issue Date: