Abstract
Paralleling the diversity of genetic and protein activities, pathologic human tissues also exhibit diverse radiographic features. Here we show that dynamic imaging traits in non-invasive computed tomography (CT) systematically correlate with the global gene expression programs of primary human liver cancer. Combinations of twenty-eight imaging traits can reconstruct 78% of the global gene expression profiles, revealing cell proliferation, liver synthetic function, and patient prognosis. Thus, genomic activity of human liver cancers can be decoded by noninvasive imaging, thereby enabling noninvasive, serial and frequent molecular profiling for personalized medicine.
Relevant articles
Open Access articles citing this article.
Qingmin Wang

,

Yi Dong

…

Wenping Wang

BioMedical Engineering OnLine Open Access 12 April 2022

Shu-Cheng Liu

,

Jesyin Lai

…

Wei-Ching Lin

Cancer Imaging Open Access 09 October 2021

Youyin Tang

,

Tao Zhang

…

Xuelei Ma

World Journal of Surgical Oncology Open Access 01 August 2021
Access options
Subscribe to Journal
Get full journal access for 1 year
$99.00
only $8.25 per issue
All prices are NET prices.
VAT will be added later in the checkout.
Tax calculation will be finalised during checkout.
Buy article
Get time limited or full article access on ReadCube.
$32.00
All prices are NET prices.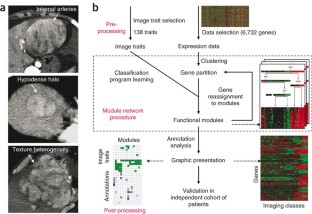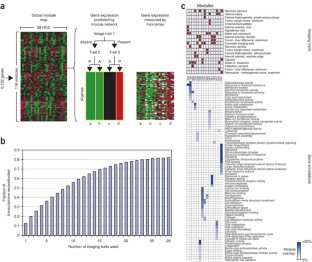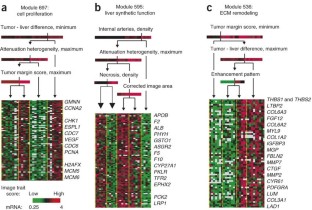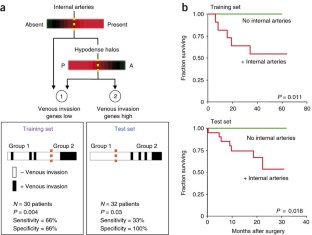 References
Eisenberg, R.L . Radiology: An Illustrated History (Mosby Year Book, St. Louis, 1991).

Chung, C.H., Bernard, P.S. & Perou, C.M. Molecular portraits and the family tree of cancer. Nat. Genet. 32 Suppl, 533–540 (2002).

Segal, E., Friedman, N., Kaminski, N., Regev, A. & Koller, D. From signatures to models: understanding cancer using microarrays. Nat. Genet. 37 Suppl, S38–S45 (2005).

Chen, X. et al. Gene expression patterns in human liver cancers. Mol. Biol. Cell 13, 1929–1939 (2002).

Nino-Murcia, M. et al. Focal liver lesions: pattern-based classification scheme for enhancement at arterial phase CT. Radiology 215, 746–751 (2000).

Segal, E. et al. Module networks: identifying regulatory modules and their condition-specific regulators from gene expression data. Nat. Genet. 34, 166–176 (2003).

Ashburner, M. et al. Gene ontology: tool for the unification of biology. The Gene Ontology Consortium. Nat. Genet. 25, 25–29 (2000).

Kerr, D.J. Targeting angiogenesis in cancer: clinical development of bevacizumab. Nat. Clin. Pract. Oncol. 1, 39–43 (2004).

Thomas, M.B. & Abbruzzese, J.L. Opportunities for targeted therapies in hepatocellular carcinoma. J. Clin. Oncol. 23, 8093–8108 (2005).

Giannelli, G. et al. Clinical role of MMP-2/TIMP-2 imbalance in hepatocellular carcinoma. Int. J. Cancer 97, 425–431 (2002).

Qin, L.X. & Tang, Z.Y. The prognostic molecular markers in hepatocellular carcinoma. World J. Gastroenterol. 8, 385–392 (2002).

Poon, R.T. et al. Clinical significance of thrombospondin 1 expression in hepatocellular carcinoma. Clin. Cancer Res. 10, 4150–4157 (2004).

Whitfield, M.L., George, L.K., Grant, G.D. & Perou, C.M. Common markers of proliferation. Nat. Rev. Cancer 6, 99–106 (2006).

Chang, H.Y. et al. Robustness, scalability, and integration of a wound response gene expression signature in predicting survival of human breast cancer patients. Proc. Natl. Acad. Sci. USA 102, 3738–3743 (2005).

Paik, S. et al. A multigene assay to predict recurrence of tamoxifen-treated, node-negative breast cancer. N. Engl. J. Med. 351, 2817–2826 (2004).

Paik, S. et al. Gene expression and benefit of chemotherapy in women with node-negative, estrogen receptor-positive breast cancer. J. Clin. Oncol. 24, 3726–3734 (2006).

van 't Veer, L.J. et al. Gene expression profiling predicts clinical outcome of breast cancer. Nature 415, 530–536 (2002).

van de Vijver, M.J. et al. A gene-expression signature as a predictor of survival in breast cancer. N. Engl. J. Med. 347, 1999–2009 (2002).

Potti, A. et al. A genomic strategy to refine prognosis in early-stage non-small-cell lung cancer. N. Engl. J. Med. 355, 570–580 (2006).

Bullinger, L. et al. Use of gene-expression profiling to identify prognostic subclasses in adult acute myeloid leukemia. N. Engl. J. Med. 350, 1605–1616 (2004).

Lapointe, J. et al. Gene expression profiling identifies clinically relevant subtypes of prostate cancer. Proc. Natl. Acad. Sci. USA 101, 811–816 (2004).
Acknowledgements
Supported by grants from UC San Diego (M.D.K.), the Israel Science Foundation (E.S.), and the National Institutes of Health (X.C., H.Y.C.). E.S. is the incumbent of the Soretta and Henry Shapiro career development chair. H.Y.C. is the Kenneth G. and Elaine A. Langone Scholar of the Damon Runyon Cancer Research Foundation. M.D.K. is the Bracco Diagnostics Research Scholar of the Radiological Society of North America.
Ethics declarations
Competing interests
E.S., H.Y.C. and M.D.K. have filed a provisional patent [AU: Correct?] application for this work.
Supplementary information
Imaging trait name and definition. (XLS 3678 kb)
Modules and imaging trait splits. (PDF 21 kb)
Venous invasion module analysis. (XLS 16 kb)
About this article
Cite this article
Segal, E., Sirlin, C., Ooi, C. et al. Decoding global gene expression programs in liver cancer by noninvasive imaging. Nat Biotechnol 25, 675–680 (2007). https://doi.org/10.1038/nbt1306
Received:

Accepted:

Published:

Issue Date:

DOI: https://doi.org/10.1038/nbt1306