Christopher Ashton has been named commercial director at Inpharmatica (London). Previously, Dr. Ashton served as marketing director at Oxford GlycoSciences.
Mosaic Technologies (Boston, MA) has promoted Chris Boles to vice president of research, a newly created position. Dr. Boles was previously director of research.
Biospace.com (San Francisco, CA) has named Scott Clarke chief operating officer. Mr. Clarke was most recently chief information officer at Incyte Pharmaceuticals.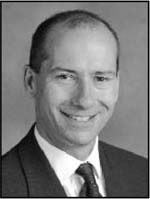 Aurora Biosciences (San Diego, CA) has announced the appointment of Stuart J.M. Collinson as CEO in addition to his role as president of the company. He has also been appointed to the board of directors. Dr. Collinson joined Aurora as president in May 1999 from Andaris Ltd. Timothy J. Rink , former CEO, will continue as chairman of the board.
ILEX Oncology (San Antonio, TX) has appointed Al Jecminek to the newly created position of vice president of business development and intellectual property counsel. He most recently headed the intellectual property department at Catalytica, Inc.
Stephen C. Knight has been promoted to president and chief operating officer of EPIX Medical (Cambridge, MA). Dr. Knight joined the company in 1996 as vice president of strategic planning and business development, and was most recently chief financial officer.
Jane M. Maida has been promoted to vice president, finance and administration of Cytogen (Princeton, NJ). Ms. Maida joined Cytogen in March 1997 as chief accounting officer and corporate controller.
Immunex (Seattle, WA) has named David Mann its chief financial officer, replacing Doug Southern, who recently retired. Mr. Mann had served as interim CFO while the company searched for Southern's successor. He joined Immunex in 1995 and was most recently vice president, finance.
James V. McArdle has joined Isis Pharmaceuticals (Carlsbad, CA) as vice president, analytical development and quality. Before joining Isis, Dr. McArdle was group director, analytical sciences, at SmithKline Beecham.
CuraGen (New Haven, CT) has appointed Christopher K. McLeod to the position of executive vice president. Mr. McLeod was previously CEO of Havas Interactive, an international software developer.
Andrew Millar has been appointed CEO of Oxford Gene Technology Operations (Oxford, UK). From 1992 to 1998, Dr. Millar served as director of clinical research for British Biotech.
Annemarie B. Moseley has been named Osiris Therapeutics' (Baltimore, MD) interim president and chief executive officer, replacing the resigned James S. Burns. Dr. Moseley had served as the company's senior vice president since March 1999, and as vice president, clinical and regulatory affairs since November 1997.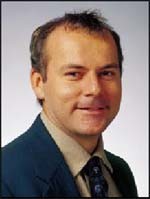 Ingenium Pharmaceuticals (Martinsreid, Germany) has announced Michael Nehls as its new chief scientific officer. Dr. Nehls was most recently vice president of genomics at Lexicon Genetics.
CpG ImmunoPharmaceuticals (Wellesley, MA) has appointed Aileen Ryan to the newly created position of vice president, regulatory affairs. Ms. Ryan was previously vice president of regulatory affairs and compliance at ASTA Medica.
Keith Seidman has been named chief financial officer at Spotfire (Cambridge, MA). He joins the company from Priority Call Management, where he served as vice president of finance and administration and CFO.
David C. Stump has joined Human Genome Sciences (Rockville, MD) as senior vice president, drug development, and a member of the operating committee. Dr. Stump joins HGS from Genentech, where he had been vice president, clinical research.
Monsanto (St. Louis, MO) has named Joan H. Walker senior vice president, public affairs. Ms. Walker joins Monsanto from Ameritech, where she was senior vice president of corporate communications.
About this article
Cite this article
People. Nat Biotechnol 17, 1237 (1999). https://doi.org/10.1038/70800
Issue Date:

DOI: https://doi.org/10.1038/70800