Abstract
Fibroblast growth factors (FGFs) are being investigated in human clinical trials as treatments for angina, claudication, and stroke. We designed a molecule structurally unrelated to all FGFs, which potently mimicked basic FGF activity, by combining domains that (1) bind FGF receptors (2) bind heparin, and (3) mediate dimerization. A 26-residue peptide identified by phage display specifically bound FGF receptor (FGFR) 1c extracellular domain but had no homology with FGFs. When fused with the c-jun leucine zipper domain, which binds heparin and forms homodimers, the polypeptide specifically reproduced the mitogenic and morphogenic activities of basic FGF with similar potency (EC50 = 240 pM). The polypeptide required interaction with heparin for activity, demonstrating the importance of heparin for FGFR activation even with designed ligands structurally unrelated to FGF. Our results demonstrate the feasibility of engineering potent artificial agonists for the receptor tyrosine kinases, and have important implications for the design of nonpeptidic ligands for FGF receptors. Furthermore, artificial FGFR agonists may be useful alternatives to FGF in the treatment of ischemic vascular disease.
Access options
Subscribe to this journal
Receive 12 print issues and online access
$209.00 per year
only $17.42 per issue
Rent or buy this article
Prices vary by article type
from$1.95
to$39.95
Prices may be subject to local taxes which are calculated during checkout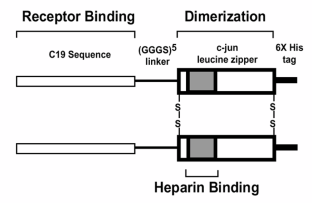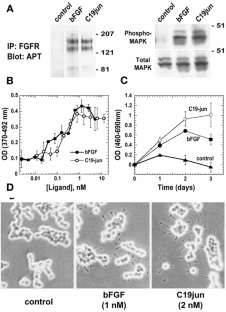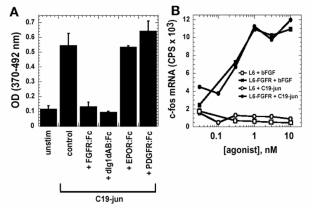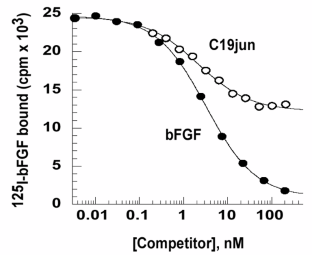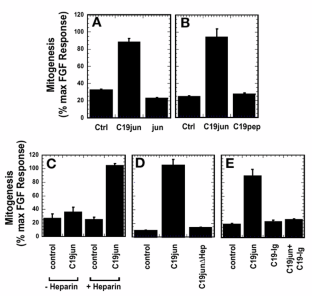 References
Mason, I.J. The ins and outs of fibroblast growth factors. Cell 78, 547–552 (1994).

Wilkie, A.O., Morriss-Kay, G.M., Jones, E.Y. & Heath, J.K. Functions of fibroblast growth factors and their receptors. Curr. Biol. 5, 500–507 ( 1995).

Asahara, T. et al. Synergistic effect of vascular endothelial growth factor and basic fibroblast growth factor on angiogenesis in vivo. Circulation 1,II365–II371 (1995).

Baffour, R. et al. Enhanced angiogenesis and growth of collaterals by in vivo administration of recombinant basic fibroblast growth factor in a rabbit model of acute lower limb ischemia: dose-response effect of basic fibroblast growth factor. J. Vasc. Surg. 16, 181–191 (1992).

Harada, K. et al. Basic fibroblast growth factor improves myocardial function in chronically ischemic porcine hearts. J. Clin. Invest. 94, 623–630 (1994).

Landau, C., Jacobs, A.K. & Haudenschild, C.C. Intrapericardial basic fibroblast growth factor induces myocardial angiogenesis in a rabbit model of chronic ischemia. Am. Heart J. 129, 924–931 (1995).

Lazarous, D.F. et al. Effects of chronic systemic administration of basic fibroblast growth factor on collateral development in the canine heart. Circulation 91, 145–153 ( 1995).

Yanagisawa-Miwa, A. et al. Salvage of infarcted myocardium by angiogenic action of basic fibroblast growth factor. Science 257, 1401 –1403 (1992).

Koketsu, N. et al. Pretreatment with intraventricular basic fibroblast growth factor decreases infarct size following focal cerebral ischemia in rats. Ann. Neurol. 35, 451–457 ( 1994).

Tian, S.S. et al. A small, nonpeptidyl mimic of granulocyte-colony-stimulating factor. Science 281, 257–259 ( 1998).

Cwirla, S.E. et al. Peptide agonist of the thrombopoietin receptor as potent as the natural cytokine. Science 276, 1696– 1699 (1997).

Wrighton, N.C. et al. Small peptides as potent mimetics of the protein hormone erythropoietin. Science 273, 458–464 (1996).

Zhang, B. et al. Discovery of a small molecule insulin mimetic with antidiabetic activity in mice. Science 284, 974– 977 (1999).

Waksman, G. & Herr, A.B. New insights into heparin-induced FGF oligomerization. Nat. Struct. Biol. 5, 527–530 (1998).

Bellot, F. et al. Ligand-induced transphosphorylation between different FGF receptors. EMBO J. 10, 2849–2854 ( 1991).

Baird, A., Schubert, D., Ling, N. & Guillemin, R. Receptor- and heparin-binding domains of basic fibroblast growth factor. Proc. Natl. Acad. Sci. USA 85, 2324–2328 (1988).

Gallagher, J.T. & Turnbull, J.E. Heparan sulphate in the binding and activation of basic fibroblast growth factor. Glycobiology 2, 523–528 (1992).

Moy, F.J. et al. Properly oriented heparin-decasaccharide-induced dimers are the biologically active form of basic fibroblast growth factor. Biochemistry 36, 4782–4791 (1997).

DiGabriele, A.D. et al. Structure of a heparin-linked biologically active dimer of fibroblast growth factor. Nature 393, 812– 817 (1998).

Spivak-Kroizman, T. et al. Heparin-induced oligomerization of FGF molecules is responsible for FGF receptor dimerization, activation, and cell proliferation. Cell 79, 1015–1024 ( 1994).

Riley, L.G. et al. Cloning, expression, and spectroscopic studies of the Jun leucine zipper domain. Eur. J. Biochem. 219, 877 –886 (1994).

Patel, L.R., Curran, T. & Kerppola, T.K. Energy transfer analysis of Fos-Jun dimerization and DNA binding. Proc. Natl. Acad. Sci. USA 91, 7360–7364 (1994).

Crameri, R. & Suter, M. Display of biologically active proteins on the surface of filamentous phages: a cDNA cloning system for the selection of functional gene products linked to the genetic information responsible for their production. Gene 160, 139 (1995).

de Kruif, J. & Logtenberg, T. Leucine zipper dimerized bivalent and bispecific scFv antibodies from a semi-synthetic antibody phage display library. J. Biol. Chem. 271, 7630 –7634 (1996).

Claude, P., Parada, I.M., Gordon, K.A., D'Amore, P.A. & Wagner, J.A. Acidic fibroblast growth factor stimulates adrenal chromaffin cells to proliferate and to extend neurites, but is not a long-term survival factor. Neuron 1, 783–790 (1988).

Marshall, C.J. Specificity of receptor tyrosine kinase signaling: transient versus sustained extracellular signal-regulated kinase activation. Cell 80, 179–185 (1995).

Werner, S. et al. Differential splicing in the extracellular region of fibroblast growth factor receptor 1 generates receptor variants with different ligand- binding specificities. Mol. Cell. Biol. 12, 82– 88 (1992).

Wang, F., Kan, M., Xu, J., Yan, G. & McKeehan, W.L. Ligand-specific structural domains in the fibroblast growth factor receptor. J. Biol. Chem. 270, 10222 –10230 (1995).

Hulme, E.C. & Birdsall, N.J.M. in Receptor-ligand interactions: a practical approach (ed. Hulme, E.C.) 101–104 (Oxford University Press, New York; 1993).

Ray, J., Baird, A. & Gage, F.H. A 10-amino acid sequence of fibroblast growth factor 2 is sufficient for its mitogenic activity on neural progenitor cells. Proc. Natl. Acad. Sci. USA 94, 7047– 7052 (1997).

Yayon, A. et al. Isolation of peptides that inhibit binding of basic fibroblast growth factor to its receptor from a random phage-epitope library. Proc. Natl. Acad. Sci. USA 90, 10643–10647 (1993).

Pantoliano, M.W. et al. Multivalent ligand-receptor binding interactions in the fibroblast growth factor system produce a cooperative growth factor and heparin mechanism for receptor dimerization. Biochemistry 33, 10229–10248 (1994).

Plotnikov, A.N., Schlessinger, J., Hubbard, S.R. & Mohammadi, M. Structural basis for FGF receptor dimerization and activation. Cell 98, 641–650 ( 1999).

Doyle, M.V. et al. in Combinatorial libraries: synthesis, screening and application potential (ed. Cortese, R.) 171 (Walter de Gruyter, New York; 1996).

Kiefer, M.C. et al. Molecular cloning of a human basic fibroblast growth factor receptor cDNA and expression of a biologically active extracellular domain in a baculovirus system. Growth Factors 5, 115– 127 (1991).

Grussenmeyer, T., Scheidtmann, K.H., Hutchinson, M.A., Eckhart, W. & Walter, G. Complexes of polyoma virus medium T antigen and cellular proteins. Proc. Natl. Acad. Sci. USA 82, 7952–7954 (1985).

Laminet, A.A., Apell, G., Conroy, L. & Kavanaugh, W.M. Affinity, specificity, and kinetics of the interaction of the SHC phosphotyrosine binding domain with asparagine-X-X-phosphotyrosine motifs of growth factor receptors. J. Biol. Chem. 271, 264– 269 (1996).

Shyamala, V. et al. High-throughput screening for ligand-induced c-fos mRNA expression by branched DNA assay in Chinese hamster ovary cells. Anal. Biochem. 266, 140–147 ( 1999).
Acknowledgements
The authors thank Jaime Escobedo, Anke Klippel, and Lewis T. Williams for helpful discussions and provision of reagents; Hermel Manalo and Hamid Khoja for expert technical assistance; and Leah Conroy, Gwynn Pardee, and Stephania Widger for baculovirus-expressed proteins.
About this article
Cite this article
Ballinger, M., Shyamala, V., Forrest, L. et al. Semirational design of a potent, artificial agonist of fibroblast growth factor receptors. Nat Biotechnol 17, 1199–1204 (1999). https://doi.org/10.1038/70746
Received:

Accepted:

Issue Date:

DOI: https://doi.org/10.1038/70746