Abstract
Short cationic amphiphilic peptides with antimicrobial and/or immunomodulatory activities are present in virtually every life form, as an important component of (innate) immune defenses. These host-defense peptides provide a template for two separate classes of antimicrobial drugs. Direct-acting antimicrobial host-defense peptides can be rapid-acting and potent, and possess an unusually broad spectrum of activity; consequently, they have prospects as new antibiotics, although clinical trials to date have shown efficacy only as topical agents. But for these compounds to fulfill their therapeutic promise and overcome clinical setbacks, further work is needed to understand their mechanisms of action and reduce the potential for unwanted toxicity, to make them more resistant to protease degradation and improve serum half-life, as well as to devise means of manufacturing them on a large scale in a consistent and cost-effective manner. In contrast, the role of cationic host-defense peptides in modulating the innate immune response and boosting infection-resolving immunity while dampening potentially harmful pro-inflammatory (septic) responses gives these peptides the potential to become an entirely new therapeutic approach against bacterial infections.
Relevant articles
Open Access articles citing this article.
Chalida Sri-in

,

Aunyaratana Thontiravong

…

Sonthaya Tiawsirisup

Scientific Reports Open Access 05 June 2023

Shahid Chaudhary

,

Zahir Ali

…

Magdy Mahfouz

Nature Communications Open Access 16 March 2023

James Flynn

,

Mario Culebras

…

Sarah P. Hudson

Drug Delivery and Translational Research Open Access 18 July 2022
Access options
Subscribe to this journal
Receive 12 print issues and online access
$209.00 per year
only $17.42 per issue
Rent or buy this article
Prices vary by article type
from$1.95
to$39.95
Prices may be subject to local taxes which are calculated during checkout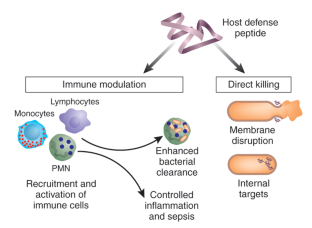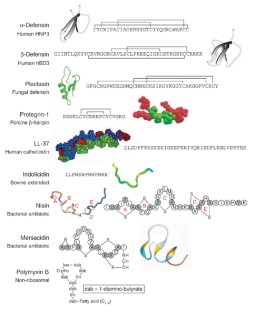 References
Hancock, R.E.W. & Lehrer, R. Cationic peptides: a new source of antibiotics. Trends Biotechnol. 16, 82–88 (1998).

Zasloff, M. Antimicrobial peptides of multicellular organisms. Nature 415, 389–395 (2002).

Oppenheim, J.J. & Yang, D. Alarmins: chemotactic activators of immune responses. Curr. Opin. Immunol. 17, 359–365 (2005).

Bowdish, D.M.E., Davidson, D.J. & Hancock, R.E.W. A re-evaluation of the role of host defense peptides in mammalian immunity. Curr. Protein Pept. Sci. 6, 35–51 (2005).

Emes, R.D., Goodstadt, L., Winter, E.E. & Ponting, C.P. Comparison of the genomes of human and mouse lays the foundation of genome zoology. Hum. Mol. Genet. 12, 701–709 (2003).

Patil, A., Hughes, A.L. & Zhang, G. Rapid evolution and diversification of mammalian alpha-defensins as revealed by comparative analysis of rodent and primate genes. Physiol. Genomics 20, 1–11 (2004).

Crovella, S. et al. Primate beta-defensins - structure, function and evolution. Curr. Protein Pept. Sci. 6, 7–21 (2005).

Peschel, A. & Sahl, H.G. The co-evolution of host cationic antimicrobial peptides and microbial resistance. Nat. Rev. Microbiol. 4, 529–536 (2006).

Yount, N.Y. & Yeaman M.R. Structural congruence among membrane-active host defense polypeptides of diverse phylogeny. Biochim. Biophys. Acta 9, 1373–1386 (2006).

McAuliffe, O., Ross, R.P. & Hill, C. Lantibiotics: structure, biosynthesis and mode of action. FEMS Microbiol. Rev. 25, 285–308 (2001).

Hsu, S.T. et al. The nisin-lipid II complex reveals a pyrophosphate cage that provides a blueprint for novel antibiotics. Nat. Struct. Mol. Biol. 11, 963–967 (2004).

Finking, R. & Marahiel, M.A. Biosynthesis of nonribosomal peptides. Annu. Rev. Microbiol. 58, 453–488 (2004).

Coulter, S.N. et al. Staphylococcus aureus genetic loci impacting growth and survival in multiple infection environments. Mol. Microbiol. 30, 393–404 (1998).

Jenssen, H., Hamill, P. & Hancock, R.E.W. Peptide antimicrobial agents. Clin. Microbiol. Rev. 19, 491–511 (2006).

Yeaman, M.R. & Yount, N.Y. Mechanisms of antimicrobial peptide action and resistance. Pharmacol. Rev. 55, 27–55 (2003).

Sahl, H.G. et al. Mammalian defensins: structures and mechanism of antibiotic activity. J. Leukoc. Biol. 77, 466–475 (2005).

Brazas, M.D. & Hancock, R.E.W. Using microarray gene signatures to elucidate mechanisms of antibiotic action and resistance. Drug Discov. Today 10, 1245–1252 (2005).

Perron, G.G., Zasloff, M. & Bell, G. Experimental evolution of resistance to an antimicrobial peptide. Proc. Biol. Sci. 273, 251–256 (2006).

Samuelsen, O. et al. Induced resistance to the antimicrobial peptide lactoferricin B in Staphylococcus aureus. FEBS Lett. 579, 3421–3426 (2005).

Breukink, E. & de Kruijff, B. Lipid II as a target for antibiotics. Nat. Rev. Drug Discov. 5, 321–332 (2006).

Zhang, L. & Falla, T.J. Antimicrobial peptides: therapeutic potential. Expert Opin. Pharmacother. 7, 653–663 (2006).

Lau, Y.E. et al. Interaction and cellular localization of the human host defense peptide, LL-37, with lung epithelial cells. Infect. Immun. 73, 583–591 (2005).

Sandgren, S. et al. The human antimicrobial peptide LL-37 transfers extracellular DNA plasmid to the nuclear compartment of mammalian cells via lipid rafts and proteoglycan-dependent endocytosis. J. Biol. Chem. 279, 17951–17956 (2004).

McPhee, J.B., Scott, M.G. & Hancock, R.E.W. Design of host defence peptides for antimicrobial and immunity enhancing activities. Comb. Chem. High Throughput Screen. 8, 257–272 (2005).

Mygind, P.H. et al. Plectasin is a peptide antibiotic with therapeutic potential from a saprophytic fungus. Nature 437, 975–980 (2005).

Cotter, P.D., Hill, C. & Ross, R.P. Bacteriocins: developing innate immunity for food. Nat. Rev. Microbiol. 3, 777–788 (2005).

Hilpert, K., Volkmer-Engert, R., Walter, T. & Hancock, R.E.W. High-throughput generation of small antibacterial peptides with improved activity. Nat. Biotechnol. 23, 1008–1012 (2005).

Blondelle, S.E. & Houghten, R.A. Novel antimicrobial compounds identified using synthetic combinatorial library technology. Trends Biotechnol. 14, 60–65 (1996).

Freidinger, R.M. et al. Design and synthesis of novel bioactive peptides and peptidomimetics. J. Med. Chem. 46, 5553–5566 (2003).

Masip, I., Perez-Paya, E. & Messeguer, A. Peptoids as source of compounds eliciting antibacterial activity. Comb. Chem. High Throughput Screen. 8, 235–239 (2005).

Robinson, J.A. et al. Properties and structure-activity studies of cyclic beta-hairpin peptidomimetics based on the cationic antimicrobial peptide protegrin I. Bioorg. Med. Chem. 13, 2055–2064 (2005).

Porter, E.A., Wang, X., Lee, H.S., Weisblum, B. & Gellman, S.H. Non-haemolytic beta-amino-acid oligomers. Nature 404, 565 (2000).

Marshall, N.J., Andruszkiewicz, R., Gupta, S., Milewski, S. & Payne, J.W. Structure-activity relationships for a series of peptidomimetic antimicrobial prodrugs containing glutamine analogues. J. Antimicrob. Chemother. 51, 821–831 (2003).

Xie, L. et al. Lacticin 481: in vitro reconstitution of lantibiotic synthetase activity. Science 303, 679–681 (2004).

Rink, R., et al. Lantibiotic structures as guidelines for the design of peptides that can be modified by lantibiotic enzymes. Biochem. 44, 8873–8882 (2005).

Finlay, B.B. & Hancock, R.E.W. Can innate immunity be enhanced to treat infections? Nat. Rev. Microbiol. 2, 497–504 (2004).

O'Neill, L.A. How Toll-like receptors signal: what we know and what we don't know. Curr. Opin. Immunol. 18, 3–9 (2006).

Bowdish, D.M.E. et al. Impact of LL-37 on anti-infective immunity. J. Leukoc. Biol. 77, 451–459 (2005).

Zhang, L. et al. Antimicrobial peptide therapeutics for cystic fibrosis. Antimicrob. Agents Chemother. 49, 2921–2927 (2005).
Acknowledgements
We gratefully acknowledge financial support (to R.E.W.H.) for peptide research from the Advanced Food and Materials Network, the Canadian Institutes for Health Research (CIHR), from Genome BC and Genome Prairie for the Pathogenomics of Innate Immunity research program, and from the Foundation for the National Institutes of Health, USA, and CIHR through the Grand Challenges in Global Health Initiative, and (to H.G.S.) from the German Research Foundation (DFG, various projects), the European Community (two 5th and 6th framework projects) and the BONFOR research program of the University of Bonn. R.E.W.H. is the recipient of a Canada Research Chair.
Ethics declarations
Competing interests
R.E.W.H. is a scientific advisory board member of Helix Biomedix and minor shareholder of Migenix, Inc., which are developing antimicrobial peptides, and a scientific advisory board member of Inimex Pharmaceuticals, which is developing immunomodulatory peptides as human therapeutics.
About this article
Cite this article
Hancock, R., Sahl, HG. Antimicrobial and host-defense peptides as new anti-infective therapeutic strategies. Nat Biotechnol 24, 1551–1557 (2006). https://doi.org/10.1038/nbt1267
Published:

Issue Date:

DOI: https://doi.org/10.1038/nbt1267