Abstract
External RNA controls (ERCs), although important for microarray assay performance assessment, have yet to be fully implemented in the research community. As part of the MicroArray Quality Control (MAQC) study, two types of ERCs were implemented and evaluated; one was added to the total RNA in the samples before amplification and labeling; the other was added to the copyRNAs (cRNAs) before hybridization. ERC concentration-response curves were used across multiple commercial microarray platforms to identify problematic assays and potential sources of variation in the analytical process. In addition, the behavior of different ERC types was investigated, resulting in several important observations, such as the sample-dependent attributes of performance and the potential of using these control RNAs in a combinatorial fashion. This multiplatform investigation of the behavior and utility of ERCs provides a basis for articulating specific recommendations for their future use in evaluating assay performance across multiple platforms.
Relevant articles
Open Access articles citing this article.
Mark R. Viant

,

Timothy M. D. Ebbels

…

Ralf J. M. Weber

Nature Communications Open Access 10 July 2019

Roman Jaksik

,

Marta Iwanaszko

…

Marek Kimmel

Biology Direct Open Access 03 September 2015

Tao Qing

,

Ying Yu

…

LeMing Shi

Science China Life Sciences Open Access 08 February 2013
Access options
Subscribe to Journal
Get full journal access for 1 year
$99.00
only $8.25 per issue
All prices are NET prices.
VAT will be added later in the checkout.
Tax calculation will be finalised during checkout.
Buy article
Get time limited or full article access on ReadCube.
$32.00
All prices are NET prices.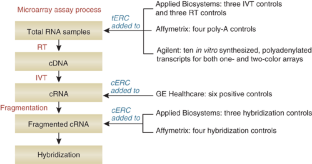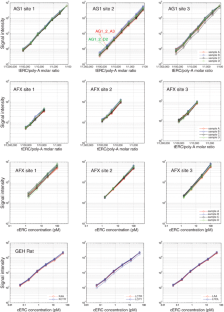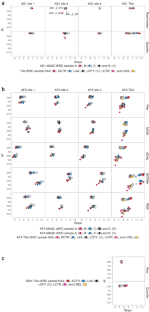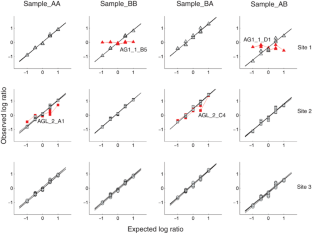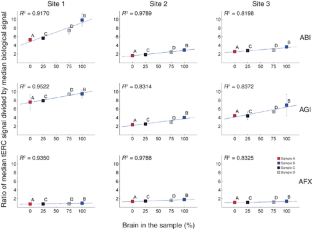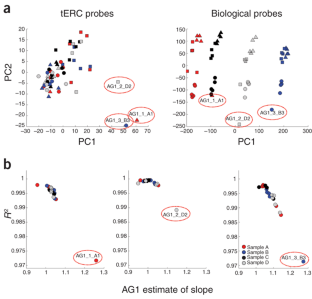 References
ERCC. Proposed methods for testing and selecting the ERCC external RNA controls. BMC Genomics 6, 150 (2005).

ERCC. The External RNA Controls Consortium: a progress report. Nat. Methods 2, 731–734 (2005).

Hill, A.A. et al. Evaluation of normalization procedures for oligonucleotide array data based on spiked cRNA controls. Genome Biol 2, RESEARCH0055 (2001).

Rajagopalan, D. A comparison of statistical methods for analysis of high density oligonucleotide array data. Bioinformatics 19, 1469–1476 (2003).

Irizarry, R.A. et al. Summaries of Affymetrix GeneChip probe level data. Nucleic Acids Res. 31, e15 (2003).

Irizarry, R.A. et al. Exploration, normalization, and summaries of high density oligonucleotide array probe level data. Biostatistics 4, 249–264 (2003).

Freudenberg, J., Boriss, H. & Hasenclever, D. Comparison of preprocessing procedures for oligo-nucleotide micro-arrays by parametric bootstrap simulation of spike-in experiments. Methods Inf. Med. 43, 434–438 (2004).

Choe, S.E., Boutros, M., Michelson, A.M., Church, G.M. & Halfon, M.S. Preferred analysis methods for Affymetrix GeneChips revealed by a wholly defined control dataset. Genome Biol. 6, R16 (2005).

Dabney, A.R. & Storey, J.D. A reanalysis of a published Affymetrix GeneChip control dataset. Genome Biol. 7, 401 (2006).

MAQC Consortium. The MicroArray Quality Control (MAQC) project shows inter- and intraplatform reproducibility of gene expression measurements. Nat. Biotechnol. 24, 1151–1161 (2006).

Guo, L. et al. Rat toxicogenomic study reveals analytical consistency across microarray platforms. Nat. Biotechnol. 24, 1162–1169 (2006).

Shippy, R. et al. Using RNA sample titrations to assess microarray platform performance and normalization techniques. Nat. Biotechnol. 24, 1123–1131 (2006).

"Guide to Probe Logarithmic Intensity Error (PLIER) Estimation", Affymetrix Technical Note, http://www.affymetrix.com/support/technical/technotes/plier_technote.pdf

Microarray Suite User's Guide, Version 5.0, http://www.affymetrix.com/support/technical/manuals.affx

Wu, Z., Irizarry, R.A., Gentleman, R., Murillo, F.M. & Spencer, F. A model based background adjustment for oligonucleotide expression arrays. J. Am. Stat. Assoc. 99, 909–917 (2004).

Li, C. & Wong, W. Model-based analysis of oligonucleotide arrays: expression index computation and outlier detection. Proc. Natl. Acad. Sci. USA 98, 31–36 (2001).

Fang, H., Xie, Q., Boneva, R., Fostel, J., Perkins, R. & Tong, W. Gene expression profile exploration of a large dataset on chronic fatigue syndrome. Pharmacogenomics, 7, 429–440, (2006).

Tong, W. et al. ArrayTrack–supporting toxicogenomic research at the US Food and Drug Administration National Center for Toxicological Research. Environ. Health Perspect. 111, 1819–1826 (2003).

Tong, W. et al. Development of public toxicogenomics software for microarray data management and analysis. Mutat. Res. 549, 241–253 (2004).
Supplementary information
About this article
Cite this article
Tong, W., Lucas, A., Shippy, R. et al. Evaluation of external RNA controls for the assessment of microarray performance. Nat Biotechnol 24, 1132–1139 (2006). https://doi.org/10.1038/nbt1237
Published:

Issue Date:

DOI: https://doi.org/10.1038/nbt1237