Abstract
Implanted drug delivery systems are being increasingly used to realize the therapeutic potential of peptides and proteins. Here we describe the controlled pulsatile release of the polypeptide leuprolide from microchip implants over 6 months in dogs. Each microchip contains an array of discrete reservoirs from which dose delivery can be controlled by telemetry.
This is a preview of subscription content
Access options
Subscribe to Journal
Get full journal access for 1 year
$99.00
only $8.25 per issue
All prices are NET prices.
VAT will be added later in the checkout.
Tax calculation will be finalised during checkout.
Buy article
Get time limited or full article access on ReadCube.
$32.00
All prices are NET prices.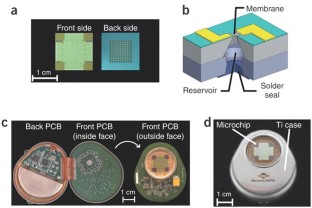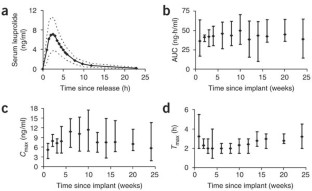 References
Langer, R. Sci. Am. 288, 50–57 (2003).

LaVan, D.A., McGuire, T. & Langer, R. Nat. Biotechnol. 21, 1184–1191 (2003).

Shastri, V.P. Curr. Pharm. Biotechnol. 4, 331–337 (2003).

Urquhart, J. J. Intern. Med. 248, 357–376 (2000).

Scavini, M. et al. Diabetes Care 20, 610–613 (1997).

Okada, H. et al. Pharm. Res. 8, 787–791 (1991).

Cukierski, M.J., Johnson, P.A. & Beck, J.C. Int. J. Toxicol. 20, 369–381 (2001).

Maloney, J.M. et al. J. Control. Release 109, 244–255 (2005).

Santini, J.T., Cima, M.J. & Langer, R. Nature 397, 335–337 (1999).

Li, Y. et al. J. Control. Release 106, 138–145 (2005).

Werkmeister, J., Tebb, T., White, J. & Ramshaw, J. Curr. Opin. Solid State Mater. Sci. 5, 185–191 (2001).
Acknowledgements
We thank Zouhair Sbiaa and Michael Finot (Micralyne) for producing the microchips used in this study, and all members of the MicroCHIPS team, past and present, who participated in developing this technology and in the practical demonstration of its utility in vivo.
Ethics declarations
Competing interests
The authors are current or former employees of MicroCHIPS, Inc. and possess stock or stock options in MicroChips, Inc.
Supplementary information
In vitro leuprolide release kinetics. (PDF 14 kb)
About this article
Cite this article
Prescott, J., Lipka, S., Baldwin, S. et al. Chronic, programmed polypeptide delivery from an implanted, multireservoir microchip device. Nat Biotechnol 24, 437–438 (2006). https://doi.org/10.1038/nbt1199
Received:

Accepted:

Published:

Issue Date:

DOI: https://doi.org/10.1038/nbt1199