Although new botanical drugs pose many challenges for both industry and the FDA, approval of the first botanical prescription drug shows they can be successfully met.
Access options
Subscribe to Journal
Get full journal access for 1 year
$59.00
only $4.92 per issue
All prices are NET prices.
VAT will be added later in the checkout.
Tax calculation will be finalised during checkout.
Rent or Buy article
Get time limited or full article access on ReadCube.
from$8.99
All prices are NET prices.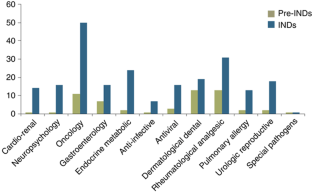 References
1

US Department of Health and Human Services, Food and Drug Administration, Center for Drug Evaluation and Research. Guidance for Industry. Botanical Drug Products (FDA, DC, June 2004). <http://www.fda.gov/cder/guidance/4592fnl.pdf>

4

Wu, K.M. et al. Toxicol. Lett. 111, 199–202 (2000).

5

Wu, K.M. et al. Am. J. Ther. 11, 213–217 (2004).

9

Murayama, M., Takao, M., Bando, H. & Amiya, T. J. Ethnopharmacol. 35, 159–164 (1991).

11

Lindenmuth, G.F. & Lindenmuth, E.B. J. Altern. Complement. Med. 6, 327–334 (2000).

12

Turner, R.B., Bauer, R., Woelkart, K., Hulsey, T.C. & Gangemi, J.D. N. Engl. J. Med. 353, 341–348 (2005).

13

Hypericum Depression Trial Study Group. J. Am. Med. Assoc. 287, 1807–1814 (2002).

14

Shelton, R.C. et al. J. Am. Med. Assoc. 285, 1978–1986 (2001).

15

Kasper, S., Anghelescu, I.G., Szegedi, A., Dienel, A. & Kieser, M. BMC Med. 4, 14 (2006).

16

Nakachi, K., Eguchi, H. & Imai, K. Ageing Res. Rev. 2, 1–10 (2003).

17

Lin, Y.S., Tsai, Y.J., Tsay, J.S. & Lin, J.K. J. Agric. Food Chem. 51, 1864–1873 (2003).

18

Jiang, X. New Medical College, Encyclopedia of Chinese Materia Medica (Zhong Yao Da Ci Dian) (Shanghai People's Press, Shanghai, China, 1977).

19

Stevens, T., Qadri, A. & Zein, N.N. Ann. Intern. Med. 142, 477–478 (2005).

20

Gloro, R. et al. Eur. J. Gastroenterol. Hepatol. 17, 1135–1137 (2005).
Acknowledgements
The authors thank L. Vaccari for assistance in preparing an early draft.
About this article
Cite this article
Chen, S., Dou, J., Temple, R. et al. New therapies from old medicines. Nat Biotechnol 26, 1077–1083 (2008). https://doi.org/10.1038/nbt1008-1077