Abstract
Screening peptide libraries is a proven strategy for identifying inhibitors of protein–ligand interactions. Compounds identified in these screens often bind to their targets with low affinities. When the target protein is present at a high density on the surface of cells or other biological surfaces, it is sometimes possible to increase the biological activity of a weakly binding ligand by presenting multiple copies of it on the same molecule. We isolated a peptide from a phage display library that binds weakly to the heptameric cell-binding subunit of anthrax toxin and prevents the interaction between cell-binding and enzymatic moieties. A molecule consisting of multiple copies of this nonnatural peptide, covalently linked to a flexible backbone, prevented assembly of the toxin complex in vitro and blocked toxin action in an animal model. This result demonstrates that protein–protein interactions can be inhibited by a synthetic, polymeric, polyvalent inhibitor in vivo.
Relevant articles
Open Access articles citing this article.
Eric Krueger

&

Angela C. Brown

Journal of Biological Engineering Open Access 19 February 2019
Access options
Subscribe to Journal
Get full journal access for 1 year
$99.00
only $8.25 per issue
All prices are NET prices.
VAT will be added later in the checkout.
Tax calculation will be finalised during checkout.
Buy article
Get time limited or full article access on ReadCube.
$32.00
All prices are NET prices.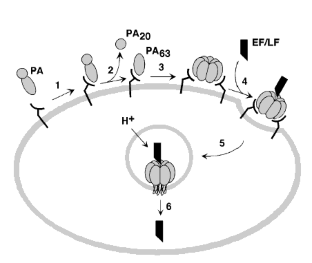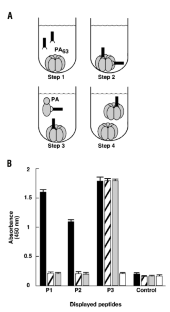 References
Dixon, T.C., Meselson, M., Guillemin, J. & Hanna, P.C. Anthrax. N. Engl. J. Med. 341, 815–826 (1999).

Leppla, S.H. Anthrax toxins. In Bacterial toxins and virulence factors in diseases. Handbook of natural toxins, Vol. 8. (eds Moss, J., Iglewski, B., Vaughan M. & Tu, A.) 543–572 (Dekker, New York, NY; 1995).

Petosa, C., Collier, R.J., Klimpel, K.R., Leppla, S.H. & Liddington R.C. Crystal structure of the anthrax toxin protective antigen. Nature 385, 833–838 (1997).

Duesbery, N.S. et al. Proteolytic inactivation of MAP-kinase-kinase by anthrax lethal factor. Science 280, 734–737 (1998).

Zwick, M.B., Shen, J. & Scott, J.K. Phage-displayed peptide libraries. Curr. Opin. Biotechnol. 9, 427–435 (1998).

Arora, N. & Leppla, S.H. Residues 1–254 of anthrax toxin lethal factor are sufficient to cause cellular uptake of fused polypeptides. J. Biol. Chem. 268, 3334–3341 (1993).

Mammen, M., Choi, S.-K. & Whitesides, G.M. Polyvalent interactions in biological systems: implications for design and use of multivalent ligands and inhibitors. Angew. Chem. Int. Edn. Engl. 37, 2754–2794 (1998).

Spaltenstein, A. & Whitesides, G.M. Polyacrylamides bearing pendant-sialoside groups strongly inhibit agglutination of erythrocytes by influenza virus. J. Am. Chem. Soc. 113, 686–687 (1991).

Rao, J., Lahiri, J., Isaacs, L., Weiss, R.M. & Whitesides, G.M. A trivalent system from vancomycin. d-ala-d-Ala with higher affinity than avidin-biotin. Science 280, 708–711 (1998).

Matrosovitch, M.N., Mochalova, L.U., Marinina, V.P., Byramova, N.E. & Bonvin, N.V. Synthetic polymeric sialoside inhibitors of influenza virus receptor-binding activity. FEBS Lett. 272, 209–212 (1990).

Gordon, E.J., Sanders, W.J. & Kiessling, L.L. Synthetic ligands point to cell surface strategies. Nature 392, 30–31 (1998).

Kramer, R.H. & Karpen, J.W. Spanning binding sites on allosteric proteins with polymer-linked ligand dimers. Nature 395, 710–713 (1998).

Kitov, P.I. et al. Shiga-like toxins are neutralized by tailored multivalent carbohydrate ligands. Nature 403, 669–672 (2000).

Milne, J.C., Blanke, S.R., Hanna, P.C. & Collier, R.J. Protective antigen-binding domain of anthrax lethal factor mediates translocation of a heterologous protein fused to its amino- or carboxy-terminus. Mol. Microbiol. 15, 661–666 (1995).

Ezzell, J.W., Ivins, B.E. & Leppla, S.H. Immunoelectrophoretic analysis, toxicity, and kinetics of in vitro production of the protective antigen and lethal factor components of Bacillus anthracis toxin. Infect. Immun. 45, 761–767 (1984).

Milne, J.C., Furlong, D., Hanna, P.C., Wall, J.S. & Collier, R.J. Anthrax protective antigen forms oligomers during intoxication of mammalian cells. J. Biol. Chem. 269, 20607–20612 (1994).

Koivunen, E. et al. Tumor targeting with a selective gelatinase inhibitor. Nat. Biotechnol. 17, 768–774 (1999).

Wrighton, N.C. et al. Small peptides as potent mimetics of the protein hormone erythropoietin. Science 273, 458–463 (1996).

Miller, C.J., Elliott, J.L. & Collier, R.J. Anthrax protective antigen: prepore-to-pore conversion. Biochemistry 38, 10432–10441 (1999).

Benson, E.L., Huynh, P.D., Finkelstein, A. & Collier, R.J. Identification of residues lining the anthrax protective antigen channel. Biochemistry 37, 3941–3948 (1998).

Zhao, J., Milne, J.C. & Collier, R.J. Effect of anthrax toxin's lethal factor on ion channels formed by the protective antigen. J. Biol. Chem. 270, 18626–18630 (1995).

Mammen, M., Dahmann, G. & Whitesides G.M. Effective inhibitors of hemagglutination by influenza virus synthesized from polymers having active ester groups. Insight into mechanism of inhibition. J. Med. Chem. 38, 4179–4190 (1995).

Pace, C.N., Vajdos, F., Fee, L., Grimsley, G. & Gray, T. How to measure and predict the molar absorption coefficient of a protein. Protein Sci. 4, 2411–2423 (1995).

Wesche, J., Elliott, J.L., Falnes, P.O., Olsnes, S. & Collier, R.J. Characterization of membrane translocation by anthrax protective antigen. Biochemistry 37, 15737–15746 (1998).
Acknowledgements
This work was supported by grants to R.J.C., G.M.W., and B.R.S. from the National Institutes of Health (NIH), and to G.M.W. from the Defense Advanced Research Projects Agency (DARPA; Arlington, VA). M.M. received a fellowship from the French Defense Advanced Research Projects Agency (DSP/DGA) and the Philippe Fondation. J.M. was supported in part by a Medical Research Council of Canada postdoctoral fellowship. P.D. is a Fonds pour la Formation de Chercheurs et l'Aide à la Recherche (FCAR; Québec, PQ) research fellow. R.J.C. has financial interest in AVANT Immunotherapeutics, Inc.
About this article
Cite this article
Mourez, M., Kane, R., Mogridge, J. et al. Designing a polyvalent inhibitor of anthrax toxin. Nat Biotechnol 19, 958–961 (2001). https://doi.org/10.1038/nbt1001-958
Received:

Accepted:

Issue Date:

DOI: https://doi.org/10.1038/nbt1001-958
This article is cited by
Paul S. Kwon
Shaokang Ren
Xing Wang

Nature Chemistry (2020)

Eric Krueger
Angela C. Brown

Journal of Biological Engineering (2019)

Qingsheng Kong
Yuezhang Song
Feng Li

Molecular and Cellular Biochemistry (2015)