Nanowire sensors decorated with specific capture molecules can detect minute quantities of biological and chemical species.
Access options
Subscribe to Journal
Get full journal access for 1 year
$250.00
only $20.83 per issue
All prices are NET prices.
VAT will be added later in the checkout.
Rent or Buy article
Get time limited or full article access on ReadCube.
from$8.99
All prices are NET prices.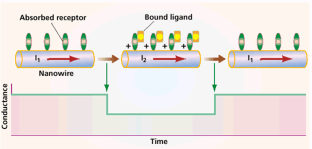 References
1

Cui, Y. et al. Science 293, 1289–1292 (2001).

2

Klemic, K.G. et al. Biophys. J. 80, 337a (2001). Abstract presented at the 2001 annual meeting of the Biophysical Society, Boston, MA.

3

Reed, M.A. & Kirk, W.P. (eds) Nanostructure physics and fabrication. (Academic Press, San Diego, CA; 1989).

4

Nalwa, H. (ed.) Handbook of nanostructured materials and nanotechnology. (Academic Press, San Diego, CA; 2000).

5

Bergveld, P., IEEE Trans. Biomed. Eng. BME-17, 70–71 (1970).

6

Morrison, S.R. Chemical sensors. In Semiconductor sensors. (ed. Sze, S.M.) 404–408 (John Wiley and Sons, New York, NY; 1994).

7

Wu, D.G. et al. Chem. Eur. J. 7, 1743–1749 (2001).

8

Ralls, K.S. et al. Phys. Rev. Lett. 52, 228–231 (1984).
About this article
Cite this article
Klemic, J., Stern, E. & Reed, M. Hotwiring biosensors. Nat Biotechnol 19, 924–925 (2001). https://doi.org/10.1038/nbt1001-924