The latest European sample survey of public perceptions of biotechnology reveals widespread opposition to genetically modified (GM) food in much of Europe, but public attitudes to medical and environmental applications remain positive.
Access options
Subscribe to Journal
Get full journal access for 1 year
$59.00
only $4.92 per issue
All prices are NET prices.
VAT will be added later in the checkout.
Tax calculation will be finalised during checkout.
Rent or Buy article
Get time limited or full article access on ReadCube.
from$8.99
All prices are NET prices.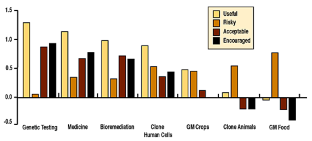 References
1

Gaskell, G et al. Europe ambivalent on biotechnology. Nature 387, 845–847. (1997).

2

Durant, J., Bauer, M.W. & Gaskell, G. Biotechnology in the public sphere: a European source book. (Science Museum Press, London; 1998).

3

Schuman, H. & Presser, S. Public opinion and public ignorance: the fine line between atttitudes and non-attitudes. Am. J. Sociol. 85, 1214–1225 ( 1980).
Acknowledgements
This article was written with support of the European Commission, Research Directorate-General (QLRT-1999-00286).
About this article
Cite this article
Gaskell, G., Allum, N., Bauer, M. et al. Biotechnology and the European public. Nat Biotechnol 18, 935–938 (2000). https://doi.org/10.1038/79403