An evaluation of the development of innovation in stem cell technologies by network analysis of stem cell patent filings.
Access options
Subscribe to Journal
Get full journal access for 1 year
$99.00
only $8.25 per issue
All prices are NET prices.
VAT will be added later in the checkout.
Tax calculation will be finalised during checkout.
Buy article
Get time limited or full article access on ReadCube.
$32.00
All prices are NET prices.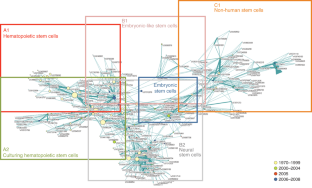 References
Obama, B. Removing barriers to responsible scientific research involving human stem cells (The White House, Washington, DC, March 9, 2009).

Wong, K.M. Cell Stem Cell 4, 95–96 (2009).

Anonymous. President Obama issues executive order on embryonic stem cell research—policy change generates new opportunities and challenges (Foley & Lardner Legal News Alert, Chicago, March 2009). http://www.foley.com/publications/pub_detail.aspx?pubid=5805

Anonymous. Stem cell research (National Conference of State Legislatures, Washington, DC, January 2008). http://www.ncsl.org/programs/health/Genetics/embfet.htm

Anonymous. State funding of embryonic & fetal research as of January, 2008 (Kaiser Family Foundation, Washington, DC, January 2008). http://www.statehealthfacts.org/comparetable.jsp?ind=112&cat=2

News at CIRM. CIRM provides $40 million to support future stem cell scientists, June 18, 2009. http://www.cirm.ca.gov

Takahashi, K. et al. Cell 131, 861–872 (2007).

Yu, J. et al. Science 318, 1917–1920 (2007).

Batagelj, V. et al. (eds.) Analyzing the structure of US patents. in Studies in Classification, Data Analysis, and Knowledge Organization 141–148 (Springer, New York, 2007).

Hall, B.H., Jaffe, A.B. & Trajtenberg, M. Rand J. Econ. 36, 16–38 (2005).

Bergman, K. & Graff, G.D. Nat. Biotechnol. 25, 419–424 (2007).
About this article
Cite this article
Konski, A., Spielthenner, D. Stem cell patents: a landscape analysis. Nat Biotechnol 27, 722–726 (2009). https://doi.org/10.1038/nbt0809-722
Issue Date:

DOI: https://doi.org/10.1038/nbt0809-722