A United Therapeutics subsidiary has placed an order for 1,000 unmanned aerial vehicles (UAVs), known as drones, to ferry lungs and other organs from its facilities to hospitals for transplantation. The Silver Spring, Maryland–based Lung Biotechnology and Chinese drone manufacturer EHang have agreed on a 15-year timeframe, giving both a long runway to develop their respective products. In the biotech's case, the company is working on techniques to make pig organs suitable for transplantation into humans, while EHang will produce a Manufactured Organ Transport Helicopter (MOTH) system for delivery.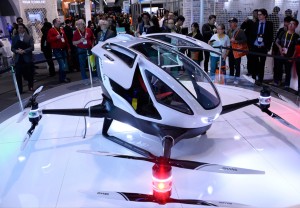 United Therapeutics acquired former PPL Therapeutics spinout Revivicor, one of the first companies to genetically engineer pigs as an alternative tissue source for transplantation, and has now embarked on a xenotransplantation research collaboration with Synthetic Genomics (Nat. Biotechnol. 34, 3–4, 2016). For its part, EHang in January unveiled a working prototype of the MOTH, a modified version of its one-person carrier called the 184 Autonomous Aerial Vehicle, which, as it stands, is designed to fly up to 10 miles. Passengers can only instruct the copter to take off and land; autonomous flight controls do the rest. However, UAVs are strictly controlled by the US Federal Aviation Administration (FAA).
Both companies independently face daunting hurdles if they are to fulfil their joint vision of planting drones outside their organ production facilities and programming them to deliver organs to hospitals within the aerial vehicles' flight radius. There are signs pointing to increasing acceptance of UAV delivery. Last year, the FAA approved the first sanctioned drone delivery, which medical supplies to a rural clinic. But it will take years of testing in clinical trials before pig lungs will be suitable for transplantation into humans and for the biotech to obtain FDA approval.
About this article
Cite this article
Francisco, M. Organ delivery by 1,000 drones. Nat Biotechnol 34, 684 (2016). https://doi.org/10.1038/nbt0716-684a
Published:

Issue Date:

DOI: https://doi.org/10.1038/nbt0716-684a