Abstract
In the canine model of Duchenne muscular dystrophy in golden retrievers (GRMD), a point mutation within the splice acceptor site of intron 6 leads to deletion of exon 7 from the dystrophin mRNA, and the consequent frameshift causes early termination of translation. We have designed a DNA and RNA chimeric oligonucleotide to induce host cell mismatch repair mechanisms and correct the chromosomal mutation to wild type. Direct skeletal muscle injection of the chimeric oligonucleotide into the cranial tibialis compartment of a six-week-old affected male dog, and subsequent analysis of biopsy and necropsy samples, demonstrated in vivo repair of the GRMD mutation that was sustained for 48 weeks. Reverse transcription–polymerase chain reaction (RT-PCR) analysis of exons 5–10 demonstrated increasing levels of exon 7 inclusion with time. An isolated exon 7-specific dystrophin antibody confirmed synthesis of normal-sized dystrophin product and positive localization to the sarcolemma. Chromosomal repair in muscle tissue was confirmed by restriction fragment length polymorphism (RFLP)–PCR and sequencing the PCR product. This work provides evidence for the long-term repair of a specific dystrophin point mutation in muscle of a live animal using a chimeric oligonucleotide.
Access options
Subscribe to Journal
Get full journal access for 1 year
$250.00
only $20.83 per issue
All prices are NET prices.
VAT will be added later in the checkout.
Rent or Buy article
Get time limited or full article access on ReadCube.
from$8.99
All prices are NET prices.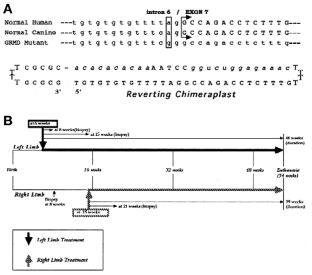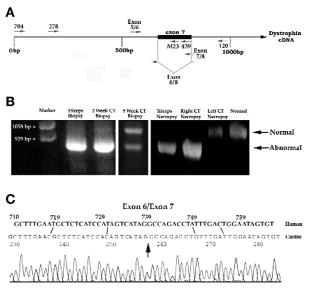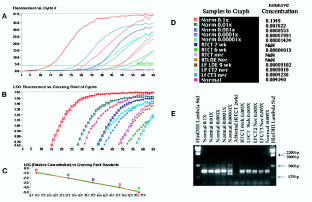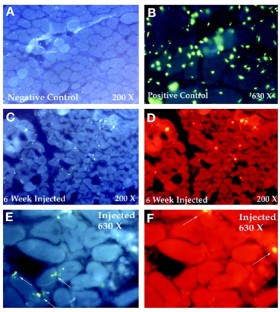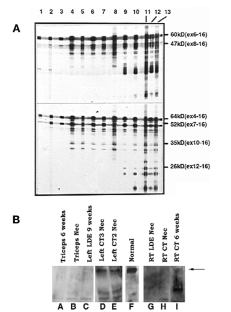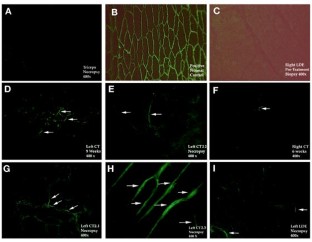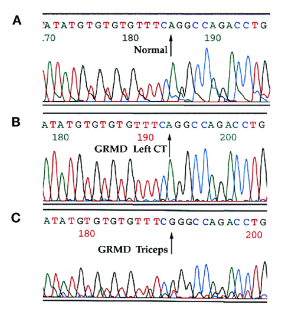 References
1

Bulfield, G. et al. X chromosome-linked muscular dystrophy (mdx) in the mouse. Proc. Natl. Acad. Sci. USA 81, 1189–1192 (1984).

2

Sicinski, P., Geng, Y., Ryder-Cook, A.S., Darlison, M.G. & Barnard, P.J. The molecular basis of muscular dystrophy in mdx mouse is a point mutation. Science 244, 1578–1579 (1989).

3

Kornegay, J.N. et al. Muscular dystrophy in a litter of golden retriever dogs. Muscle Nerve 11, 1056–1064 (1988).

4

Sharp, N.H. et al. An error in dystrophin mRNA processing causes golden retriever muscular dystrophy, an animal homologue of Duchenne muscular dystrophy. Genomics 13, 115–121 (1992).

5

Wilton, S.D., Dye, D.E. & Laing, N.G. Dystrophin gene transcripts skipping the mdx mutation. Muscle Nerve 20, 728–734 (1997).

6

Wilton, S.D., Dye, D.E., Blechynden, L.M. & Laing, N.G. Revertant fibers: a possible genetic therapy for Duchenne muscular dystrophy? Neuromuscul. Disord. 7, 329–335 (1997).

7

Schatzberg, S.J. et al. Alternative dystrophin gene transcripts in golden retriever muscular dystrophy. Muscle Nerve 21, 991–998 (1998).

8

Acsadi, G. et al. Human dystrophin expression in mdx mice after intramuscular injection of DNA constructs. Nature 352, 815–818 (1991).

9

Danko, I. et al. Dystrophin expression improves myofiber survival in mdx muscle following intramuscular plasmid DNA injection. Hum. Mol. Genet. 2, 2055–2061 (1993).

10

Wells, D.J. Improved gene transfer by direct plasmid injection associated with regeneration in mouse skeletal muscle. FEBS Lett. 332, 179–182 (1993).

11

Fritz, J.D. et al. Expression of deletion-containing dystrophins in mdx muscle: implications for gene therapy and dystrophin function. Pediatr. Res. 37, 693–700 (1995).

12

Yang, L. et al. Adenovirus-mediated dystrophin minigene transfer improves muscle strength in adult dystrophic (MDX) mice. Gene Ther. 5, 369–379 (1998).

13

Yuasa, K. et al. Effective restoration of dystrophin-associated proteins in vivo by adenovirus-mediated transfer of truncated dystrophin cDNAs. FEBS Lett. 425, 329–336 (1998).

14

Floyd, S.S. Jr. et al. Ex vivo gene transfer using adenovirus-mediated full-length dystrophin delivery to dystrophic muscles. Gene Ther. 5, 19–30 (1998).

15

Kinoshita, I., Vilquin, J.T. & Tremblay, J.P. Mechanism of increasing dystrophin-positive myofibers by myoblast transplantation: study using mdx/beta-galactosidase transgenic mice. Acta Neuropathol. 91, 489–493 (1996).

16

Kinoshita, I., Vilquin, J.T., Roy, T. & Tremblay, J.P. Successive injections in mdx mice of myoblasts grown with bFGF. Neuromusc. Disord. 6, 187–193 (1996).

17

Yang, Y., Su, Q. & Wilson, J.M. Role of viral antigens in destructive cellular immune responses to adenovirus vector-transduced cells in mouse lungs. J. Virol. 70, 7209–7212 (1996).

18

Yang, Y., Jooss, K.U., Su, Q., Ertl, H.C. & Wilson, J.M. Immune responses to viral antigens versus transgene product in the elimination of recombinant adenovirus-infected hepatocytes in vivo. Gene Ther. 3, 137–144 (1996).

19

Worgall, S., Wolff, G., Falck-Pedersen, E. & Crystal, R.G. Innate immune mechanisms dominate elimination of adenoviral vectors following in vivo administration. Hum. Gene Ther. 8, 37–44 (1997).

20

Huard, J. et al. The basal lamina is a physical barrier to herpes simplex virus-mediated gene delivery to mature muscle fibers. J. Virol. 70, 8117–8121 (1996).

21

Partridge, T., Lu, Q., Morris, G.E. & Hoffmann, E. Is myoblast transplantation effective? Nat. Med. 4, 1208–1209 (1998).

22

Mendell, J.R. et al. Myoblast transfer in the treatment of Duchenne's muscular dystrophy. N. Engl. J. Med. 333, 832–838 (1995).

23

Cole-Strauss, A. et al. Correction of the mutation responsible for sickle cell anemia by an RNA–DNA oligonucleotide. Science 273, 1386–1389 (1996).

24

Cole-Strauss, A. et al. Targeted gene repair directed by the chimeric RNA/DNA oligonucleotide in a mammalian cell-free extract. Nucleic Acids Res. 27, 1323–1330 (1999).

25

Bartlett, R.J. et al. Targeted repair of the mdx point mutation. Nature Biol. Short Rep. 9, 163–164 (1998).

26

Bartlett, R.J. et al. Mutation segregation and rapid carrier detection of X-linked muscular dystrophy in dogs. Am. J. Vet. Res. 57, 650–654 (1996).

27

Kren, B.T., Bandyopadhyay, P. & Steer, C.J. In vivo site-directed mutagenesis of the factor IX gene by chimeric RNA/DNA oligonucleotides. Nat. Med. 4, 285–290 (1998).

28

Kornegay, J.N. et al. Contraction tension and kinetics of the peroneus longus muscle in golden retriever muscular dystrophy. Neurol. Sci. 123, 100–107 (1994).

29

Bartlett, R.J. et al. Long-term expression of a fluorescent reporter gene via direct injection of plasmid vector into mouse muscle: comparison of human creatine kinase and CMV promoter expression levels in vivo. Cell Trans. 5, 411–419 (1996).

30

Le Thiet Thanh, Nguyen thi Man, Sewry, C.A., Dubowitz, V. & Morris, G.E. Characterisation of genetic deletions in Becker muscular dystrophy using monoclonal antibodies against a deletion-prone region of dystrophin. Am. J. Med. Genet. 58, 177–186 (1995).

31

Nguyen thi Man, Morris, G.E. A rapid method for generating large numbers of high-affinity monoclonal antibodies from a single mouse. In The protein protocols handbook (ed. Walker, J.M.) 783–792 (Humana Press, Totowa, NJ; 1996).

32

Arahata, K. et al. Dystrophin diagnosis: comparison of dystrophin abnormalities by immunofluorescence and immunoblot analyses. Proc. Natl. Acad. Sci. USA 86, 7154–7158 (1989).
Acknowledgements
The authors wish to thank Walter Bradley (University of Miami School of Medicine) for initial critical reading of this manuscript. The authors also wish to acknowledge the following for support of this research: Association Francais contre les Myopathies, AFM (R.J.B.), Muscular Dystrophy Group of Great Britain and Northern Ireland (G.E.M.) for support of antibody production, and the Parents Project for Muscular Dystrophy (J.N.K.), and MDA (J.N.K.) for their support of the canine animal colony. One of the authors (R.J.B.) is a member of the Scientific Advisory Board of Kimeragen Pharmaceuticals, Inc. (Newtown, PA) and acknowledges some support for this research from that company. Finally, the authors wish to acknowledge sustaining support for this research from the Diabetes Research Institute Foundation (Hollywood, FL).
About this article
Cite this article
Bartlett, R., Stockinger, S., Denis, M. et al. In vivo targeted repair of a point mutation in the canine dystrophin gene by a chimeric RNA/DNA oligonucleotide. Nat Biotechnol 18, 615–622 (2000). https://doi.org/10.1038/76448
Received:

Accepted:

Issue Date: