Sequence motifs are becoming increasingly important in the analysis of gene regulation. How do we define sequence motifs, and why should we use sequence logos instead of consensus sequences to represent them? Do they have any relation with binding affinity? How do we search for new instances of a motif in this sea of DNA?
Access options
Subscribe to Journal
Get full journal access for 1 year
$99.00
only $8.25 per issue
All prices are NET prices.
VAT will be added later in the checkout.
Tax calculation will be finalised during checkout.
Rent or Buy article
Get time limited or full article access on ReadCube.
from$8.99
All prices are NET prices.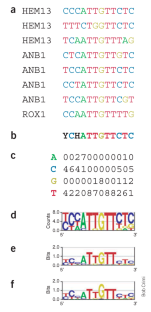 References
1

Schneider, T.D. & Stephens, R.M. Sequence Logos: a new way to display consensus sequences. Nucleic Acids Res. 18, 6097–6100 (1990).

2

Stormo, G.D. DNA binding sites: representation and discovery. Bioinformatics 16, 16–23 (2000).

3

Workman, C.T. et al. EnoLOGOS: a versatile web tool for energy normalized sequence logos. Nucleic Acids Res. 33 (Web Server Issue), W389–W392 (2005).

4

Matys, V. et al. TRANSFAC® and its module TRANSCompel®: transcriptional gene regulation in eukaryotes. Nucleic Acids Res. 34 suppl. Database issue, D108–D110 (2006).

5

Vlieghe, D. et al. A new generation of JASPAR, the open-access repository for transcription factor binding site profiles. Nucleic Acids Res. 34 suppl. Database issue, D95–D97 (2006).

6

Teixeira, M.C. et al. The YEASTRACT database: a tool for the analysis of transcription regulatory associations in Saccharomyces cerevisiae. Nucleic Acids Res. 34 suppl. Database issue, D446–451 (2006).

7

Zhu, J. & Zhang, M.Q. SCPD: a promoter database of the yeast Saccharomyces cerevisiae. Bioinformatics 15, 607–611 (1999).

8

Salgado, H. et al. RegulonDB (version 5.0): Escherichia coli K-12 transcriptional regulatory network, operon organization, and growth conditions. Nucleic Acids Res. 34 suppl. Database issue, D394–D397 (2006).

9

Munch, R. et al. PRODORIC: prokaryotic database of gene regulation. Nucleic Acids Res. 31, 266–269 (2003).

10

Djordjevic, M., Sengupta, A.M. & Shraiman, B.I. A biophysical approach to transcription factor binding site discovery. Genome Res. 13, 2381–2390 (2003).
About this article
Cite this article
D'haeseleer, P. What are DNA sequence motifs?. Nat Biotechnol 24, 423–425 (2006). https://doi.org/10.1038/nbt0406-423