Access options
Subscribe to Journal
Get full journal access for 1 year
$99.00
only $8.25 per issue
All prices are NET prices.
VAT will be added later in the checkout.
Tax calculation will be finalised during checkout.
Rent or Buy article
Get time limited or full article access on ReadCube.
from$8.99
All prices are NET prices.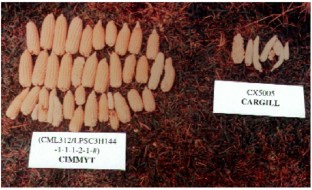 References
1

de Soysa, I. et al. To Cultivate Peace: Agriculture in a World of Conflict (Oslo, International Peace Research Institute, 1999).

2

Bongaarts, J. Science 282, 419 (1998).

3

CGIAR News December, 8– 9 (1998).

4

World Bank. World Development Report 1992: Development and the Environment p. 27 (New York, Oxford University Press, 1992).

5

Seckler, D. The new era of water management: from "dry" to "wet" water savings. Issues in Agriculture 8 (1996).

6

Pinstrup-Andersen, P. & Pandya-Lorch, R. Can everybody be well-fed by 2020 without damaging natural resources? p. 9 (CIMMYT, Mexico City, 1997).

7

Norman E. Borlaug, personal communication.

8

International Maize and Wheat Improvement Center (CIMMYT). CIMMYT in 1996–97: widening the circle of partnerships p. 24 (CIMMYT, Mexico City, 1997).

9

Borlaug, N.E. & Dowswell, C.R. The acid lands: one of agriculture's last frontiers. 5–15 in Plant–soil interactions at low pH (ed. Moniz, A.C. et al. ) (Brazil, Brazilian Soil Science Society, 1997).

10

Reeves, T.G. Sustainable intensification of agriculture (Mexico City, CIMMYT, 1998).
About this article
Cite this article
Reeves, T. Intensification for the nine billion. Nat Biotechnol 17, BV33–BV34 (1999). https://doi.org/10.1038/7174