Monoclonal antibodies (mAbs) continue to reign supreme, although cellular and gene therapies are slowly starting to gather momentum. Burgeoning growth in biosimilars may threaten future brand monopolies for mAbs and other biologics.
Access options
Subscribe to Journal
Get full journal access for 1 year
$250.00
only $20.83 per issue
All prices are NET prices.
VAT will be added later in the checkout.
Rent or Buy article
Get time limited or full article access on ReadCube.
from$8.99
All prices are NET prices.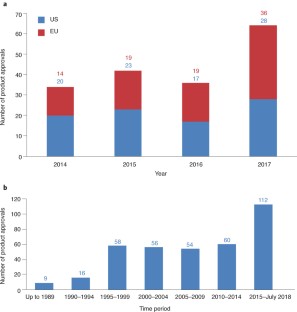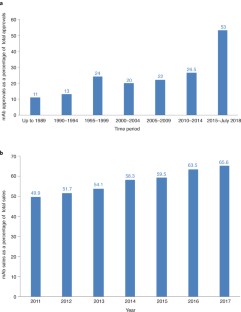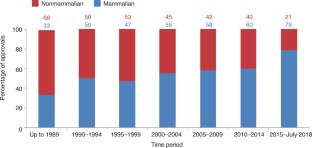 References
1

Walsh, G. Biopharmaceutical benchmarks 2014. Nat. Biotechnol. 32, 992–1000 (2014).

2

Walsh, G. Biopharmaceutical benchmarks 2010. Nat. Biotechnol. 28, 917–924 (2010).

3

Walsh, G. Biopharmaceutical benchmarks 2006. Nat. Biotechnol. 24, 769–776 (2006).

4

La Merie Business Intelligence. http://www.lamerie.com (2018).

5

Biosimilars in the EU report: information guide for health professionals. https://www.ema.europa.eu/documents/leaflet/biosimilars-eu-information-guide-healthcare-professionals_en.pdf (2017).

6

The impact of biosimilar competition on price, volume and market share, June 2016. http://ec.europa.eu/growth/content/impact-biosimilar-competition-price-volume-and-market-share-updated-version-2016-0_en (2016).

7

Bertolini, L.R. et al. The transgenic animal platform for biopharmaceutical production. Transgenic Res. 25, 329–343 (2016).

8

Park, T.S. et al. Deposition of bioactive human epidermal growth factor in the egg white of transgenic hens using an oviduct-specific minisynthetic promoter. FASEB J. 29, 2386–2396 (2015).

9

Miliotou, A.N. & Papadopoulou, L.C. CAR T-cell therapy: a new era in cancer immunotherapy. Curr. Pharm. Biotechnol. 19, 5–18 (2018).

10

June, C.H., O'Connor, R.S., Kawalekar, O.U., Ghassemi, S. & Milone, M.C. CAR T cell immunotherapy for human cancer. Science 359, 1361–1365 (2018).

11

Kaplon, H. & Reichert, J.M. Antibodies to watch in 2018. MAbs 10, 183–203 (2018).

12

FirstWord. Charting the Global Biosimilar Pipeline (FirstWord Publishing, 2018).

13

Ginn, S.L., Amaya, A.K., Alexander, I.E., Edelstein, M. & Abedi, M.R. Gene therapy clinical trials worldwide to 2017: an update. J. Gene Med. 20, e3015 (2018).

14

Zheng, P.P., Kros, J.M. & Li, J. Approved CAR-T cell therapies: ice bucket challenges on glaring safety risks and long-term impacts. Drug Discov. Today 23 1175–1182 (2018).

15

Labanieh, L., Majzner, R.G. & Mackall, C.L. Programming CAR-T cells to kill cancer. Nat. Biomed. Eng. 2, 377–391 (2018).

16

Köhl, U., Arsenieva, S., Holzinger, A. & Abken, H. CAR T cells in trials: recent achievements and challenges that remain in the production of modified T cells for clinical applications. Hum. Gene Ther. 29, 559–568 (2018).

17

Klinger, M., Benjamin, J., Kischel, R., Stienen, S. & Zugmaier, G. Harnessing T cells to fight cancer with BiTE® antibody constructs—past developments and future directions. Immunol. Rev. 270, 193–208 (2016).

18

Trivedi, A. et al. Clinical pharmacology and translational aspects of bispecific antibodies. Clin. Transl. Sci. 10, 147–162 (2017).
Supplementary information
About this article
Cite this article
Walsh, G. Biopharmaceutical benchmarks 2018. Nat Biotechnol 36, 1136–1145 (2018). https://doi.org/10.1038/nbt.4305