Abstract
Cellular function is critically regulated through degradation of substrates by the proteasome. To enable direct analysis of naturally cleaved proteasomal peptides under physiological conditions, we developed mass spectrometry analysis of proteolytic peptides (MAPP), a method for proteasomal footprinting that allows for capture, isolation and analysis of proteasome-cleaved peptides. Application of MAPP to cancer cell lines as well as primary immune cells revealed dynamic modulation of the cellular degradome in response to various stimuli, such as proinflammatory signals. Further, we performed analysis of minute amounts of clinical samples by studying cells from the peripheral blood of patients with systemic lupus erythematosus (SLE). We found increased degradation of histones in patient immune cells, thereby suggesting a role of aberrant proteasomal degradation in the pathophysiology of SLE. Thus, MAPP offers a broadly applicable method to facilitate the study of the cellular-degradation landscape in various cellular conditions and diseases involving changes in proteasomal degradation, including protein aggregation diseases, autoimmunity and cancer.
Relevant articles
Open Access articles citing this article.
Hanna P. Roetschke

,

Guillermo Rodriguez-Hernandez

…

Juliane Liepe

Scientific Data Open Access 10 January 2023
Access options
Access Nature and 54 other Nature Portfolio journals
Get Nature+, our best-value online-access subscription
$29.99 / 30 days
cancel any time
Subscribe to this journal
Receive 12 print issues and online access
$209.00 per year
only $17.42 per issue
Rent or buy this article
Get just this article for as long as you need it
$39.95
Prices may be subject to local taxes which are calculated during checkout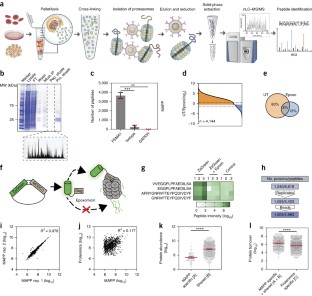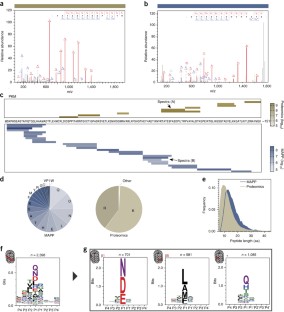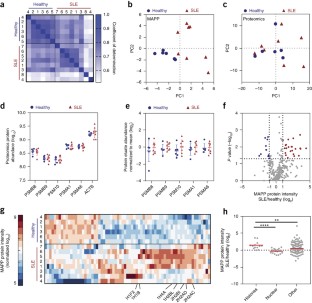 References
Rock, K.L. et al. Inhibitors of the proteasome block the degradation of most cell proteins and the generation of peptides presented on MHC class I molecules. Cell 78, 761–771 (1994).

Schmidt, M. & Finley, D. Regulation of proteasome activity in health and disease. Biochim. Biophys. Acta 1843, 13–25 (2014).

Hershko, A. & Ciechanover, A. The ubiquitin system for protein degradation. Annu. Rev. Biochem. 61, 761–807 (1992).

Finley, D., Chen, X. & Walters, K.J. Gates, channels, and switches: elements of the proteasome machine. Trends Biochem. Sci. 41, 77–93 (2016).

Rock, K.L., York, I.A., Saric, T. & Goldberg, A.L. Protein degradation and the generation of MHC class I-presented peptides. Adv. Immunol. 80, 1–70 (2002).

Rock, K.L., Reits, E. & Neefjes, J. Present yourself! By MHC class I and MHC class II molecules. Trends Immunol. 37, 724–737 (2016).

Rape, M. & Jentsch, S. Taking a bite: proteasomal protein processing. Nat. Cell Biol. 4, E113–E116 (2002).

Aebersold, R. & Mann, M. Mass-spectrometric exploration of proteome structure and function. Nature 537, 347–355 (2016).

Doherty, M.K., Hammond, D.E., Clague, M.J., Gaskell, S.J. & Beynon, R.J. Turnover of the human proteome: determination of protein intracellular stability by dynamic SILAC. J. Proteome Res. 8, 104–112 (2009).

Yen, H.-C.S., Xu, Q., Chou, D.M., Zhao, Z. & Elledge, S. J. Global protein stability profiling in mammalian cells. Science 322, 918–923 (2008).

Savitski, M.M. et al. Multiplexed proteome dynamics profiling reveals mechanisms controlling protein homeostasis. Cell 173, 260–274.e25 (2018).

Kim, W. et al. Systematic and quantitative assessment of the ubiquitin-modified proteome. Mol. Cell 44, 325–340 (2011).

Mathieson, T. et al. Systematic analysis of protein turnover in primary cells. Nat. Commun. 9, 689 (2018).

McShane, E. et al. Kinetic analysis of protein stability reveals age-dependent degradation. Cell 167, 803–815.e21 (2016).

Eden, E. et al. Proteome half-life dynamics in living human cells. Science 331, 764–768 (2011).

Mann, M. & Kelleher, N.L. Precision proteomics: the case for high resolution and high mass accuracy. Proc. Natl. Acad. Sci. USA 105, 18132–18138 (2008).

Aebersold, R. et al. How many human proteoforms are there? Nat. Chem. Biol. 14, 206–214 (2018).

Larance, M., Ahmad, Y., Kirkwood, K.J., Ly, T. & Lamond, A.I. Global subcellular characterization of protein degradation using quantitative proteomics. Mol. Cell. Proteomics 12, 638–650 (2013).

Cardozo, C., Vinitsky, A., Hidalgo, M.C., Michaud, C. & Orlowski, M. A 3,4-dichloroisocoumarin-resistant component of the multicatalytic proteinase complex. Biochemistry 31, 7373–7380 (1992).

Nussbaum, A.K. et al. Cleavage motifs of the yeast 20S proteasome beta subunits deduced from digests of enolase 1. Proc. Natl. Acad. Sci. USA 95, 12504–12509 (1998).

Zhou, F. et al. Genome-scale proteome quantification by DEEP SEQ mass spectrometry. Nat. Commun. 4, 2171 (2013).

Feist, E., Burmester, G.-R. & Krüger, E. The proteasome: victim or culprit in autoimmunity. Clin. Immunol. 172, 83–89 (2016).

Ullrich, O. et al. Poly-ADP ribose polymerase activates nuclear proteasome to degrade oxidatively damaged histones. Proc. Natl. Acad. Sci. USA 96, 6223–6228 (1999).

Cervantes-Laurean, D., Roberts, M.J., Jacobson, E.L. & Jacobson, M.K. Nuclear proteasome activation and degradation of carboxymethylated histones in human keratinocytes following glyoxal treatment. Free Radic. Biol. Med. 38, 786–795 (2005).

Perl, A. Oxidative stress in the pathology and treatment of systemic lupus erythematosus. Nat. Rev. Rheumatol. 9, 674–686 (2013).

Wang, C.H., Wu, S.B., Wu, Y.T. & Wei, Y.H. Oxidative stress response elicited by mitochondrial dysfunction: implication in the pathophysiology of aging. Exp. Biol. Med. (Maywood) 238, 450–460 (2013).

Cadenas, E. & Davies, K.J. Mitochondrial free radical generation, oxidative stress, and aging. Free Radic. Biol. Med. 29, 222–230 (2000).

Kisselev, A.F., Kaganovich, D. & Goldberg, A.L. Binding of hydrophobic peptides to several non-catalytic sites promotes peptide hydrolysis by all active sites of 20 S proteasomes: evidence for peptide-induced channel opening in the alpha-rings. J. Biol. Chem. 277, 22260–22270 (2002).

Schmidtke, G., Emch, S., Groettrup, M. & Holzhütter, H.-G. Evidence for the existence of a non-catalytic modifier site of peptide hydrolysis by the 20 S proteasome. J. Biol. Chem. 275, 22056–22063 (2000).

Liepe, J. et al. Quantitative time-resolved analysis reveals intricate, differential regulation of standard- and immuno-proteasomes. eLife 4, e07545 (2015).

Schaab, C., Geiger, T., Stoehr, G., Cox, J. & Mann, M. Analysis of high accuracy, quantitative proteomics data in the MaxQB Database. Mol. Cell. Proteomics 11, M111.014068 (2012).

Geiger, T., Wehner, A., Schaab, C., Cox, J. & Mann, M. Comparative proteomic analysis of eleven common cell lines reveals ubiquitous but varying expression of most proteins. Mol. Cell. Proteomics 11, M111.014050 (2012).

Schwanhäusser, B. et al. Global quantification of mammalian gene expression control. Nature 473, 337–342 (2011).

Murakami, Y. et al. Ornithine decarboxylase is degraded by the 26S proteasome without ubiquitination. Nature 360, 597–599 (1992).

Vlashi, E. et al. In vivo imaging, tracking, and targeting of cancer stem cells. J. Natl. Cancer Inst. 101, 350–359 (2009).

Philips, G.K. & Atkins, M. Therapeutic uses of anti-PD-1 and anti-PD-L1 antibodies. Int. Immunol. 27, 39–46 (2015).

McKinney, E.F., Lee, J.C., Jayne, D.R.W., Lyons, P.A. & Smith, K.G.C. T-cell exhaustion, co-stimulation and clinical outcome in autoimmunity and infection. Nature 523, 612–616 (2015).

Yang, W., Chen, P.W., Li, H., Alizadeh, H. & Niederkorn, J.Y. PD-L1: PD-1 interaction contributes to the functional suppression of T-cell responses to human uveal melanoma cells in vitro. Invest. Opthalmol. Vis. Sci. 49, 2518–2525 (2008).

Tan, E.M. et al. The 1982 revised criteria for the classification of systemic lupus erythematosus. Arthritis Rheum. 25, 1271–1277 (1982).

Cox, J. & Mann, M. MaxQuant enables high peptide identification rates, individualized p.p.b.-range mass accuracies and proteome-wide protein quantification. Nat. Biotechnol. 26, 1367–1372 (2008).

Bassani-Sternberg, M., Pletscher-Frankild, S., Jensen, L.J. & Mann, M. Mass spectrometry of human leukocyte antigen class I peptidomes reveals strong effects of protein abundance and turnover on antigen presentation. Mol. Cell. Proteomics 14, 658–673 (2015).

Tyanova, S. et al. The Perseus computational platform for comprehensive analysis of (prote)omics data. Nat. Methods 13, 731–740 (2016).

Mi, H. et al. The PANTHER database of protein families, subfamilies, functions and pathways. Nucleic Acids Res. 33, D284–D288 (2005).

Subramanian, A. et al. Gene set enrichment analysis: a knowledge-based approach for interpreting genome-wide expression profiles. Proc. Natl. Acad. Sci. USA 102, 15545–15550 (2005).

Ruepp, A. et al. CORUM: the comprehensive resource of mammalian protein complexes. Nucleic Acids Res. 36, D646–D650 (2008).

Ruepp, A. et al. CORUM: the comprehensive resource of mammalian protein complexes--2009. Nucleic Acids Res. 38, D497–D501 (2010).

Shannon, P. et al. Cytoscape: a software environment for integrated models of biomolecular interaction networks. Genome Res. 13, 2498–2504 (2003).

You, Y., Jang, I., Lee, K., Kim, H. & Lee, K. An approach for a substitution matrix based on protein blocks and physicochemical properties of amino acids through PCA. Interdiscip. Bio Cent. 6, 3.1–3.10 (2014).

Vizca&no, J.A. et al. 2016 update of the PRIDE database and its related tools. Nucleic Acids Res. 44, D447–D456 (2016).
Acknowledgements
We thank K. Tanaka and S. Murata (University of Tokyo) for the anti-PSMA1 hybridoma, and J. Bar and I. Kamer (Sheba Medical Center) for the anti-PD-1 monoclonal antibody Nivolumab. We thank members of the Merbl laboratory and M. Sharon for critically reviewing the manuscript; S. Itzkovitz, M. Askenazi, S. Shen-Orr, I. Amit and E. Elinav for scientific advice; and M. Kupervaser and A. Savidor for analytic support. This project received funding from Merck KGaA; the European Research Council (ERC) under the European Union's Horizon 2020 Research and Innovation Programme (grant agreement 677748); the I-CORE Program of the Planning and Budgeting Committee and The Israel Science Foundation (grant 12/7751); Rothschild Caesarea; The Peter & Patricia Gruber Foundation (Gruber award); Adiel Eleanor, Carla Hunter and Andre Schub (Y.M.); and the Intramural Research Program at NIAMS/NIH ZIA AR041199 (C.C.-R. and M.J.K.). Y.M. is supported as the incumbent Leonard and Carol Berall Career Development Chair.
Ethics declarations
Competing interests
The authors declare no competing financial interests.
Integrated supplementary information
Supplementary information
About this article
Cite this article
Wolf-Levy, H., Javitt, A., Eisenberg-Lerner, A. et al. Revealing the cellular degradome by mass spectrometry analysis of proteasome-cleaved peptides. Nat Biotechnol 36, 1110–1116 (2018). https://doi.org/10.1038/nbt.4279
Received:

Accepted:

Published:

Issue Date:

DOI: https://doi.org/10.1038/nbt.4279