Abstract
The identification and quantification of proteins lags behind DNA-sequencing methods in scale, sensitivity, and dynamic range. Here, we show that sparse amino acid–sequence information can be obtained for individual protein molecules for thousands to millions of molecules in parallel. We demonstrate selective fluorescence labeling of cysteine and lysine residues in peptide samples, immobilization of labeled peptides on a glass surface, and imaging by total internal reflection microscopy to monitor decreases in each molecule's fluorescence after consecutive rounds of Edman degradation. The obtained sparse fluorescent sequence of each molecule was then assigned to its parent protein in a reference database. We tested the method on synthetic and naturally derived peptide molecules in zeptomole-scale quantities. We also fluorescently labeled phosphoserines and achieved single-molecule positional readout of the phosphorylated sites. We measured >93% efficiencies for dye labeling, survival, and cleavage; further improvements should enable studies of increasingly complex proteomic mixtures, with the high sensitivity and digital quantification offered by single-molecule sequencing.
Access options
Subscribe to Journal
Get full journal access for 1 year
$259.00
only $21.58 per issue
All prices are NET prices.
VAT will be added later in the checkout.
Rent or Buy article
Get time limited or full article access on ReadCube.
from$8.99
All prices are NET prices.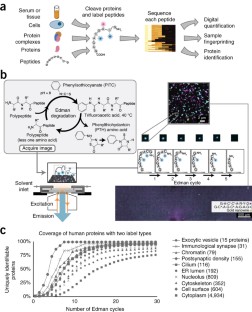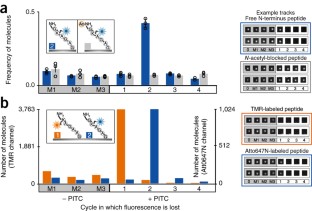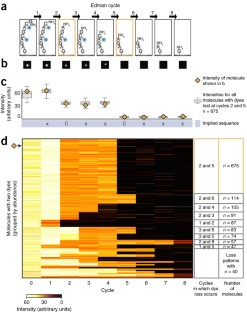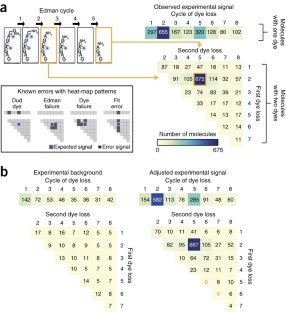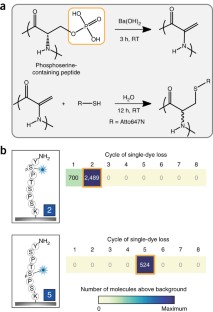 References
1

Liu, Y., Beyer, A. & Aebersold, R. On the dependency of cellular protein levels on mRNA abundance. Cell 165, 535–550 (2016).

2

da Costa, J.P., Santos, P.S.M., Vitorino, R., Rocha-Santos, T. & Duarte, A.C. How low can you go? A current perspective on low-abundance proteomics. Trends Analyt. Chem. 93, 171–182 (2017).

3

Makarov, A. et al. Performance evaluation of a hybrid linear ion trap/orbitrap mass spectrometer. Anal. Chem. 78, 2113–2120 (2006).

4

Makarov, A., Denisov, E., Lange, O. & Horning, S. Dynamic range of mass accuracy in LTQ Orbitrap hybrid mass spectrometer. J. Am. Soc. Mass Spectrom. 17, 977–982 (2006).

5

Hawkridge, A.M. in Quantitative Proteomics (eds. Eyers, C.E. & Gaskell, S.) 3–21 (The Royal Society of Chemistry, Cambridge, 2014).

6

Swaminathan, J., Boulgakov, A.A. & Marcotte, E.M. A theoretical justification for single molecule peptide sequencing. PLOS Comput. Biol. 11, e1004080 (2015).

7

Yao, Y., Docter, M., van Ginkel, J., de Ridder, D. & Joo, C. Single-molecule protein sequencing through fingerprinting: computational assessment. Phys. Biol. 12, 055003 (2015).

8

Zhao, Y. et al. Single-molecule spectroscopy of amino acids and peptides by recognition tunnelling. Nat. Nanotechnol. 9, 466–473 (2014).

9

Wilson, J., Sloman, L., He, Z. & Aksimentiev, A. Graphene nanopores for protein sequencing. Adv. Funct. Mater. 26, 4830–4838 (2016).

10

Kennedy, E., Dong, Z., Tennant, C. & Timp, G. Reading the primary structure of a protein with 0.07 nm3 resolution using a subnanometre-diameter pore. Nat. Nanotechnol. 11, 968–976 (2016).

11

Sampath, G. Amino acid discrimination in a nanopore and the feasibility of sequencing peptides with a tandem cell and exopeptidase. RSC Advances 5, 30694–30700 (2015).

12

Kolmogorov, M., Kennedy, E., Dong, Z., Timp, G. & Pevzner, P.A. Single-molecule protein identification by sub-nanopore sensors. PLoS Comput. Biol. 13, e1005356 (2017).

13

Edman, P. Method for determination of the amino acid sequence in peptides. Acta Chem. Scand. 4, 283–293 (1950).

14

Hernandez, E.T., Swaminathan, J., Marcotte, E.M. & Anslyn, E.V. Solution-phase and solid-phase sequential, selective modification of side chains in KDYWEC and KDYWE as models for usage in single-molecule protein sequencing. New J. Chem. 41, 462–469 (2017).

15

Hermodson, M.A., Ericsson, L.H., Titani, K., Neurath, H. & Walsh, K.A. Application of sequenator analyses to the study of proteins. Biochemistry 11, 4493–4502 (1972).

16

Phatnani, H.P. & Greenleaf, A.L. Phosphorylation and functions of the RNA polymerase II CTD. Genes Dev. 20, 2922–2936 (2006).

17

Stevens, S.M. Jr. et al. Enhancement of phosphoprotein analysis using a fluorescent affinity tag and mass spectrometry. Rapid Commun. Mass Spectrom. 19, 2157–2162 (2005).

18

Shapiro, E., Biezuner, T. & Linnarsson, S. Single-cell sequencing-based technologies will revolutionize whole-organism science. Nat. Rev. Genet. 14, 618–630 (2013).

19

Ohshiro, T. et al. Detection of post-translational modifications in single peptides using electron tunnelling currents. Nat. Nanotechnol. 9, 835–840 (2014).

20

Nivala, J., Marks, D.B. & Akeson, M. Unfoldase-mediated protein translocation through an α-hemolysin nanopore. Nat. Biotechnol. 31, 247–250 (2013).

21

Rosen, C.B., Rodriguez-Larrea, D. & Bayley, H. Single-molecule site-specific detection of protein phosphorylation with a nanopore. Nat. Biotechnol. 32, 179–181 (2014).

22

Wettenhall, R.E., Aebersold, R.H. & Hood, L.E. Solid-phase sequencing of 32P-labeled phosphopeptides at picomole and subpicomole levels. Methods Enzymol. 201, 186–199 (1991).

23

Pushkarev, D., Neff, N.F. & Quake, S.R. Single-molecule sequencing of an individual human genome. Nat. Biotechnol. 27, 847–850 (2009).

24

Anderson, N.L. & Anderson, N.G. The human plasma proteome: history, character, and diagnostic prospects. Mol. Cell. Proteomics 1, 845–867 (2002).

25

McLachlin, D.T. & Chait, B.T. Improved beta-elimination-based affinity purification strategy for enrichment of phosphopeptides. Anal. Chem. 75, 6826–6836 (2003).

26

Laursen, R.A. Solid-phase Edman degradation: an automatic peptide sequencer. Eur. J. Biochem. 20, 89–102 (1971).

27

Guizar-Sicairos, M., Thurman, S.T. & Fienup, J.R. Efficient subpixel image registration algorithms. Opt. Lett. 33, 156–158 (2008).

28

Cannon, B., Pan, C., Chen, L., Hadd, A.G. & Russell, R. A dual-mode single-molecule fluorescence assay for the detection of expanded CGG repeats in Fragile X syndrome. Mol. Biotechnol. 53, 19–28 (2013).

29

Das, S.K., Darshi, M., Cheley, S., Wallace, M.I. & Bayley, H. Membrane protein stoichiometry determined from the stepwise photobleaching of dye-labelled subunits. ChemBioChem 8, 994–999 (2007).

30

Shimazaki, H. & Shinomoto, S. A method for selecting the bin size of a time histogram. Neural Comput. 19, 1503–1527 (2007).

31

Mutch, S.A. et al. Deconvolving single-molecule intensity distributions for quantitative microscopy measurements. Biophys. J. 92, 2926–2943 (2007).
Acknowledgements
We thank B. Cannon and R. Russell for early assistance with single-molecule imaging, M. Gadush for assistance with peptide synthesis, I. Riddington, J. Dinser, and K. Suhr for assistance in mass spectrometry analysis of fluorescently labeled peptides, Z. Simpson and J. Rybarski for assistance with image analysis, A. Ellington for many fruitful discussions, and the Texas Advanced Computing Center for high-performance computing. This work was supported by fellowships from the HHMI (to J.S.) and NSF (DGE-1610403 to A.A.B.), and by grants from DARPA (N66001-14-2-4051 to E.V.A. and E.M.M.), NIH (DP1 GM106408, R01 GM076536, and R35 GM122480 to E.M.M.), CPRIT (to E.M.M.), and the Welch foundation (F-1515 to E.M.M. and F-0046 to E.V.A.).
Ethics declarations
Competing interests
J.S., A.M.B., E.M.M., and E.V.A. are cofounders and shareholders of Erisyon Inc. J.S., E.M.M., and E.V.A. are co-inventors on granted US patent PCT/US2012/043769. J.S., A.A.B., E.T.H., J.L.B., A.M.J., E.V.A., and E.M.M. are co-inventors on pending US patent PCT/US2015/050099.
Integrated supplementary information
Supplementary information
About this article
Cite this article
Swaminathan, J., Boulgakov, A., Hernandez, E. et al. Highly parallel single-molecule identification of proteins in zeptomole-scale mixtures. Nat Biotechnol 36, 1076–1082 (2018). https://doi.org/10.1038/nbt.4278
Received:

Accepted:

Published:

Issue Date: