Abstract
Here we present APOBEC-coupled epigenetic sequencing (ACE-seq), a bisulfite-free method for localizing 5-hydroxymethylcytosine (5hmC) at single-base resolution with low DNA input. The method builds on the observation that AID/APOBEC family DNA deaminase enzymes can potently discriminate between cytosine modification states and exploits the non-destructive nature of enzymatic, rather than chemical, deamination. ACE-seq yielded high-confidence 5hmC profiles with at least 1,000-fold less DNA input than conventional methods. Applying ACE-seq to generate a base-resolution map of 5hmC in tissue-derived cortical excitatory neurons, we found that 5hmC was almost entirely confined to CG dinucleotides. The whole-genome map permitted cytosine, 5-methylcytosine (5mC) and 5hmC to be parsed and revealed genomic features that diverged from global patterns, including enhancers and imprinting control regions with high and low 5hmC/5mC ratios, respectively. Enzymatic deamination overcomes many challenges posed by bisulfite-based methods, thus expanding the scope of epigenome profiling to include scarce samples and opening new lines of inquiry regarding the role of cytosine modifications in genome biology.
Relevant articles
Open Access articles citing this article.
Jaywon Lee

,

Dongin Lee

…

Duhee Bang

Clinical Epigenetics Open Access 01 March 2023

Jens Füllgrabe

,

Walraj S. Gosal

…

Shankar Balasubramanian

Nature Biotechnology Open Access 06 February 2023

Sabrina Adam

,

Julia Bräcker

…

Albert Jeltsch

Communications Biology Open Access 24 January 2022
Access options
Access Nature and 54 other Nature Portfolio journals
Get Nature+, our best-value online-access subscription
$29.99 per month
cancel any time
Subscribe to this journal
Receive 12 print issues and online access
$209.00 per year
only $17.42 per issue
Rent or buy this article
Get just this article for as long as you need it
$39.95
Prices may be subject to local taxes which are calculated during checkout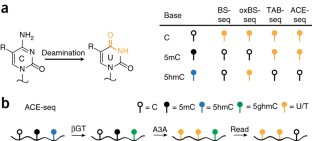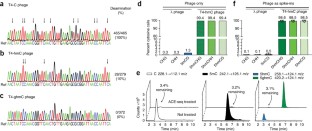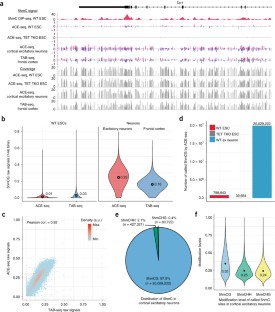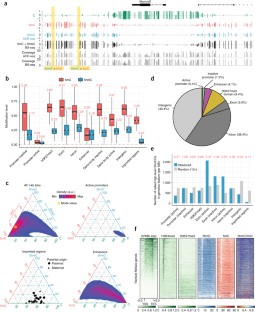 Accession codes
Primary accessions
Gene Expression Omnibus
Referenced accessions
GenBank/EMBL/DDBJ
References
Schübeler, D. Function and information content of DNA methylation. Nature 517, 321–326 (2015).

Tahiliani, M. et al. Conversion of 5-methylcytosine to 5-hydroxymethylcytosine in mammalian DNA by MLL partner TET1. Science 324, 930–935 (2009).

Ito, S. et al. Tet proteins can convert 5-methylcytosine to 5-formylcytosine and 5-carboxylcytosine. Science 333, 1300–1303 (2011).

He, Y.F. et al. Tet-mediated formation of 5-carboxylcytosine and its excision by TDG in mammalian DNA. Science 333, 1303–1307 (2011).

Pfaffeneder, T. et al. The discovery of 5-formylcytosine in embryonic stem cell DNA. Angew. Chem. Int. Edn Engl. 50, 7008–7012 (2011).

Kohli, R.M. & Zhang, Y. TET enzymes, TDG and the dynamics of DNA demethylation. Nature 502, 472–479 (2013).

Wagner, M. et al. Age-dependent levels of 5-methyl-, 5-hydroxymethyl-, and 5-formylcytosine in human and mouse brain tissues. Angew. Chem. Int. Edn Engl. 54, 12511–12514 (2015).

Bachman, M. et al. 5-Formylcytosine can be a stable DNA modification in mammals. Nat. Chem. Biol. 11, 555–557 (2015).

Wu, H. & Zhang, Y. Charting oxidized methylcytosines at base resolution. Nat. Struct. Mol. Biol. 22, 656–661 (2015).

Huang, Y. et al. The behavior of 5-hydroxymethylcytosine in bisulfite sequencing. PLoS One 5, e8888 (2010).

Yu, M. et al. Base-resolution analysis of 5-hydroxymethylcytosine in the mammalian genome. Cell 149, 1368–1380 (2012).

Booth, M.J. et al. Quantitative sequencing of 5-methylcytosine and 5-hydroxymethylcytosine at single-base resolution. Science 336, 934–937 (2012).

Tanaka, K. & Okamoto, A. Degradation of DNA by bisulfite treatment. Bioorg. Med. Chem. Lett. 17, 1912–1915 (2007).

Luo, C. et al. Single-cell methylomes identify neuronal subtypes and regulatory elements in mammalian cortex. Science 357, 600–604 (2017).

Clark, S.J., Lee, H.J., Smallwood, S.A., Kelsey, G. & Reik, W. Single-cell epigenomics: powerful new methods for understanding gene regulation and cell identity. Genome Biol. 17, 72 (2016).

Booth, M.J., Raiber, E.A. & Balasubramanian, S. Chemical methods for decoding cytosine modifications in DNA. Chem. Rev. 115, 2240–2254 (2015).

Zahid, O.K., Zhao, B.S., He, C. & Hall, A.R. Quantifying mammalian genomic DNA hydroxymethylcytosine content using solid-state nanopores. Sci. Rep. 6, 29565 (2016).

Chavez, L. et al. Simultaneous sequencing of oxidized methylcytosines produced by TET/JBP dioxygenases in Coprinopsis cinerea. Proc. Natl. Acad. Sci. USA 111, E5149–E5158 (2014).

Sun, Z. et al. High-resolution enzymatic mapping of genomic 5-hydroxymethylcytosine in mouse embryonic stem cells. Cell Rep. 3, 567–576 (2013).

Sun, Z. et al. A sensitive approach to map genome-wide 5-hydroxymethylcytosine and 5-formylcytosine at single-base resolution. Mol. Cell 57, 750–761 (2015).

Mellén, M., Ayata, P. & Heintz, N. 5-hydroxymethylcytosine accumulation in postmitotic neurons results in functional demethylation of expressed genes. Proc. Natl. Acad. Sci. USA 114, E7812–E7821 (2017).

Gross, J.A. et al. Characterizing 5-hydroxymethylcytosine in human prefrontal cortex at single base resolution. BMC Genomics 16, 672 (2015).

Lister, R. et al. Global epigenomic reconfiguration during mammalian brain development. Science 341, 1237905 (2013).

Siriwardena, S.U., Chen, K. & Bhagwat, A.S. Functions and malfunctions of mammalian DNA-cytosine deaminases. Chem. Rev. 116, 12688–12710 (2016).

Nabel, C.S. et al. AID/APOBEC deaminases disfavor modified cytosines implicated in DNA demethylation. Nat. Chem. Biol. 8, 751–758 (2012).

Wijesinghe, P. & Bhagwat, A.S. Efficient deamination of 5-methylcytosines in DNA by human APOBEC3A, but not by AID or APOBEC3G. Nucleic Acids Res. 40, 9206–9217 (2012).

Carpenter, M.A. et al. Methylcytosine and normal cytosine deamination by the foreign DNA restriction enzyme APOBEC3A. J. Biol. Chem. 287, 34801–34808 (2012).

Schutsky, E.K., Nabel, C.S., Davis, A.K.F., DeNizio, J.E. & Kohli, R.M. APOBEC3A efficiently deaminates methylated, but not TET-oxidized, cytosine bases in DNA. Nucleic Acids Res. 45, 7655–7665 (2017).

Bryson, A.L. et al. Covalent modification of bacteriophage T4 DNA inhibits CRISPR-Cas9. MBio 6, e00648–e15 (2015).

Mo, A. et al. Epigenomic signatures of neuronal diversity in the mammalian brain. Neuron 86, 1369–1384 (2015).

Warnecke, P.M. et al. Identification and resolution of artifacts in bisulfite sequencing. Methods 27, 101–107 (2002).

Johnson, B.S. et al. Biotin tagging of MeCP2 in mice reveals contextual insights into the Rett syndrome transcriptome. Nat. Med. 23, 1203–1214 (2017).

Hu, L. et al. Crystal structure of TET2-DNA complex: insight into TET-mediated 5mC oxidation. Cell 155, 1545–1555 (2013).

Xie, W. et al. Base-resolution analyses of sequence and parent-of-origin dependent DNA methylation in the mouse genome. Cell 148, 816–831 (2012).

Yin, Y. et al. Impact of cytosine methylation on DNA binding specificities of human transcription factors. Science 356, eaaj2239 (2017).

Buenrostro, J.D., Giresi, P.G., Zaba, L.C., Chang, H.Y. & Greenleaf, W.J. Transposition of native chromatin for fast and sensitive epigenomic profiling of open chromatin, DNA-binding proteins and nucleosome position. Nat. Methods 10, 1213–1218 (2013).

Eid, J. et al. Real-time DNA sequencing from single polymerase molecules. Science 323, 133–138 (2009).

Gabel, H.W. et al. Disruption of DNA-methylation-dependent long gene repression in Rett syndrome. Nature 522, 89–93 (2015).

Wang, H. et al. One-step generation of mice carrying mutations in multiple genes by CRISPR/Cas-mediated genome engineering. Cell 153, 910–918 (2013).

Lu, F., Liu, Y., Jiang, L., Yamaguchi, S. & Zhang, Y. Role of Tet proteins in enhancer activity and telomere elongation. Genes Dev. 28, 2103–2119 (2014).

Wu, H., Wu, X., Shen, L. & Zhang, Y. Single-base resolution analysis of active DNA demethylation using methylase-assisted bisulfite sequencing. Nat. Biotechnol. 32, 1231–1240 (2014).

Krueger, F. & Andrews, S.R. Bismark: a flexible aligner and methylation caller for Bisulfite-Seq applications. Bioinformatics 27, 1571–1572 (2011).

Bachman, M. et al. 5-Hydroxymethylcytosine is a predominantly stable DNA modification. Nat. Chem. 6, 1049–1055 (2014).

Qu, J., Zhou, M., Song, Q., Hong, E.E. & Smith, A.D. MLML: consistent simultaneous estimates of DNA methylation and hydroxymethylation. Bioinformatics 29, 2645–2646 (2013).

Thorvaldsdóttir, H., Robinson, J.T. & Mesirov, J.P. Integrative Genomics Viewer (IGV): high-performance genomics data visualization and exploration. Brief. Bioinform. 14, 178–192 (2013).

Shen, L. et al. Genome-wide analysis reveals TET- and TDG-dependent 5-methylcytosine oxidation dynamics. Cell 153, 692–706 (2013).
Acknowledgements
We are grateful to Z. Zhou, M. Fasolino, A. Bryson and J.M. SanMiguel for discussion and reagents. This work was supported by the US National Institutes of Health through R21-HG009545 (to R.M.K.) and by the Penn Epigenetics Institute. Additional support included R00-HG007982 (to H.W.), DP2-HL142044 (to H.W.) and R01-GM118501 (to R.M.K.). E.K.S. and J.E.D. are NSF Graduate Research Fellows. J.E.D. and E.B.F. were supported by NIH training grant T32-GM07229, and M.Y.L. by F30-CA196097.
Ethics declarations
Competing interests
Aspects of the ACE-seq protocol have been non-exclusively licensed.
Integrated supplementary information
Supplementary information
Supplementary Figures 1–11 (PDF 1491 kb)
Supplementary Tables 1 and 2, and Supplementary Protocols 1 and 2 (PDF 208 kb)
About this article
Cite this article
Schutsky, E., DeNizio, J., Hu, P. et al. Nondestructive, base-resolution sequencing of 5-hydroxymethylcytosine using a DNA deaminase. Nat Biotechnol 36, 1083–1090 (2018). https://doi.org/10.1038/nbt.4204
Received:

Accepted:

Published:

Issue Date:

DOI: https://doi.org/10.1038/nbt.4204