Abstract
The ability to decode mood state over time from neural activity could enable closed-loop systems to treat neuropsychiatric disorders. However, this decoding has not been demonstrated, partly owing to the difficulty of modeling distributed mood-relevant neural dynamics while dealing with the sparsity of mood state measurements. Here we develop a modeling framework to decode mood state variations from multi-site intracranial recordings in seven human subjects with epilepsy who self-reported their mood state intermittently over multiple days. We built dynamic neural encoding models of mood state and corresponding decoders for each individual and demonstrated that mood state variations over time can be decoded from neural activity. Across subjects, the decoders largely recruited neural signals from limbic regions, whose spectro-spatial features were tuned to mood variations. The dynamic models also provided an analytical tool to compute the timescales of the decoded mood state. These results provide an initial line of evidence indicating the feasibility of mood state decoding.
Relevant articles
Open Access articles citing this article.
Macauley Smith Breault

,

Pierre Sacré

…

Sridevi V. Sarma

Nature Communications Open Access 29 November 2023

Semih Günel

,

Florian Aymanns

…

Pascal Fua

International Journal of Computer Vision Open Access 19 December 2022

Alberto Averna

,

Sara Marceglia

…

Guglielmo Foffani

npj Parkinson's Disease Open Access 14 October 2022
Access options
Access Nature and 54 other Nature Portfolio journals
Get Nature+, our best-value online-access subscription
$29.99 / 30 days
cancel any time
Subscribe to this journal
Receive 12 print issues and online access
$209.00 per year
only $17.42 per issue
Rent or buy this article
Prices vary by article type
from$1.95
to$39.95
Prices may be subject to local taxes which are calculated during checkout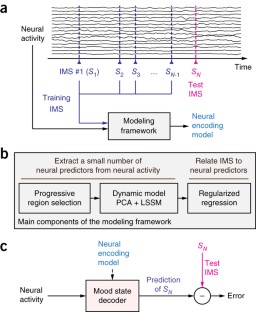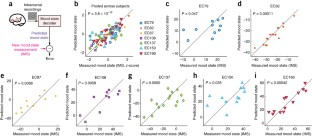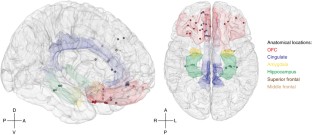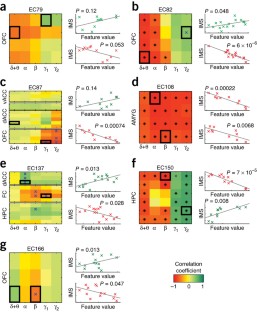 References
Calhoon, G.G. & Tye, K.M. Resolving the neural circuits of anxiety. Nat. Neurosci. 18, 1394–1404 (2015).

Dan, R. et al. Separate neural representations of depression, anxiety and apathy in Parkinson's disease. Sci. Rep. 7, 12164 (2017).

Dmochowski, J.P., Sajda, P., Dias, J. & Parra, L.C. Correlated components of ongoing EEG point to emotionally laden attention - a possible marker of engagement? Front. Hum. Neurosci. 6, 112 (2012).

Drevets, W.C. Neuroimaging and neuropathological studies of depression: implications for the cognitive-emotional features of mood disorders. Curr. Opin. Neurobiol. 11, 240–249 (2001).

Drysdale, A.T. et al. Resting-state connectivity biomarkers define neurophysiological subtypes of depression. Nat. Med. 23, 28–38 (2017).

Haroush, K. & Williams, Z.M. Neuronal prediction of opponent's behavior during cooperative social interchange in primates. Cell 160, 1233–1245 (2015).

Kragel, P.A., Knodt, A.R., Hariri, A.R. & LaBar, K.S. Decoding spontaneous emotional states in the human brain. PLoS Biol. 14, e2000106 (2016).

Kupfer, D.J., Frank, E. & Phillips, M.L. Major depressive disorder: new clinical, neurobiological, and treatment perspectives. Lancet 379, 1045–1055 (2012).

Mayberg, H.S. Modulating dysfunctional limbic-cortical circuits in depression: towards development of brain-based algorithms for diagnosis and optimised treatment. Br. Med. Bull. 65, 193–207 (2003).

Mayberg, H.S. et al. Reciprocal limbic-cortical function and negative mood: converging PET findings in depression and normal sadness. Am. J. Psychiatry 156, 675–682 (1999).

Zeng, L.-L. et al. Identifying major depression using whole-brain functional connectivity: a multivariate pattern analysis. Brain 135, 1498–1507 (2012).

Clark, L.A. & Watson, D. Tripartite model of anxiety and depression: psychometric evidence and taxonomic implications. J. Abnorm. Psychol. 100, 316–336 (1991).

Posner, J., Russell, J.A. & Peterson, B.S. The circumplex model of affect: an integrative approach to affective neuroscience, cognitive development, and psychopathology. Dev. Psychopathol. 17, 715–734 (2005).

Clark, D.L., Brown, E.C., Ramasubbu, R. & Kiss, Z.H.T. Intrinsic local beta oscillations in the subgenual cingulate relate to depressive symptoms in treatment-resistant depression. Biol. Psychiatry 80, e93–e94 (2016).

Leuchter, A.F., Cook, I.A., Hunter, A.M., Cai, C. & Horvath, S. Resting-state quantitative electroencephalography reveals increased neurophysiologic connectivity in depression. PLoS One 7, e32508 (2012).

Neumann, W.J. et al. Different patterns of local field potentials from limbic DBS targets in patients with major depressive and obsessive compulsive disorder. Mol. Psychiatry 19, 1186–1192 (2014).

Malone, D.A. Jr. et al. Deep brain stimulation of the ventral capsule/ventral striatum for treatment-resistant depression. Biol. Psychiatry 65, 267–275 (2009).

Mayberg, H.S. et al. Deep brain stimulation for treatment-resistant depression. Neuron 45, 651–660 (2005).

Schlaepfer, T.E. et al. Deep brain stimulation to reward circuitry alleviates anhedonia in refractory major depression. Neuropsychopharmacology 33, 368–377 (2008).

Clark, D.A. & Beck, A.T. Cognitive theory and therapy of anxiety and depression: convergence with neurobiological findings. Trends Cogn. Sci. 14, 418–424 (2010).

Grimm, S. et al. Imbalance between left and right dorsolateral prefrontal cortex in major depression is linked to negative emotional judgment: an fMRI study in severe major depressive disorder. Biol. Psychiatry 63, 369–376 (2008).

Lee, B.-T., Lee, B.C., Choi, I.G., Lyoo, I.K. & Ham, B.J. The neural substrates of affective processing toward positive and negative affective pictures in patients with major depressive disorder. Prog. Neuropsychopharmacol. Biol. Psychiatry 31, 1487–1492 (2007).

Bouchard, K.E., Mesgarani, N., Johnson, K. & Chang, E.F. Functional organization of human sensorimotor cortex for speech articulation. Nature 495, 327–332 (2013).

Korzeniewska, A. et al. Ictal propagation of high frequency activity is recapitulated in interictal recordings: effective connectivity of epileptogenic networks recorded with intracranial EEG. Neuroimage 101, 96–113 (2014).

Yaffe, R.B. et al. Reinstatement of distributed cortical oscillations occurs with precise spatiotemporal dynamics during successful memory retrieval. Proc. Natl. Acad. Sci. USA 111, 18727–18732 (2014).

Nahum, M. et al. Immediate Mood Scaler: tracking symptoms of depression and anxiety using a novel mobile mood scale. JMIR Mhealth Uhealth 5, e44 (2017).

Friedman, J., Hastie, T. & Tibshirani, R. The Elements of Statistical Learning (Springer, New York, 2001).

Van Overschee, P. & De Moor, B. Subspace Identification for Linear Systems: Theory, Implementation and Applications (Kluwer Academic, Norwell, Massachusetts, USA, 1996).

Fitzgerald, P.B., Laird, A.R., Maller, J. & Daskalakis, Z.J. A meta-analytic study of changes in brain activation in depression. Hum. Brain Mapp. 29, 683–695 (2008).

Schieber, M.H. Constraints on somatotopic organization in the primary motor cortex. J. Neurophysiol. 86, 2125–2143 (2001).

Andersen, R.A., Kellis, S., Klaes, C. & Aflalo, T. Toward more versatile and intuitive cortical brain-machine interfaces. Curr. Biol. 24, R885–R897 (2014).

Brandman, D.M., Cash, S.S. & Hochberg, L.R. Review: human intracortical recording and neural decoding for brain-computer interfaces. IEEE Trans. Neural Syst. Rehabil. Eng. 25, 1687–1696 (2017).

Hatsopoulos, N.G. & Suminski, A.J. Sensing with the motor cortex. Neuron 72, 477–487 (2011).

Hotson, G. et al. Individual finger control of a modular prosthetic limb using high-density electrocorticography in a human subject. J. Neural Eng. 13, 026017–26017 (2016).

Leuthardt, E.C., Schalk, G., Wolpaw, J.R., Ojemann, J.G. & Moran, D.W. A brain-computer interface using electrocorticographic signals in humans. J. Neural Eng. 1, 63–71 (2004).

Nicolelis, M.A. & Lebedev, M.A. Principles of neural ensemble physiology underlying the operation of brain-machine interfaces. Nat. Rev. Neurosci. 10, 530–540 (2009).

Sadtler, P.T. et al. Neural constraints on learning. Nature 512, 423–426 (2014).

Sajda, P., Muller, K.-R. & Shenoy, K. Brain-computer interfaces. IEEE Signal Process. Mag. 25, 16–17 (2008).

Schwartz, A.B., Cui, X.T., Weber, D.J. & Moran, D.W. Brain-controlled interfaces: movement restoration with neural prosthetics. Neuron 52, 205–220 (2006).

Shanechi, M.M. Brain-machine interface control algorithms. IEEE Trans. Neural Syst. Rehabil. Eng. 25, 1725–1734 (2017).

Shanechi, M.M. et al. Rapid control and feedback rates enhance neuroprosthetic control. Nat. Commun. 8, 13825 (2017).

Shenoy, K.V. & Carmena, J.M. Combining decoder design and neural adaptation in brain-machine interfaces. Neuron 84, 665–680 (2014).

Thakor, N.V. Translating the brain-machine interface. Sci. Transl. Med. 5, 210ps17 (2013).

Wang, W. et al. An electrocorticographic brain interface in an individual with tetraplegia. PLoS One 8, e55344 (2013).

Yanagisawa, T. et al. Electrocorticographic control of a prosthetic arm in paralyzed patients. Ann. Neurol. 71, 353–361 (2012).

Habel, U., Klein, M., Kellermann, T., Shah, N.J. & Schneider, F. Same or different? Neural correlates of happy and sad mood in healthy males. Neuroimage 26, 206–214 (2005).

Mak, A.K., Hu, Z.G., Zhang, J.X., Xiao, Z.W. & Lee, T.M. Neural correlates of regulation of positive and negative emotions: an fMRI study. Neurosci. Lett. 457, 101–106 (2009).

Sartorius, N., Ustün, T.B., Lecrubier, Y. & Wittchen, H.U. Depression comorbid with anxiety: results from the WHO study on psychological disorders in primary health care. Br. J. Psychiatry Suppl. 1996, 38–43 (1996).

American Psychiatric Association. Diagnostic and Statistical Manual of Mental Disorders (DSM-5) (American Psychiatric Publishing, Arlington, Virginia, 2013).

Russell, J.A. Core affect and the psychological construction of emotion. Psychol. Rev. 110, 145–172 (2003).

Kroenke, K., Spitzer, R.L. & Williams, J.B. The PHQ-9: validity of a brief depression severity measure. J. Gen. Intern. Med. 16, 606–613 (2001).

Spitzer, R.L., Kroenke, K., Williams, J.B. & Löwe, B. A brief measure for assessing generalized anxiety disorder: the GAD-7. Arch. Intern. Med. 166, 1092–1097 (2006).

Hermann, B.P., Seidenberg, M. & Bell, B. Psychiatric comorbidity in chronic epilepsy: identification, consequences, and treatment of major depression. Epilepsia 41 (Suppl. 2), S31–S41 (2000).

Harden, C.L. et al. A pilot study of mood in epilepsy patients treated with vagus nerve stimulation. Epilepsy Behav. 1, 93–99 (2000).

George, M.S. et al. Vagus nerve stimulation for the treatment of depression and other neuropsychiatric disorders. Expert Rev. Neurother. 7, 63–74 (2007).

Etkin, A. & Wager, T.D. Functional neuroimaging of anxiety: a meta-analysis of emotional processing in PTSD, social anxiety disorder, and specific phobia. Am. J. Psychiatry 164, 1476–1488 (2007).

Goldstein, R.Z. & Volkow, N.D. Dysfunction of the prefrontal cortex in addiction: neuroimaging findings and clinical implications. Nat. Rev. Neurosci. 12, 652–669 (2011).

Tracey, I. & Bushnell, M.C. How neuroimaging studies have challenged us to rethink: is chronic pain a disease? J. Pain 10, 1113–1120 (2009).

Yang, Y . & Shanechi, M.M. Generalized binary noise stimulation enables time-efficient identification of input-output brain network dynamics. Conf. Proc. IEEE Eng. Med. Biol. Soc. 2016, 1766–1769 (2016).

Yang, Y ., Chang, E.F. & Shanechi, M.M. Dynamic tracking of non-stationarity in human ECoG activity. Conf. Proc. IEEE Eng. Med. Biol. Soc. 2017, 1660–1663 (2017).

Fischl, B. FreeSurfer. Neuroimage 62, 774–781 (2012).

Mazziotta, J. et al. A probabilistic atlas and reference system for the human brain: International Consortium for Brain Mapping (ICBM). Phil. Trans. R. Soc. Lond. B 356, 1293–1322 (2001).

Yekutieli, D. & Benjamini, Y. Resampling-based false discovery rate controlling multiple test procedures for correlated test statistics. J. Stat. Plan. Inference 82, 171–196 (1999).

Donoghue, J.P. Bridging the brain to the world: a perspective on neural interface systems. Neuron 60, 511–521 (2008).

Hsieh, H.-L. & Shanechi, M.M. Optimizing the learning rate for adaptive estimation of neural encoding models. PLoS Comput. Biol. 14, e1006168 (2018).

Kao, J.C. et al. Single-trial dynamics of motor cortex and their applications to brain-machine interfaces. Nat. Commun. 6, 7759 (2015).

Pistohl, T., Ball, T., Schulze-Bonhage, A., Aertsen, A. & Mehring, C. Prediction of arm movement trajectories from ECoG-recordings in humans. J. Neurosci. Methods 167, 105–114 (2008).

Shanechi, M.M., Orsborn, A.L. & Carmena, J.M. Robust brain-machine interface design using optimal feedback control modeling and adaptive point process filtering. PLOS Comput. Biol. 12, e1004730 (2016).

So, K., Dangi, S., Orsborn, A.L., Gastpar, M.C. & Carmena, J.M. Subject-specific modulation of local field potential spectral power during brain-machine interface control in primates. J. Neural Eng. 11, 026002 (2014).

Stavisky, S.D., Kao, J.C., Nuyujukian, P., Ryu, S.I. & Shenoy, K.V. A high performing brain-machine interface driven by low-frequency local field potentials alone and together with spikes. J. Neural Eng. 12, 036009 (2015).

Yang, Y. & Shanechi, M.M. An adaptive and generalizable closed-loop system for control of medically induced coma and other states of anesthesia. J. Neural Eng. 13, 066019 (2016).

Anderson, B.D. & Moore, J.B. Optimal Filtering (Dover, New York, 1979).

Cook, R.D. & Weisberg, S. Residuals and Influence in Regression (Chapman and Hall, New York, 1982).

Burgos-Robles, A. et al. Amygdala inputs to prefrontal cortex guide behavior amid conflicting cues of reward and punishment. Nat. Neurosci. 20, 824–835 (2017).

Ebmeier, K.P., Donaghey, C. & Steele, J.D. Recent developments and current controversies in depression. Lancet 367, 153–167 (2006).

Kim, S.-Y. et al. Diverging neural pathways assemble a behavioural state from separable features in anxiety. Nature 496, 219–223 (2013).

Michopoulos, V. et al. Association of CRP genetic variation and CRP level with elevated PTSD symptoms and physiological responses in a civilian population with high levels of trauma. Am. J. Psychiatry 172, 353–362 (2015).

Mulders, P.C., van Eijndhoven, P.F., Schene, A.H., Beckmann, C.F. & Tendolkar, I. Resting-state functional connectivity in major depressive disorder: A review. Neurosci. Biobehav. Rev. 56, 330–344 (2015).

Namburi, P. et al. A circuit mechanism for differentiating positive and negative associations. Nature 520, 675–678 (2015).

Tye, K.M. et al. Dopamine neurons modulate neural encoding and expression of depression-related behaviour. Nature 493, 537–541 (2013).
Acknowledgements
This research was partially funded by the Defense Advanced Research Projects Agency (DARPA) under Cooperative Agreement Number W911NF-14-2-0043 (to M.M.S. and E.F.C.), issued by the Army Research Office contracting office in support of DARPA's SUBNETS program. The views, opinions and/or findings expressed are those of the author(s) and should not be interpreted as representing the official views or policies of the Department of Defense or the US Government.
Ethics declarations
Competing interests
The authors declare no competing financial interests.
Integrated supplementary information
Supplementary information
About this article
Cite this article
Sani, O., Yang, Y., Lee, M. et al. Mood variations decoded from multi-site intracranial human brain activity. Nat Biotechnol 36, 954–961 (2018). https://doi.org/10.1038/nbt.4200
Received:

Accepted:

Published:

Issue Date:

DOI: https://doi.org/10.1038/nbt.4200