Abstract
Pluripotent stem cell–derived cardiomyocyte grafts can remuscularize substantial amounts of infarcted myocardium and beat in synchrony with the heart, but in some settings cause ventricular arrhythmias. It is unknown whether human cardiomyocytes can restore cardiac function in a physiologically relevant large animal model. Here we show that transplantation of ∼750 million cryopreserved human embryonic stem cell–derived cardiomyocytes (hESC-CMs) enhances cardiac function in macaque monkeys with large myocardial infarctions. One month after hESC-CM transplantation, global left ventricular ejection fraction improved 10.6 ± 0.9% vs. 2.5 ± 0.8% in controls, and by 3 months there was an additional 12.4% improvement in treated vs. a 3.5% decline in controls. Grafts averaged 11.6% of infarct size, formed electromechanical junctions with the host heart, and by 3 months contained ∼99% ventricular myocytes. A subset of animals experienced graft-associated ventricular arrhythmias, shown by electrical mapping to originate from a point-source acting as an ectopic pacemaker. Our data demonstrate that remuscularization of the infarcted macaque heart with human myocardium provides durable improvement in left ventricular function.
Relevant articles
Open Access articles citing this article.
Renza Spelat

,

Federico Ferro

…

Abhay Pandit

Communications Biology Open Access 13 December 2022

Yutong He

,

Qian Li

…

Xiaozhong Qiu

Nature Communications Open Access 12 December 2022

Bingying Zhou

,

Xun Shi

…

Shengshou Hu

Signal Transduction and Targeted Therapy Open Access 27 July 2022
Access options
Access Nature and 54 other Nature Portfolio journals
Get Nature+, our best-value online-access subscription
$29.99 per month
cancel any time
Subscribe to this journal
Receive 12 print issues and online access
$209.00 per year
only $17.42 per issue
Rent or buy this article
Get just this article for as long as you need it
$39.95
Prices may be subject to local taxes which are calculated during checkout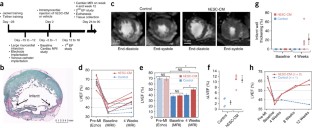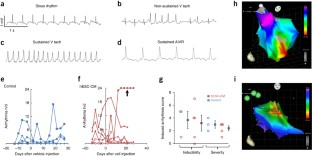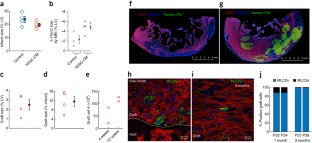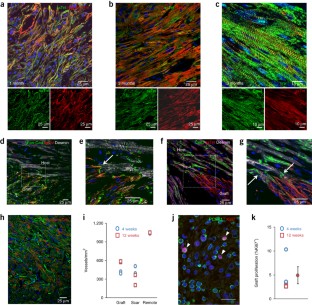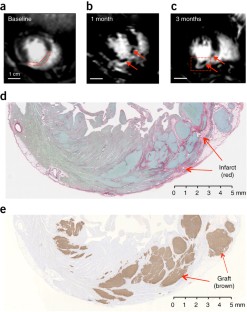 References
Forouzanfar, M.H. et al. Assessing the global burden of ischemic heart disease, part 2: analytic methods and estimates of the global epidemiology of ischemic heart disease in 2010. Glob. Heart 7, 331–342 (2012).

Laflamme, M.A. & Murry, C.E. Heart regeneration. Nature 473, 326–335 (2011).

Eschenhagen, T. et al. Cardiomyocyte regeneration: a consensus statement. Circulation 136, 680–686 (2017).

Bergmann, O. et al. Evidence for cardiomyocyte renewal in humans. Science 324, 98–102 (2009).

Soonpaa, M.H. & Field, L.J. Survey of studies examining mammalian cardiomyocyte DNA synthesis. Circ. Res. 83, 15–26 (1998).

van Berlo, J.H. et al. c-kit+ cells minimally contribute cardiomyocytes to the heart. Nature 509, 337–341 (2014).

Burridge, P.W., Sharma, A. & Wu, J.C. Genetic and epigenetic regulation of human cardiac reprogramming and differentiation in regenerative medicine. Annu. Rev. Genet. 49, 461–484 (2015).

Gerbin, K.A. & Murry, C.E. The winding road to regenerating the human heart. Cardiovasc. Pathol. 24, 133–140 (2015).

Lee, R.T. & Walsh, K. The future of cardiovascular regenerative medicine. Circulation 133, 2618–2625 (2016).

Hassink, R.J. et al. Cardiomyocyte cell cycle activation improves cardiac function after myocardial infarction. Cardiovasc. Res. 78, 18–25 (2008).

Xin, M. et al. Hippo pathway effector Yap promotes cardiac regeneration. Proc. Natl. Acad. Sci. USA 110, 13839–13844 (2013).

Heallen, T. et al. Hippo signaling impedes adult heart regeneration. Development 140, 4683–4690 (2013).

Heallen, T. et al. Hippo pathway inhibits Wnt signaling to restrain cardiomyocyte proliferation and heart size. Science 332, 458–461 (2011).

Shapiro, S.D. et al. Cyclin A2 induces cardiac regeneration after myocardial infarction through cytokinesis of adult cardiomyocytes. Sci. Transl. Med. 6, 224ra27 (2014).

Leach, J.P. et al. Hippo pathway deficiency reverses systolic heart failure after infarction. Nature 550, 260–264 (2017).

Liu, Z. et al. Single-cell transcriptomics reconstructs fate conversion from fibroblast to cardiomyocyte. Nature 551, 100–104 (2017).

Zhou, H. et al. ZNF281 enhances cardiac reprogramming by modulating cardiac and inflammatory gene expression. Genes Dev. 31, 1770–1783 (2017).

Cao, N. et al. Conversion of human fibroblasts into functional cardiomyocytes by small molecules. Science 352, 1216–1220 (2016).

Kadota, S., Pabon, L., Reinecke, H. & Murry, C.E. In vivo maturation of human induced pluripotent stem cell-derived cardiomyocytes in neonatal and adult rat hearts. Stem Cell Reports 8, 278–289 (2017).

Cho, G.S. et al. Neonatal transplantation confers maturation of PSC-derived cardiomyocytes conducive to modeling cardiomyopathy. Cell. Rep. 18, 571–582 (2017).

van Laake, L.W. et al. Human embryonic stem cell-derived cardiomyocytes survive and mature in the mouse heart and transiently improve function after myocardial infarction. Stem Cell Res. (Amst.) 1, 9–24 (2007).

Laflamme, M.A. et al. Cardiomyocytes derived from human embryonic stem cells in pro-survival factors enhance function of infarcted rat hearts. Nat. Biotechnol. 25, 1015–1024 (2007).

Caspi, O. et al. Transplantation of human embryonic stem cell-derived cardiomyocytes improves myocardial performance in infarcted rat hearts. J. Am. Coll. Cardiol. 50, 1884–1893 (2007).

Shiba, Y. et al. Human ES-cell-derived cardiomyocytes electrically couple and suppress arrhythmias in injured hearts. Nature 489, 322–325 (2012).

Chong, J.J. et al. Human embryonic-stem-cell-derived cardiomyocytes regenerate non-human primate hearts. Nature 510, 273–277 (2014).

Shiba, Y. et al. Allogeneic transplantation of iPS cell-derived cardiomyocytes regenerates primate hearts. Nature 538, 388–391 (2016).

Naumova, A.V., Modo, M., Moore, A., Murry, C.E. & Frank, J.A. Clinical imaging in regenerative medicine. Nat. Biotechnol. 32, 804–818 (2014).

Zhang, W.Y., Ebert, A.D., Narula, J. & Wu, J.C. Imaging cardiac stem cell therapy: translations to human clinical studies. J. Cardiovasc. Transl. Res. 4, 514–522 (2011).

Chen, V.C. et al. Development of a scalable suspension culture for cardiac differentiation from human pluripotent stem cells. Stem Cell Res. (Amst.) 15, 365–375 (2015).

Hohnloser, S.H., Klingenheben, T. & Singh, B.N. Amiodarone-associated proarrhythmic effects. A review with special reference to torsade de pointes tachycardia. Ann. Intern. Med. 121, 529–535 (1994).

Chelsky, L.B. et al. Caffeine and ventricular arrhythmias. An electrophysiological approach. J. Am. Med. Assoc. 264, 2236–2240 (1990).

Nussbaum, J. et al. Transplantation of undifferentiated murine embryonic stem cells in the heart: teratoma formation and immune response. FASEB J. 21, 1345–1357 (2007).

Kuroda, N., Tanaka, A., Ohe, C. & Nagashima, Y. Recent advances of immunohistochemistry for diagnosis of renal tumors. Pathol. Int. 63, 381–390 (2013).

Bedada, F.B. et al. Acquisition of a quantitative, stoichiometrically conserved ratiometric marker of maturation status in stem cell-derived cardiac myocytes. Stem Cell Reports 3, 594–605 (2014).

Bergmann, O. et al. Identification of cardiomyocyte nuclei and assessment of ploidy for the analysis of cell turnover. Exp. Cell Res. 317, 188–194 (2011).

Swijnenburg, R.J. et al. Embryonic stem cell immunogenicity increases upon differentiation after transplantation into ischemic myocardium. Circulation 112 Suppl, I166–I172 (2005).

Lee, A.S., Tang, C., Rao, M.S., Weissman, I.L. & Wu, J.C. Tumorigenicity as a clinical hurdle for pluripotent stem cell therapies. Nat. Med. 19, 998–1004 (2013).

Hodgkinson, C.P., Bareja, A., Gomez, J.A. & Dzau, V.J. Emerging concepts in paracrine mechanisms in regenerative cardiovascular medicine and biology. Circ. Res. 118, 95–107 (2016).

Gerbin, K.A., Yang, X., Murry, C.E. & Coulombe, K.L. Enhanced electrical integration of engineered human myocardium via intramyocardial versus epicardial delivery in infarcted rat hearts. PLoS One 10, e0131446 (2015).

Zhu, K. et al. Lack of remuscularization following transplantation of human embryonic stem cell-derived cardiovascular progenitor cells in infarcted nonhuman primates. Circ. Res. 122, 958–969 (2018).

Tachibana, A. et al. Paracrine effects of the pluripotent stem cell-derived cardiac myocytes salvage the injured myocardium. Circ. Res. 121, e22–e36 (2017).

Liao, S.Y. et al. Overexpression of Kir2.1 channel in embryonic stem cell-derived cardiomyocytes attenuates posttransplantation proarrhythmic risk in myocardial infarction. Heart Rhythm 10, 273–282 (2013).

Liao, S.Y. et al. Proarrhythmic risk of embryonic stem cell-derived cardiomyocyte transplantation in infarcted myocardium. Heart Rhythm 7, 1852–1859 (2010).

Roell, W. et al. Engraftment of connexin 43-expressing cells prevents post-infarct arrhythmia. Nature 450, 819–824 (2007).

Chong, J.J. & Murry, C.E. Cardiac regeneration using pluripotent stem cells—progression to large animal models. Stem Cell Res. (Amst.) 13, 654–665 (2014).

Fernandes, S. et al. Human embryonic stem cell-derived cardiomyocytes engraft but do not alter cardiac remodeling after chronic infarction in rats. J. Mol. Cell. Cardiol. 49, 941–949 (2010).
Acknowledgements
These studies were supported in part by NIH Grants R01HL128362, R01 HL084642, P01HL094374, and a grant from the Fondation Leducq Transatlantic Network of Excellence (all to C.E.M.), and grant P51 OD010425 from the NIH Office of Research Infrastructure Programs to the Washington National Primate Research Center. These studies also were supported by the UW Medicine Heart Regeneration Program, the Washington Research Foundation, and a gift from Mike and Lynn Garvey. The manufacture of cells provided by City of Hope was funded in part through the National Heart Lung and Blood Institute's Production Assistance for Cell Therapies (PACT). We also acknowledge the support of the Cell Analysis Facility Flow Cytometry and Imaging Core in the Department of Immunology at the University of Washington. We thank the Garvey Imaging Core for assistance with microscopy. We are indebted to the dedicated staff of the Washington National Primate Research Center for supporting many aspects of this study. We thank M. Laflamme for helpful discussions, W.-Z. Zhu for support with electrophysiological studies, and P. Swanson for consultation on the renal tumor. We thank J. Maki and G. Wilson for help with cardiac MRI protocol.
Ethics declarations
Competing interests
C.E.M., R.S.T., and W.R.M. are scientific founders and equity holders in Cytocardia.
Integrated supplementary information
Supplementary information
About this article
Cite this article
Liu, YW., Chen, B., Yang, X. et al. Human embryonic stem cell–derived cardiomyocytes restore function in infarcted hearts of non-human primates. Nat Biotechnol 36, 597–605 (2018). https://doi.org/10.1038/nbt.4162
Received:

Accepted:

Published:

Issue Date:

DOI: https://doi.org/10.1038/nbt.4162