Abstract
Construction and characterization of large genetic variant libraries is essential for understanding genome function, but remains challenging. Here, we introduce a Cas9-based approach for generating pools of mutants with defined genetic alterations (deletions, substitutions, and insertions) with an efficiency of 80–100% in yeast, along with methods for tracking their fitness en masse. We demonstrate the utility of our approach by characterizing the DNA helicase SGS1 with small tiling deletion mutants that span the length of the protein and a series of point mutations against highly conserved residues in the protein. In addition, we created a genome-wide library targeting 315 poorly characterized small open reading frames (smORFs, <100 amino acids in length) scattered throughout the yeast genome, and assessed which are vital for growth under various environmental conditions. Our strategy allows fundamental biological questions to be investigated in a high-throughput manner with precision.
Access options
Subscribe to Journal
Get full journal access for 1 year
$259.00
only $21.58 per issue
All prices are NET prices.
VAT will be added later in the checkout.
Rent or Buy article
Get time limited or full article access on ReadCube.
from$8.99
All prices are NET prices.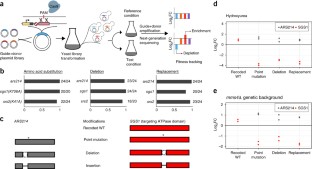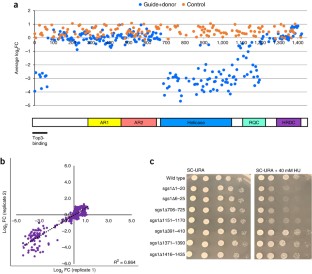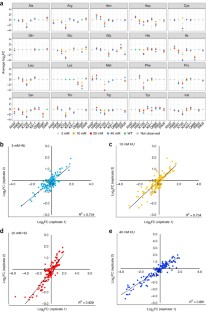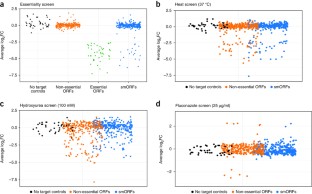 References
1

Giaever, G. et al. Functional profiling of the Saccharomyces cerevisiae genome. Nature 418, 387–391 (2002).

2

Ben-Shitrit, T. et al. Systematic identification of gene annotation errors in the widely used yeast mutation collections. Nat. Methods 9, 373–378 (2012).

3

DiCarlo, J.E. et al. Genome engineering in Saccharomyces cerevisiae using CRISPR-Cas systems. Nucleic Acids Res. 41, 4336–4343 (2013).

4

Garst, A.D. et al. Genome-wide mapping of mutations at single-nucleotide resolution for protein, metabolic and genome engineering. Nat. Biotechnol. 35, 48–55 (2017).

5

Bao, Z. et al. Homology-integrated CRISPR-Cas (HI-CRISPR) system for one-step multigene disruption in Saccharomyces cerevisiae. ACS Synth. Biol. 4, 585–594 (2015).

6

Choulika, A., Perrin, A., Dujon, B. & Nicolas, J.F. Induction of homologous recombination in mammalian chromosomes by using the I-SceI system of Saccharomyces cerevisiae. Mol. Cell. Biol. 15, 1968–1973 (1995).

7

Brenneman, M., Gimble, F.S. & Wilson, J.H. Stimulation of intrachromosomal homologous recombination in human cells by electroporation with site-specific endonucleases. Proc. Natl. Acad. Sci. USA 93, 3608–3612 (1996).

8

Donoho, G., Jasin, M. & Berg, P. Analysis of gene targeting and intrachromosomal homologous recombination stimulated by genomic double-strand breaks in mouse embryonic stem cells. Mol. Cell. Biol. 18, 4070–4078 (1998).

9

Smih, F., Rouet, P., Romanienko, P.J. & Jasin, M. Double-strand breaks at the target locus stimulate gene targeting in embryonic stem cells. Nucleic Acids Res. 23, 5012–5019 (1995).

10

Taghian, D.G. & Nickoloff, J.A. Chromosomal double-strand breaks induce gene conversion at high frequency in mammalian cells. Mol. Cell. Biol. 17, 6386–6393 (1997).

11

Lu, J. et al. Human homologues of yeast helicase. Nature 383, 678–679 (1996).

12

Ira, G., Malkova, A., Liberi, G., Foiani, M. & Haber, J.E. Srs2 and Sgs1-Top3 suppress crossovers during double-strand break repair in yeast. Cell 115, 401–411 (2003).

13

Miyajima, A. et al. Different domains of Sgs1 are required for mitotic and meiotic functions. Genes Genet. Syst. 75, 319–326 (2000).

14

Mullen, J.R., Kaliraman, V. & Brill, S.J. Bipartite structure of the SGS1 DNA helicase in Saccharomyces cerevisiae. Genetics 154, 1101–1114 (2000).

15

Weinstein, J. & Rothstein, R. The genetic consequences of ablating helicase activity and the Top3 interaction domain of Sgs1. DNA Repair (Amst.) 7, 558–571 (2008).

16

Boddy, M.N. et al. Damage tolerance protein Mus81 associates with the FHA1 domain of checkpoint kinase Cds1. Mol. Cell. Biol. 20, 8758–8766 (2000).

17

Mullen, J.R., Kaliraman, V., Ibrahim, S.S. & Brill, S.J. Requirement for three novel protein complexes in the absence of the Sgs1 DNA helicase in Saccharomyces cerevisiae. Genetics 157, 103–118 (2001).

18

Chu, W.K. & Hickson, I.D. RecQ helicases: multifunctional genome caretakers. Nat. Rev. Cancer 9, 644–654 (2009).

19

Gangloff, S., McDonald, J.P., Bendixen, C., Arthur, L. & Rothstein, R. The yeast type I topoisomerase Top3 interacts with Sgs1, a DNA helicase homolog: a potential eukaryotic reverse gyrase. Mol. Cell. Biol. 14, 8391–8398 (1994).

20

Bennett, R.J., Sharp, J.A. & Wang, J.C. Purification and characterization of the Sgs1 DNA helicase activity of Saccharomyces cerevisiae. J. Biol. Chem. 273, 9644–9650 (1998).

21

Ui, A. et al. The ability of Sgs1 to interact with DNA topoisomerase III is essential for damage-induced recombination. DNA Repair (Amst.) 4, 191–201 (2005).

22

Kennedy, J.A., Daughdrill, G.W. & Schmidt, K.H. A transient α-helical molecular recognition element in the disordered N-terminus of the Sgs1 helicase is critical for chromosome stability and binding of Top3/Rmi1. Nucleic Acids Res. 41, 10215–10227 (2013).

23

Bennett, R.J., Noirot-Gros, M.F. & Wang, J.C. Interaction between yeast sgs1 helicase and DNA topoisomerase III. J. Biol. Chem. 275, 26898–26905 (2000).

24

Dunø, M., Thomsen, B., Westergaard, O., Krejci, L. & Bendixen, C. Genetic analysis of the Saccharomyces cerevisiae Sgs1 helicase defines an essential function for the Sgs1-Top3 complex in the absence of SRS2 or TOP1. Mol. Gen. Genet. 264, 89–97 (2000).

25

Fricke, W.M., Kaliraman, V. & Brill, S.J. Mapping the DNA topoisomerase III binding domain of the Sgs1 DNA helicase. J. Biol. Chem. 276, 8848–8855 (2001).

26

Ui, A. et al. The N-terminal region of Sgs1, which interacts with Top3, is required for complementation of MMS sensitivity and suppression of hyper-recombination in sgs1 disruptants. Mol. Genet. Genomics 265, 837–850 (2001).

27

Onodera, R. et al. Functional and physical interaction between Sgs1 and Top3 and Sgs1-independent function of Top3 in DNA recombination repair. Genes Genet. Syst. 77, 11–21 (2002).

28

Cejka, P., Plank, J.L., Bachrati, C.Z., Hickson, I.D. & Kowalczykowski, S.C. Rmi1 stimulates decatenation of double Holliday junctions during dissolution by Sgs1-Top3. Nat. Struct. Mol. Biol. 17, 1377–1382 (2010).

29

Kastenmayer, J.P. et al. Functional genomics of genes with small open reading frames (sORFs) in S. cerevisiae. Genome Res. 16, 365–373 (2006).

30

Balakrishnan, R. et al. YeastMine-an integrated data warehouse for Saccharomyces cerevisiae data as a multipurpose tool-kit. Database. (Oxford) 2012, bar062 (2012).

31

Chen, X. & Zhang, J. The genomic landscape of position effects on protein expression level and noise in yeast. Cell Syst. 2, 347–354 (2016).

32

Horwitz, A.A. et al. Efficient multiplexed integration of synergistic alleles and metabolic pathways in yeasts via CRISPR-Cas. Cell Syst. 1, 88–96 (2015).

33

Munoz, D.M. et al. CRISPR screens provide a comprehensive assessment of cancer vulnerabilities but generate false-positive his for highly amplified genomic regions. Cancer Discov. 6, 900–913 (2016).

34

Shi, J. et al. Discovery of cancer drug targets by CRISPR-Cas9 screening of protein domains. Nat. Biotechnol. 33, 661–667 (2015).

35

Michel, A.H. et al. Functional mapping of yeast genomes by saturated transposition. eLife 6, e23570 (2017).

36

Fowler, D.M. et al. High-resolution mapping of protein sequence-function relationships. Nat. Methods 7, 741–746 (2010).

37

Fowler, D.M. & Fields, S. Deep mutational scanning: a new style of protein science. Nat. Methods 11, 801–807 (2014).

38

Starita, L.M. et al. Variant interpretation: functional assays to the rescue. Am. J. Hum. Genet. 101, 315–325 (2017).

39

Weile, J. et al. A framework for exhaustively mapping functional missense variants. Mol. Syst. Biol. 13, 957 (2017).

40

Kleinstiver, B.P. et al. Engineered CRISPR-Cas9 nucleases with altered PAM specificities. Nature 523, 481–485 (2015).

41

Christianson, T.W., Sikorski, R.S., Dante, M., Shero, J.H. & Hieter, P. Multifunctional yeast high-copy-number shuttle vectors. Gene 110, 119–122 (1992).

42

Kusano, K., Berres, M.E. & Engels, W.R. Evolution of the RECQ family of helicases: a drosophila homolog, Dmblm, is similar to the human bloom syndrome gene. Genetics 151, 1027–1039 (1999).

43

Yao, W. et al. The INO80 complex requires the Arp5-les6 subcomplex for chromatin remodeling and metabolic regulation. Mol. Cell. Biol. 36, 979–991 (2016).

44

Trapnell, C., Pachter, L. & Salzberg, S.L. TopHat: discovering splice junctions with RNA-Seq. Bioinformatics 25, 1105–1111 (2009).

45

Trapnell, C. et al. Transcript assembly and quantification by RNA-Seq reveals unannotated transcripts and isoform switching during cell differentiation. Nat. Biotechnol. 28, 511–515 (2010).

46

Rost, B., Yachdav, G. & Liu, J. The PredictProtein server. Nucleic Acids Res. 32, W321–6 (2004).

47

Kaas, C.S., Kristensen, C., Betenbaugh, M.J. & Andersen, M.R. Sequencing the CHO DXB11 genome reveals regional variations in genomic stability and haploidy. BMC Genomics 16, 160 (2015).

48

Paix, A. et al. Scalable and versatile genome editing using linear DNAs with microhomology to Cas9 Sites in Caenorhabditis elegans. Genetics 198, 1347–1356 (2014).
Acknowledgements
G.M.C. was supported by NIH grants RM1 HG008525 and P50 HG005550. A.C. was funded by the National Cancer Institute grant no. 5T32CA009216-34. J.J.C. was funded by the Defense Threat Reduction Agency grant HDTRA1-14-1-0006, the Paul G. Allen Frontiers Group. Y.Y. was supported by the Damon Runyon Research Foundation grant DRG-2248-16.
Ethics declarations
Competing interests
G.M.C. is the founder and holds leadership positions in many companies (http://arep.med.harvard.edu/gmc/tech.html). X.G., A.C., M.S., and E.K. have filed a patent application (US Patent Application 62/348,438) relating to this work.
Integrated supplementary information
Supplementary information
About this article
Cite this article
Guo, X., Chavez, A., Tung, A. et al. High-throughput creation and functional profiling of DNA sequence variant libraries using CRISPR–Cas9 in yeast. Nat Biotechnol 36, 540–546 (2018). https://doi.org/10.1038/nbt.4147
Received:

Accepted:

Published:

Issue Date: