Abstract
No existing method to characterize transcription factor (TF) binding to DNA allows genome-wide measurement of all TF-binding activity in cells. Here we present a massively parallel protein activity assay, active TF identification (ATI), that measures the DNA-binding activity of all TFs in cell or tissue extracts. ATI is based on electrophoretic separation of protein-bound DNA sequences from a highly complex DNA library and subsequent mass-spectrometric identification of the DNA-bound proteins. We applied ATI to four mouse tissues and mouse embryonic stem cells and found that, in a given tissue or cell type, a small set of TFs, which bound to only ∼10 distinct motifs, displayed strong DNA-binding activity. Some of these TFs were found in all cell types, whereas others were specific TFs known to determine cell fate in the analyzed tissue or cell type. We also show that a small number of TFs determined the accessible chromatin landscape of a cell, suggesting that gene regulatory logic may be simpler than previously appreciated.
Relevant articles
Open Access articles citing this article.
Gherman Novakovsky

,

Oriol Fornes

…

Wyeth W. Wasserman

Genome Biology Open Access 27 June 2023

Yangyang Yuan

,

Chenwei Wang

…

Pengyu Huang

Nature Communications Open Access 06 September 2022

Biswajyoti Sahu

,

Tuomo Hartonen

…

Jussi Taipale

Nature Genetics Open Access 21 February 2022
Access options
Access Nature and 54 other Nature Portfolio journals
Get Nature+, our best-value online-access subscription
$29.99 / 30 days
cancel any time
Subscribe to this journal
Receive 12 print issues and online access
$209.00 per year
only $17.42 per issue
Rent or buy this article
Prices vary by article type
from$1.95
to$39.95
Prices may be subject to local taxes which are calculated during checkout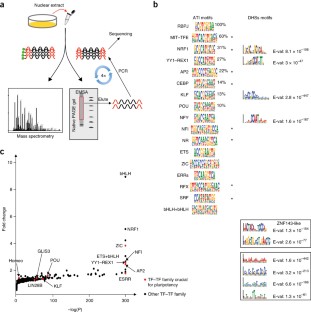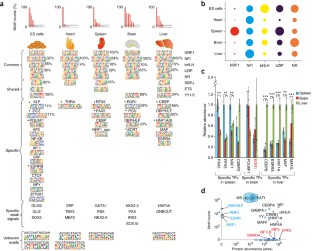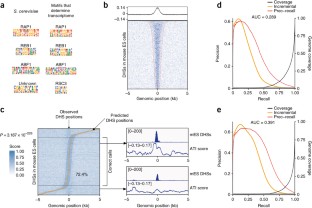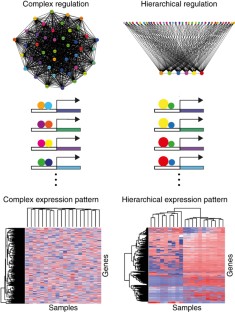 Accession codes
Primary accessions
European Nucleotide Archive
References
Boyer, L.A. et al. Core transcriptional regulatory circuitry in human embryonic stem cells. Cell 122, 947–956 (2005).

Chen, X. et al. Integration of external signaling pathways with the core transcriptional network in embryonic stem cells. Cell 133, 1106–1117 (2008).

Wang, J. et al. A protein interaction network for pluripotency of embryonic stem cells. Nature 444, 364–368 (2006).

Takahashi, K. & Yamanaka, S. Induction of pluripotent stem cells from mouse embryonic and adult fibroblast cultures by defined factors. Cell 126, 663–676 (2006).

Takahashi, K. et al. Induction of pluripotent stem cells from adult human fibroblasts by defined factors. Cell 131, 861–872 (2007).

Feng, B. et al. Reprogramming of fibroblasts into induced pluripotent stem cells with orphan nuclear receptor ESRRB. Nat. Cell Biol. 11, 197–203 (2009).

Vaquerizas, J.M., Kummerfeld, S.K., Teichmann, S.A. & Luscombe, N.M. A census of human transcription factors: function, expression and evolution. Nat. Rev. Genet. 10, 252–263 (2009).

Uhlén, M. et al. Proteomics. Tissue-based map of the human proteome. Science 347, 1260419 (2015).

Jolma, A. et al. DNA-binding specificities of human transcription factors. Cell 152, 327–339 (2013).

ENCODE Project Consortium. An integrated encyclopedia of DNA elements in the human genome. Nature 489, 57–74 (2012).

Garber, M. et al. A high-throughput chromatin immunoprecipitation approach reveals principles of dynamic gene regulation in mammals. Mol. Cell 47, 810–822 (2012).

Kivioja, T. et al. Counting absolute numbers of molecules using unique molecular identifiers. Nat. Methods 9, 72–74 (2011).

Nitta, K.R. et al. Conservation of transcription factor binding specificities across 600 million years of bilateria evolution. eLife 4 (2015).

Lim, L.S. et al. ZIC3 is required for maintenance of pluripotency in embryonic stem cells. Mol. Biol. Cell 18, 1348–1358 (2007).

Loh, Y.H. et al. The OCT4 and NANOG transcription network regulates pluripotency in mouse embryonic stem cells. Nat. Genet. 38, 431–440 (2006).

Ivanova, N. et al. Dissecting self-renewal in stem cells with RNA interference. Nature 442, 533–538 (2006).

Jiang, J. et al. A core KLF circuitry regulates self-renewal of embryonic stem cells. Nat. Cell Biol. 10, 353–360 (2008).

Nichols, J. et al. Formation of pluripotent stem cells in the mammalian embryo depends on the POU transcription factor OCT4. Cell 95, 379–391 (1998).

Jolma, A. et al. DNA-dependent formation of transcription factor pairs alters their binding specificity. Nature 527, 384–388 (2015).

Tun, T. et al. Recognition sequence of a highly conserved DNA-binding protein RBP-Jκ. Nucleic Acids Res. 22, 965–971 (1994).

Wei, G.H. et al. Genome-wide analysis of ETS-family DNA-binding in vitro and in vivo. EMBO J. 29, 2147–2160 (2010).

Wikström, L. et al. Abnormal heart rate and body temperature in mice lacking thyroid hormone receptor–α1. EMBO J. 17, 455–461 (1998).

Adams, B. et al. Pax5 encodes the transcription factor BSAP and is expressed in B lymphocytes, the developing CNS and adult testis. Genes Dev. 6, 1589–1607 (1992).

Urbánek, P., Wang, Z.Q., Fetka, I., Wagner, E.F. & Busslinger, M. Complete block of early B cell differentiation and altered patterning of the posterior midbrain in mice lacking PAX5 (BSAP). Cell 79, 901–912 (1994).

Mach, B., Steimle, V., Martinez-Soria, E. & Reith, W. Regulation of MHC class II genes: lessons from a disease. Annu. Rev. Immunol. 14, 301–331 (1996).

Poirier, R. et al. Distinct functions of Egr gene family members in cognitive processes. Front. Neurosci. 2, 47–55 (2008).

Nakakura, E.K. et al. Mammalian Scratch: a neural-specific Snail family transcriptional repressor. Proc. Natl. Acad. Sci. USA 98, 4010–4015 (2001).

Sugitani, Y. et al. BRN-1 and BRN-2 share crucial roles in the production and positioning of mouse neocortical neurons. Genes Dev. 16, 1760–1765 (2002).

Wang, N.D. et al. Impaired energy homeostasis in C/EBP-α-knockout mice. Science 269, 1108–1112 (1995).

Frain, M. et al. The liver-specific transcription factor LF-B1 contains a highly diverged homeobox DNA-binding domain. Cell 59, 145–157 (1989).

Pontoglio, M. et al. Hepatocyte nuclear factor 1 inactivation results in hepatic dysfunction, phenylketonuria and renal Fanconi syndrome. Cell 84, 575–585 (1996).

Fonjallaz, P., Ossipow, V., Wanner, G. & Schibler, U. The two PAR leucine zipper proteins TEF and DBP display similar circadian and tissue-specific expression but have different target promoter preferences. EMBO J. 15, 351–362 (1996).

Du, Y. et al. Human hepatocytes with drug metabolic function induced from fibroblasts by lineage reprogramming. Cell Stem Cell 14, 394–403 (2014).

Huang, P. et al. Direct reprogramming of human fibroblasts to functional and expandable hepatocytes. Cell Stem Cell 14, 370–384 (2014).

Weirauch, M.T. et al. Determination and inference of eukaryotic transcription factor sequence specificity. Cell 158, 1431–1443 (2014).

Gupta, S., Stamatoyannopoulos, J.A., Bailey, T.L. & Noble, W.S. Quantifying similarity between motifs. Genome Biol. 8, R24 (2007).

Branca, R.M. et al. HiRIEF LC-MS enables deep proteome coverage and unbiased proteogenomics. Nat. Methods 11, 59–62 (2014).

Gabig, T.G., Mantel, P.L., Rosli, R. & Crean, C.D. Requiem: a novel zinc-finger gene essential for apoptosis in myeloid cells. J. Biol. Chem. 269, 29515–29519 (1994).

Gaarenstroom, T. & Hill, C.S. TGF-β signaling to chromatin: how SMADs regulate transcription during self-renewal and differentiation. Semin. Cell Dev. Biol. 32, 107–118 (2014).

Zhang, J. et al. Retinoic acid induces embryonic stem cell differentiation by altering both encoding RNA and microRNA expression. PLoS One 10, e0132566 (2015).

Kokkinopoulos, I. et al. Cardiomyocyte differentiation from mouse embryonic stem cells using a simple and defined protocol. Dev. Dyn. 245, 157–165 (2016).

Lambert, S.A. et al. The human transcription factors. Cell 172, 650–665 (2018).

Yin, Y. et al. Impact of cytosine methylation on DNA-binding specificities of human transcription factors. Science 356, eaaj2239 (2017).

de Boer, C.G. et al. A unified model for yeast transcript definition. Genome Res. 24, 154–166 (2014).

Yue, F. et al. A comparative encyclopedia of DNA elements in the mouse genome. Nature 515, 355–364 (2014).

Bailey, S.D. et al. ZNF143 provides sequence specificity to secure chromatin interactions at gene promoters. Nat. Commun. 2, 6186 (2015).

Noble, W.S., Kuehn, S., Thurman, R., Yu, M. & Stamatoyannopoulos, J. Predicting the in vivo signature of human gene regulatory sequences. Bioinformatics 21 (Suppl. 1), i338–i343 (2005).

Lee, D., Karchin, R. & Beer, M.A. Discriminative prediction of mammalian enhancers from DNA sequence. Genome Res. 21, 2167–2180 (2011).

Thurman, R.E. et al. The accessible chromatin landscape of the human genome. Nature 489, 75–82 (2012).

Yan, J. et al. Transcription factor binding in human cells occurs in dense clusters formed around cohesin anchor sites. Cell 154, 801–813 (2013).

Audic, S. & Claverie, J.M. The significance of digital gene expression profiles. Genome Res. 7, 986–995 (1997).

Kaplan, N. et al. The DNA-encoded nucleosome organization of a eukaryotic genome. Nature 458, 362–366 (2009).

Chronis, C. et al. Cooperative binding of transcription factors orchestrates reprogramming. Cell 168, 442–459.e20 (2017).

Fryer, C.J. & Archer, T.K. Chromatin remodeling by the glucocorticoid receptor requires the BRG1 complex. Nature 393, 88–91 (1998).

Li, Z. et al. FOXA2 and H2A.Z mediate nucleosome depletion during embryonic stem cell differentiation. Cell 151, 1608–1616 (2012).

Stampfel, G. et al. Transcriptional regulators form diverse groups with context-dependent regulatory functions. Nature 528, 147–151, 10.1038/nature15545 (2015).

Zaret, K.S. & Mango, S.E. Pioneer transcription factors, chromatin dynamics and cell fate control. Curr. Opin. Genet. Dev. 37, 76–81 (2016).

Sherwood, R.I. et al. Discovery of directional and nondirectional pioneer transcription factors by modeling DNase profile magnitude and shape. Nat. Biotechnol. 32, 171–178 (2014).

Cirillo, L.A. et al. Opening of compacted chromatin by early developmental transcription factors HNF3 (FOXA) and GATA-4. Mol. Cell 9, 279–289 (2002).

Soufi, A. et al. Pioneer transcription factors target partial DNA motifs on nucleosomes to initiate reprogramming. Cell 161, 555–568 (2015).

Morris, S.A. et al. Dissecting engineered cell types and enhancing cell fate conversion via CellNet. Cell 158, 889–902 (2014).

Simicevic, J. et al. Absolute quantification of transcription factors during cellular differentiation using multiplexed targeted proteomics. Nat. Methods 10, 570–576 (2013).

Schmitges, F.W. et al. Multiparameter functional diversity of human C2H2 zinc finger proteins. Genome Res. 26, 1742–1752 (2016).

Imbeault, M., Helleboid, P.Y. & Trono, D. KRAB zinc-finger proteins contribute to the evolution of gene regulatory networks. Nature 543, 550–554 (2017).

Zhang, Y. et al. Model-based analysis of ChIP-seq (MACS). Genome Biol. 9, R137 (2008).

Neph, S. et al. BEDOPS: high-performance genomic feature operations. Bioinformatics 28, 1919–1920 (2012).

Jolma, A. et al. Multiplexed massively parallel SELEX for characterization of human transcription factor–binding specificities. Genome Res. 20, 861–873 (2010).

Korhonen, J., Martinmäki, P., Pizzi, C., Rastas, P. & Ukkonen, E. MOODS: fast search for position-weight-matrix matches in DNA sequences. Bioinformatics 25, 3181–3182 (2009).

Pizzi, C., Rastas, P. & Ukkonen, E. Finding significant matches of position-weight matrices in linear time. IEEE/ACM Trans. Comput. Biol. Bioinform. 8, 69–79 (2011).

Hubner, N.C., Nguyen, L.N., Hornig, N.C. & Stunnenberg, H.G. A quantitative proteomics tool to identify DNA–protein interactions in primary cells or blood. J. Proteome Res. 14, 1315–1329 (2015).
Acknowledgements
We thank J. Yan, E. Kaasinen, B. Schmierer and Y. Yin for critical review of the manuscript, and S. Augsten, L. Hu and P. Pandey for technical assistance. This work was supported by the Center for Innovative Medicine at the Karolinska Institutet (2015–2017; J.T.), the Knut and Alice Wallenberg Foundation (KAW 2013.0088; J.T.), the Göran Gustafsson Foundation (2011–2013; J.T.) and the Swedish Research Council (Vetenskapsrådet; Rådsprofessorprogrammet D0815201; J.T.).
Ethics declarations
Competing interests
The authors declare no competing financial interests.
Integrated supplementary information
Supplementary information
About this article
Cite this article
Wei, B., Jolma, A., Sahu, B. et al. A protein activity assay to measure global transcription factor activity reveals determinants of chromatin accessibility. Nat Biotechnol 36, 521–529 (2018). https://doi.org/10.1038/nbt.4138
Received:

Accepted:

Published:

Issue Date:

DOI: https://doi.org/10.1038/nbt.4138