Abstract
We developed a CRISPR–Cas9- and homology-directed-repair-assisted genome-scale engineering method named CHAnGE that can rapidly output tens of thousands of specific genetic variants in yeast. More than 98% of target sequences were efficiently edited with an average frequency of 82%. We validate the single-nucleotide resolution genome-editing capability of this technology by creating a genome-wide gene disruption collection and apply our method to improve tolerance to growth inhibitors.
Access options
Subscribe to Journal
Get full journal access for 1 year
$259.00
only $21.58 per issue
All prices are NET prices.
VAT will be added later in the checkout.
Rent or Buy article
Get time limited or full article access on ReadCube.
from$8.99
All prices are NET prices.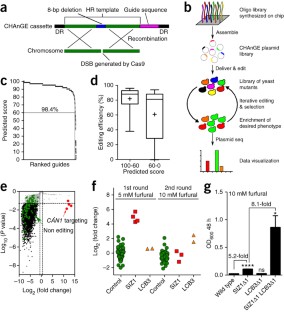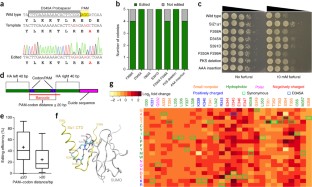 Accession codes
Primary accessions
Sequence Read Archive
References
1

Wang, H.H. et al. Nature 460, 894–898 (2009).

2

Warner, J.R., Reeder, P.J., Karimpour-Fard, A., Woodruff, L.B. & Gill, R.T. Nat. Biotechnol. 28, 856–862 (2010).

3

Garst, A.D. et al. Nat. Biotechnol. 35, 48–55 (2017).

4

Barbieri, E.M., Muir, P., Akhuetie-Oni, B.O., Yellman, C.M. & Isaacs, F.J. Cell 171, 1453–1467.e13 (2017).

5

Bao, Z. et al. ACS Synth. Biol. 4, 585–594 (2015).

6

Cong, L. et al. Science 339, 819–823 (2013).

7

Wang, T., Wei, J.J., Sabatini, D.M. & Lander, E.S. Science 343, 80–84 (2014).

8

Xiao, H. & Zhao, H. Biotechnol. Biofuels 7, 78 (2014).

9

Sandoval, N.R. et al. Proc. Natl. Acad. Sci. USA 109, 10540–10545 (2012).

10

Streich, F.C. Jr. & Lima, C.D. Nature 536, 304–308 (2016).

11

Yunus, A.A. & Lima, C.D. Mol. Cell 35, 669–682 (2009).

12

Kim, H. & Kim, J.S. Nat. Rev. Genet. 15, 321–334 (2014).

13

Naito, Y., Hino, K., Bono, H. & Ui-Tei, K. Bioinformatics 31, 1120–1123 (2015).

14

Gietz, R.D. & Schiestl, R.H. Nat. Protoc. 2, 31–34 (2007).

15

Hegemann, J.H. & Heick, S.B. Methods Mol. Biol. 765, 189–206 (2011).
Acknowledgements
This work was supported by the Carl R. Woese Institute for Genomic Biology at the University of Illinois at Urbana-Champaign and the US Department of Energy (DE-SC0018260). We thank A. Hernandez and C. Wright for assistance with next-generation sequencing, J. Zadeh for assistance with NGS data processing and analysis.
Ethics declarations
Competing interests
A patent application has been filed on this technology, on which H.Z. and Z.B. are authors.
Supplementary information
About this article
Cite this article
Bao, Z., HamediRad, M., Xue, P. et al. Genome-scale engineering of Saccharomyces cerevisiae with single-nucleotide precision. Nat Biotechnol 36, 505–508 (2018). https://doi.org/10.1038/nbt.4132
Received:

Accepted:

Published:

Issue Date: