Abstract
Despite the utility of CRISPR–Cas9 nucleases for genome editing, the potential for off-target activity limits their application, especially for therapeutic purposes1,2. We developed a yeast-based assay to identify optimized Streptococcus pyogenes Cas9 (SpCas9) variants that enables simultaneous evaluation of on- and off-target activity. We screened a library of SpCas9 variants carrying random mutations in the REC3 domain and identified mutations that increased editing accuracy while maintaining editing efficiency. We combined four beneficial mutations to generate evoCas9, a variant that has fidelity exceeding both wild-type (79-fold improvement) and rationally designed Cas9 variants3,4 (fourfold average improvement), while maintaining near wild-type on-target editing efficiency (90% median residual activity). Evaluating evoCas9 on endogenous genomic loci, we demonstrated a substantially improved specificity and observed no off-target sites for four of the eight single guide RNAs (sgRNAs) tested. Finally, we showed that following long-term expression (40 d), evoCas9 strongly limited the nonspecific cleavage of a difficult-to-discriminate off-target site and fully abrogated the cleavage of two additional off-target sites.
Relevant articles
Open Access articles citing this article.
Zhen-Hua Li

,

Jun Wang

…

Xiao Yang

Military Medical Research Open Access 10 March 2023

Young-hoon Kim

,

Nahye Kim

…

Hyongbum Henry Kim

Nature Chemical Biology Open Access 09 March 2023

Tianxiang Li

,

Yanyan Yang

…

Tao Yu

Signal Transduction and Targeted Therapy Open Access 16 January 2023
Access options
Access Nature and 54 other Nature Portfolio journals
Get Nature+, our best-value online-access subscription
$29.99 / 30 days
cancel any time
Subscribe to this journal
Receive 12 print issues and online access
$209.00 per year
only $17.42 per issue
Rent or buy this article
Get just this article for as long as you need it
$39.95
Prices may be subject to local taxes which are calculated during checkout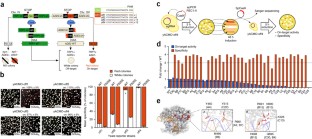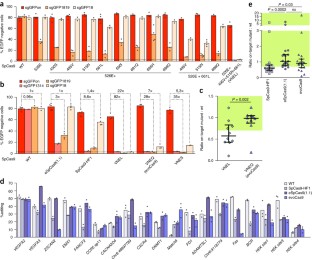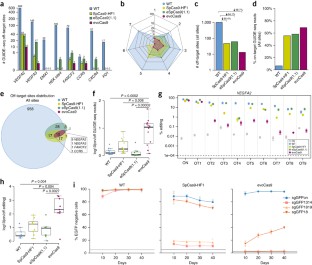 Accession codes
Primary accessions
BioProject
Protein Data Bank
Referenced accessions
Protein Data Bank
References
Sander, J.D. & Joung, J.K. CRISPR-Cas systems for editing, regulating and targeting genomes. Nat. Biotechnol. 32, 347–355 (2014).

Nuñez, J.K., Harrington, L.B. & Doudna, J.A. Chemical and biophysical modulation of Cas9 for tunable genome engineering. ACS Chem. Biol. 11, 681–688 (2016).

Slaymaker, I.M. et al. Rationally engineered Cas9 nucleases with improved specificity. Science 351, 84–88 (2016).

Kleinstiver, B.P. et al. High-fidelity CRISPR-Cas9 nucleases with no detectable genome-wide off-target effects. Nature 529, 490–495 (2016).

Kim, S., Kim, D., Cho, S.W., Kim, J. & Kim, J.S. Highly efficient RNA-guided genome editing in human cells via delivery of purified Cas9 ribonucleoproteins. Genome Res. 24, 1012–1019 (2014).

Tsai, S.Q. et al. GUIDE-seq enables genome-wide profiling of off-target cleavage by CRISPR-Cas nucleases. Nat. Biotechnol. 33, 187–197 (2015).

Ramakrishna, S. et al. Gene disruption by cell-penetrating peptide-mediated delivery of Cas9 protein and guide RNA. Genome Res. 24, 1020–1027 (2014).

Liang, X. et al. Rapid and highly efficient mammalian cell engineering via Cas9 protein transfection. J. Biotechnol. 208, 44–53 (2015).

Yin, H. et al. Therapeutic genome editing by combined viral and non-viral delivery of CRISPR system components in vivo. Nat. Biotechnol. 34, 328–333 (2016).

Petris, G. et al. Hit and go CAS9 delivered through a lentiviral based self-limiting circuit. Nat. Commun. 8, 15334 (2017).

Mali, P. et al. CAS9 transcriptional activators for target specificity screening and paired nickases for cooperative genome engineering. Nat. Biotechnol. 31, 833–838 (2013).

Ran, F.A. et al. Double nicking by RNA-guided CRISPR Cas9 for enhanced genome editing specificity. Cell 154, 1380–1389 (2013).

Shen, B. et al. Efficient genome modification by CRISPR-Cas9 nickase with minimal off-target effects. Nat. Methods 11, 399–402 (2014).

Guilinger, J.P., Thompson, D.B. & Liu, D.R. Fusion of catalytically inactive Cas9 to FokI nuclease improves the specificity of genome modification. Nat. Biotechnol. 32, 577–582 (2014).

Tsai, S.Q. et al. Dimeric CRISPR RNA-guided FokI nucleases for highly specific genome editing. Nat. Biotechnol. 32, 569–576 (2014).

Bolukbasi, M.F. et al. DNA-binding-domain fusions enhance the targeting range and precision of Cas9. Nat. Methods 12, 1150–1156 (2015).

Fu, Y., Sander, J.D., Reyon, D., Cascio, V.M. & Joung, J.K. Improving CRISPR-Cas nuclease specificity using truncated guide RNAs. Nat. Biotechnol. 32, 279–284 (2014).

Kim, D., Kim, S., Kim, S., Park, J. & Kim, J.-S. Genome-wide target specificities of CRISPR-Cas9 nucleases revealed by multiplex Digenome-seq. Genome Res. 26, 406–415 (2016).

Chen, J.S. et al. Enhanced proofreading governs CRISPR-Cas9 targeting accuracy. Nature 550, 407–410 (2017).

Doyon, Y. et al. Heritable targeted gene disruption in zebrafish using designed zinc-finger nucleases. Nat. Biotechnol. 26, 702–708 (2008).

Zhang, F. et al. High frequency targeted mutagenesis in Arabidopsis thaliana using zinc finger nucleases. Proc. Natl. Acad. Sci. USA 107, 12028–12033 (2010).

Chen, B. et al. Dynamic imaging of genomic loci in living human cells by an optimized CRISPR/Cas system. Cell 155, 1479–1491 (2013).

Brinkman, E.K., Chen, T., Amendola, M. & van Steensel, B. Easy quantitative assessment of genome editing by sequence trace decomposition. Nucleic Acids Res. 42, e168 (2014).

Ran, F.A. et al. In vivo genome editing using Staphylococcus aureus Cas9. Nature 520, 186–191 (2015).

Kim, H.K. et al. In vivo high-throughput profiling of CRISPR-Cpf1 activity. Nat. Methods 14, 153–159 (2017).

Burstein, D. et al. New CRISPR-Cas systems from uncultivated microbes. Nature 542, 237–241 (2017).

Shmakov, S. et al. Diversity and evolution of class 2 CRISPR-Cas systems. Nat. Rev. Microbiol. 15, 169–182 (2017).

DiCarlo, J.E. et al. Genome engineering in Saccharomyces cerevisiae using CRISPR-Cas systems. Nucleic Acids Res. 41, 4336–4343 (2013).

Cong, L. et al. Multiplex genome engineering using CRISPR/Cas systems. Science 339, 819–823 (2013).

Shalem, O. et al. Genome-scale CRISPR-Cas9 knockout screening in human cells. Science 343, 84–87 (2014).

Perez-Pinera, P. et al. RNA-guided gene activation by CRISPR-Cas9-based transcription factors. Nat. Methods 10, 973–976 (2013).

Jegga, A.G., Inga, A., Menendez, D., Aronow, B.J. & Resnick, M.A. Functional evolution of the p53 regulatory network through its target response elements. Proc. Natl. Acad. Sci. USA 105, 944–949 (2008).

Tomso, D.J. et al. Functionally distinct polymorphic sequences in the human genome that are targets for p53 transactivation. Proc. Natl. Acad. Sci. USA 102, 6431–6436 (2005).

Gietz, R.D. & Schiestl, R.H. High-efficiency yeast transformation using the LiAc/SS carrier DNA/PEG method. Nat. Protoc. 2, 31–34 (2007).

Stuckey, S. & Storici, F. Gene knockouts, in vivo site-directed mutagenesis and other modifications using the delitto perfetto system in Saccharomyces cerevisiae. Methods Enzymol. 533, 103–131 (2013).

Geissmann, Q. OpenCFU, a new free and open-source software to count cell colonies and other circular objects. PLoS One 8, e54072–e10 (2013).

Casini, A., Olivieri, M., Vecchi, L., Burrone, O.R. & Cereseto, A. Reduction of HIV-1 infectivity through endoplasmic reticulum-associated degradation-mediated Env depletion. J. Virol. 89, 2966–2971 (2015).

Tsai, S.Q., Topkar, V.V., Joung, J.K. & Aryee, M.J. Open-source guideseq software for analysis of GUIDE-seq data. Nat. Biotechnol. 34, 483 (2016).

Li, H. & Durbin, R. Fast and accurate long-read alignment with Burrows-Wheeler transform. Bioinformatics 26, 589–595 (2010).

Kleinstiver, B.P. et al. Engineered CRISPR-Cas9 nucleases with altered PAM specificities. Nature 523, 481–485 (2015).

Li, H. et al. The Sequence Alignment/Map format and SAMtools. Bioinformatics 25, 2078–2079 (2009).
Acknowledgements
The authors wish to thank the LaBSSAH–CIBIO Next Generation Sequencing Facility of the University of Trento for sequencing samples. We are grateful to D. Arosio for helpful discussion throughout the development of this study. This work was supported by intramural funding from the University of Trento and by the European Research Council grant ERCCoG648670 (F.D.).
Ethics declarations
Competing interests
A.C., A.Ca., G.P., A.I., and M.O. are the inventors of the filed patent on the high-fidelity SpCas9 variants.
Integrated supplementary information
Supplementary information
About this article
Cite this article
Casini, A., Olivieri, M., Petris, G. et al. A highly specific SpCas9 variant is identified by in vivo screening in yeast. Nat Biotechnol 36, 265–271 (2018). https://doi.org/10.1038/nbt.4066
Received:

Accepted:

Published:

Issue Date:

DOI: https://doi.org/10.1038/nbt.4066