Abstract
Uncertainty surrounding the risk and reward of investments in biopharmaceutical companies poses a challenge to those interested in funding such enterprises. Using data on publicly traded stocks, we track the performance of 1,066 biopharmaceutical companies from 1930 to 2015—the most comprehensive financial analysis of this sector to date. Our systematic exploration of methods for distinguishing biotech and pharmaceutical companies yields a dynamic, more accurate classification method. We find that the performance of the biotech sector is highly sensitive to the presence of a few outlier companies, and confirm that nearly all biotech companies are loss-making enterprises, exhibiting high stock volatility. In contrast, since 2000, pharmaceutical companies have become increasingly profitable, with risk-adjusted returns consistently outperforming the market. The performance of all biopharmaceutical companies is subject not only to factors arising from their drug pipelines (idiosyncratic risk), but also from general economic conditions (systematic risk). The risk associated with returns has profound implications both for patterns of investment and for funding innovation in biomedical R&D.
Access options
Subscribe to Journal
Get full journal access for 1 year
$59.00
only $4.92 per issue
All prices are NET prices.
VAT will be added later in the checkout.
Tax calculation will be finalised during checkout.
Rent or Buy article
Get time limited or full article access on ReadCube.
from$8.99
All prices are NET prices.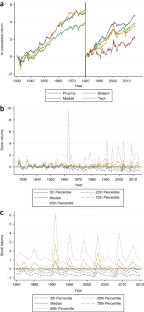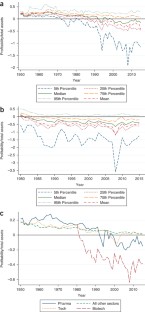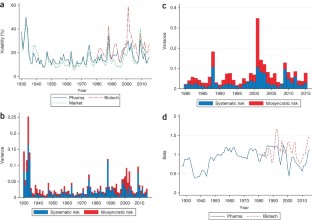 References
1

TEConomy Partners. The Economic Impact of the US Biopharmaceutical Industry: National and State Estimates http://phrma-docs.phrma.org/sites/default/files/pdf/biopharmaceuticaul-industry-economic-impact.pdf (Washington, DC: Pharmaceutical Research and Manufacturers of America, 2016).

2

Cortright, J. & Mayer, H. Signs of Life: the Growth of Biotechnology Centers in the US https://www.brookings.edu/wp-content/uploads/2016/06/biotech.pdf (Center on Urban and Metropolitan Policy, The Brookings Institution, 2002).

3

Golec, J. & Vernon, J.A. Financial risk of the biotech industry versus the pharmaceutical industry. Appl. Health Econ. Health Policy 7, 155–165 (2009).

4

Cockburn, I. & Lerner, J. The cost of capital for early stage biotechnology ventures. Congressional Briefing http://buchpedersen.com/wp-content/uploads/2016/02/The-Cost-of-Capital-for-Early-Stage-Biotechnology-Ventures_CockburnLerner.pdf (2009).

5

Finkelstein, S. & Temin, P. Reasonable Rx: Solving the Drug Price Crisis. (FT Press, 2008).

6

Booth, B. Debunking myths about biotech venture capital. Forbes 22, http://www.forbes.com/sites/brucebooth/2013/05/22/debunking-myths-about-biotech-venture-capital/ (2013).

7

Howard, D.H., Bach, P.B., Berndt, E.R. & Conti, R.M. Pricing in the market for anticancer drugs. J. Econ. Perspect. 29, 139–162 (2015).

8

Fama, E.F. & French, K.R. Disappearing dividends: changing firm characteristics or lower propensity to pay? J. Financ. Econ. 60, 3–43 (2001).

9

Thakor, R.T. & Lo, A.W. Competition and R&D financing decisions: evidence from the biopharmaceutical industry. Working Paper, MIT Sloan School of Management, 2016.

10

Koijen, R.S.J., Philipson, T.J. & Uhlig, H. Financial health economics. Econometrica 84, 195–242 (2016).

11

Myers, S.C. & Howe, C.D. A life-cycle financial model of pharmaceutical R&D http://www.worldcat.org/title/life-cycle-financial-model-of-pharmaceutical-r-d/oclc/42739394 Program on the Pharmaceutical Industry, Sloan School of Management, Massachusetts Institute of Technology, 1997.

12

Myers, S.C. & Shyam-Sunder, L. in Competitive Strategies in the Pharmaceutical Industry, (ed. Helms, R.B. 208–237) (American Enterprise Institute for Public Policy: Washington, DC, 1995).

13

Lyandres, E. & Palazzo, B. Cash holdings, competition, and innovation. J. Financ. Quant. Anal. 51, 1823–1861 (2016).

14

Nanda, R. & Rhodes-Kropf, M. Investment cycles and startup innovation. J. Financ. Econ. 110, 403–418 (2013).

15

Nanda, R. & Rhodes-Kropf, M. Financing risk and innovation. Manage. Sci. 63, 901–918 (2016).

16

Lerner, J., Shane, H. & Tsai, A. Do equity financing cycles matter? Evidence from biotechnology alliances. J. Financ. Econ. 67, 411–446 (2003).

17

Rajan, R.G. & Zingales, L. Financial dependence and growth. Am. Econ. Rev. 88, 559–586 (1998).

18

Brown, J.R., Fazzari, S.M. & Petersen, B.C. Financing innovation and growth: Cash flow, external equity, and the 1990s R&D boom. J. Finance 64, 151–185 (2009).

19

Kerr, W.R. & Nanda, R. Financing innovation. Annu. Rev. Financ. Econ. 7, 445–462 (2015).

20

Lo, A.W. & Pisano, G. Lessons From Hollywood: a new approach to funding innovation. Sloan Manage. Rev. 57, 47–57 (2015).

21

Fagnan, D.E., Fernandez, J.M., Lo, A.W. & Stein, R.M. Can financial engineering cure cancer? Am. Econ. Rev. 103, 406–411 (2013).

22

Fernandez, J.-M., Stein, R.M. & Lo, A.W. Commercializing biomedical research through securitization techniques. Nat. Biotechnol. 30, 964–975 (2012).

23

Jørring, A., Lo, A.W., Philipson, T.J., Singh, M. & Thakor, R.T. Sharing R&D risk in healthcare via FDA hedges. No. w23344 http://www.nber.org/papers/w23344 (National Bureau of Economic Research, 2017).

24

Philipson, T. Hedging pipeline risk in pharma: FDA swaps and annuities https://pdfs.semanticscholar.org/6b84/3c138131fd45f279e51ddd8b2a1c8bc008d3.pdf (Milken Institute, March 2015).

25

Carlson, R. Estimating the biotech sector's contribution to the US economy. Nat. Biotechnol. 34, 247–255 (2016).

26

Hoberg, G. & Phillips, G. Text-based network industries and endogenous product differentiation. J. Polit. Econ. 124, 1423–1465 (2016).

27

Hoberg, G. & Phillips, G. Product market synergies and competition in mergers and acquisitions: A text-based analysis. Rev. Financ. Stud. 23, 3773–3811 (2010).
Acknowledgements
We thank Jayna Cummings for editorial support. Funding support from the MIT Laboratory for Financial Engineering is gratefully acknowledged.
Ethics declarations
Competing interests
The authors declare no competing financial interests.
Supplementary information
Supplementary Figures 1–3, Supplementary Tables 1–6, Supplementary Methods, Supplementary Notes, and Supplementary Results (PDF 1695 kb)
About this article
Cite this article
Thakor, R., Anaya, N., Zhang, Y. et al. Just how good an investment is the biopharmaceutical sector?. Nat Biotechnol 35, 1149–1157 (2017). https://doi.org/10.1038/nbt.4023
Received:

Accepted:

Published:

Issue Date: