Abstract
B-cell responses result in clonal expansion, and can occur in a variety of tissues. To define how B-cell clones are distributed in the body, we sequenced 933,427 B-cell clonal lineages and mapped them to eight different anatomic compartments in six human organ donors. We show that large B-cell clones partition into two broad networks—one spans the blood, bone marrow, spleen and lung, while the other is restricted to tissues within the gastrointestinal (GI) tract (jejunum, ileum and colon). Notably, GI tract clones display extensive sharing of sequence variants among different portions of the tract and have higher frequencies of somatic hypermutation, suggesting extensive and serial rounds of clonal expansion and selection. Our findings provide an anatomic atlas of B-cell clonal lineages, their properties and tissue connections. This resource serves as a foundation for studies of tissue-based immunity, including vaccine responses, infections, autoimmunity and cancer.
This is a preview of subscription content
Access options
Subscribe to Journal
Get full journal access for 1 year
$99.00
only $8.25 per issue
All prices are NET prices.
VAT will be added later in the checkout.
Tax calculation will be finalised during checkout.
Rent or Buy article
Get time limited or full article access on ReadCube.
from$8.99
All prices are NET prices.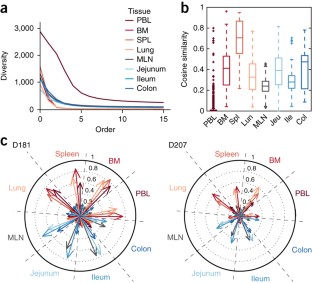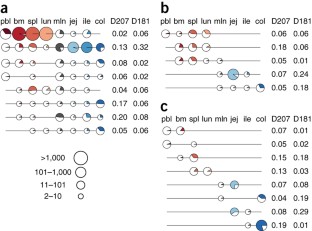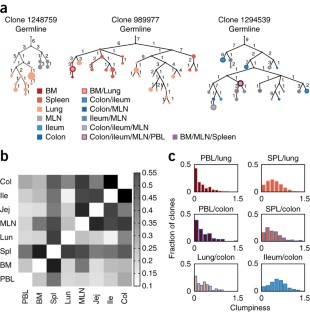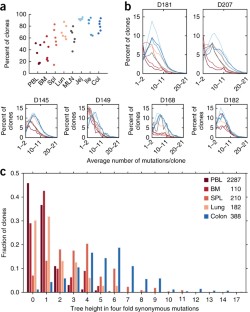 Accession codes
Primary accessions
Sequence Read Archive
References
1

McKean, D. et al. Generation of antibody diversity in the immune response of BALB/c mice to influenza virus hemagglutinin. Proc. Natl. Acad. Sci. USA 81, 3180–3184 (1984).

2

Berek, C., Berger, A. & Apel, M. Maturation of the immune response in germinal centers. Cell 67, 1121–1129 (1991).

3

Weigert, M.G., Cesari, I.M., Yonkovich, S.J. & Cohn, M. Variability in the lambda light chain sequences of mouse antibody. Nature 228, 1045–1047 (1970).

4

Jacob, J., Kelsoe, G., Rajewsky, K. & Weiss, U. Intraclonal generation of antibody mutants in germinal centres. Nature 354, 389–392 (1991).

5

Nossal, G.J. & Lederberg, J. Antibody production by single cells. Nature 181, 1419–1420 (1958).

6

Schroeder, H.W. Jr. & Cavacini, L. Structure and function of immunoglobulins. J. Allergy Clin. Immunol. 125 (Suppl. 2), S41–S52 (2010).

7

Kroese, F.G., de Waard, R. & Bos, N.A. B-1 cells and their reactivity with the murine intestinal microflora. Semin. Immunol. 8, 11–18 (1996).

8

Lindner, C. et al. Diversification of memory B cells drives the continuous adaptation of secretory antibodies to gut microbiota. Nat. Immunol. 16, 880–888 (2015).

9

Rhee, K.J., Sethupathi, P., Driks, A., Lanning, D.K. & Knight, K.L. Role of commensal bacteria in development of gut-associated lymphoid tissues and preimmune antibody repertoire. J. Immunol. 172, 1118–1124 (2004).

10

Benitez, A. et al. Differences in mouse and human nonmemory B cell pools. J. Immunol. 192, 4610–4619 (2014).

11

Steiniger, B.S. Human spleen microanatomy: why mice do not suffice. Immunology 145, 334–346 (2015).

12

Thome, J.J. et al. Spatial map of human T cell compartmentalization and maintenance over decades of life. Cell 159, 814–828 (2014).

13

Sathaliyawala, T. et al. Distribution and compartmentalization of human circulating and tissue-resident memory T cell subsets. Immunity 38, 187–197 (2013).

14

Thome, J.J. et al. Early-life compartmentalization of human T cell differentiation and regulatory function in mucosal and lymphoid tissues. Nat. Med. 22, 72–77 (2016).

15

Vallangeon, B.D., Tyer, C., Williams, B. & Lagoo, A.S. Improved detection of diffuse large B-cell lymphoma by flow cytometric immunophenotyping-Effect of tissue disaggregation method. Cytometry B Clin. Cytom. 90, 455–461 (2016).

16

Sakano, H., Kurosawa, Y., Weigert, M. & Tonegawa, S. Identification and nucleotide sequence of a diversity DNA segment (D) of immunoglobulin heavy-chain genes. Nature 290, 562–565 (1981).

17

Glanville, J. et al. Precise determination of the diversity of a combinatorial antibody library gives insight into the human immunoglobulin repertoire. Proc. Natl. Acad. Sci. USA 106, 20216–20221 (2009).

18

Zhang, B., Meng, W., Luning Prak, E.T. & Hershberg, U. Discrimination of germline V genes at different sequencing lengths and mutational burdens: A new tool for identifying and evaluating the reliability of V gene assignment. J. Immunol. Methods 427, 105–116 (2015).

19

Hershberg, U. & Luning Prak, E.T. The analysis of clonal expansions in normal and autoimmune B cell repertoires. Phil. Trans. R. Soc. Lond. B 370, 20140239 (2015).

20

Yaari, G. & Kleinstein, S.H. Practical guidelines for B-cell receptor repertoire sequencing analysis. Genome Med. 7, 121 (2015).

21

Colwell, R.K. et al. Models and estimators linking individual-based and sample based rarefaction, extrapolation and comparison of assemblages. J. Plant Ecol. 5, 3–21 (2012).

22

Goldin, L.R., McMaster, M.L. & Caporaso, N.E. Precursors to lymphoproliferative malignancies. Cancer Epidemiol. Biomarkers Prev. 22, 533–539 (2013).

23

Rosenfeld, A.M., Meng, W., Luning Prak, E.T. & Hershberg, U. ImmuneDB: a system for the analysis and exploration of high-throughput adaptive immune receptor sequencing data. Bioinformatics 33, 292–293 (2017).

24

Sheneman, L., Evans, J. & Foster, J.A. Clearcut: a fast implementation of relaxed neighbor joining. Bioinformatics 22, 2823–2824 (2006).

25

Schwartz, G.W., Shokoufandeh, A., Ontanon, S. & Hershberg, U. Using a novel clumpiness measure to unite data with metadata: Finding common sequence patterns in immune receptor germline V genes. Pattern Recognit. Lett. 74, 24–29 (2016).

26

Yuvaraj, S. et al. Evidence for local expansion of IgA plasma cell precursors in human ileum. J. Immunol. 183, 4871–4878 (2009).

27

Gowans, J.L. & Knight, E.J. The route of re-circulation of lymphocytes in the rat. Proc. R. Soc. Lond. B Biol. Sci. 159, 257–282 (1964).

28

McDermott, M.R. & Bienenstock, J. Evidence for a common mucosal immunologic system. I. Migration of B immunoblasts into intestinal, respiratory, and genital tissues. J. Immunol. 122, 1892–1898 (1979).

29

Rudikoff, S., Pawlita, M., Pumphrey, J. & Heller, M. Somatic diversification of immunoglobulins. Proc. Natl. Acad. Sci. USA 81, 2162–2166 (1984).

30

Sablitzky, F., Wildner, G. & Rajewsky, K. Somatic mutation and clonal expansion of B cells in an antigen-driven immune response. EMBO J. 4, 345–350 (1985).

31

Briney, B.S., Willis, J.R., Finn, J.A., McKinney, B.A. & Crowe, J.E. Jr. Tissue-specific expressed antibody variable gene repertoires. PLoS One 9, e100839 (2014).

32

Spencer, J., Barone, F. & Dunn-Walters, D. Generation of immunoglobulin diversity in human gut-associated lymphoid tissue. Semin. Immunol. 21, 139–146 (2009).

33

Dunn-Walters, D.K., Isaacson, P.G. & Spencer, J. Sequence analysis of human IgVH genes indicates that ileal lamina propria plasma cells are derived from Peyer's patches. Eur. J. Immunol. 27, 463–467 (1997).

34

Uduman, M. et al. Detecting selection in immunoglobulin sequences. Nucleic Acids Res. 39, W499–W504 (2011).

35

Hershberg, U., Uduman, M., Shlomchik, M.J. & Kleinstein, S.H. Improved methods for detecting selection by mutation analysis of Ig V region sequences. Int. Immunol. 20, 683–694 (2008).

36

Holtmeier, W., Hennemann, A. & Caspary, W.F. IgA and IgM V(H) repertoires in human colon: evidence for clonally expanded B cells that are widely disseminated. Gastroenterology 119, 1253–1266 (2000).

37

Masahata, K. et al. Generation of colonic IgA-secreting cells in the caecal patch. Nat. Commun. 5, 3704 (2014).

38

Berkowska, M.A. et al. Circulating human CD27-IgA+ memory B cells recognize bacteria with polyreactive Igs. J. Immunol. 195, 1417–1426 (2015).

39

Khan, T.A. et al. Accurate and predictive antibody repertoire profiling by molecular amplification fingerprinting. Sci. Adv. 2, e1501371 (2016).

40

Gupta, N.T. et al. Hierarchical clustering can identify B cell clones with high confidence in ig repertoire sequencing data. J. Immunol. 198, 2489–2499 (2017).

41

Ralph, D.K. & Matsen, F.A. IV Likelihood-based inference of B cell clonal families. PLoS Comput. Biol. 12, e1005086 (2016).

42

van Dongen, J.J. et al. Design and standardization of PCR primers and protocols for detection of clonal immunoglobulin and T-cell receptor gene recombinations in suspect lymphoproliferations: report of the BIOMED-2 Concerted Action BMH4-CT98-3936. Leukemia 17, 2257–2317 (2003).

43

Meng, W. et al. Trials and tribulations with VH replacement. Front. Immunol. 5, 10 (2014).

44

Vander Heiden, J.A. et al. pRESTO: a toolkit for processing high-throughput sequencing raw reads of lymphocyte receptor repertoires. Bioinformatics 30, 1930–1932 (2014).

45

Schirmer, M. et al. Insight into biases and sequencing errors for amplicon sequencing with the Illumina MiSeq platform. Nucleic Acids Res. 43, e37 (2015).

46

Schwartz, G.W. & Hershberg, U. Germline amino acid diversity in B cell receptors is a good predictor of somatic selection pressures. Front. Immunol. 4, 357 (2013).

47

Schwartz, G.W. & Hershberg, U. Conserved variation: identifying patterns of stability and variability in BCR and TCR V genes with different diversity and richness metrics. Phys. Biol. 10, 035005 (2013).

48

Bolotin, D.A. et al. MiXCR: software for comprehensive adaptive immunity profiling. Nat. Methods 12, 380–381 (2015).

49

Shugay, M. et al. VDJtools: unifying post-analysis of T cell receptor repertoires. PLoS Comput. Biol. 11, e1004503 (2015).
Acknowledgements
We thank the Human Immunology Core facility at the University of Pennsylvania for assistance with cell preparations and sequencing support. We thank Y. Louzoun, M. Cancro and R. Thomas Jr. for discussions. We thank the organ donor families and the LiveOnNY transplant staff and coordinators. This work was supported by NIH P01 AI106697 (D.L.F., U.H., M.J.S., W.M., B.Z., A.M.R., D.R., D.J.C., N.M., T.G. and E.T.L.P.), P30-CA016520 (E.T.L.P.) and F31AG047003 (J.J.C.T.). G.W.S. was funded by the US Department of Education Graduate Assistance in Areas of National Need (GAANN) program, CFDA Number: 84.200.
Ethics declarations
Competing interests
The authors declare no competing financial interests.
Integrated supplementary information
Supplementary information
About this article
Cite this article
Meng, W., Zhang, B., Schwartz, G. et al. An atlas of B-cell clonal distribution in the human body. Nat Biotechnol 35, 879–884 (2017). https://doi.org/10.1038/nbt.3942
Received:

Accepted:

Published:

Issue Date: