Abstract
Haplotype-resolved genome sequencing promises to unlock a wealth of information in population and medical genetics. However, for the vast majority of genomes sequenced to date, haplotypes have not been determined because of cumbersome haplotyping workflows that require fractions of the genome to be sequenced in a large number of compartments. Here we demonstrate barcode partitioning of long DNA molecules in a single compartment using "on-bead" barcoded tagmentation. The key to the method that we call "contiguity preserving transposition" sequencing on beads (CPTv2-seq) is transposon-mediated transfer of homogenous populations of barcodes from beads to individual long DNA molecules that get fragmented at the same time (tagmentation). These are then processed to sequencing libraries wherein all sequencing reads originating from each long DNA molecule share a common barcode. Single-tube, bulk processing of long DNA molecules with ∼150,000 different barcoded bead types provides a barcode-linked read structure that reveals long-range molecular contiguity. This technology provides a simple, rapid, plate-scalable and automatable route to accurate, haplotype-resolved sequencing, and phasing of structural variants of the genome.
Your institute does not have access to this article
Relevant articles
Open Access articles citing this article.
Javaid Akhter Bhat

,

Deyue Yu

…

Rajeev K. Varshney

Communications Biology Open Access 04 November 2021

Cyrille L. Delley

&

Adam R. Abate

Scientific Reports Open Access 25 May 2021

David Redin

,

Tobias Frick

…

Afshin Ahmadian

Scientific Reports Open Access 02 December 2019
Access options
Subscribe to Nature+
Get immediate online access to the entire Nature family of 50+ journals
Subscribe to Journal
Get full journal access for 1 year
$99.00
only $8.25 per issue
All prices are NET prices.
VAT will be added later in the checkout.
Tax calculation will be finalised during checkout.
Buy article
Get time limited or full article access on ReadCube.
$32.00
All prices are NET prices.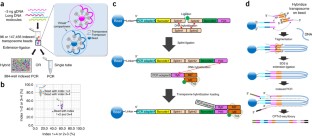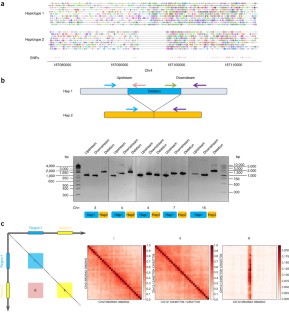 References
Bentley, D.R. et al. Accurate whole human genome sequencing using reversible terminator chemistry. Nature 456, 53–59 (2008).

Snyder, M.W., Adey, A., Kitzman, J.O. & Shendure, J. Haplotype-resolved genome sequencing: experimental methods and applications. Nat. Rev. Genet. 16, 344–358 (2015).

Bansal, V., Tewhey, R., Topol, E.J. & Schork, N.J. The next phase in human genetics. Nat. Biotechnol. 29, 38–39 (2011).

Browning, S.R. & Browning, B.L. Haplotype phasing: existing methods and new developments. Nat. Rev. Genet. 12, 703–714 (2011).

Ripke, S. et al. Genome-wide association analysis identifies 13 new risk loci for schizophrenia. Nat. Genet. 45, 1150–1159 (2013).

Nalls, M.A. et al. Large-scale meta-analysis of genome-wide association data identifies six new risk loci for Parkinson's disease. Nat. Genet. 46, 989–993 (2014).

Peters, B.A. et al. Detection and phasing of single base de novo mutations in biopsies from human in vitro fertilized embryos by advanced whole-genome sequencing. Genome Res. 25, 426–434 (2015).

Zheng, G.X.Y. et al. Haplotyping germline and cancer genomes with high-throughput linked-read sequencing. Nat. Biotechnol. 34, 303–311 (2016).

Feuk, L., Carson, A.R. & Scherer, S.W. Structural variation in the human genome. Nat. Rev. Genet. 7, 85–97 (2006).

Moncunill, V. et al. Comprehensive characterization of complex structural variations in cancer by directly comparing genome sequence reads. Nat. Biotechnol. 32, 1106–1112 (2014).

Medvedev, P., Stanciu, M. & Brudno, M. Computational methods for discovering structural variation with next-generation sequencing. Nat. Methods 6 (Suppl. 1), S13–S20 (2009).

Fan, H.C., Wang, J., Potanina, A. & Quake, S.R. Whole-genome molecular haplotyping of single cells. Nat. Biotechnol. 29, 51–57 (2011).

Kaper, F. et al. Whole-genome haplotyping by dilution, amplification, and sequencing. Proc. Natl. Acad. Sci. USA 110, 5552–5557 (2013).

Kitzman, J.O. et al. Haplotype-resolved genome sequencing of a Gujarati Indian individual. Nat. Biotechnol. 29, 59–63 (2011).

International Human Genome Sequencing Consortium. Initial sequencing and analysis of the human genome. Nature 409, 860–921 (2001).

Levy, S. et al. The diploid genome sequence of an individual human. PLoS Biol. 5, e254 (2007).

Venter, J.C. et al. The sequence of the human genome. Science 291, 1304–1351 (2001).

Putnam, N.H. et al. Chromosome-scale shotgun assembly using an in vitro method for long-range linkage. Genome Res. 26, 342–350 (2016).

Kuleshov, V. et al. Whole-genome haplotyping using long reads and statistical methods. Nat. Biotechnol. 32, 261–266 (2014).

Cao, H. et al. De novo assembly of a haplotype-resolved human genome. Nat. Biotechnol. 33, 617–622 (2015).

Peters, B.A. et al. Accurate whole-genome sequencing and haplotyping from 10 to 20 human cells. Nature 487, 190–195 (2012).

Burton, J.N. et al. Chromosome-scale scaffolding of de novo genome assemblies based on chromatin interactions. Nat. Biotechnol. 31, 1119–1125 (2013).

Sović, I., Križanović, K., Skala, K. & Šikić, M. Evaluation of hybrid and non-hybrid methods for de novo assembly of nanopore reads. Bioinformatics 32, 2582–2589 (2016).

Goodwin, S. et al. Oxford Nanopore Sequencing and de novo assembly of a eukaryotic genome. Preprint at bioRxiv https://doi.org/10.1101/013490 (2015).

Dear, P.H. & Cook, P.R. Happy mapping: a proposal for linkage mapping the human genome. Nucleic Acids Res. 17, 6795–6807 (1989).

Amini, S. et al. Haplotype-resolved whole-genome sequencing by contiguity-preserving transposition and combinatorial indexing. Nat. Genet. 46, 1343–1349 (2014).

Peters, B.A., Liu, J. & Drmanac, R. Co-barcoded sequence reads from long DNA fragments: a cost-effective solution for "perfect genome" sequencing. Front. Genet. 5, 466 (2015).

Lan, F., Haliburton, J.R., Yuan, A. & Abate, A.R. Droplet barcoding for massively parallel single-molecule deep sequencing. Nat. Commun. 7, 11784 (2016).

Loman, N.J., Quick, J. & Simpson, J.T. A complete bacterial genome assembled de novo using only nanopore sequencing data. Nat. Methods 12, 733–735 (2015).

Pendleton, M. et al. Assembly and diploid architecture of an individual human genome via single-molecule technologies. Nat. Methods 12, 780–786 (2015).

Cusanovich, D.A. et al. Multiplex single cell profiling of chromatin accessibility by combinatorial cellular indexing. Science 348, 910–914 (2015).

Xie, M., Wang, J. & Jiang, T. A fast and accurate algorithm for single individual haplotyping. BMC Syst. Biol. 6 (Suppl. 2), S8 (2012).

Zong, C., Lu, S., Chapman, A.R. & Xie, X.S. Genome-wide detection of single-nucleotide and copy-number variations of a single human cell. Science 338, 1622–1626 (2012).

Chen, X. et al. Manta: rapid detection of structural variants and indels for germline and cancer sequencing applications. Bioinformatics 32, 1220–1222 (2016).

Eberle, M.A. et al. A reference data set of 5.4 million phased human variants validated by genetic inheritance from sequencing a three-generation 17-member pedigree. Genome Res. 27, 157–164 (2017).

Adey, A. et al. In vitro, long-range sequence information for de novo genome assembly via transposase contiguity. Genome Res. 24, 2041–2049 (2014).

Adey, A. et al. The haplotype-resolved genome and epigenome of the aneuploid HeLa cancer cell line. Nature 500, 207–211 (2013).

Steemers, F.J. et al. Whole-genome genotyping with the single-base extension assay. Nat. Methods 3, 31–33 (2006).

Furka, A., Sebestyén, F., Asgedom, M. & Dibó, G. General method for rapid synthesis of multicomponent peptide mixtures. Int. J. Pept. Protein Res. 37, 487–493 (1991).

Li, H. et al. The Sequence Alignment/Map format and SAMtools. Bioinformatics 25, 2078–2079 (2009).

Sos, B.C. et al. Characterization of chromatin accessibility with a transposome hypersensitive sites sequencing (THS-seq) assay. Genome Biol. 17, 20 (2016).

Ason, B. & Reznikoff, W.S. DNA sequence bias during Tn5 transposition. J. Mol. Biol. 335, 1213–1225 (2004).

Lebl, M. et al. Automatic oligonucleotide synthesizer utilizing the concept of parallel processing. Collect. Symp. Ser. 12, 264–267 (2011).

Kremsky, J.N. et al. Immobilization of DNA via oligonucleotides containing an aldehyde or carboxylic acid group at the 5′ terminus. Nucleic Acids Res. 15, 2891–2909 (1987).

Steinberg, G., Stromsborg, K., Thomas, L., Barker, D. & Zhao, C. Strategies for covalent attachment of DNA to beads. Biopolymers 73, 597–605 (2004).

Raczy, C. et al. Isaac: ultra-fast whole-genome secondary analysis on Illumina sequencing platforms. Bioinformatics 29, 2041–2043 (2013).

Tarasov, A., Vilella, A.J., Cuppen, E., Nijman, I.J. & Prins, P. Sambamba: fast processing of NGS alignment formats. Bioinformatics 31, 2032–2034 (2015).
Acknowledgements
We would like to thank the research, development, and software engineering departments at Illumina for sequencing technology development. Specifically, we would like to thank C.L. Pan at Illumina for the sequencing technology development and G. Bean, J. Leng, and S. Swamy at Illumina for data analysis software development. We would like to thank R. Daza for providing HeLa and NA12878 Gentra DNA preparations. The genome sequence described in this paper was derived from a HeLa cell line. Henrietta Lacks, and the HeLa cell line that was established from her tumor cells in 1951, have made significant contributions to scientific progress and advances in human health. We are grateful to Henrietta Lacks, now deceased, and to her surviving family members for their contributions to biomedical research.
Ethics declarations
Competing interests
The authors declare competing financial interests in the form of stock ownership, patents, or employment through Illumina, Inc.
Integrated supplementary information
Supplementary information
About this article
Cite this article
Zhang, F., Christiansen, L., Thomas, J. et al. Haplotype phasing of whole human genomes using bead-based barcode partitioning in a single tube. Nat Biotechnol 35, 852–857 (2017). https://doi.org/10.1038/nbt.3897
Received:

Accepted:

Published:

Issue Date:

DOI: https://doi.org/10.1038/nbt.3897