Abstract
We applied a fusion of CRISPR-Cas9 and activation-induced cytidine deaminase (Target-AID) for point mutagenesis at genomic regions specified by single guide RNAs (sgRNAs) in two crop plants. In rice, we induced multiple herbicide-resistance point mutations by multiplexed editing using herbicide selection, while in tomato we generated marker-free plants with homozygous heritable DNA substitutions, demonstrating the feasibility of base editing for crop improvement.
Access options
Subscribe to Journal
Get full journal access for 1 year
$250.00
only $20.83 per issue
All prices are NET prices.
VAT will be added later in the checkout.
Rent or Buy article
Get time limited or full article access on ReadCube.
from$8.99
All prices are NET prices.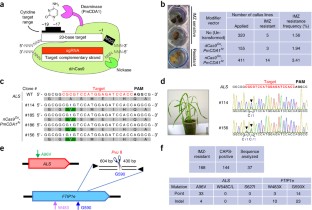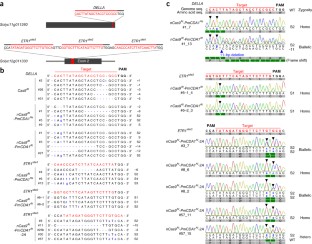 References
1

Nishida, K. et al. Science 102, 553–563 (2016).

2

Mikami, M., Toki, S. & Endo, M. Plant Mol. Biol. 88, 561–572 (2015).

3

Yu, Q. & Powles, S.B. Pest Manag. Sci. 70, 1340–1350 (2014).

4

Fauser, F., Schiml, S. & Puchta, H. Plant J. 79, 348–359 (2014).

5

Ariizumi, T., Shinozaki, Y. & Ezura, H. Breed. Sci. 63, 3–13 (2013).

6

Fleishon, S., Shani, E., Ori, N. & Weiss, D. New Phytol. 190, 609–617 (2011).

7

Lu, Y. & Zhu, J.K. Mol. Plant http://dx.doi.org/10.1016/j.molp.2016.11.013 (2016).

8

Li, J., Sun, Y., Du, J., Zhao, Y. & Xia, L. Mol. Plant http://dx.doi.org/10.1016/j.molp.2016.12.001 (2016).

9

Terada, R., Urawa, H., Inagaki, Y., Tsugane, K. & Iida, S. Nat. Biotechnol. 20, 1030–1034 (2002).

10

Ryan, M.D., King, A.M.Q. & Thomas, G.P. J. Gen. Virol. 72, 2727–2732 (1991).

11

Toki, S. Plant Mol. Biol. Report. 15, 16–21 (1997).

12

Terada, R., Asao, H. & Iida, S. Plant Cell Rep. 22, 653–659 (2004).

13

Dang, T.T., Shimatani, Z., Kawano, Y., Terada, R. & Shimamoto, K. Plant Cell Physiol. 54, 2058–2070 (2013).

14

Sun, H.J., Uchii, S., Watanabe, S. & Ezura, H. Plant Cell Physiol. 47, 426–431 (2006).

15

Shimatani, Z. et al. Mol. Genet. Genomics 281, 329–344 (2009).

16

Lei, Y. et al. Mol. Plant 7, 1494–1496 (2014).

17

Stemmer, M., Thumberger, T., Del Sol Keyer, M., Wittbrodt, J. & Mateo, J.L. PLoS One 10, e0124633 (2015).

18

Komor, A.C., Kim, Y.B., Packer, M.S., Zuris, J.A. & Liu, D.R. Nature 533, 420–424 (2016).
Acknowledgements
Plant CRISPR vectors pCAS9-TPC and pChimera were kindly provided by F. Fauser, S. Schiml, and H. Puchta at Karlsruhe Institute of Technology via M. Endo and S. Toki. We thank Y. Iida, R. Ohta, Y. Ueke and M. Suzuki for technical assistance. This work was supported by the Cabinet Office, Government of Japan, Cross-ministerial Strategic Innovation Promotion Program (SIP), "Technologies for creating next-generation agriculture, forestry and fisheries" (funding agency: Bio-oriented Technology Research Advancement Institution, NARO) and partly supported by a Special Coordination Fund for Promoting Science and Technology, Creation of Innovative Centers for Advanced Interdisciplinary Research Areas (Innovative Bioproduction Kobe) from the Ministry of Education, Culture, Sports and Technology (MEXT) of Japan, by the Platform Project for Supporting in Drug Discovery and Life Science Research (Platform for Drug Discovery, Informatics, and Structural Life Science) from the Japan Agency for Medical Research and Development (AMED), by JSPS KAKENHI grant numbers 26119710 and 16K14654 and by the New Energy and Industrial Technology Development Organization (NEDO).
Ethics declarations
Competing interests
K.N., Z.S., T. Arazoe and A.K. have filed a patent related to the rice study as PCT/JP2016/085075. S.K., M.T., T.Y., K.M., T. Ariizumi and H.E. have filed a patent related to the tomato study as JP 2017-019921.
Integrated supplementary information
Supplementary information
Supplementary Figures 1–6 (PDF 1396 kb)
About this article
Cite this article
Shimatani, Z., Kashojiya, S., Takayama, M. et al. Targeted base editing in rice and tomato using a CRISPR-Cas9 cytidine deaminase fusion. Nat Biotechnol 35, 441–443 (2017). https://doi.org/10.1038/nbt.3833
Received:

Accepted:

Published:

Issue Date: