Abstract
Signaling networks are key regulators of cellular function. Although the concentrations of signaling proteins are perturbed in disease states, such as cancer, and are modulated by drug therapies, our understanding of how such changes shape the properties of signaling networks is limited. Here we couple mass-cytometry-based single-cell analysis with overexpression of tagged signaling proteins to study the dependence of signaling relationships and dynamics on protein node abundance. Focusing on the epidermal growth factor receptor (EGFR) signaling network in HEK293T cells, we analyze 20 signaling proteins during a 1-h EGF stimulation time course using a panel of 35 antibodies. Data analysis with BP-R2, a measure that quantifies complex signaling relationships, reveals abundance-dependent network states and identifies novel signaling relationships. Further, we show that upstream signaling proteins have abundance-dependent effects on downstream signaling dynamics. Our approach elucidates the influence of node abundance on signal transduction networks and will further our understanding of signaling in health and disease.
Relevant articles
Open Access articles citing this article.
Sunil Kumar

,

Xiao-Kang Lun

…

Heinz Koeppl

Scientific Reports Open Access 27 January 2020

Daniel Lill

,

Oleksii S. Rukhlenko

…

Boris N. Kholodenko

npj Systems Biology and Applications Open Access 23 May 2019

Abdullah R. Ahmed

,

Raymond J. Owens

…

Stanley W. Botchway

Scientific Reports Open Access 04 March 2019
Access options
Subscribe to Nature+
Get immediate online access to the entire Nature family of 50+ journals
Subscribe to Journal
Get full journal access for 1 year
$99.00
only $8.25 per issue
All prices are NET prices.
VAT will be added later in the checkout.
Tax calculation will be finalised during checkout.
Buy article
Get time limited or full article access on ReadCube.
$32.00
All prices are NET prices.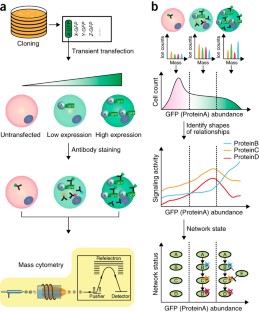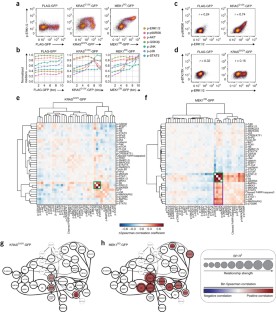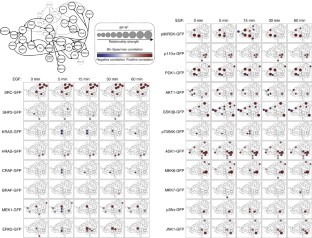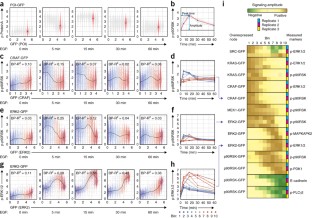 References
Wolf-Yadlin, A. et al. Effects of HER2 overexpression on cell signaling networks governing proliferation and migration. Mol. Syst. Biol. 2, 54 (2006).

De Los Angeles, A. et al. Hallmarks of pluripotency. Nature 525, 469–478 (2015).

Feinberg, A.P. Phenotypic plasticity and the epigenetics of human disease. Nature 447, 433–440 (2007).

Bywater, M.J., Pearson, R.B., McArthur, G.A. & Hannan, R.D. Dysregulation of the basal RNA polymerase transcription apparatus in cancer. Nat. Rev. Cancer 13, 299–314 (2013).

Silvera, D., Formenti, S.C. & Schneider, R.J. Translational control in cancer. Nat. Rev. Cancer 10, 254–266 (2010).

Santarius, T., Shipley, J., Brewer, D., Stratton, M.R. & Cooper, C.S. A census of amplified and overexpressed human cancer genes. Nat. Rev. Cancer 10, 59–64 (2010).

Govindarajan, B. et al. Overexpression of Akt converts radial growth melanoma to vertical growth melanoma. J. Clin. Invest. 117, 719–729 (2007).

Eralp, Y. et al. MAPK overexpression is associated with anthracycline resistance and increased risk for recurrence in patients with triple-negative breast cancer. Ann. Oncol. 19, 669–674 (2008).

Han, T. et al. PTPN11/Shp2 overexpression enhances liver cancer progression and predicts poor prognosis of patients. J. Hepatol. 63, 651–660 (2015).

Davies, H. et al. Mutations of the BRAF gene in human cancer. Nature 417, 949–954 (2002).

Wang, M., Herrmann, C.J., Simonovic, M., Szklarczyk, D. & von Mering, C. Version 4.0 of PaxDb: Protein abundance data, integrated across model organisms, tissues, and cell-lines. Proteomics 15, 3163–3168 (2015).

Citri, A. & Yarden, Y. EGF-ERBB signalling: towards the systems level. Nat. Rev. Mol. Cell Biol. 7, 505–516 (2006).

Tebbutt, N., Pedersen, M.W. & Johns, T.G. Targeting the ERBB family in cancer: couples therapy. Nat. Rev. Cancer 13, 663–673 (2013).

Roberts, P.J. & Der, C.J. Targeting the Raf-MEK-ERK mitogen-activated protein kinase cascade for the treatment of cancer. Oncogene 26, 3291–3310 (2007).

Mendoza, M.C., Er, E.E. & Blenis, J. The Ras-ERK and PI3K-mTOR pathways: cross-talk and compensation. Trends Biochem. Sci. 36, 320–328 (2011).

Olayioye, M.A., Neve, R.M., Lane, H.A. & Hynes, N.E. The ErbB signaling network: receptor heterodimerization in development and cancer. EMBO J. 19, 3159–3167 (2000).

Manning, B.D. & Cantley, L.C. AKT/PKB signaling: navigating downstream. Cell 129, 1261–1274 (2007).

Bowman, T., Garcia, R., Turkson, J. & Jove, R. STATs in oncogenesis. Oncogene 19, 2474–2488 (2000).

Oliva, J.L., Griner, E.M. & Kazanietz, M.G. PKC isozymes and diacylglycerol-regulated proteins as effectors of growth factor receptors. Growth Factors 23, 245–252 (2005).

Kim, D., Rath, O., Kolch, W. & Cho, K.-H. A hidden oncogenic positive feedback loop caused by crosstalk between Wnt and ERK pathways. Oncogene 26, 4571–4579 (2007).

Massague, J. Integration of Smad and MAPK pathways: a link and a linker revisited. Genes Dev. 17, 2993–2997 (2003).

Zhang, Y. et al. Time-resolved mass spectrometry of tyrosine phosphorylation sites in the epidermal growth factor receptor signaling network reveals dynamic modules. Mol. Cell. Proteomics 4, 1240–1250 (2005).

Kim, S.Y. et al. AMP-activated protein kinase-α1 as an activating kinase of TGF-β-activated kinase 1 has a key role in inflammatory signals. Cell Death Dis. 3, e357 (2012).

Corcoran, R.B. et al. Synthetic lethal interaction of combined BCL-XL and MEK inhibition promotes tumor regressions in KRAS mutant cancer models. Cancer Cell 23, 121–128 (2013).

Tewari, M. et al. Systematic interactome mapping and genetic perturbation analysis of a C. elegans TGF-β signaling network. Mol. Cell 13, 469–482 (2004).

Sundqvist, A. et al. Specific interactions between Smad proteins and AP-1 components determine TGFβ-induced breast cancer cell invasion. Oncogene 32, 3606–3615 (2013).

Aoki, K. et al. Stochastic ERK activation induced by noise and cell-to-cell propagation regulates cell density-dependent proliferation. Mol. Cell 52, 529–540 (2013).

Bodenmiller, B. et al. Multiplexed mass cytometry profiling of cellular states perturbed by small-molecule regulators. Nat. Biotechnol. 30, 858–867 (2012).

Bendall, S.C. et al. Single-cell mass cytometry of differential immune and drug responses across a human hematopoietic continuum. Science 332, 687–696 (2011).

Krishnaswamy, S. et al. Systems biology. Conditional density-based analysis of T cell signaling in single-cell data. Science 346, 1250689 (2014).

Couzens, A.L. et al. Protein interaction network of the mammalian Hippo pathway reveals mechanisms of kinase-phosphatase interactions. Sci. Signal. 6, rs15 (2013).

Zhou, Y. et al. Chimeric mouse tumor models reveal differences in pathway activation between ERBB family- and KRAS-dependent lung adenocarcinomas. Nat. Biotechnol. 28, 71–78 (2010).

Redell, M.S. et al. FACS analysis of Stat3/5 signaling reveals sensitivity to G-CSF and IL-6 as a significant prognostic factor in pediatric AML: a Children's Oncology Group report. Blood 121, 1083–1093 (2013).

Perfetto, L. et al. SIGNOR: a database of causal relationships between biological entities. Nucleic Acids Res. 44, D548–D554 (2016).

Xu, Y., Li, N., Xiang, R. & Sun, P. Emerging roles of the p38 MAPK and PI3K/AKT/mTOR pathways in oncogene-induced senescence. Trends Biochem. Sci. 39, 268–276 (2014).

Rahman, M.T. et al. KRAS and MAPK1 gene amplification in type II ovarian carcinomas. Int. J. Mol. Sci. 14, 13748–13762 (2013).

Valtorta, E. et al. KRAS gene amplification in colorectal cancer and impact on response to EGFR-targeted therapy. Int. J. Cancer 133, 1259–1265 (2013).

Cepero, V. et al. MET and KRAS gene amplification mediates acquired resistance to MET tyrosine kinase inhibitors. Cancer Res. 70, 7580–7590 (2010).

Little, A.S. et al. Amplification of the driving oncogene, KRAS or BRAF, underpins acquired resistance to MEK1/2 inhibitors in colorectal cancer cells. Sci. Signal. 4, ra17 (2011).

Cohen, P. & Frame, S. The renaissance of GSK3. Nat. Rev. Mol. Cell Biol. 2, 769–776 (2001).

Shin, I., Kim, S., Song, H., Kim, H.-R.C. & Moon, A. H-Ras-specific activation of Rac-MKK3/6-p38 pathway: its critical role in invasion and migration of breast epithelial cells. J. Biol. Chem. 280, 14675–14683 (2005).

Seong, H.-A., Jung, H., Ichijo, H. & Ha, H. Reciprocal negative regulation of PDK1 and ASK1 signaling by direct interaction and phosphorylation. J. Biol. Chem. 285, 2397–2414 (2010).

Lee, Y.-K., Hwang, J.-T., Kwon, D.Y., Surh, Y.-J. & Park, O.J. Induction of apoptosis by quercetin is mediated through AMPKalpha1/ASK1/p38 pathway. Cancer Lett. 292, 228–236 (2010).

Cardaci, S., Filomeni, G. & Ciriolo, M.R. Redox implications of AMPK-mediated signal transduction beyond energetic clues. J. Cell Sci. 125, 2115–2125 (2012).

Rawlings, J.S., Rosler, K.M. & Harrison, D.A. The JAK/STAT signaling pathway. J. Cell Sci. 117, 1281–1283 (2004).

Nyati, M.K., Morgan, M.A., Feng, F.Y. & Lawrence, T.S. Integration of EGFR inhibitors with radiochemotherapy. Nat. Rev. Cancer 6, 876–885 (2006).

Mitra, S.K., Hanson, D.A. & Schlaepfer, D.D. Focal adhesion kinase: in command and control of cell motility. Nat. Rev. Mol. Cell Biol. 6, 56–68 (2005).

Hendriks, R.W., Yuvaraj, S. & Kil, L.P. Targeting Bruton's tyrosine kinase in B cell malignancies. Nat. Rev. Cancer 14, 219–232 (2014).

Marin, T.M. et al. Shp2 negatively regulates growth in cardiomyocytes by controlling focal adhesion kinase/Src and mTOR pathways. Circ. Res. 103, 813–824 (2008).

Wei, Z.Z. et al. Regulatory role of the JNK-STAT1/3 signaling in neuronal differentiation of cultured mouse embryonic stem cells. Cell. Mol. Neurobiol. 34, 881–893 (2014).

Yang, X. et al. A public genome-scale lentiviral expression library of human ORFs. Nat. Methods 8, 659–661 (2011).

Finck, R. et al. Normalization of mass cytometry data with bead standards. Cytometry A 83, 483–494 (2013).

Zunder, E.R. et al. Palladium-based mass tag cell barcoding with a doublet-filtering scheme and single-cell deconvolution algorithm. Nat. Protoc. 10, 316–333 (2015).

Ward, J.H. Hierarchical grouping to optimize an objective function. J. Am. Stat. Assoc. 58, 236–244 (1963).

Hagberg, A.A., Schult, D.A. & Swart, P.J. Exploring network structure, dynamics, and function using NetworkX. Proc. 7th Python Sci. Conf. 2008, 11–15 (2008).
Acknowledgements
We would like to thank the Bodenmiller laboratory for support and fruitful discussions, the Lehner laboratory and the Mosimann laboratory for sharing equipment. We would especially like to thank A.-C. Gingras, Lunenfeld-Tanenbaum Research Institute, for sharing the pDEST vectors used in this study. This work was supported by the Swiss National Science Foundation (SNSF) R'Equip grant 316030-139220, a SNSF Assistant Professorship grant PP00P3-144874, a Swiss Cancer League grant, the PhosphonetPPM SystemsX grant, and funding from the European Research Council (ERC) under the European Union's Seventh Framework Programme (FP/2007-2013)/ERC Grant Agreement no. 336921. The work of J.D.W. was supported by a National Science Foundation Graduate Research Fellowship under grant no. DGE-1650044 and a Whitaker International Fellowship awarded by the Institute of International Education. The work of D.S. is supported by the Forschungskredit of the University of Zurich Fellowship under grant no. FK-74419-01-01.
Ethics declarations
Competing interests
The authors declare no competing financial interests.
Integrated supplementary information
Supplementary information
About this article
Cite this article
Lun, XK., Zanotelli, V., Wade, J. et al. Influence of node abundance on signaling network state and dynamics analyzed by mass cytometry. Nat Biotechnol 35, 164–172 (2017). https://doi.org/10.1038/nbt.3770
Received:

Accepted:

Published:

Issue Date:

DOI: https://doi.org/10.1038/nbt.3770