Abstract
Improvements in DNA synthesis and sequencing have underpinned comprehensive assessment of gene function in bacteria and eukaryotes. Genome-wide analyses require high-throughput methods to generate mutations and analyze their phenotypes, but approaches to date have been unable to efficiently link the effects of mutations in coding regions or promoter elements in a highly parallel fashion. We report that CRISPR–Cas9 gene editing in combination with massively parallel oligomer synthesis can enable trackable editing on a genome-wide scale. Our method, CRISPR-enabled trackable genome engineering (CREATE), links each guide RNA to homologous repair cassettes that both edit loci and function as barcodes to track genotype–phenotype relationships. We apply CREATE to site saturation mutagenesis for protein engineering, reconstruction of adaptive laboratory evolution experiments, and identification of stress tolerance and antibiotic resistance genes in bacteria. We provide preliminary evidence that CREATE will work in yeast. We also provide a webtool to design multiplex CREATE libraries.
Access options
Subscribe to Journal
Get full journal access for 1 year
$99.00
only $8.25 per issue
All prices are NET prices.
VAT will be added later in the checkout.
Tax calculation will be finalised during checkout.
Rent or Buy article
Get time limited or full article access on ReadCube.
from$8.99
All prices are NET prices.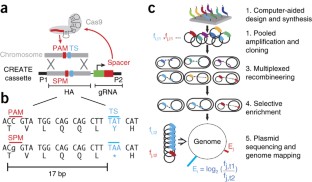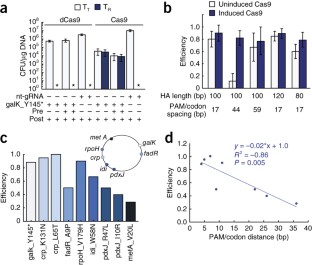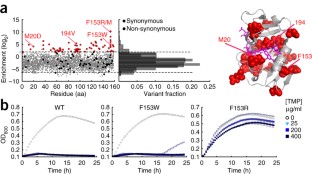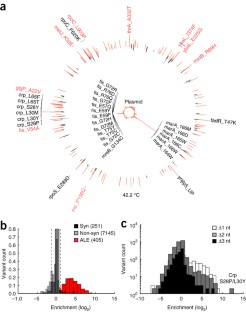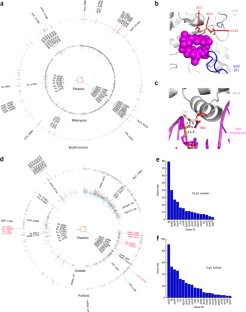 References
1

Findlay, G.M., Boyle, E.A., Hause, R.J., Klein, J.C. & Shendure, J. Saturation editing of genomic regions by multiplex homology-directed repair. Nature 513, 120–123 (2014).

2

Shendure, J. Life after genetics. Genome Med. 6, 86 (2014).

3

Smanski, M.J. et al. Functional optimization of gene clusters by combinatorial design and assembly. Nat. Biotechnol. 32, 1241–1249 (2014).

4

Isaacs, F.J. et al. Precise manipulation of chromosomes in vivo enables genome-wide codon replacement. Science 333, 348–353 (2011).

5

Wang, H.H. et al. Programming cells by multiplex genome engineering and accelerated evolution. Nature 460, 894–898 (2009).

6

Sandoval, N.R. et al. Strategy for directing combinatorial genome engineering in Escherichia coli. Proc. Natl. Acad. Sci. USA 109, 10540–10545 (2012).

7

Wang, H.H. et al. Multiplexed in vivo His-tagging of enzyme pathways for in vitro single-pot multienzyme catalysis. ACS Synth. Biol. 1, 43–52 (2012).

8

Raman, S., Rogers, J.K., Taylor, N.D. & Church, G.M. Evolution-guided optimization of biosynthetic pathways. Proc. Natl. Acad. Sci. USA 111, 17803–17808 (2014).

9

Ho, J.M. et al. Efficient reassignment of a frequent serine codon in wild-type Escherichia coli. ACS Synth. Biol. 5, 163–171 (2016).

10

Warner, J.R., Reeder, P.J., Karimpour-Fard, A., Woodruff, L.B.A. & Gill, R.T. Rapid profiling of a microbial genome using mixtures of barcoded oligonucleotides. Nat. Biotechnol. 28, 856–862 (2010).

11

Wetmore, K.M. et al. Rapid quantification of mutant fitness in diverse bacteria by sequencing randomly bar-coded transposons. MBio 6, e00306–e00315 (2015).

12

Zeitoun, R.I. et al. Multiplexed tracking of combinatorial genomic mutations in engineered cell populations. Nat. Biotechnol. 33, 631–637 (2015).

13

Kim, H. & Kim, J.-S. A guide to genome engineering with programmable nucleases. Nat. Rev. Genet. 15, 321–334 (2014).

14

Cong, L. et al. Multiplex genome engineering using CRISPR/Cas systems. Science 339, 819–823 (2013).

15

Jiang, Y. et al. Multigene editing in the Escherichia coli genome via the CRISPR-Cas9 system. Appl. Environ. Microbiol. 81, 2506–2514 (2015).

16

Li, Y. et al. Metabolic engineering of Escherichia coli using CRISPR-Cas9 meditated genome editing. Metab. Eng. 31, 13–21 (2015).

17

Shalem, O. et al. Genome-scale CRISPR-Cas9 knockout screening in human cells. Science 343, 84–87 (2014).

18

Wang, T., Wei, J.J., Sabatini, D.M. & Lander, E.S. Genetic screens in human cells using the CRISPR-Cas9 system. Science 343, 80–84 (2014).

19

Gilbert, L.A. et al. Genome-scale CRISPR-mediated control of gene repression and activation. Cell 159, 647–661 (2014).

20

Peters, J.M. et al. A comprehensive, CRISPR-based functional analysis of essential genes in bacteria. Cell 165, 1493–1506 (2016).

21

Li, K., Wang, G., Andersen, T., Zhou, P. & Pu, W.T. Optimization of genome engineering approaches with the CRISPR/Cas9 system. PLoS One 9, e105779 (2014).

22

Zhou, Y. et al. High-throughput screening of a CRISPR/Cas9 library for functional genomics in human cells. Nature 509, 487–491 (2014).

23

Chen, S. et al. Genome-wide CRISPR screen in a mouse model of tumor growth and metastasis. Cell 160, 1246–1260 (2015).

24

Mali, P. et al. RNA-guided human genome engineering via Cas9. Science 339, 823–826 (2013).

25

Koike-Yusa, H., Li, Y., Tan, E.-P., Velasco-Herrera, Mdel.C. & Yusa, K. Genome-wide recessive genetic screening in mammalian cells with a lentiviral CRISPR-guide RNA library. Nat. Biotechnol. 32, 267–273 (2014).

26

Pines, G. et al. Codon compression algorithms for saturation mutagenesis. ACS Synth. Biol. 4, 604–614 (2015).

27

Sawitzke, J.A. et al. Probing cellular processes with oligo-mediated recombination and using the knowledge gained to optimize recombineering. J. Mol. Biol. 407, 45–59 (2011).

28

Jiang, W., Bikard, D., Cox, D., Zhang, F. & Marraffini, L.A. RNA-guided editing of bacterial genomes using CRISPR-Cas systems. Nat. Biotechnol. 31, 233–239 (2013).

29

Oh, J.-H. van Pijkeren, J.-P. CRISPR-Cas9-assisted recombineering in Lactobacillus reuteri. Nucleic Acids Res. 42, e131 (2014).

30

Watson, M., Liu, J.-W. & Ollis, D. Directed evolution of trimethoprim resistance in Escherichia coli. FEBS J. 274, 2661–2671 (2007).

31

Toprak, E. et al. Evolutionary paths to antibiotic resistance under dynamically sustained drug selection. Nat. Genet. 44, 101–105 (2011).

32

Iwakura, M. et al. Evolutional design of a hyperactive cysteine- and methionine-free mutant of Escherichia coli dihydrofolate reductase. J. Biol. Chem. 281, 13234–13246 (2006).

33

Boehr, D.D., McElheny, D., Dyson, H.J. & Wright, P.E. The dynamic energy landscape of dihydrofolate reductase catalysis. Science 313, 1638–1642 (2006).

34

Bhabha, G. et al. Divergent evolution of protein conformational dynamics in dihydrofolate reductase. Nat. Struct. Mol. Biol. 20, 1243–1249 (2013).

35

Fisher, M.A. et al. Enhancing tolerance to short-chain alcohols by engineering the Escherichia coli AcrB efflux pump to secrete the non-native substrate n-butanol. ACS Synth. Biol. 3, 30–40 (2014).

36

Foo, J.L. & Leong, S.S.J. Directed evolution of an E. coli inner membrane transporter for improved efflux of biofuel molecules. Biotechnol. Biofuels 6, 81 (2013).

37

Tenaillon, O. et al. The molecular diversity of adaptive convergence. Science 335, 457–461 (2012).

38

Chang, R.L. et al. Structural systems biology evaluation of metabolic thermotolerance in Escherichia coli. Science 340, 1220–1223 (2013).

39

Basak, S. & Jiang, R. Enhancing E. coli tolerance towards oxidative stress via engineering its global regulator cAMP receptor protein (CRP). PLoS One 7, e51179 (2012).

40

Rodríguez-Verdugo, A., Gaut, B.S. & Tenaillon, O. Evolution of Escherichia coli rifampicin resistance in an antibiotic-free environment during thermal stress. BMC Evol. Biol. 13, 50 (2013).

41

Campbell, E.A. et al. Structural mechanism for rifampicin inhibition of bacterial rna polymerase. Cell 104, 901–912 (2001).

42

White, D.G., Goldman, J.D., Demple, B. & Levy, S.B. Role of the acrAB locus in organic solvent tolerance mediated by expression of marA, soxS, or robA in Escherichia coli. J. Bacteriol. 179, 6122–6126 (1997).

43

Nakashima, R., Sakurai, K., Yamasaki, S., Nishino, K. & Yamaguchi, A. Structures of the multidrug exporter AcrB reveal a proximal multisite drug-binding pocket. Nature 480, 565–569 (2011).

44

Kohanski, M.A., Dwyer, D.J., Hayete, B., Lawrence, C.A. & Collins, J.J. A common mechanism of cellular death induced by bactericidal antibiotics. Cell 130, 797–810 (2007).

45

Dwyer, D.J., Kohanski, M.A. & Collins, J.J. Role of reactive oxygen species in antibiotic action and resistance. Curr. Opin. Microbiol. 12, 482–489 (2009).

46

Mills, T.Y., Sandoval, N.R. & Gill, R.T. Cellulosic hydrolysate toxicity and tolerance mechanisms in Escherichia coli. Biotechnol. Biofuels 2, 26 (2009).

47

Glebes, T.Y., Sandoval, N.R., Gillis, J.H. & Gill, R.T. Comparison of genome-wide selection strategies to identify furfural tolerance genes in Escherichia coli. Biotechnol. Bioeng. 112, 129–140 (2015).

48

Browning, D.F. et al. Modulation of CRP-dependent transcription at the Escherichia coli acsP2 promoter by nucleoprotein complexes: anti-activation by the nucleoid proteins FIS and IHF. Mol. Microbiol. 51, 241–254 (2004).

49

Sandoval, N.R., Mills, T.Y., Zhang, M. & Gill, R.T. Elucidating acetate tolerance in E. coli using a genome-wide approach. Metab. Eng. 13, 214–224 (2011).

50

Wolfe, A.J. The acetate switch. Microbiol. Mol. Biol. Rev. 69, 12–50 (2005).

51

Chiang, S.M. & Schellhorn, H.E. Regulators of oxidative stress response genes in Escherichia coli and their functional conservation in bacteria. Arch. Biochem. Biophys. 525, 161–169 (2012).

52

Wang, X. et al. Engineering furfural tolerance in Escherichia coli improves the fermentation of lignocellulosic sugars into renewable chemicals. Proc. Natl. Acad. Sci. USA 110, 4021–4026 (2013).

53

Stoebel, D.M., Hokamp, K., Last, M.S. & Dorman, C.J. Compensatory evolution of gene regulation in response to stress by Escherichia coli lacking RpoS. PLoS Genet. 5, e1000671 (2009).

54

Smith, A.M. et al. Highly-multiplexed barcode sequencing: an efficient method for parallel analysis of pooled samples. Nucleic Acids Res. 38, e142 (2010).

55

van Opijnen, T., Bodi, K.L. & Camilli, A. Tn-seq: high-throughput parallel sequencing for fitness and genetic interaction studies in microorganisms. Nat. Methods 6, 767–772 (2009).

56

Lajoie, M.J. et al. Genomically recoded organisms expand biological functions. Science 342, 357–360 (2013).

57

Ronda, C., Pedersen, L.E., Sommer, M.O.A. & Nielsen, A.T. CRMAGE: CRISPR optimized MAGE recombineering. Sci. Rep. 6, 19452 (2016).

58

Maruyama, T. et al. Increasing the efficiency of precise genome editing with CRISPR-Cas9 by inhibition of nonhomologous end joining. Nat. Biotechnol. 33, 538–542 (2015).

59

Reisch, C.R. & Prather, K.L.J. The no-SCAR (Scarless Cas9 Assisted Recombineering) system for genome editing in Escherichia coli. Sci. Rep. 5, 15096 (2015).

60

Bao, Z. et al. A homology integrated CRISPR-Cas (HI-CRISPR) system for one-step multi-gene disruptions in Saccharomyces cerevisiae. ACS Synth. Biol. 4, 585–594 (2015).

61

Wong, A.S.L. et al. Multiplexed barcoded CRISPR-Cas9 screening enabled by CombiGEM. Proc. Natl. Acad. Sci. USA 113, 2544–2549 (2016).

62

Li, X.-T. et al. Identification of factors influencing strand bias in oligonucleotide-mediated recombination in Escherichia coli. Nucleic Acids Res. 31, 6674–6687 (2003).

63

Costantino, N. & Court, D.L. Enhanced levels of λ Red-mediated recombinants in mismatch repair mutants. Proc. Natl. Acad. Sci. USA 100, 15748–15753 (2003).

64

Wang, H.H., Xu, G., Vonner, A.J. & Church, G. Modified bases enable high-efficiency oligonucleotide-mediated allelic replacement via mismatch repair evasion. Nucleic Acids Res. 39, 7336–7347 (2011).

65

Mosberg, J.A., Gregg, C.J., Lajoie, M.J., Wang, H.H. & Church, G.M. Improving lambda red genome engineering in Escherichia coli via rational removal of endogenous nucleases. PLoS One 7, e44638 (2012).

66

Nyerges, Á. et al. A highly precise and portable genome engineering method allows comparison of mutational effects across bacterial species. Proc. Natl. Acad. Sci. USA 113, 2502–2507 (2016).

67

Alper, H., Moxley, J., Nevoigt, E., Fink, G.R. & Stephanopoulos, G. Engineering yeast transcription machinery for improved ethanol tolerance and production. Science 314, 1565–1568 (2006).

68

Alper, H. & Stephanopoulos, G. Global transcription machinery engineering: a new approach for improving cellular phenotype. Metab. Eng. 9, 258–267 (2007).

69

Gutiérrez-Ríos, R.M. et al. Regulatory network of Escherichia coli: consistency between literature knowledge and microarray profiles. Genome Res. 13, 2435–2443 (2003).

70

Ross, W. et al. A third recognition element in bacterial promoters: DNA binding by the alpha subunit of RNA polymerase. Science 262, 1407–1413 (1993).

71

Ebright, R.H., Ebright, Y.W. & Gunasekera, A. Consensus DNA site for the Escherichia coli catabolite gene activator protein (CAP): CAP exhibits a 450-fold higher affinity for the consensus DNA site than for the E. coli lac DNA site. Nucleic Acids Res. 17, 10295–10305 (1989).

72

Kosuri, S. et al. Scalable gene synthesis by selective amplification of DNA pools from high-fidelity microchips. Nat. Biotechnol. 28, 1295–1299 (2010).

73

Jinek, M. et al. A programmable dual-RNA-guided DNA endonuclease in adaptive bacterial immunity. Science 337, 816–821 (2012).

74

Qi, L.S. et al. Repurposing CRISPR as an RNA-guided platform for sequence-specific control of gene expression. Cell 152, 1173–1183 (2013).

75

Firth, A.E. & Patrick, W.M. GLUE-IT and PEDEL-AA: new programmes for analyzing protein diversity in randomized libraries. Nucleic Acids Res. 36, W281–5 (2008).

76

Datta, S., Costantino, N. & Court, D.L. A set of recombineering plasmids for gram-negative bacteria. Gene 379, 109–115 (2006).

77

Prior, J.E., Lynch, M.D. & Gill, R.T. Broad-host-range vectors for protein expression across gram negative hosts. Biotechnol. Bioeng. 106, 326–332 (2010).

78

Hamady, M., Walker, J.J., Harris, J.K., Gold, N.J. & Knight, R. Error-correcting barcoded primers for pyrosequencing hundreds of samples in multiplex. Nat. Methods 5, 235–237 (2008).

79

Edgar, R.C. Search and clustering orders of magnitude faster than BLAST. Bioinformatics 26, 2460–2461 (2010).

80

Farasat, I. et al. Efficient search, mapping, and optimization of multi-protein genetic systems in diverse bacteria. Mol. Syst. Biol. 10, 731 (2014).

81

Bakan, A., Meireles, L.M. & Bahar, I. ProDy: protein dynamics inferred from theory and experiments. Bioinformatics 27, 1575–1577 (2011).

82

Bateman, A. et al. The Pfam protein families database. Nucleic Acids Res. 32, D138–D141 (2004).

83

Schrödinger, LLC. The PyMOL Molecular Graphics System, Version 1.3r1 (2010).

84

Nakashima, R. et al. Structural basis for the inhibition of bacterial multidrug exporters. Nature 500, 102–106 (2013).

85

Hung, L.-W. et al. Crystal structure of AcrB complexed with linezolid at 3.5 Å resolution. J. Struct. Funct. Genomics 14, 71–75 (2013).

86

Rice, P.A., Yang, S., Mizuuchi, K. & Nash, H.A. Crystal structure of an IHF-DNA complex: a protein-induced DNA U-turn. Cell 87, 1295–1306 (1996).

87

Molodtsov, V. et al. X-ray crystal structures of the Escherichia coli RNA polymerase in complex with benzoxazinorifamycins. J. Med. Chem. 56, 4758–4763 (2013).

88

Murakami, K.S., Masuda, S. & Darst, S.A. Structural basis of transcription initiation: RNA polymerase holoenzyme at 4 A resolution. Science 296, 1280–1284 (2002).

89

Rhee, S., Martin, R.G., Rosner, J.L. & Davies, D.R. A novel DNA-binding motif in MarA: the first structure for an AraC family transcriptional activator. Proc. Natl. Acad. Sci. USA 95, 10413–10418 (1998).

90

Kwon, H.J., Bennik, M.H., Demple, B. & Ellenberger, T. Crystal structure of the Escherichia coli Rob transcription factor in complex with DNA. Nat. Struct. Biol. 7, 424–430 (2000).
Acknowledgements
This work would not have been possible without the insights and efforts of a number of talented individuals. We would like to thank T. Mansell, N. Boyle, K. Fujimori, and H. Chilton for their input, feedback, guidance and contributions to this work. This work was supported by the US Department of Energy (Grant DE-SC0008812) and CAPES foundation (grant #0315133).
Ethics declarations
Competing interests
R.T.G. and A.D.G. have a patent application pending (WO/2015/123339) whose value may be affected by the publication of this paper. R.T.G., A.D.G. and A.L.H.-E. have financial interests in Muse Biotechnology Inc., which is commercializing the CREATE technology.
Integrated supplementary information
Supplementary information
About this article
Cite this article
Garst, A., Bassalo, M., Pines, G. et al. Genome-wide mapping of mutations at single-nucleotide resolution for protein, metabolic and genome engineering. Nat Biotechnol 35, 48–55 (2017). https://doi.org/10.1038/nbt.3718
Received:

Accepted:

Published:

Issue Date: