Abstract
Non-invasive imaging of gene expression can be used to track implanted cells in vivo but often requires the addition of an exogenous contrast agent that may have limited tissue access1. We show that the urea transporter (UT-B) can be used as a gene reporter, where reporter expression is detected using 1H MRI measurements of UT-B-mediated increases in plasma membrane water exchange. HEK cells transfected with the reporter showed an increased apparent water exchange rate (AXR), which increased in line with UT-B expression. AXR values measured in vivo, in UT-B-expressing HEK cell xenografts, were significantly higher (about twofold, P < 0.0001), compared with non-expressing controls. Fluorescence imaging of a red fluorescent protein (mStrawberry), co-expressed with UT-B showed that UT-B expression correlated in a linear fashion with AXR. Transduction of rat brain cells in situ with a lentiviral vector expressing UT-B resulted in about a twofold increase in AXR at the site of virus injection.
Access options
Subscribe to Journal
Get full journal access for 1 year
$259.00
only $21.58 per issue
All prices are NET prices.
VAT will be added later in the checkout.
Rent or Buy article
Get time limited or full article access on ReadCube.
from$8.99
All prices are NET prices.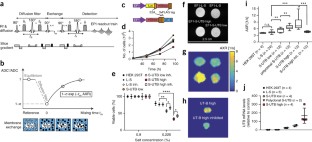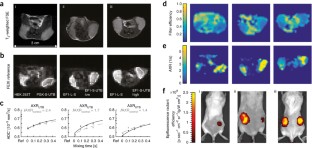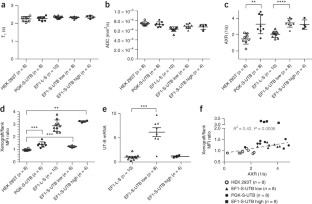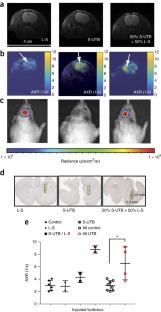 Accession codes
Accessions
NCBI Reference Sequence
References
1

Weissleder, R. et al. In vivo magnetic resonance imaging of transgene expression. Nat. Med. 6, 351–355 (2000).

2

Kircher, M.F., Gambhir, S.S. & Grimm, J. Noninvasive cell-tracking methods. Nat. Rev. Clin. Oncol. 8, 677–688 (2011).

3

Ahrens, E.T. & Bulte, J.W. Tracking immune cells in vivo using magnetic resonance imaging. Nat. Rev. Immunol. 13, 755–763 (2013).

4

Vandsburger, M.H., Radoul, M., Cohen, B. & Neeman, M. MRI reporter genes: applications for imaging of cell survival, proliferation, migration and differentiation. NMR Biomed. 26, 872–884 (2013).

5

Patrick, P.S. et al. Dual-modality gene reporter for in vivo imaging. Proc. Natl. Acad. Sci. USA 111, 415–420 (2014).

6

Deans, A.E. et al. Cellular MRI contrast via coexpression of transferrin receptor and ferritin. Magn. Reson. Med. 56, 51–59 (2006).

7

Zurkiya, O., Chan, A.W. & Hu, X. MagA is sufficient for producing magnetic nanoparticles in mammalian cells, making it an MRI reporter. Magn. Reson. Med. 59, 1225–1231 (2008).

8

Gilad, A.A. et al. Artificial reporter gene providing MRI contrast based on proton exchange. Nat. Biotechnol. 25, 217–219 (2007).

9

Farrar, C.T. et al. Establishing the lysine-rich protein CEST reporter gene as a CEST MR imaging detector for oncolytic virotherapy. Radiology 275, 746–754 (2015).

10

Patrick, P.S. et al. Detection of transgene expression using hyperpolarized 13C urea and diffusion-weighted magnetic resonance spectroscopy. Magn. Reson. Med. 73, 1401–1406 (2015).

11

Ogami, A., Miyazaki, H., Niisato, N., Sugimoto, T. & Marunaka, Y. UT-B1 urea transporter plays a noble role as active water transporter in C6 glial cells. Biochem. Biophys. Res. Commun. 351, 619–624 (2006).

12

Smouha, E. & Neeman, M. Compartmentation of intracellular water in multicellular tumor spheroids: diffusion and relaxation NMR. Magn. Reson. Med. 46, 68–77 (2001).

13

Lasic衡, S., Nilsson, M., Lätt, J., Ståhlberg, F. & Topgaard, D. Apparent exchange rate mapping with diffusion MRI. Magn. Reson. Med. 66, 356–365 (2011).

14

Deliolanis, N.C. et al. Performance of the red-shifted fluorescent proteins in deep-tissue molecular imaging applications. J. Biomed. Opt. 13, 044008 (2008).

15

Weissleder, R. et al. MR imaging and scintigraphy of gene expression through melanin induction. Radiology 204, 425–429 (1997).

16

Cohen, B., Dafni, H., Meir, G., Harmelin, A. & Neeman, M. Ferritin as an endogenous MRI reporter for noninvasive imaging of gene expression in C6 glioma tumors. Neoplasia 7, 109–117 (2005).

17

van Zijl, P.C. & Yadav, N.N. Chemical exchange saturation transfer (CEST): what is in a name and what isn't? Magn. Reson. Med. 65, 927–948 (2011).

18

McMahon, M.T. et al. Quantifying exchange rates in chemical exchange saturation transfer agents using the saturation time and saturation power dependencies of the magnetization transfer effect on the magnetic resonance imaging signal (QUEST and QUESP): pH calibration for poly-L-lysine and a starburst dendrimer. Magn. Reson. Med. 55, 836–847 (2006).

19

Zaiss, M., Schmitt, B. & Bachert, P. Quantitative separation of CEST effect from magnetization transfer and spillover effects by Lorentzian-line-fit analysis of z-spectra. J. Magn. Reson. 211, 149–155 (2011).

20

Welvaert, M. & Rosseel, Y. On the definition of signal-to-noise ratio and contrast-to-noise ratio for FMRI data. PLoS One 8, e77089 (2013).

21

Janjic, J.M. & Ahrens, E.T. Fluorine-containing nanoemulsions for MRI cell tracking. Wiley Interdiscip. Rev. Nanomed. Nanobiotechnol. 1, 492–501 (2009).

22

Rabolli, V. et al. Critical role of aquaporins in interleukin 1β (IL-1β)-induced inflammation. J. Biol. Chem. 289, 13937–13947 (2014).

23

Yang, B. & Verkman, A.S. Analysis of double knockout mice lacking aquaporin-1 and urea transporter UT-B. Evidence for UT-B-facilitated water transport in erythrocytes. J. Biol. Chem. 277, 36782–36786 (2002).

24

Oh, S.H. et al. Distortion correction in EPI at ultra-high-field MRI using PSF mapping with optimal combination of shift detection dimension. Magn. Reson. Med. 68, 1239–1246 (2012).

25

Delakis, I., Moore, E.M., Leach, M.O. & De Wilde, J.P. Developing a quality control protocol for diffusion imaging on a clinical MRI system. Phys. Med. Biol. 49, 1409–1422 (2004).

26

Lavdas, I., Behan, K.C., Papadaki, A., McRobbie, D.W. & Aboagye, E.O. A phantom for diffusion-weighted MRI (DW-MRI). J. Magn. Reson. Imaging 38, 173–179 (2013).

27

Miyoshi, H., Blömer, U., Takahashi, M., Gage, F.H. & Verma, I.M. Development of a self-inactivating lentivirus vector. J. Virol. 72, 8150–8157 (1998).

28

Zufferey, R., Nagy, D., Mandel, R.J., Naldini, L. & Trono, D. Multiply attenuated lentiviral vector achieves efficient gene delivery in vivo. Nat. Biotechnol. 15, 871–875 (1997).

29

Nilsson, M. et al. Noninvasive mapping of water diffusional exchange in the human brain using filter-exchange imaging. Magn. Reson. Med. 69, 1572–1580 (2013).
Acknowledgements
This work was supported by a Cancer Research UK Programme grant to K.M.B. (17242) and by the CRUK-EPSRC Imaging Centre in Cambridge and Manchester (16465). F.S. is in receipt of funding from the Alexander von Humboldt Foundation in the form of a Feodor Lynen Research Fellowship. We thank S. Patrick for the PGK-S-UTB cell line and his help with the UT-B functional assay and D. Honess and D. McIntyre for helpful suggestions and support with the MRI experiments. We thank M. Strzelecki for cell sorting (Flow Cytometry Facility, Cancer Research UK CI), and the Histopathology Facility and the BRU unit (Cancer Research UK CI) for their help. Lentiviral vector, pBOBI27 was a gift from the Verma laboratory, Salk Institute, La Jolla, USA.
Ethics declarations
Competing interests
The authors declare no competing financial interests.
Additional information
Publisher's note: Springer Nature remains neutral with regard to jurisdictional claims in published maps and institutional affiliations.
Integrated supplementary information
Supplementary information
Supplementary Figures 1–9, Supplementary Tables 1 and 2, and Supplementary Notes 1–3 (PDF 1760 kb)
About this article
Cite this article
Schilling, F., Ros, S., Hu, D. et al. MRI measurements of reporter-mediated increases in transmembrane water exchange enable detection of a gene reporter. Nat Biotechnol 35, 75–80 (2017). https://doi.org/10.1038/nbt.3714
Received:

Accepted:

Published:

Issue Date: