Abstract
Despite the importance of DNA methylation in health and disease, technologies to readily manipulate methylation of specific sequences for functional analysis and therapeutic purposes are lacking. Here we adapt the previously described dCas9–SunTag for efficient, targeted demethylation of specific DNA loci. The original SunTag consists of ten copies of the GCN4 peptide separated by 5-amino-acid linkers. To achieve efficient recruitment of an anti-GCN4 scFv fused to the ten-eleven (TET) 1 hydroxylase, which induces demethylation, we changed the linker length to 22 amino acids. The system attains demethylation efficiencies >50% in seven out of nine loci tested. Four of these seven loci showed demethylation of >90%. We demonstrate targeted demethylation of CpGs in regulatory regions and demethylation-dependent 1.7- to 50-fold upregulation of associated genes both in cell culture (embryonic stem cells, cancer cell lines, primary neural precursor cells) and in vivo in mouse fetuses.
Relevant articles
Open Access articles citing this article.
Wing Fuk Chan

,

Hannah D. Coughlan

…

Rhys S. Allan

Nature Communications Open Access 23 September 2022

Yang Li

,

Baike Liu

…

Yuan Yin

Clinical Epigenetics Open Access 20 July 2022

Tianxia Lan

,

Haiying Que

…

Xiawei Wei

Molecular Cancer Open Access 11 March 2022
Access options
Subscribe to Journal
Get full journal access for 1 year
$99.00
only $8.25 per issue
All prices are NET prices.
VAT will be added later in the checkout.
Tax calculation will be finalised during checkout.
Buy article
Get time limited or full article access on ReadCube.
$32.00
All prices are NET prices.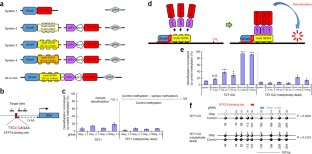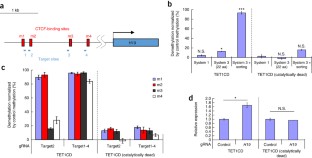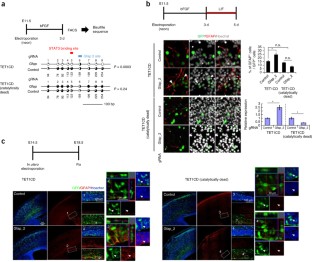 References
Razin, A. et al. Variations in DNA methylation during mouse cell differentiation in vivo and in vitro. Proc. Natl. Acad. Sci. USA 81, 2275–2279 (1984).

Reik, W. & Dean, W. DNA methylation and mammalian epigenetics. Electrophoresis 22, 2838–2843 (2001).

Bird, A.P. & Wolffe, A.P. Methylation-induced repression--belts, braces, and chromatin. Cell 99, 451–454 (1999).

Feinberg, A.P. & Tycko, B. The history of cancer epigenetics. Nat. Rev. Cancer 4, 143–153 (2004).

Carey, N., Marques, C.J. & Reik, W. DNA demethylases: a new epigenetic frontier in drug discovery. Drug Discov. Today 16, 683–690 (2011).

Oki, Y. & Issa, J.P. Review: recent clinical trials in epigenetic therapy. Rev. Recent Clin. Trials 1, 169–182 (2006).

Porteus, M.H. & Carroll, D. Gene targeting using zinc finger nucleases. Nat. Biotechnol. 23, 967–973 (2005).

Miller, J.C. et al. A TALE nuclease architecture for efficient genome editing. Nat. Biotechnol. 29, 143–148 (2011).

Jinek, M. et al. A programmable dual-RNA-guided DNA endonuclease in adaptive bacterial immunity. Science 337, 816–821 (2012).

Mali, P. et al. RNA-guided human genome engineering via Cas9. Science 339, 823–826 (2013).

Cong, L. et al. Multiplex genome engineering using CRISPR/Cas systems. Science 339, 819–823 (2013).

Chen, H. et al. Induced DNA demethylation by targeting Ten-Eleven Translocation 2 to the human ICAM-1 promoter. Nucleic Acids Res. 42, 1563–1574 (2014).

Maeder, M.L. et al. Targeted DNA demethylation and activation of endogenous genes using programmable TALE-TET1 fusion proteins. Nat. Biotechnol. 31, 1137–1142 (2013).

Tahiliani, M. et al. Conversion of 5-methylcytosine to 5-hydroxymethylcytosine in mammalian DNA by MLL partner TET1. Science 324, 930–935 (2009).

Takizawa, T. et al. DNA methylation is a critical cell-intrinsic determinant of astrocyte differentiation in the fetal brain. Dev. Cell 1, 749–758 (2001).

Xiong, Z. & Laird, P.W. COBRA: a sensitive and quantitative DNA methylation assay. Nucleic Acids Res. 25, 2532–2534 (1997).

Tanenbaum, M.E., Gilbert, L.A., Qi, L.S., Weissman, J.S. & Vale, R.D. A protein-tagging system for signal amplification in gene expression and fluorescence imaging. Cell 159, 635–646 (2014).

Pédelacq, J.D., Cabantous, S., Tran, T., Terwilliger, T.C. & Waldo, G.S. Engineering and characterization of a superfolder green fluorescent protein. Nat. Biotechnol. 24, 79–88 (2006).

Frommer, M. et al. A genomic sequencing protocol that yields a positive display of 5-methylcytosine residues in individual DNA strands. Proc. Natl. Acad. Sci. USA 89, 1827–1831 (1992).

Bell, A.C. & Felsenfeld, G. Methylation of a CTCF-dependent boundary controls imprinted expression of the Igf2 gene. Nature 405, 482–485 (2000).

Tabata, H. & Nakajima, K. Neurons tend to stop migration and differentiate along the cortical internal plexiform zones in the Reelin signal-deficient mice. J. Neurosci. Res. 69, 723–730 (2002).

Hsu, P.D. et al. DNA targeting specificity of RNA-guided Cas9 nucleases. Nat. Biotechnol. 31, 827–832 (2013).

Bultmann, S. et al. Targeted transcriptional activation of silent oct4 pluripotency gene by combining designer TALEs and inhibition of epigenetic modifiers. Nucleic Acids Res. 40, 5368–5377 (2012).

Chen, S. et al. A large-scale in vivo analysis reveals that TALENs are significantly more mutagenic than ZFNs generated using context-dependent assembly. Nucleic Acids Res. 41, 2769–2778 (2013).

Xu, X. et al. A CRISPR-based approach for targeted DNA demethylation. Cell Discov. 2, 16009 (2016).

Konermann, S. et al. Optical control of mammalian endogenous transcription and epigenetic states. Nature 500, 472–476 (2013).

Heller, E.A. et al. Locus-specific epigenetic remodeling controls addiction- and depression-related behaviors. Nat. Neurosci. 17, 1720–1727 (2014).

Stolzenburg, S. et al. Stable oncogenic silencing in vivo by programmable and targeted de novo DNA methylation in breast cancer. Oncogene 34, 5427–5435 (2015).

Li, K. et al. Manipulation of prostate cancer metastasis by locus-specific modification of the CRMP4 promoter region using chimeric TALE DNA methyltransferase and demethylase. Oncotarget 6, 10030–10044 (2015).

Hsieh, J., Nakashima, K., Kuwabara, T., Mejia, E. & Gage, F.H. Histone deacetylase inhibition-mediated neuronal differentiation of multipotent adult neural progenitor cells. Proc. Natl. Acad. Sci. USA 101, 16659–16664 (2004).

Nakashima, K. et al. Synergistic signaling in fetal brain by STAT3-Smad1 complex bridged by p300. Science 284, 479–482 (1999).

Miura, F., Enomoto, Y., Dairiki, R. & Ito, T. Amplification-free whole-genome bisulfite sequencing by post-bisulfite adaptor tagging. Nucleic Acids Res. 40, e136 (2012).
Acknowledgements
This work was supported by the Basic Science and Platform Technology Program for Innovative Biological Medicine from the Ministry of Education, Culture, Sports, Science and Technology, Japan (MEXT); The Japan Agency for Medical Research and Development (AMED) to I.H. and AMED-CREST and AMED to K.N.; and a Grant-in-Aid for Challenging Exploratory Research (grant number 15K14452) to K.N. The authors plan to make the reagents widely available to the academic community through Addgene (http://www.addgene.org/?gclid=CKvf88_a2ccCFQNwvAodSbUGiQ). We appreciate the technical assistance provided by The Research Support Center, Research Center for Human Disease Modeling, Kyushu University Graduate School of Medical Sciences.
Ethics declarations
Competing interests
The authors declare no competing financial interests.
Integrated supplementary information
Supplementary information
About this article
Cite this article
Morita, S., Noguchi, H., Horii, T. et al. Targeted DNA demethylation in vivo using dCas9–peptide repeat and scFv–TET1 catalytic domain fusions. Nat Biotechnol 34, 1060–1065 (2016). https://doi.org/10.1038/nbt.3658
Received:

Accepted:

Published:

Issue Date:

DOI: https://doi.org/10.1038/nbt.3658