Relevant articles
Open Access articles citing this article.
Philip Dettinger

,

Tobias Kull

…

Timm Schroeder

Nature Communications Open Access 30 May 2022

Jonathan Dawson

,

Saurabh Pandey

…

Ralf Welsch

Plant Methods Open Access 18 May 2022

Hideya Aragaki

,

Katsunori Ogoh

…

Kazuhiro Aoki

Scientific Reports Open Access 17 February 2022
Access options
Subscribe to Journal
Get full journal access for 1 year
$99.00
only $8.25 per issue
All prices are NET prices.
VAT will be added later in the checkout.
Tax calculation will be finalised during checkout.
Buy article
Get time limited or full article access on ReadCube.
$32.00
All prices are NET prices.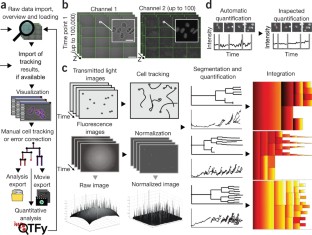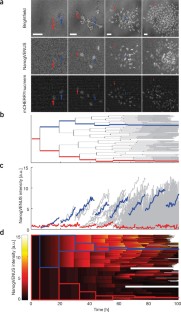 References
Schroeder, T. Imaging stem-cell-driven regeneration in mammals. Nature 453, 345–351 (2008).

Etzrodt, M., Endele, M. & Schroeder, T. Quantitative single-cell approaches to stem cell research. Cell Stem Cell 15, 546–558 (2014).

Hoppe, P.S., Coutu, D.L. & Schroeder, T. Single-cell technologies sharpen up mammalian stem cell research. Nat. Cell Biol. 16, 919–927 (2014).

Sulston, J.E. & Horvitz, H.R. Post-embryonic cell lineages of the nematode, Caenorhabditis elegans. Dev. Biol. 56, 110–156 (1977).

Schroeder, T. Long-term single-cell imaging of mammalian stem cells. Nat. Methods 8 Suppl, S30–S35 (2011).

Meijering, E. Cell segmentation: 50 years down the road. IEEE Signal Process. Mag. 29, 140–145 (2012).

Maška, M. et al. A benchmark for comparison of cell tracking algorithms. Bioinformatics 30, 1609–1617 (2014).

Buggenthin, F. et al. An automatic method for robust and fast cell detection in bright field images from high-throughput microscopy. BMC Bioinformatics 14, 297 (2013).

Meijering, E., Dzyubachyk, O., Smal, I. & van Cappellen, W.A. Tracking in cell and developmental biology. Semin. Cell Dev. Biol. 20, 894–902 (2009).

Meijering, E., Dzyubachyk, O. & Smal, I. Methods for cell and particle tracking. Methods Enzymol. 504, 183–200 (2012).

Eliceiri, K.W. et al. Biological imaging software tools. Nat. Methods 9, 697–710 (2012).

Huth, J. et al. TimeLapseAnalyzer: multi-target analysis for live-cell imaging and time-lapse microscopy. Comput. Methods Programs Biomed. 104, 227–234 (2011).

Klein, J. et al. TLM-Tracker: software for cell segmentation, tracking and lineage analysis in time-lapse microscopy movies. Bioinformatics 28, 2276–2277 (2012).

de Chaumont, F. et al. Icy: an open bioimage informatics platform for extended reproducible research. Nat. Methods 9, 690–696 (2012).

Schindelin, J. et al. Fiji: an open-source platform for biological-image analysis. Nat. Methods 9, 676–682 (2012).

Jaqaman, K. et al. Robust single-particle tracking in live-cell time-lapse sequences. Nat. Methods 5, 695–702 (2008).

Carpenter, A.E. et al. CellProfiler: image analysis software for identifying and quantifying cell phenotypes. Genome Biol. 7, R100 (2006).

Carpenter, A.E., Kamentsky, L. & Eliceiri, K.W. A call for bioimaging software usability. Nat. Methods 9, 666–670 (2012).

Rieger, M.A., Hoppe, P.S., Smejkal, B.M., Eitelhuber, A.C. & Schroeder, T. Hematopoietic cytokines can instruct lineage choice. Science 325, 217–218 (2009).

Eilken, H.M., Nishikawa, S. & Schroeder, T. Continuous single-cell imaging of blood generation from haemogenic endothelium. Nature 457, 896–900 (2009).

Hoppe, P.S. et al. Early myeloid lineage choice is not initiated by random PU.1 to GATA1 protein ratios. Nature (2016) http://dx.doi.org/10.1038/nature18320

Filipczyk, A. et al. Network plasticity of pluripotency transcription factors in embryonic stem cells. Nat. Cell Biol. 17, 1235–1246 (2015).

Ortega, F. et al. Oligodendrogliogenic and neurogenic adult subependymal zone neural stem cells constitute distinct lineages and exhibit differential responsiveness to Wnt signalling. Nat. Cell Biol. 15, 602–613 (2013).

Schwarzfischer, M. et al. Efficient fluorescence image normalization for time lapse movies. in ICSB 2011 Work. Microsc. Image Anal. with Appl. Biol. (2011).

Filipczyk, A. et al. Biallelic expression of nanog protein in mouse embryonic stem cells. Cell Stem Cell 13, 12–13 (2013).

Schneider, C.A., Rasband, W.S. & Eliceiri, K.W. NIH Image to ImageJ: 25 years of image analysis. Nat. Methods 9, 671–675 (2012).

Winter, M. et al. Vertebrate neural stem cell segmentation, tracking and lineaging with validation and editing. Nat. Protoc. 6, 1942–1952 (2011).

Okita, C., Sato, M. & Schroeder, T. Generation of optimized yellow and red fluorescent proteins with distinct subcellular localization. Biotechniques 36, 418–422, 424 (2004).

Ester, M., Kriegel, H.-P., Sander, J. & Xu, X. A density-based algorithm for discovering clusters in large spatial databases with noise. in Proc. Second Int. Conf. Knowl. Discov. Data Min. 226–231 (1996).

Otsu, N. A threshold selection method from gray-level histograms. IEEE Trans. Syst. Man. Cybern. 9, 62–66 (1979).

Sahoo, P. Soltani, S. & Wong, A.K. A survey of thresholding techniques. Comput. Vis. Graph. Image Process. 41, 233–260 (1988).
Acknowledgements
This work was supported by the German Federal Ministry of Education and Research (BMBF), the European Research Council starting grant (Latent Causes) and the BioSysNet (Bavarian Research Network for Molecular Biosystems) to F.T., HFSP and the SNF to T.S., and the German Research Foundation (DFG) with SPPs 1395 (InKoMBio) to F.T., 1356 to C.M., F.T. and T.S. T.S., S.S. and O.H. acknowledge financial support for this project from SystemsX.ch.
Ethics declarations
Competing interests
The authors declare no competing financial interests.
Additional information
Editor's note: This article has been peer reviewed.
Integrated supplementary information
Supplementary information
About this article
Cite this article
Hilsenbeck, O., Schwarzfischer, M., Skylaki, S. et al. Software tools for single-cell tracking and quantification of cellular and molecular properties. Nat Biotechnol 34, 703–706 (2016). https://doi.org/10.1038/nbt.3626
Published:

Issue Date:

DOI: https://doi.org/10.1038/nbt.3626