Abstract
Expansion microscopy (ExM) enables imaging of preserved specimens with nanoscale precision on diffraction-limited instead of specialized super-resolution microscopes. ExM works by physically separating fluorescent probes after anchoring them to a swellable gel. The first ExM method did not result in the retention of native proteins in the gel and relied on custom-made reagents that are not widely available. Here we describe protein retention ExM (proExM), a variant of ExM in which proteins are anchored to the swellable gel, allowing the use of conventional fluorescently labeled antibodies and streptavidin, and fluorescent proteins. We validated and demonstrated the utility of proExM for multicolor super-resolution (∼70 nm) imaging of cells and mammalian tissues on conventional microscopes.
Relevant articles
Open Access articles citing this article.
Julia M. Michalska

,

Julia Lyudchik

…

Johann G. Danzl

Nature Biotechnology Open Access 31 August 2023

Licia Anna Pugliese

,

Valentina De Lorenzi

…

Francesco Cardarelli

Scientific Reports Open Access 16 August 2023

Woonggi La

,

Junyoung Seo

…

Jae-Byum Chang

Scientific Reports Open Access 24 July 2023
Access options
Subscribe to this journal
Receive 12 print issues and online access
$209.00 per year
only $17.42 per issue
Rent or buy this article
Prices vary by article type
from$1.95
to$39.95
Prices may be subject to local taxes which are calculated during checkout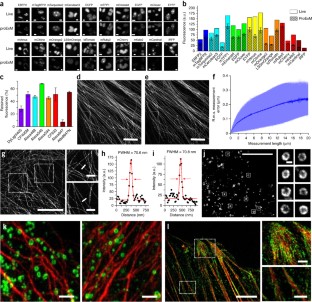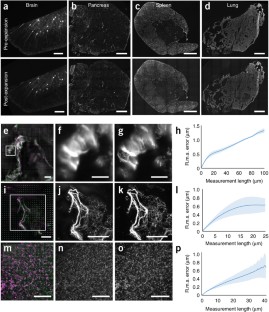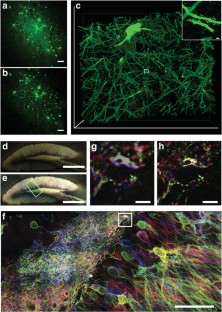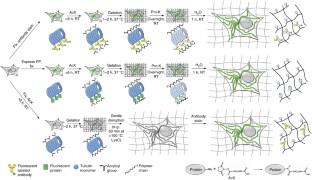 References
Chen, F., Tillberg, P.W. & Boyden, E.S. Optical imaging. Expansion microscopy. Science 347, 543–548 (2015).

Laemmli, U.K. Cleavage of structural proteins during the assembly of the head of bacteriophage T4. Nature 227, 680–685 (1970).

Hunt, N.C., Attanoos, R. & Jasani, B. High temperature antigen retrieval and loss of nuclear morphology: a comparison of microwave and autoclave techniques. J. Clin. Pathol. 49, 767–770 (1996).

Jekel, P.A., Weijer, W.J. & Beintema, J.J. Use of endoproteinase Lys-C from Lysobacter enzymogenes in protein sequence analysis. Anal. Biochem. 134, 347–354 (1983).

Wu, C.C., MacCoss, M.J., Howell, K.E. & Yates, J.R. III. A method for the comprehensive proteomic analysis of membrane proteins. Nat. Biotechnol. 21, 532–538 (2003).

Sniegowski, J.A., Phail, M.E. & Wachter, R.M. Maturation efficiency, trypsin sensitivity, and optical properties of Arg96, Glu222, and Gly67 variants of green fluorescent protein. Biochem. Biophys. Res. Commun. 332, 657–663 (2005).

Bokman, S.H. & Ward, W.W. Renaturation of Aequorea gree-fluorescent protein. Biochem. Biophys. Res. Commun. 101, 1372–1380 (1981).

Seneviratne, U. et al. S-nitrosation of proteins relevant to Alzheimer's disease during early stages of neurodegeneration. Proc. Natl. Acad. Sci. USA 113, 4152–4157 (2016).

Huang, B., Jones, S.A., Brandenburg, B. & Zhuang, X. Whole-cell 3D STORM reveals interactions between cellular structures with nanometer-scale resolution. Nat. Methods 5, 1047–1052 (2008).

Rego, E.H. et al. Nonlinear structured-illumination microscopy with a photoswitchable protein reveals cellular structures at 50-nm resolution. Proc. Natl. Acad. Sci. USA 109, E135–E143 (2012).

Bates, M., Huang, B., Dempsey, G.T. & Zhuang, X. Multicolor super-resolution imaging with photo-switchable fluorescent probes. Science 317, 1749–1753 (2007).

Bossi, M. et al. Multicolor far-field fluorescence nanoscopy through isolated detection of distinct molecular species. Nano Lett. 8, 2463–2468 (2008).

Cai, D., Cohen, K.B., Luo, T., Lichtman, J.W. & Sanes, J.R. Improved tools for the Brainbow toolbox. Nat. Methods 10, 540–547 (2013).

Livet, J. et al. Transgenic strategies for combinatorial expression of fluorescent proteins in the nervous system. Nature 450, 56–62 (2007).

Schnell, U., Dijk, F., Sjollema, K.A. & Giepmans, B.N.G. Immunolabeling artifacts and the need for live-cell imaging. Nat. Methods 9, 152–158 (2012).

Hackstadt, T. Steric hindrance of antibody binding to surface proteins of Coxiella burnetti by phase I lipopolysaccharide. Infect. Immun. 56, 802–807 (1988).

Jiménez, N. & Post, J.A. A novel approach for intracellular 3D immuno-labeling for electron tomography. Traffic 13, 926–933 (2012).

Randall, K.J. & Pearse, G. A dual-label technique for the immunohistochemical demonstration of T-lymphocyte subsets in formalin-fixed, paraffin-embedded rat lymphoid tissue. Toxicol. Pathol. 36, 795–804 (2008).

Kakimoto, K., Takekoshi, S., Miyajima, K. & Osamura, R.Y. Hypothesis for the mechanism for heat-induced antigen retrieval occurring on fresh frozen sections without formalin-fixation in immunohistochemistry. J. Mol. Histol. 39, 389–399 (2008).

Wachter, R.M. & Remington, S.J. Sensitivity of the yellow variant of green fluorescent protein to halides and nitrate. Curr. Biol. 9, R628–R629 (1999).

Carpenter, A.E. et al. CellProfiler: image analysis software for identifying and quantifying cell phenotypes. Genome Biol. 7, R100 (2006).

Kroon, D.-J. B-splineGrid Image and Point based Registration. Matlab Cent. at http://www.mathworks.com/matlabcentral/fileexchange/20057-b-spline-grid–image-and-point-based-registration.

Lowe, D.G. Distinctive image features from scale-invariant keypoints. Int. J. Comput. Vis. 60, 91–110 (2004).

Vedaldi, A. & Fulkerson, B. Vlfeat. Proc. Int. Conf. Multimed. – MM 1469 (ACM Press, 2010).

English, B.P. & Singer, R.H. A three-camera imaging microscope for high-speed single-molecule tracking and super-resolution imaging in living cells. SPIE Nanosci. + Eng. (eds. Mohseni, H., Agahi, M.H. & Razeghi, M.) 955008 (International Society for Optics and Photonics, 2015).

Edelstein, A., Amodaj, N., Hoover, K., Vale, R. & Stuurman, N. Computer control of microscopes using μManager. Curr. Protoc. Mol. Biol. Chapter 14, Unit 14.20 (2010).

Dedecker, P., Duwé, S., Neely, R.K. & Zhang, J. Localizer: fast, accurate, open-source, and modular software package for superresolution microscopy. J. Biomed. Opt. 17, 126008 (2012).

Mortensen, K.I., Churchman, L.S., Spudich, J.A. & Flyvbjerg, H. Optimized localization analysis for single-molecule tracking and super-resolution microscopy. Nat. Methods 7, 377–381 (2010).
Acknowledgements
We acknowledge N. Pak for assistance with perfusions. For funding, E.S.B. acknowledges the MIT Media Lab, the MIT Brain and Cognitive Sciences Department, the New York Stem Cell Foundation-Robertson Investigator Award, National Institutes of Health (NIH) Transformative Award 1R01GM104948, NIH Director's Pioneer Award 1DP1NS087724, NIH 1R01EY023173 and NIH 1U01MH106011, the MIT McGovern Institute, and the Open Philanthropy Project. F.C. acknowledges the National Science Foundation fellowship and Poitras Fellowship. A.M. was supported by T32 GM007484, Integrative Neuronal Systems, P.W.T. acknowledges the Hertz Fellowship. B.P.E. was supported by the Howard Hughes Medical Institute. E.S.B. and S.R.T. acknowledge the MIT McGovern Institute MINT program.
Ethics declarations
Competing interests
P.W.T., F.C., E.S.B. and C.-C.Y. have filed for patent protection (US provisional patent application no. 62/202,423) on a subset of the technologies here described. E.S.B. has helped co-found a company (Expansion Technologies, Inc.) to help disseminate kits to the community.
Integrated supplementary information
Supplementary information
About this article
Cite this article
Tillberg, P., Chen, F., Piatkevich, K. et al. Protein-retention expansion microscopy of cells and tissues labeled using standard fluorescent proteins and antibodies. Nat Biotechnol 34, 987–992 (2016). https://doi.org/10.1038/nbt.3625
Received:

Accepted:

Published:

Issue Date:

DOI: https://doi.org/10.1038/nbt.3625